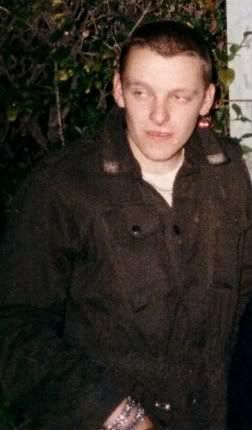 There was a knock at the window of my scummy basement flat, in a scummy part of Scummy Rhyl. Two girls I had met for the first time at a Damned gig in Chester the previous week were stood there. They rolled a couple of fat ones and invited me to a party at The Met in Colwyn Bay.
People can touch upon your life and change it completely; any of us can look back and think if we hadn't met someone then our lives could have taken a different course. Had I been out of my flat that afternoon, I may never have got the invite, and may have remained on an amphetamine driven downward slope in Rhyl. More importantly I may never have met Edi.
The party / night out at The Metropole on Penrhyn Rd in Colwyn Bay was a bit of a goth affair, lots of fishnet stockings and back-combed hair dancing to Temple of Love, Largartija Nick and Walk Into The Sun.
'Neil, meet Wayne and Edi.'
We hit it off immediately and the course of our lives changed from that day on…

My friendship with Edi was brief, even by the scale of his short life, but those two and a half years will remain at the forefront of my fondest memories. We were punks; poor punks in our late teens with an eye for mischief, and if I were silly enough to put what we got up to in print, then North Wales police would be inviting me to their Ball! Let's just say, we didn't really do pubs because we were banned from most of them, so we had to occupy ourselves with a ghetto blaster and several cans of cheap lager on a regular basis. Party areas were found and a gang of us would play baseball, make camp fires, squat disused cinemas, attend rare gigs and cause general mayhem in and around Colwyn Bay. The gang would consist of about 7 or 8 punks, but the common core was always Edi, Wayne and myself.
Edi, his name came from his initials backwards, Iain David Edwards was born on 23.11.1967 and was a very complicated but strong character. He was good at grabbing the bull by the horns, he gave the Crud fanzine its name, contributed to the first two issues and was very much the centre of attention, whether for his punk attire and haircuts, or for being the loudest in the room.
When Paul Puke, Wayne and myself plotted the beginnings of 4Q, Edi immediately announced himself as front man (without an invitation!), came up with the band's name and wrote the first song 'We Suck' 'We're out of tune, we're out of luck, We suck.' Not exactly Lennon-esq but it epitomised the situation perfectly.
We had a whirlwind six weeks of song writing and rehearsing before our debut gig in July 1987, and Edi's sharp, intelligent and socially aware lyrics were the highpoint of a set of dismally poor tunes! 4Q were not about being family favourites, and that debut gig in the Imperial Hotel in Colwyn Bay has gone down in folklore. It was one of Edi's three finest on stage moments, he couldn't sing for toffee but the moment he alighted a stage he had the audience in the palm of his clenched fist. No one escaped, and people would heckle between songs just to get a quick-witted reactive gob full of abuse from the vocalist. Edi was a slap-stick Jello Biafra, who made all the right moves and would spit you in the eye.
I say, one of three finest moments as the other two followed quickly at The Bee in Rhyl and The Albion in Bangor. A fourth gig that lasted three songs took place at Ghosts Canyon in Dyserth at the end of September 1987 in front of the UK's entire Hells Angels fraternity and that was it, Edi announced 4Q was only a joke and quit, stating he going to join the Foreign Legion. He never got to the desert and tensions between the 4Q camp and the Edi camp reached boiling point and he and I came to blows in Colwyn Bay.
In fact Edi quite often got into skirmishes as he would never shy away from confrontation, if he believed in something, rightly or wrongly, he believed in it strongly. Our fisticuffs was a sad end to a friendship that burned brightly, but that was the character of the boy.
It is a pity the recordings I have of Edi in 4Q are so musically poor, and would not really make a fitting tribute to him, but his lyrics were so sharp that I usurped some of them for Sons of Selina's debut single 'Anxiety'.
With the Dead Kennedys and the whole American punk scene very much a strong influence on his youth, Edi sought the surfing lifestyle and relocated to the South West coast. He always seemed wheezy, pastie and under nourished during our flat sharing days and yet when I saw him a couple of years ago he looked healthy, vibrant and full of life.
How looks can be deceptive and life so cruel.
After a long battle, Edi died on the morning of 21.08.2010 from a brain tumour.