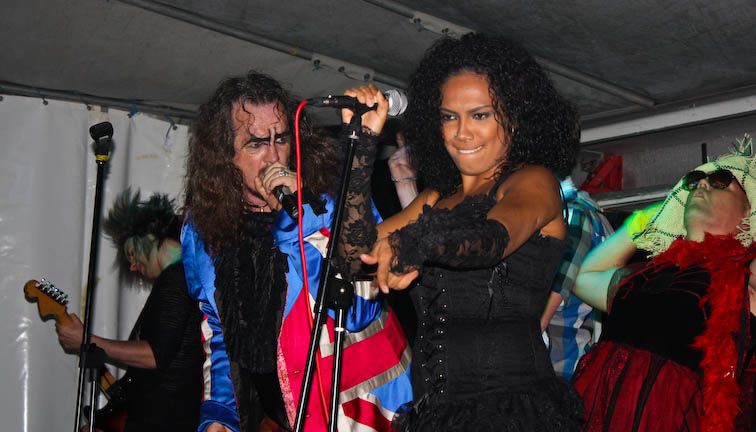 It was summer 1986 – I was 19, I loved The Damned and in Colwyn Bay I found like minded people happy enough to travel to Finsbury Park in London to celebrate the band's 10th Anniversary.
I can't remember if I was in employment at the time, I may have been working in a sawmill in a forgotten village to supplement my lifestyle. Anyway, the cheapest way to travel was by National Express from Colwyn Bay to London and it left at stupid o'clock from Princes Drive coach park.
Myself, Helen The Hair, Wayne The Bastard and Edi Filmstar stood there in our punk attire as the coach pulled up, the doors swung open and the driver took one look at us and flatly refused to let us on the coach!
'But we've got tickets!' – he wouldn't be budged, we weren't getting on his coach and that was final. They call it judging a book by the cover, and we were the pages he didn't want to read. There wasn't much we could do, violence would've proved this bigot's presumption right and landed us in the cells and not in London, so we sloped back to the House of Crud and regrouped.
Thankfully, Helen had a credit card and she forked out for train tickets; we would fight National Express for our money back later, but first we had a gig to get to. I think it was only Helen who managed to get any sleep on the journey down, the rest of us were pretty much cream crackered by the time we emerged into the London sunshine. Today was all about The Damned, a band I loved so much, enough to have their name tattooed onto my wrist next to a flaming love heart! I've since had it lasered off, but my love has not diminished; although it has been tested with the latest album! The Damned were all things to me through my teenage years, my mates were not into them in school, preferring Sham 69, or Crass, or the Oi! Scene – I too went along with all that, but it was Mr Vanian, Sensible, Scabies et al who always topped my charts.
This Finsbury Park gig was over two days and rumours were rife that the two years departed Captain Sensible would be making a guest appearance. He did, but we got the wrong day, and despite the hopes of 20,000 people chanting the old chestnut, 'Sensible's a wanker' he didn't show on our day. We were however treated to a superb opening, Plan 9 Channel 7 was orchestrated before blasting into the full song and we all went bananas! Lot's of 'newer' stuff was played, Eloise, Street of Dreams, Is It a Dream, new tracks off the forthcoming disappointing 'Anything' album. I remember Limit Club (love that song), Stranger on The Town, then the finale of LA Woman, Smash It Up (the whole tent erupted) and Love Song. The encore, I think, was Dr Jekyll & Mr Hyde, followed by New Rose and ending with Lust For Life.
The opening band were Electric Bluebirds, I don't recall much of these, although The Proclaimers seem to spring to mind, followed by the rockabilly Restless. Wayne's interest in psychobilly bands had dragged us to many gigs and to many albums, with the likes of King Kurt and Guana Batz being favourites, but Restless were pretty mediocre.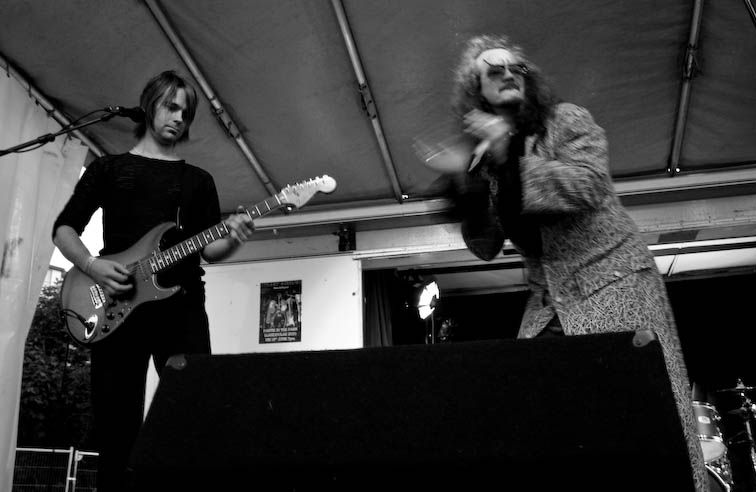 Dr and The Medics however, were far from mediocre… The drummer got up on stage and started with a great beat, soon followed by the guitarist and bassist as they formed an ace riff, then The Anadin Brothers alighted the stage with their unique dance moves, before The Doctor himself (or Clive Jackson as he was called in school) appeared and had everyone in the audience in the palm of his hand. The attention he commanded was immense, the perfect MC, the ultimate band leader, the conductor, The Doctor!
We had their Happy But Twisted EP in our collection and would soon be buying their Laughing at The Pieces debut album, from which, most of their set was made up. I do recall a rubbish version of Paranoid, and then an apology for making it to No.1 with Spirit in The Sky – The Doctor then announced that 'This is the way it should've been played' and they launched into a much better sped up version that kept the majority of punks happy in pogoville.
Twenty four years is a long time, it's nearly quarter of a century, it's more than quarter of your life. It's a mere speck in the history of the world, but a lot can happen, and does happen in that amount of time. But let's not philosophise, reminisce or get ourselves down about the passage of time. Let's celebrate… Doctor And The Medics are playing in Llanddulas.
YOU WHAT? – Llanddulas!? Get away… You're kidding… Piss off..!!!!
No it was true, a double take at the website, at the billboards, it definitely said Dr & The Medics. Now, I did think it could be a tribute band as Pinc Ffloyd were billed for the second night – that's the Welsh Pink Floyd, only their career is stumped somewhat by their superior Aussie counterparts and the fact that they don't do the songs in Welsh. There's a whole host of tribute bands on the circuit, peddling karaoke in the name of easy money like a rash. But, no, this was definitely THE Doctor and The Medics, playing on a school field at a fete in Llanddulas. Ticket prices… wait for it… £3.
THREE QUID? Ok, a fiver on the gate. My first reaction was How the mighty have fallen, but beggars can't be choosers – I'll be there! Although I couldn't convince anyone other than young Declan to tag along, which is pitiful really when you hear them moan about lack of entertainment in the area.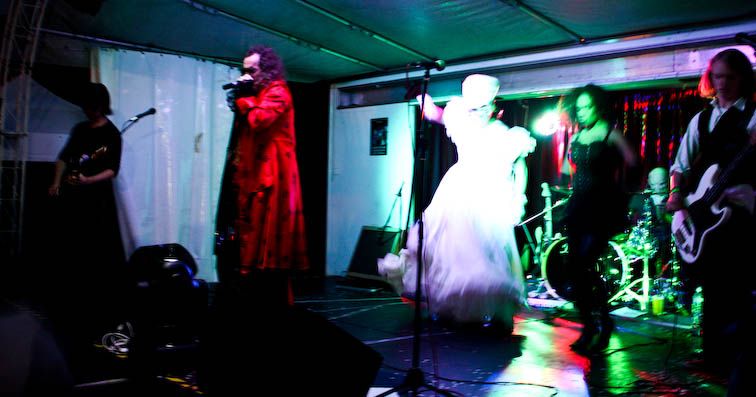 It turned out they may have been half right in the end… This was definitely village fete territory; fair ground rides, dodgy blues bands, tombola, and err… Dr & The Medics. The mums and dads and little kids were all gathered round the stage and I wondered how they'd react to Happy But Twisted, Fried Egg Bad Monday, Burn or Miracle of The Age, but they weren't going to react at all, for those songs were never an option. The Doctor had basically formed his own Dr & The Medics tribute band, playing covers of other bands, the original line-up had long gone, The Anadin Brothers basically got a headache and got off the ambulance. The penny dropped, and what this present day line-up do is actually very good and completely in context with the show. Not an original song in sight and didn't the bald heads and bingo wings love it… They lapped up every second of Get It On, Paranoid (it's still in the set!), Silver Machine, Teenage Kicks, White Wedding, She Sells Sanctuary, and of course… what they've pinned the last 24 years on, Spirit in The Sky.
Clive is still the circus leader and carried the whip, although he maybe a bit too long in the tooth to climb tent poles and fall off like he did in Finsbury Park, but with his own son on bass and a good reputation, he set out to carve his own niche, and by all accounts he has filled it.
Preconceptions can leave you feeling disappointed, this time thankfully I was merely pleasantly surprised. A great night out when taken in the right context, plenty of pantomine and parody, and like the Doctor said, 'These community events are really important, they keep communities alive, when most town councils try to stop them. Support them or they will stop happening.'
Never a truer word said…