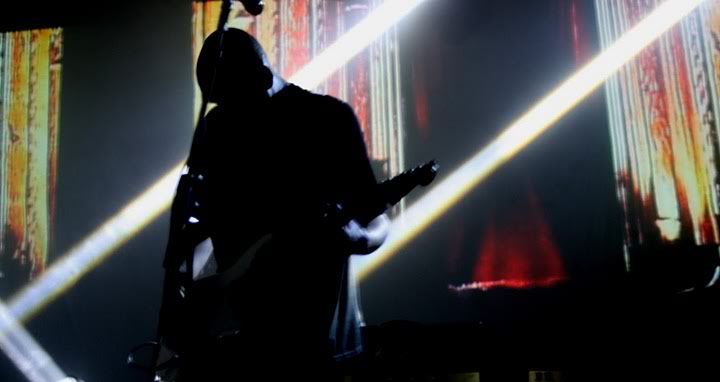 (photo and house of doss courtesy of andy wallis)
So though I was committed to working with a community group at the Conwy Feast Festival this weekend when the half expected announcement (confirmed to me in person by Mr Broadrick at Nantes Airport
) that Godflesh were added to the bill of this annual 3 day noise-fest in their old home town, something had to be done. This something consisted of working the Saturday morning, jumping on train down to Brum to get there for soon after 3 and meet up in the 'flesh with another (online) community group andjoy the best of both worlds.
As we enjoyed an appropriate Bark At The Moon and a pint of Pooh at the excellent The Anchor just around the corner these fine fellows related how they had already enjoyed the first nights events, headed up by Napalm Death. Apparently, though, the fact that the concrete was still setting in one of the venues had meant a shift around of performance space which sounded a bit manic. When we got into the converted factory units when it opened up around 4 I found things almost totally rejigged from the last time I had been there (4 years ago already, jeez, www.link2wales.co.uk/gig06/shitmat.htm) .
The first port of urgent call though was the Theatre Place, a small plush seated venue for a gathering entitled "The Sirens of Sparkhill", not some Brummie burlesque troupe but a live interview/discussion by original Doom singer Johnny with Napalm Death past and present, Nik Bullen, Justin Broadrick and Barney Greenway. While the joy of seeing these legends gathered to have a natter was great in itself it was also enthralling, revelatory and at times hilarious. So much so that while I thought I'd be dipping out after a bit to go and see Eagle Twin live I was pretty transfixed to the end. An excellent laid back opening.
Settling into things with piss and pint and meeting up with friends old and new, then returned to the Theatre to catch some of Breach, Nik Bullen's solo vocal experimentation set. Intriguing and ethereal as it was I was soon guided on to the new large Space 2 stage that hadn't been ready last night. What a fantastic setting, as we passed under the huge underlit viaduct arches past the wafts of the food stalls to enter what resembled a big warehouse. The draw here was Gnaw, a new sludgey doom project from Alan Dubin the ex-Khanate vocalist, but not having heard much of theirs' I was able to experience it without much preconception. And enjoy, crushing drawn out riffs and a hypnotic rhythm to the drums, with the vocals initially a haunting whisper before progressing to gut-wrenching cathartic harshness. Lots of atmospheric samples and effects too, worked well with the first view of the big projection screens around the stage.
Another wander around exploring, found Mr Dave Whales busy on his stall in the market area, before heading into another new area, The Old Library for Lash Frenzy with KK Null. This wasn't listed as a band, rather a special performance/collaboration and the impact was pretty instant upon entry. To hell! The place was full of smoke, the guy operating the machine on full blast and constant waving it around as we squeezed our way into the rammed crowd. What was even more oppressive was the huge wall of noise that seemed to come from all around, and probably did, as through the mist we cottoned on to the fact that here was a tuba, there was a guitar, no idea if there was a stage there at all. Random strobe operators were in effect too and the overall intensity was incredible. Hence we lasted about 10 minutes!
Back over to Space 2 where Cloaks was commencing with his one DJ set of crunching drum and bass beats and electronica. Very reminiscent of his brief set with Jesu in Manchester recently so don't know if he was sticking with his standards or it's all in a similar vein anyway. Did try to go from there to see local lads Stinky Wizzleteat's doomy hardcore in the Old Library but as there was a long, inert queue made me wonder whether this venue was really of a suitable size for the demand in general. Instead then to the spectacle of OvO at the Outside Stage. This Italian duo consisted of a lady vocalist/guitarist and a guy drummer but that doesn't really do justice in terms of description. As he was in a wrestler mask and gimp suit, standing, hammering out rhythms on a 3 piece kit and she in some odd cat mask delivering practically death metal grunts and rabid shrieks with deeply detuned guitar dirges. All very abstract, lulling and disturbing at the same time, especially with the back projections of some freaky Asian theatre/films.
Back to Area 2 for King Midas Sound, the latest project by Kevin Martin who I'd last seen here with The Bug. That had been a pretty stunning exercise in dancehall bass abuse and you could say this latest offering was more of an evolution from that pretty hardcore relentless point. Much more trippy, ethereal melodies and electronica exploration, twin vocals of a stylish West Indian guy and an Asian girl giving it a accessibility like Massive Attack or some Roots Manuva, but this all was all the light(er) for the shade of the colossal lungbursting bass and beat avalanches that were unleashed. Inspired work, and, while I haven't yet seen Scorn to compare it too, I dub thee K Mart, King of Bass.
The anticipated highlight approaches and I had the bonus of meeting Justin in the crowd immediately before, him looking all the more of his old school way back to skinhead and army surplus. Apparently they'd had the privilege of a 2 hour sound check in advance of this show, as opposed to the Hellfest technical disasters, I wished him a good one and headed up front. There was the similar buzz of joyful anticipation in the gathering there, maybe only a fraction had had the opportunity to go to France too, and when things kicked in with "Like Rats" things kicked off proper. Obvious heart and soul was being put in to grinding out the churning industrial riffs (though this first song still seemed semi-sacrificial before the PA was cranked up), crowd roaring along with the raw lyric hooks, I bobbed through the pit to appreciate Benny's bass rumble onslaught too. Haven't had so much fun it a pit in ages, as the scenes of hell tumbled down the backdrop. All in all it was a pretty faultless and extensive trawl through their back catalogue gems, the show that Hellfest should have been. And even more amazing to hear many (including the band) saying it should still have been louder. Maybe it will be at Roadburn in Holland next year where they are playing their Streecleaner album in its entireity and I feel myself being drawn to as I write.
Bizarre that after that spiritual experience the insanity of Japanese hardcore experimentalists Melt Banana should be the comedown band but they did the job fine. Crammed once more into the Outside Stage initially it seemed to be just a two piece digital hardcore outfit, the two of them flailing around sound manipulation devices with head torches. Then they reorganised a full band but continued to confound genres and description as they mashed up hardcore with grind, techno, rock and an inevitable vibe of J-pop quirkiness. Never more so than with their 9 songs in about 3 or four minutes, each one introduced by the endearing vocalist with "This one is called…" As with all their compatriot bands I have seen, the sheer culture shock must be a factor in them striking as off the wall and so original.
Phew. Farewells, a brief chat with Johnny Doom about seeing him in Planet X in '89, food and a crash at some luxury apartment in the city centre. The whole compressed experience was an absolute winner, whether that might have been diluted if I'd been there longer (much as I fancied checking out Swans on the Sunday) who's to say, but I will certainly be looking to come back in future years for the experience as well as the bands.
A few hours sleep and then the train back to be on the stall again at the Feast for midday Sunday, but far from being (too) zombie-fied I was still massively grinning recalling (most) of the previous day. I was also chuffed to hear my dad say that the 30 drum spectacular display from Batala Bangor here was one of the best things he'd ever heard, maybe it's rubbing off in reverse!