(review n pix by neil crud)

at Castle Donnington
Neil Crud, Michael, Steve Sync, Tim Griff
Can I piece the jigsaw in my head to justify a Download review? Probably not. I don't think I managed it last year, or at least I can't be certain I wrote one up without looking back thru the archives. It's a strange one really, I was never into rock or rawk, bar AC/DC, so I'm excused for attending this one anyway – but what I do like is a damn good Festival, which is what Download offers in abundance. That said; last year for me was a far better vibe, but I guess having my wallet snared from my pocket a song into AC/DC's set put paid to a totally nirvanic weekend. You live, and you sometimes learn… With 8 festivals on the barrel of my gun last year, getting my wallet robbed was a silly thing to do, my fault really and I should've known better and I pity the poor fucker who whipped it out of my pocket, for in a parallel universe he had his eyes gouged, was stripped of his clothing and was kicked to pieces in the crowd.
The Tick List of Life had 'See AC/DC before you die' unticked. I got home on Sunday night and duly ticked it. It wasn't the sole reason for picking Steve Sync and Tim Griff up in Rhyl at 6pm on Thursday night and travelling for 2hrs 20m to Castle Donnington, but it was pretty high on the agenda. Our own mini-tick list doesn't need writing down anymore, we know what is needed… Cider – 90 cans to be exact, an amount applauded on Download Radio when I phoned in for a request for some Holidays in The Sun by The Pistols. Ninety cans between 3 of us may sound a bit silly and not very grown up, but until the Government do something responsible to stamp out this appalling binge drinking, we will binge, therefore we drink. Add to the mini-tick list, a camping stove, tins of beans, tea, coffee, water, lucozade, bananas and bog roll. By having breakfast out of the car boot each morning we kept the expense of eating inflated shit on site to a bare minimum. The cider of course ensured the £3.75 a pint inside the arena intake was also kept down to a reasonable cost, also cider (by Saturday) kept in the car and under the tent and wrapped in a coat is kept at a drinkable temperature; warm lager tastes like shit, warm cider is just about palletable.
With a 3-day ticket in my hand I couldn't get in til Friday morning, so Steve & Tim (both on 5-dayers), took the tents and headed into the festival while I found comfort in Strongbow in the car and prepared for an early night with the gear stick up my arse. By 9.30pm the boys were back, knocking me from my slumber and instructed me to move the car to another area, close to our campsite – we did so then proceeded to have a 3-man car park party with the iPod on full pelt. Sounds pitiful, but we had a great time til about 3am when Security told us to pack it in. We said, 'OK, but not until this track has finished' and we made them wait and watch while we danced to Three Minute Warning's Pub Song!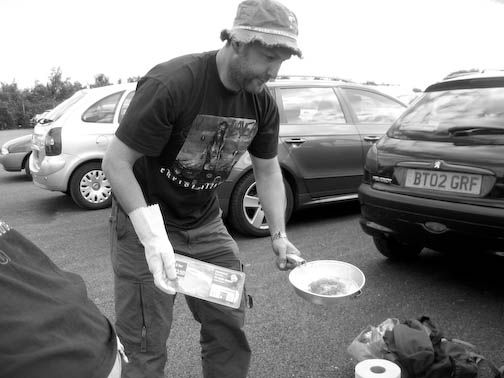 Back from the tents on Friday morning, Tim & Steve, again awoke me from my growing relationship with the gear stick and we shook off the cobwebs and got out the breakfast gear. Tim played mum, and I found a spot of sick free tarmac and nursed my hangover.
Bands didn't seem to be on our agenda this year, it wasn't intentional, just the way things panned out. It was pretty evident that there were far more people here this time round as everyone was made to move their tents in closer to allow more real estate for the influx of black t-shirts. This meant our usual chill round the campsite on a Friday routine was scuppered, so we met up with Bunsan and Big Steve and The Pesda Crew in the arena and managed to miss a shed load of bands! Feeling guilty about this and knowing John Paul-Jones would be upset if he found out we hadn't been to see him on stage, we made our way to see Them Crooked Vultures (pic below), a super-band, whose album is on heavy repeat in the Crud mobile. I never got Queens of The Stone Age or The Foo Fighters, and yet, stick 'em together with Led Zeppelin and you have a great combination and a set of songs that twist, turn and sky dive their way across the Derbyshire landscape.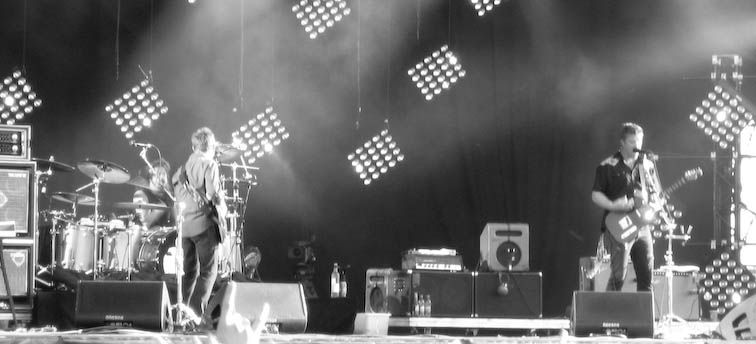 Fearing having to watch AC/DC from afar, where a slight breeze sends the sound waves wayward we began to shuffle our way through the masses across to their stage, missing JPJ's 'long weird and unnecessary solo' (as our campsite neighbour later described it).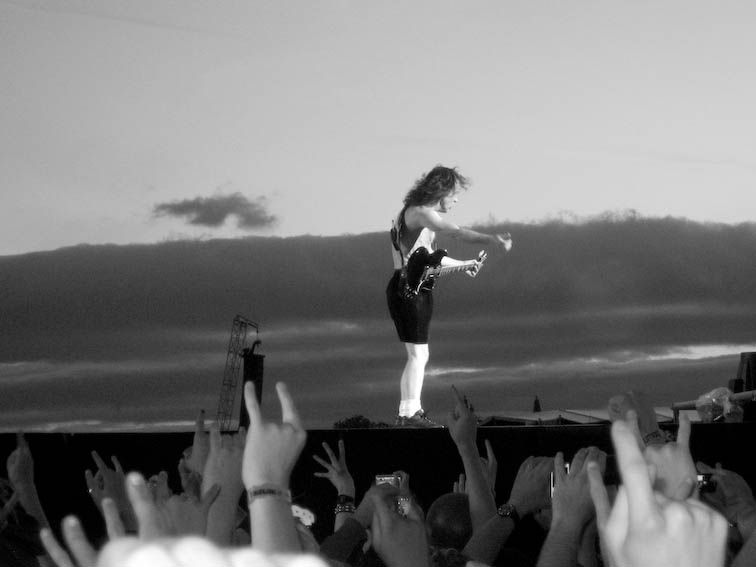 When you're probably the biggest rock'n'roll band the world has ever had, when you're held in high esteem by just about everybody, you are in a position to call the shots. AC/DC don't do festivals, so they had quite a rider. Now, most bands' riders read something like, crate of beer, bottle of tequlia, fresh fruit etc. AC/DC's read, all other bands on the site must be finished by the time we start and we want our own stage. So the main stage, had a replica AC/DC stage built alongside side it to cater for an incredible set up of a life size steam train that looked as if it had crashed through the back of the stage and enough Marshall amps to move a continent. This is AC/DC, this what I came for and after the opening Rock 'n' Roll Train, this is when I realised some scumbag had nicked my wallet. My whole world came crashing down, what a downer, what a twat. Hell Ain't a Bad Place To Be was next and I was glaring round through the squeeze of bodies for a guilty looking soul I was certain never to find. I pushed those around me out of the way and looked down. As we were swayed back, forth, left and right by the sheer mass of people I saw credit cards and a wallet in the mud. I took a deep breath and dived down, grabbing what was on the ground and reached back to the surface, it wasn't my wallet, it was empty, but amongst the cards were both of mine. At least the twat was only after cash. I pocketed all the cards and driving licences and on Tuesday posted them back to the poor souls who had also suffered at the hands of this true cunt. Back In Black and True Jack followed; wait a minute, I'm watching AC/DC – and shouldn't let a low-life spoil my festival, snap out of it Crud! It was £70 and your 'Bad Ass Mother Fucker Wallet' – move on, enjoy the reason you're here!
Dirty Deeds brought me back to the fun as rock'n'roll's finest blasted our temples with showmanship and a celebration of our youth. The rockers in school used to have AC/DC embroidered (by their mums no doubt) on the back of their denim jackets, and although I had The Damned, Discharge and UK Subs lovingly painted on the back of my leather, I was quietly envious that peer pressure wouldn't allow me to like anything 'not punk'.
Brian Johnson is the same age as my Dad, and (like my Dad) still bounces around like a kid in a playground. A seasoned showman, all the right moves, all the right cliches, and of course, a great voice to scream 'You've been thunderstruck.' We certainly have, and while the back line of the band quietly go about their business (bassist, Cliff Williams has the easiest job in rock'n'roll), the 55-year-old Angus Young bombs about the huge stage and pier with the energy of a duracell and guitar skills to leave any budder green with envy. This Iron Man Tour may well be the band's pension, this may well be the last time they take to the road, who knows, all I care is that they shook me all night long, and even a 20 minute guitar solo was excused, for when it's Angus Young performing it, we all pay attention. My highlight was the 40′ blow up doll who rode the train during Whole Lotta Rosie and really should've been the climax. The cannon blasts during the encore and finale of For Those About To Rock, We Salute You were more of a dribble than a blast, but thank you God for what I was about to receive, you didn't let me down.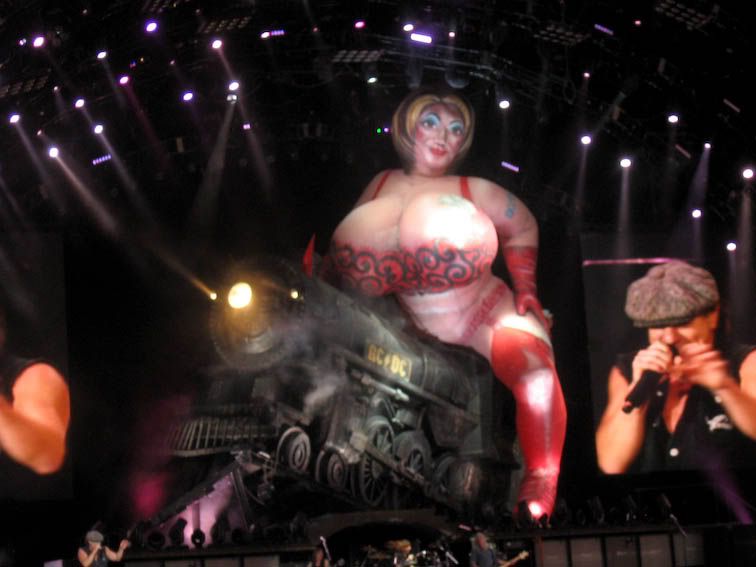 As always, during a crowd melee, you lose your friends (and your wallet) and your mobile network is flooded, so you're on your own with 100,000 people all trying to get back to their tents in the dark. Somehow, Steve and Tim found me. We were also expecting Michael to turn up from Germany; he had bought a ticket specifically to see AC/DC, hired a car from Manchester airport to specifically see AC/DC and had his flight delayed so he specifically missed AC/DC. He turned up on site at 1.30am.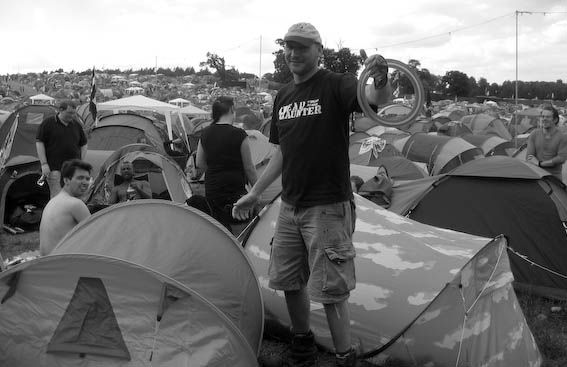 Another breakfast in the car park saw Saturday morning in and we made a point of missing so many bands it was almost a crime. We didn't really make a point, but we had not seen Michael for a year so had a lot to catch up on and despite there not being enough room to sit down, we stood around the tents and consumed far too much of our warming cider and played frisbee with our Scottish neighbours.
We then headed to watch the Lamb of God circle pit (pic above). Megadeth I'm told were good, but you couldn't really hear the vocals, I was there throughout their set, but only in body; my mind by now had gone AWOL – and although we sauntered back inland for some reconcilliation while Deftones were on, the photos I took during this time evoke absolutely nothing from my memory banks.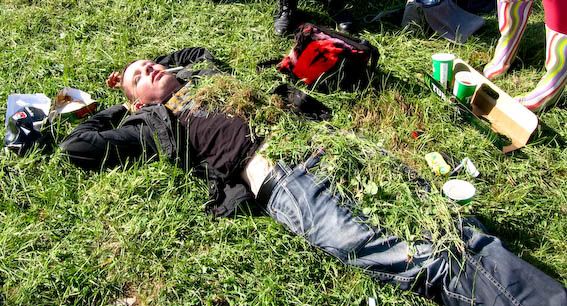 So Rage Against The Machine must have been good – we were all near the front, we all lost each other, Steve has a bruise on his arm where a guy grabbed him so tight as he went down under the weight of a sea of bodies, Steve also sports a black eye, Michael lost a tooth in the pit and I apparently crowd surfed to the front, was escorted to the side, and somehow waded through everyone to get back to the thrall again.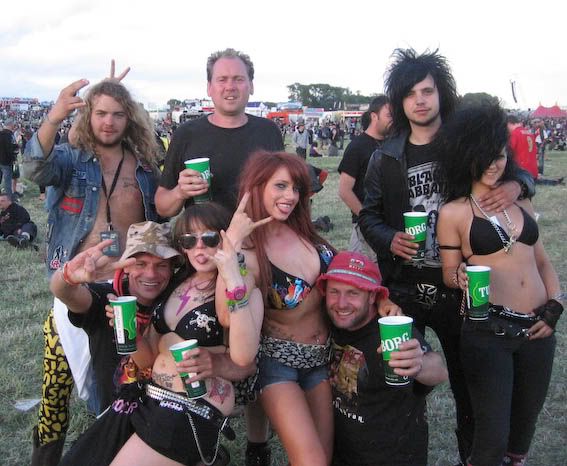 Sunday was a more sober affair, well, a completely sober affair as after the experience of tent burning riots last year, we were taking no chances and had pre-decided to leave in the night. So we met up with work colleague Jane and languished in the sun while Tim & Michael whipped into the crowd to watch Cinderella and Slash. Jane was here with her mate to watch (ahem… Aerosmith), so Steve & I thought we'd educate them and dragged the pair over to see our old chums Napalm Death (pic below) throw out a blistering 30 minutes of noisecore.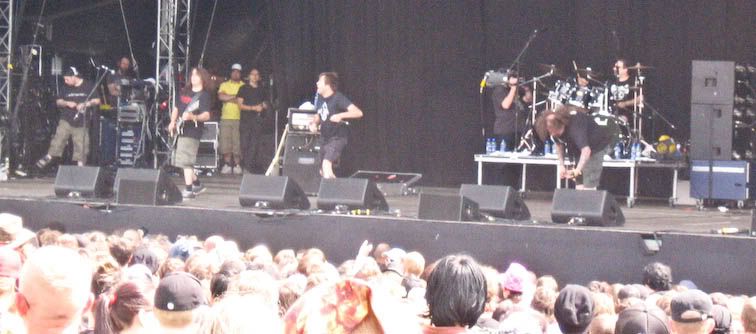 Slamming out all the old faves and doing themselves a service. Good enough to prod Jane into trying to buy an album from HMV in Speke last Tuesday, 'They laughed at me when I asked if they had any Napalm Death' she said.
We got back to catch the end of Slash when the heavens opened and brought a soothing moisture to the sunburn that had eaten into our skin over the weekend. The rain, typically turned into a deluge, but it didn't deter Billy Idol, or the crowd as he knocked out a repertoire of his own and Generation X hits, and although being a member of the Bromley Contingent in the heady days of punk rock he actually snubbed The Damned in Germany last week when they shared the bill at a festival. 'Shame really, cos I like some of his stuff,' said a miffed Captain Sensible. With the rain by now trickling into places where it shouldn't and Michael duly despatched back to Germany, we decided to nip to the car for our wellies, a change of clothes and khagools. The mud was rising as torrents began streaming across the festival landscape. 'Who do you wanna see?' asked Steve. I had debated over old label mates Porcupine Tree, or the never seen before Motorhead. Steve replied, 'Well, we can see Motorhead in Llandudno in December, and fuck Porcupine Tree anyway, shall we fuck off and go for a sit down curry somewhere on the way home?'
I had a tikka naga, it was lovely…