(review by neil crud)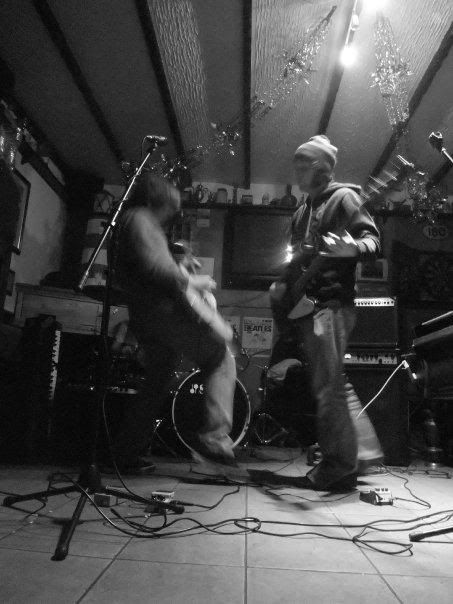 I see a lot of bands, I see a lot of them drunk (that's me, not the bands) and this wet Friday night in March was no exception to the rule. I will tell you few basics, because that's all the recollection I have. Grand Park are the current project of the Jives Room collective. They consist of two guitarists, (Smotch and Farmer), one bassist in the shape of Lewys, and one drummer, the ubiquitous Wayne.
Typical or not, I know magic when I see it.
March 27 in the bitter cold, these four musicians took the stage at a rugby fuelled, crowded backroom at the Skerries with no grand (ahem) entrance, however the room was a buzz with electricity because the audience began to realise what it's like to catch a band at the beginning.
Bangor has long been a mainstay of the local music scene without ever being the bastion, bands and punters come and go, but there's always been a stream rather than a torrent of interest. Take Rhyl for example, and it's always boom or bust, but here it's always been pretty steady.
Networking across the coast is reaching nepotism levels, Grand Park are from the Rhyl area, Wayne plays in Llanrug's Something Personal, Sona are from Anglesey, bassist Kyle is from Rhyl and also plays in Jives Room and Gintis (you should try compiling a family tree..!!! – meet my mum, she's also my sister…)
So with all this hype am I eventually going to tell you what they sound like? I wish it was that easy. Finely layered atmospheric guitars over superb bass riffs and vocals doesn't do them justice. They aren't Johnny Horizontal, or Stereolab for that matter. You get dreamscapes and uplifting currents. It's swirly pop, but heavier. It's folk yet wholly infused with guitars. It's scattered yet working together. It's dreamy yet grounded by bass and drums. It's mesmerizing, breathtaking and altogether inspired.
Sona (pic above) had a hard act to follow. They are nowhere near as straightforward as their Indie roots would allow – maybe even leaning toward the rude E(mo) word, but only in lyrical content (maybe). Having added the red curls of Kyle to the bassing pedestal they have so much wrapped inside them to latch onto; angst, the idea of never belonging to, small-town bigotry, frustrating at the mating game, isolation (both personal and geographical), hopes, envy, despair. It makes for a pleasant racket, although pleasant perhaps isn't what they would want to read about themselves as Jamie's voice grates over the trashy guitar while Adam slaps his drums, but it is just that and worthy of checking out.