(review n pix by neil crud)
A last minute gig in Rhyl, in winter, in the middle of the week, in bad weather, with Liverpool on ITV in Europe, with another gig on 300yds across the road…
That's pessimistic innit..! Or is that just a reality check?
You do feel for bands who travel the length of the country just to play to the other bands on the bill and a handful of diehards. If you read Adam Walton's recent review of the Bang Bangor gig, you'll see he hits the nail on the head over the apathy we are presently faced with. Maybe it's time for another Smash Apathy campaign like the one of 1994…
But is it apathy…? Global Parasite played here a couple of weeks ago and the place was bouncing. The Caskeys under 18 gigs are well attended, so it's more likely down to a number of factors; ie Money! Hangover in the week, transport, uni, circumstances etc etc…
Or could it be the lack of quality with the bands?
Sometimes I feel guilty; without taking all the plaudits, I know that without my excited and sometimes childish reviews many bands who start up and play in this area would not have gone on to whatever dizzy heights they climbed. Fact. Think of your Gintis', Der Bombers, Hollows etc, yes they, and my ranting over them and their ilk may have long bored you, but many would not have known, or been curious about them, and Adam Walton would have not piqued an interest without reading about them. Yes, a band has to be good to get past playing at their local school, but it's publicity they need to assist their aims.
So my guilt is laid bare by the fact I've not ventured out to a gig in Rhyl since last spring, mainly because of all those factors I mentioned above (and doing eight festivals home and abroad over the summer). Also, the quality of new bands emerging the last couple of years has not been to the standard of their forefathers. There has been promise, but quite often they've split before their fifteen minutes was due.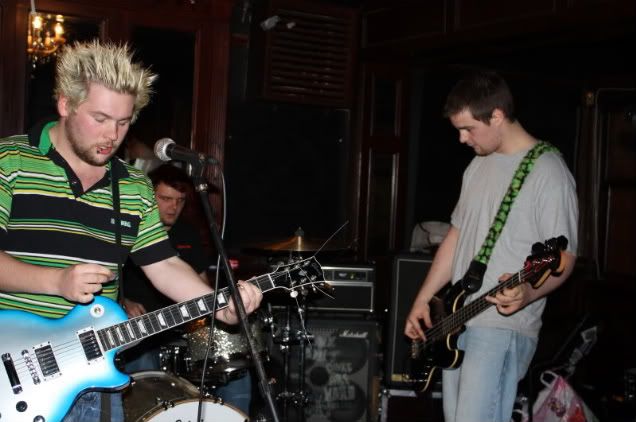 Lack of quality is something you can never accuse the NWPR (North Wales Punk Rockers) of having; the majority of bands that they bring in are of high calibre; and like a high powered rifle, Hovercraft Pirates (pic above) from Ireland opened proceedings with volley after volley and round after round of boss tuneage songs like Shut The Hell Up. It was all chord bouncing fun, fun, chop, chop, raus, raus, yes, yes! It may be down heartening to play to a crowd this small, two of whom came from Rhyl, one from Bangor and the other 20 from Colwyn Bay, but despite this, and the fact it was gone 8.45pm and there was still another three bands to go, The Hovercraft Pirates thrust through their excellent repertoire of riffs with a been there, done that and wrung out the t-shirt, but we're gonna do it all again attitude. Great to watch, even better to listen to…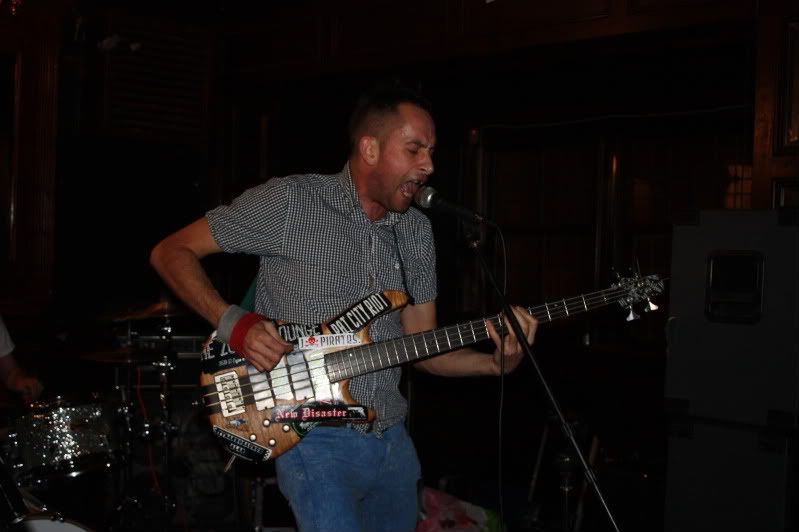 Next up were Wonk Unit (pic above) who sound much better on CD than they did tonight, take a listen to their tracks on myspazz like the excellent Mistake. It unfortunately didn't happen on these tired boards and the soap box speeches inbetween songs seemed lost on the dwindling audience, although Wayne Stuntface (top pic) enjoyed their set, 'They were very good. Super cockney accented, weird poetry in between songs with an older Greenday-ish flavour to the tunes. Very entertaining all round.'
And talking of Stuntface, I've lost count the number of times I've seen them, and hope to continue losing count for many years. Young Marni Crud was at the screamagers night at Caskeys until she sent me a text: 'Dad, this is shit.' So I hauled her over the bridge to witness Stuntface for the first time. The live room filled up and off we go for 35 minutes of mirth, merriment and mayhem. Life is very loud and also proud when we can safely call these Wrexham boys our own. Wayne enthused, 'It was a right laugh, pretty good turn out for a rainy weekday in fucking Rhyl. Good, fast violent fun.'
He was right, it was very good, very fast, pretty violent and loadsa fun, and we had the added bonus of a Seize The Day encore and a bit of Ham 'n' Cheese. Nice
Unfortunately, cos of the late (as usual) start and it being a schoolnight, I had to do the responsible parent bit and get the young 'un home, thus missing Angel City Outcasts – can anyone fill us in on their set?
http://www.myspace.com/wonkunitband
http://www.myspace.com/stuntface
http://www.myspace.com/hovercraftpirates