(review n pic by MWJ)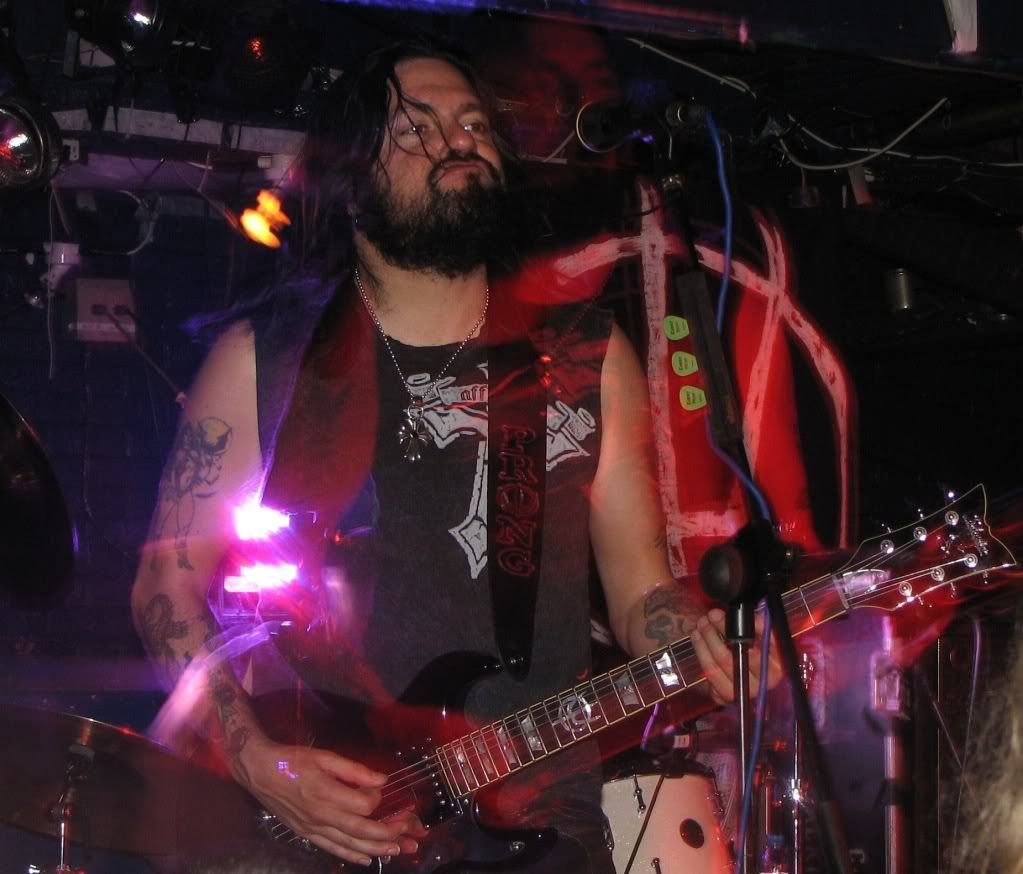 "Not fit in. So be it". A lyric of theirs that seems to sum Prong up quite well, as throughout their 20+ year history they've always been quite idiosyncratic, hard to label, on a tangent from genres, a taste you either get or not. And that's kind of excluded them from maybe the recognition that they deserve, although their place in metal/punk/rock/alternative/hardcore/industrial family tree is firmly entrenched when in their time they've had Raven (Killing joke, Ministry, Godflesh) and Ted Parsons (Swans, Godflesh, Jesu) in their ranks. Guitarist/vocalist Tommy Victor has been the only ever present core yet he has also had interludes away with Danzig and Ministry but he has brought his own project back around again with a couple of new albums and a couple of fresh faces on bass and drums.
When you think that best part of those 20 years ago they were touring with Faith No More who are simultaneously returning to grand acclaim it's an interesting comparison to see the less than a hundred in the Music Box. They had played a one off in London before Xmas which was their first show in ages, John Kobe had trekked down for it, but I guess the few dates around the country have dispersed their cult following. We have made our own contribution to bumping the numbers with a carload gathered from North Wales, although our roundabout route meant that we'd missed support Die So Fluid by the time we'd arrived, but seeing them before with My Ruin meant I wasn't particularly fussed. As it's probably pushing two decades since I've seen Prong too (at the Krazy House in Liverpool with Treponem Pal) I only have a small degree of shame of not even recognising the band when they take to the stage, especially as they start with a new (unknown to me song). "Rude Awakening" next confirms the suspicions and also becomes apt as initially the band are seeming a little lifeless, maybe uninspired by the numbers/atmosphere but as the crowd are not casual passer-bys but genuine fans through the ages the universal positive response soon gets things fired up.
There's only a limited sprinkling of their recent "power of the damager" album which has seen them return to a more stripped down conventional metal approach, ditching a lot of the sampled industrial of an earlier period, though they still acknowledge that area with the current "power of the damn mixxxer" remix album. Unsurprisingly it's the old school that hits the spot for me and tracks such as "Lost and Found", "For Dear Life" and the title track off "Beg to Differ" are immense. The crunching guitars, staccato structures, and almost tribal drumming make me think that this was a better version of nu-metal ahead of its time. No doubt about it Tommy's guitar defines their sound but I am still a little disappointed that the bass is low in the mix, as a three piece they always worked best having the balance between all the ingredients. There's an excellent trawl through most of their back catalogue, my cries for "Forgery", the first song of theirs I ever heard, on a John Peel broadcast is more than compensated for by them ripping through the hardcore "Freezer Burn", also off of the seminal "Force Fed". Must be good, it even gets Elliot moving. There's a pleasant surprise to hear their cover of Chrome's "Third From the sun" giving folks to chance to chill for a bit before they band build things back up to a thundering climax of back to back "Whose fist is this anyway?" and probably their best known song "Snap your Fingers, Snap your neck". The cheers from all present get them back for one encore, they've definitely given value for money tonight with a huge set, and there's smiles all round. Apart from Wee Krankie Jimmie who's got to squash in the back of the car for the journey home.