(review by Gary Cut, for The Fly Sep08)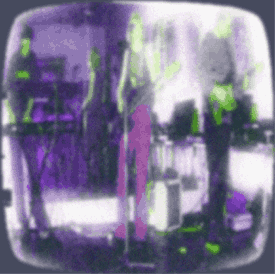 I'd been looking forward to seeing this gig for some time – PNS's local live appearances are rarer than a house in Bangor that isn't full of students and support from Mank, Black Balloons and the inimitable Pearl Necklace promised a mouth-watering evening's entertainment. The crowd and I were destined to go home sated with both kunst and entertainment.
Pearl Necklace


This is a band which defies description – taking the concept of pub duo to a whole new level of consciousness they never cease to entertain their loyal local (literally) fanbase. As with all pub duos Pearl Necklace only perform cover versions and they do it with, at times, hilarious originality, utilizing backing tracks programmed on a Playstation along with live guitar, keyboards and, of course, vocals. With a repertoire of over 140 songs the variety of their live performances never ceases to amaze and amuse – the last time I saw them live they managed, in quick fire succession, to perform (per)versions of Eric Clapton's Wondeful Tonight, Shanks and Bigfoot's Sweet Like Chocolate and Throbbing Gristle's Something Came Over Me and I still find myself chuckling for no apparent reason every time I look back at that night.
Tonight's performance, however, was something quite special and also, in a way, quite touching. Anticipating that some of the musicians in question would be present tonight, they'd worked their socks off for 2 weeks prior to the gig without anyone's knowledge preparing a totally new set that was made up entirely of cover versions of songs written by some of the classic local bands of the last 25 years – The Casio Kid, The Lungs, CUT TUNES, Stephen Davies and The Ominous Dr Clip Clop to name a few. Their interpretation of the material was excellent and revealed, behind the tongue-in-cheekness of it all, a deep affection for the bands and artists that have made the Bangor and surrounding area music scene such a special place for the last quarter century.
There's more chance of Pearl Necklace successfully invading a small Caribbean island nation than ever getting on the front page of The Fly but their fans couldn't give a toss about that and they showed their appreciation at the end of the set with a lenghty ovation.
Black Balloons

Taking music to a totally different place than the one inhabited by Pearl Necklace, one-man band Black Balloons delivered a lengthy 3-song set which varied in quality. Utilizing a loop FX pedal for the first song, Mr Balloons built up a powerful and, at times, spine-tingling drone using harmonies of his own voice and a recorder. As the layers built up he switched between a detuned guitar, bashing a tom tom, bashing the guitar with a drum stick and on top of this sang in a style reminiscent of a cat being strangled. The effect was hypnotic, powerful and startling in places and reminded me of a bastard Popol Vuh – if Werner Herzog had been in the audience I'm sure he'd have considered Black Balloons to do the music for his next film.
The second song, for me, didn't work – a rambling, chaotic, detuned guitar drone which lost it's way on several occasions and failed to live up to the expectations of the opening song. If he'd used the loop fx and some delay/reverb it could of been another story. The final song returned to the themes created in the opener and was another chaotic hypnotic barnstormer. I'd like to see Black Balloons get into the studio with a sympathetic producer – I think the end result would be quite exciting.
Mank

Mank, AKA Ben Powell, has been providing the Welsh music scene with superlative Dark Ambient / Electronica music for the last 10 years. His numerous albums – released on his own Mankymusic label – have entranced Welsh music fans and gained critical acclaim from BBC Radio Wales and Radio 1. A technician in Bangor University, his work has seen him regularly visiting the Arctic Circle over the last 12 months or so and in fact he programmed the whole of his last album on a laptop on board a Russian polar research ship up there. This has led to his music developing a colder and more spacious feel and this was demonstrated perfectly with tonight's performance. Armed with his laptop and switching between lead and bass guitars and playing in front of one of his video projections he produced a polished performance which alternated between the atmospheric, dark and sinister and achingly beautiful. I feel it's only a matter of time before Ben Powell gets his face on a Welsh £1 coin.
Parking Non-Stop
And on to the meat and two veg of tonight's show. This was an event to debut PNS's wonderful new album Species Corridor which has been released on Faust's Klangbad label. Their performance started as it meant to carry on with vocalist Zoe creating a delicious drone by rubbing the top of a glass of wine, sampling it into a loop fx pedal, sipping some of it to change the key, sampling that and then repeating the process – it's what Quentin Crisp would have regarded as pure style. And from then on it just got better and better. As expected, the band performed the new album and any fears that I had about them being able to reproduce it live without an overkill of backing tracks due to the volume of field recordings on it soon dissipated.
The performance took the audience on a musical journey around Europe – Krautrock guitar blended with cheesy Parisian organ and Tatu-style Euro synths layered over industrial and organic rhythms generated from field recordings – the perfect backdrop for Zoe's ethereal voice. The end result is totally innovative, avant garde but surprisingly accessible – and if that wasn't enough the band performed in front of a video backdrop of goats walking backwards on a courtyard in Laibach's home town of Trbovlje.
Over the years this trio of artists have learnt how to captivate an audience live to such perfection that it's become as effortless as breathing. Having been involved in many acclaimed projects in the past as individuals, with Parking Non-Stop Alan, Dewi and Zoe have blended their collective skills together perfectly and continue to challenge, create, inspire and set a benchmark for every other Welsh band to try and reach – tonight's performance showed why.