The Alarm


review by neil crud, pics by fairziff

Don't blame it on the sunshine, don't blame it on the moonlight – blame it on the whisky.
I guess I'm going to have to make some chunks of this review up as some chunks of the evening were washed away by that evil black tide of alcohol that crashed against the shores of my consciousness and dragged me under.
It was 6pm on Sunday when I finally and tentatively plucked up the courage to get out of bed; a full 13 hours after Andy Fatman had carried me to my front door. I hadn't slept in those 13 hours I was merely unconscious! Stumbling out of my bedroom, I used the wall as guidance like the child of a preacher to the bathroom, ran a bath and fell asleep in it. Awakening cold and shivering, I donned my clothes and walked to Fairziff's house, well, every step I took felt as if my feet couldn't quite touch the ground, so I must have levitated my way there.
Fairziff was the only one of the foursome (Sync, Fatman, he and me) who fought his way through this huge crowd to grab some of the action. I had promised Mike Peters we'd behave – previous Gatherings have seen us crowd surf and I was kicked out one year after an altercation with the Security. So we remained at the back of this large hall.
The words to a famous song sing; 'Darkness shrouds Foundation's fate,' and that is what this new venue had us shrouded in. It was hard to pick out the faces of old friends or potential new ones as you bumped into them. After all, this is virtually a family occasion, with everyone relating to the fact they've made this journey and pay their pound notes to see The Alarm. What Venue Cymru gives you is far better acoustics – we were drowned in pure sound and beautifully battered by an enormous set of old, new, borrowed and most definitely not blue songs (hence no cover of Friggin' in The Riggin' – now that would be funny…).
Last year's Gathering saw The Alarm stick their rock'n'roll necks out and showcased the all new Under Attack album to a somewhat polite, but mooted response from those wishing to be sold down the river. This year, those very same songs are now archetypal Alarm tunes and are as strong, and in many cases stronger than the earlier material. Every one has the characteristic rabble rousing chorus, a definitive hook line and the word 'classic' stamped all over it in poppy red letters.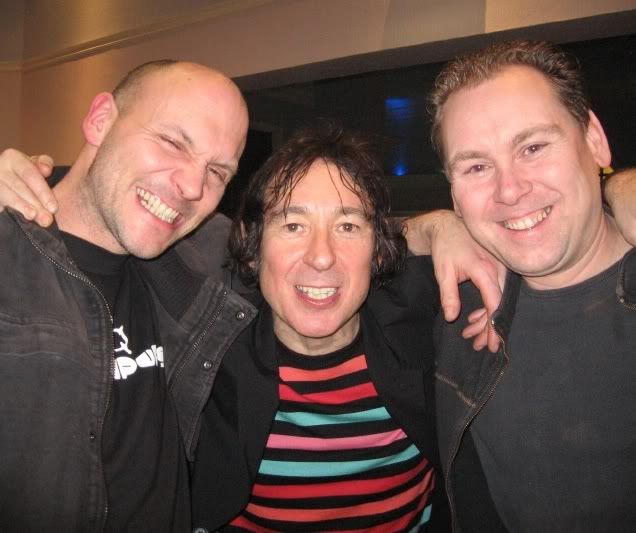 Buzzcocks' guitarist Steve Diggle achieves a lifetime ambition when he meets Neil Crud and Steve Sync
Before hand, we had blundered our way into the venue and chanced upon none other than the legendary Steve Diggle saying goodnight having just finished an acoustic opening set. Damn! Fancy missing the Buzzcocks guitarist! Thankfully I had seen the full blown Buzzcocks last year perform an outstanding set. We met the Diggle later at the after show party and he was very affable and up for good time; it was a pity that my next recollection was being pulled out of Martin Wilding's car outside my house!
The set was very similar to the Saturday gigs the band played last year, with some noted high points of 45 RPM spliced with a medley of Pistols, SLF, Sham and Clash stuff, and whereas the reader may well think 'How cheesy', it was actually executed with spit and precision. The band getting away with doing it where so many others would have failed.
Fairziff recalled a high jinxed and highly entertaining point was Steve Diggle being introduced to join the band on stage and after brief choral rendition of If The Kids Are Utd he launches into a tirade of 'C'mon you fuckers let's some fucking action' and other choice words before Mike Peters quickly and politely ushers him back off stage!
To play for two hours 45 mins and leave the crowd screaming for more is quite a feat… Someone posted a set list on the Alarm forum….
Intro, Superchannel, Rescue Me, Without A Fight, Coming Home, Raindown, Sold Me Down The River, Be Still, Right Back Where I Started From, It's Alright / It's OK, Breathe, Rain In The Summertime, 21st Century, The Drunk & Disorderly, The Stand, Bound For Glory, Rise, Marching On, Deeside, Unsafe Building, Something's Gotta Give, Knife Edge, I Never Left I Only Went Away, Where Were You Hiding….?, Cease And Desist, Sixty Eight Guns, My Town, This Is The Way We Are, Absolute Reality, Blaze Of Glory, 45 RPM, Blitzkrieg Bop, Anarchy In The UK, I'm So Bored With The USA, Alternative Ulster, If The Kids Are United, 45 RPM, Spirit Of 76
Many said this was best out of all the 15 Gatherings, and particularly when many thought because of the health issues that last year's would have been the last, those who had flown in from the States and even Australia, rubbed shoulders with those from Rhyl and Stoke and Scotland and Dublin and everywhere else will still have Cease And Desist etc ringing in their happy ears, and hopefully for many more happy years.
pix below by neil crud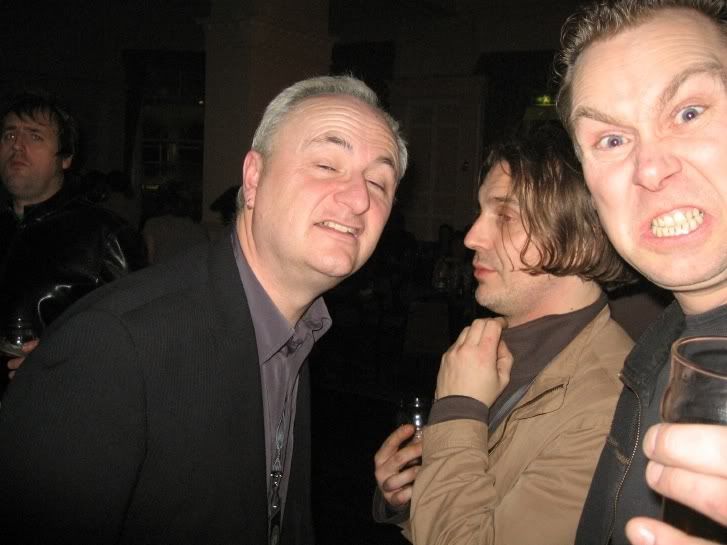 (After show party) Andy Fatman, Steve Allan Jones, Martin Wilding and Steve Sync look like they're rehearsing Shakespeare..!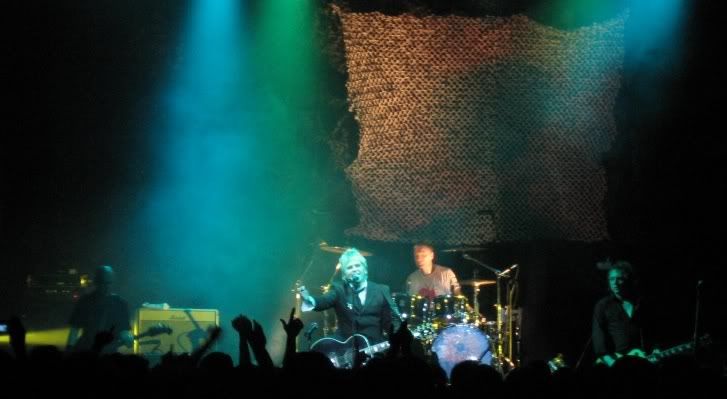 Say Jethro, play something we can all singalong to – Fatman grooves on the mouth organ while Tony Apple and Sync get down on it…