8/11/07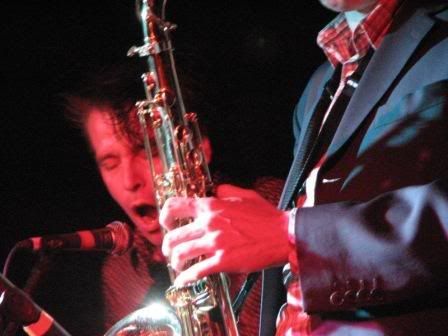 Now it wasn't the drink but it has been on many an occasion. Maybe that is unrelated to the strange situation I found myself in where I couldn't remember if I'd seen this band before or not. Certainly I'd meant to, having been well into their early 90's output, especially the excellent "in the long still night album", and have seen main man James Johnston for sure as he is a member of Nick Cave's Bad Seeds (James's brother Ian also having written an excellent biography of the Australian legend). But these days memories, dreams and imaginings blend seamlessly, not preserved in alcohol at all. Anyway, there's one way to make it definite and go this time.
It was a pleasant surprise (whilst contemplating going to No Means No in Dublin) to turn up some tour dates for a band I thought consigned to history. The least worse travelling options were Doncaster and Birmingham and though we are in times of ever upwards diesel costs I'm going for the burn out not fade away at the moment, there's a mad cluster of gigs coming up. 3 hours down to Brum but thanks to good directions from a certain founder member of Napalm Death (check me name drop style, bwoy) found this new-to-me venue no worries. Arrived soon after doors to ensure getting a ticket after recent scares but needn't have worried really, in fact seeing the stage time for the headliners at 11:15 made me wonder how to occupy my time given limited drinking and driving. The place was an impressive setting and set up for basically a big upstairs pub room, but it was definitely a decent venue in its own right. Unhelpfully answered a questionnaire for the promoters, who looking for recommendations for improving marketing, but not being a local meant couldn't contribute much. The t'internet does me fine. I imagine there is a reasonable amount of competition for the spoilt for choice punters in the cities, but the Curate's Egg monthly night seem to be onto a winner for me by at least getting some bands of interest that is the ultimate draw. And the DJ's played T Tex Edwards, they have taste!
It turns out that the two local-ish support bands complement the main act well so that is also to the organisers credit. The first, The Courtesy Group, howl into a down tempo blues grind "Brickhouse Blues" and the singer is obviously (tongue in cheek) taken with bantering in a southern drawl about them coming from "Smethick, Alabama". Afterwards they are more unconventional, quirky and leftfield mix of inde and that puts me in mind of Alice Donut, mixing up their tempos and therefore the atmospheres of their songs. The singer is also quite a forceful personality, and element of the unpredictable simmering aggression of someone like Mark E Smith, though I'm sure he's a nice guy really.
Next the smart suited collection that is The Nightingales. They strike as an odd mix of age and youth but now that investigations have been undertaken this is apparently because they are an evolution of one of the first Brum punk bands, The Prefects, and have been reformed for a few years now, hence the fresh blood contingent adding to these committed old timers. It's a bit difficult to determine or appreciate their style at first but once the mix settles there's a quite hypnotic, relentless sleazy blues there. The rhythm section is excellent, the drummer powering along in an almost tribal fashion. Some of the songs seem like 10 minute epics, the guitarists flying off into chaotic dissonance and clever feedback at times while the core pounds on. The younger one may well have some sort of Brian May influence going on, though perhaps that is just his hair which is possibly the most insane afro of sorts seen for a while. The singer has a very low and languid, almost spoken style, similar to how Wolfgang Press used to be. All in all a pleasant surprise and certainly commend their experimental take on a familiar root.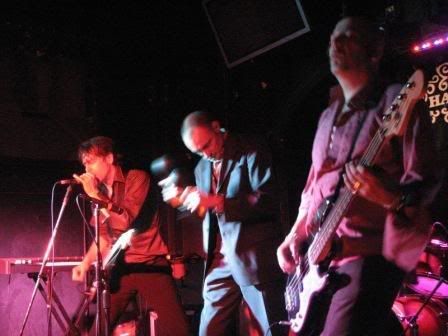 Finally, Gallon Drunk, similarly displaying sartorial elegance, but a bit more stripped down, as things are undoubtedly going to get wild. And they do, in no time at all the signature intense swamp rock is in top gear, the title track of their new "The Rotten Mile" album delivering the goods in a raucous style. I'm right in front of the bass and it's a glorious distorted vibe (more than making up for missing Unsane's recently), the player effortless ripping out these insistent hook-filled grooves, kneeling into the monitor to pick them up himself no doubt. The drums also provide infectious rhythms, key in the explosive upping of intensity they are so good at. Terry Edwards is centre stage on sax, not an instrument I'm particularly keen on, and interestingly enough in a small world his (main) band The Scapegoats have played with Skinflick in London, though Justin was none too impressed with their "wacky" nursery rhyme stylings. It fits naturally here though, providing colour and punchy blasts as well as crazy jazz at times, at others more mournful.
James Johnston is an effortlessly charismatic front man, literally throwing himself into the performance, vocals, organ, harmonica and guitar, sometimes simultaneously. I like the fact the guitar here is largely an instrument of random additional noise, often slung back behind him like a rifle as he concentrates on singing through the held mike, but whipping it back round to add to the impact. It's almost a juggling act he does between his various instruments, Terry Edwards also swapping with him on the organ or mad maracas action at times, which adds a real chaotic edge to the performance. Here is their magic, the fuelled up reckless swagger/stagger into dark places, not so much a nod of acknowledgement to the seminal The Birthday Party as yer me best pal embrace as they share the meths and milk. That's not to say they don't drop in some different tempo numbers, the brooding sway of "down at the harbour", the wailing, vibrato organ very reminiscent of his work with the Bad Seeds at times, or the literal and musical slow stamp of "put the bolt in the door". The vocals also can have a softer, subtler tone to them than early Cave's psychotic outbursts. There's also tangents of lounge jazz and almost dub. They seem well suited to this scale of intimate venue too, enabling the freedom to do stuff like singing away from the mike. It's a truly satisfying, exciting entertainment that lives up to expectations, shared by the rest of the appreciative audience.
There's a kind of encore in stages, as first the rhythm section takes a breather leaving James to do a quieter track with more of a guitar basis, before they return for more raw energy. And after that finish and people start drifting away as the DJ's start up again they return for one last blast, very generous, and further reward for the effort of travelling. It takes that to keep me buzzing and awake to get home at 3am!