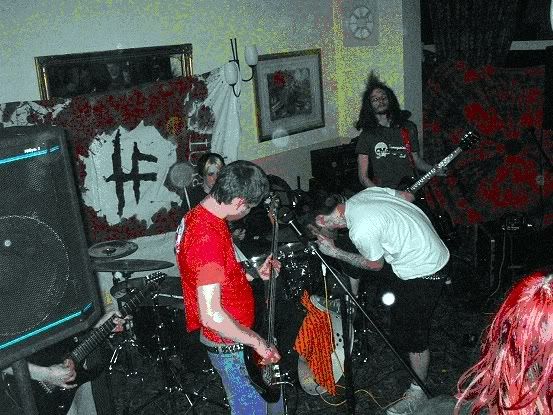 What better place for a gentle comedown… I remember one time on mushrooms at some party out in the middle of the island somewhere there being a giant Foam Henge that due to completely warped senses we couldn't work out if it was real (stone) or not. If any one can enlighten me I'd be most grateful. And would probably hire it myself sometime.
Anyway, as part of an all day fun day the delinquent youth had been given the opportunity to put on a gig in this rather too pleasant surroundings, all in the name of charity of course as it probably wouldn't have had much of a chance otherwise. There's a reasonable turn out, most of the bands being local and therefore garnering support of friends established through the island's quite long established but still burgeoning alternative metal scene
First up Seldom (I think?), came across with a feeling of being in pretty early days bandwise, instrumental metal tunes were a bit awkwardly delivered, more work on timing that'll come with practice. They did take on a better light though when they were joined by a guest vocalist at the end, maybe too much attention was paid to the music when vocals weren't there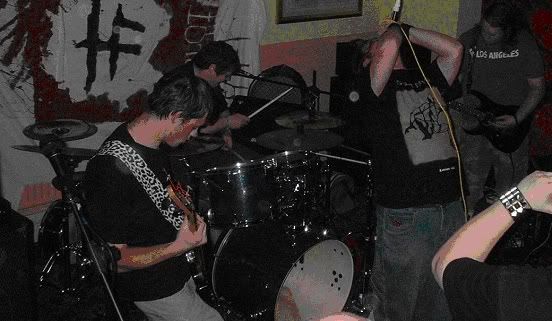 Trekking all the way from sunny Blaenau, Bad Name made a much better impression. Some really interesting guitar work provided the foundation for some relentless, energetic punk metal, blended well with a dynamic drummer, and it was great to see the synchronised fret work as they piled through some complex riffs. Their vocalist was bouncing, charismatic and amusing in his banter but unfortunately the majority of his delivery was lost in the sound system. Still the stand out band for me in bringing some originality to their sound
Starbleed had a pretty solid take on nu-metal, chunky riffing occasionally breaking out into mosh speed. They certainly provoked the first of many mad melees on the dancefloor tonight, but were also quite adept at breaking down the tempo to more atmospheric sections, enabling the vocalist to show his cleaner sung voice in contrast to his staple roar. Personally I didn't see much extension from the formulaic but it was good for what it is. Two-left handers in the band too, can't go wrong!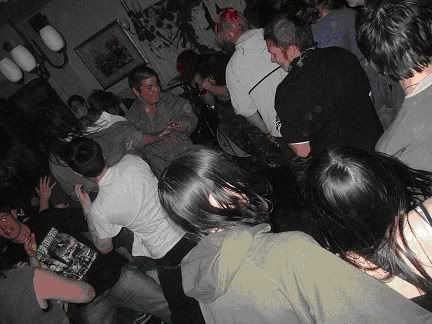 Harlot Farm were much anticipated by most here including myself and they certainly provided the most intense show. It took a song or two to settle into their groove soundwise but when they did there was some real ferocity and with great confidence for a band that has been formed long. Still recognisably offspring of the Korn but with a faster tempo, and some intriguing electronic effects from one of the guitarists that added an extra dimension, especially in their newest song aired tonight. They inspired berserkness in the throng, and while people weren't exactly swinging from the chandeliers they were definitely swinging.
After a bit of a break Anaemic finished off the evening in a somewhat similar vein, although in my opinion they suffered a little in comparison to what had gone before. While they had great sludgey power for a three piece I didn't feel it gelled well tonight, and the same problem of a lack of hooks in their tunes from the last time I'd seen them remained apparent. Still, that's just me and everyone remaining there definitely appreciated what they had to give, they have a CD demo out to make your own mind up with.
All in all a good gathering and opportunity to check out some of the local bands who will be continuing to make a name for themselves on the strength of their shows tonight.
I'm now off to rehab in Tenerife for a while…