(review by neil crud)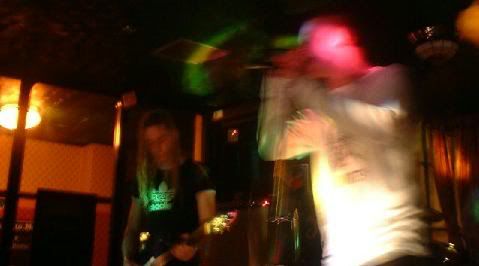 << Alien Matter – Llandudno based seminal punk band of 1998/02. Began life as crossover American-Brit punk, but mutated into a Johnny Thunders meets oi meets Sons of Selina, receiving rave reviews. Feat; Pete Hughes (voc), Rich (bass), Cumi Pants of Sons of Selina, formerly of 4Q & Frank's Dad on drms who replaced Matt, Steve Sync (also of Sons of Selina) (keys) making his debut with them at The Madocs in Colwyn Bay, May 2000. Orig guitarist Muff left Oct 2000, Gary Hubble replaced him for 1 gig. Mike from Shotton joined soon after. >> (link2wales.co.uk)


I think I've mentioned before that a proper curry does possess hallucinogenic qualities; either that or they're spiking me at the Indian Takeaway, for which I thank them. Feeling pretty spaced out on the bus to Colwyn Bay I was convinced the driver had a canary in a cage with him as I could hear it chirping away. The songbird turned out to be the wiper blades screeching across the windscreen. Bizarre!
Wayne The Bastard poured me an ouzo & raised a toast to the island of Kythera (it's a long story) & headed through the storms for The Madocs discussing the last time we had seen Alien Matter. It was at the Breeding Ground last July, their last gig in fact, far too long to go without playing live.
How many times have I seen Dive? And still I don't recognise any of their songs! Or perhaps they have such a massive repertoire of songs they never play the same set twice. Wayne & myself lauded them for the Butthole Surfers style riff until Pocket Venus' Steve Jones corrected us with his extensive Black Sabbath knowledge.
Tonight was a bash in aid of the NSPCC a worthy cause with your change at the bar being goaded into a collection bucket. Andy Fatman must've donated a small fortune as he ensured his shares in Carling Black Label remained at a high rate.
Dive fought with a karaoke PA (no kiddin') which, after much tinkering spat out a passable sound, & its funny, I'm playing their CD as I write this & I don't recall the songs from last night! Maybe Listerine but I can't be sure. For Wayne to say: 'They're very good,' is a compliment in itself.
You know those weird animals on the Galapagos Islands that have evolved separately from the rest of their species for aeons? The same could be said for Alien Matter, they've been locked away in their rehearsal room (The Chiller) for the best part of 7 months & re-emerged out of phase with the rest of the local scene. This makes their sound different & better for it. Steve Jones & Fatman suggested the opening number was like Hawkwind, but Wayne quipped: 'Ladies & gentlemen, the new Hawkwind. Not!'
What Alien Matter are is a bunch of lazy self conscious twats. Fancy having the ability to entertain a packed house like tonight & only do 2 gigs a year, you bunch of feltching fannies. Get out there & fuckin' do it! Bollocks to rehearsing week in, week out when you could be assaulting the ears & eyes of a discerning public. They said they're not quite ready yet, my arse! Alien Matter obviously don't see some of the bands that I do. This is raw, ready & raucous &, when they want to be, captivating.
Vocalist Pete has not only come out of his on stage shell, he's smashed it to pieces to emerge as a confident spit-u-in-the-eye front man, flanked by Limahl on guitar & cynical bass playing by Rich. Pity about the other 2 tossers.
Alien Matter do possess a certain quality & when they jam out their songs it works really, really well. The punkier songs in the set would work better with that added dimension, but of course they can practise that for the next 6 months in the Chiller.
In the meantime I'm off to blow some goats.