(from 4Q Diaries) – There were a couple of unexpected surprises lurking just around the corner… Two Henchmen turned up at my front door that day; the initial reaction was to fucking shit myself, my whole life flashed before my very eyes. They were after tickets for the Subs gig and gave me £52.50 for 21 of them, which would go toward the money I'd been siphoning off for personal gain. My fears were for security, especially when there's twenty odd Hells Angels turning up. One of the agreements for hiring the Leisure Centre was security, so quick thinking I offered the task to the ones most likely to cause it and asked if three Henchmen would ensure there was no trouble, each getting a tenner.

I then phoned Charlie Harper of the UK Subs to OK everything for the gig and he didn't have a clue what I was talking about! I sent the confirmation to Fallout Records last month and they didn't pass the news on – CHRIST! Anyway all was sorted as the Subs were playing in Retford Porterhouse the night after, so they'll come up on Friday to do the gig and then cross country to Retford and then they're in Holland on Sunday. FUCK ME, lucky I phoned otherwise I'd be booking a one way ticket to Brazil with 200 punks wanting money that I had already spent, or I'd be digging my own grave. Two frights in one day, I had to change my underpants before that night's rehearsal.
We nearly didn't get to play with the Subs as Paul was absent without leave at rehearsals the night before, showing up as we were leaving. He got a bollocking and stormed out throwing a 'fuck off' in his wake. With things patched on Friday 5 February and after nine weeks off stage, 4Q finally emerge from their scumholes to perform at the Leisure Centre with the legendary UK Subs. Ticket sales were 220 (not including seven forged ones, which Debbie Shields had done).
The Centre's management said they'd be watching close, not so much because of the Subs but because of 'the reputation the support band have built up.'
The UK Subs came on for a night of punk cabaret. They stayed at the House of Crud and I woke up to the smell of Charlie Harper cooking everyone porridge and pizzas for breakfast which Paul Puke had nicked from work! Their drummer kept going to the bog with a bag of white powder, which I guess wasn't Vim to clean the bog!
It was quite an occasion for myself to have The UK Subs stay at my flat. I was all starry eyed; after all, this was a band who I had idolised as a teenager, who I had seen loads of times on Top Of The Pops, whose records I had in my collection. And here they were signing my bog wall (as did all visitors) and sleeping on my living room floor.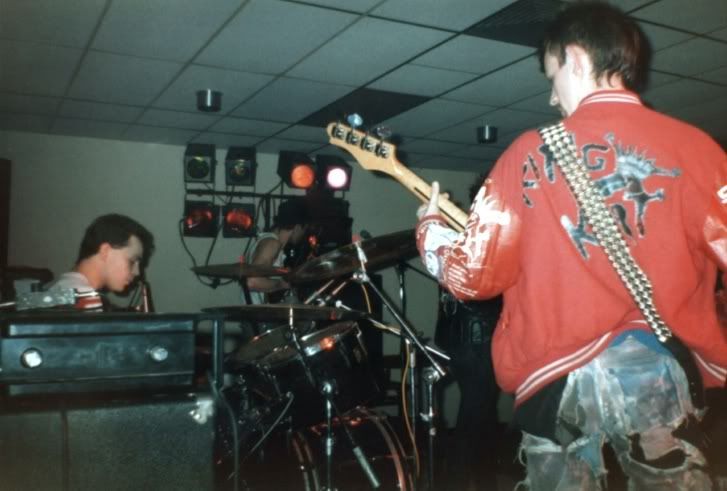 A successful gig? Well 4Q got a mixed reaction, mainly negative, 220 people were there and they all stood as far back as possible during the set, leaving a huge void in front of us. This was our first appearance in Colwyn Bay since the riotous debut eight months before and there was bad blood to be smelt. A lot of people resented the fact that we were in the papers every week, others thought we should've split when Edi left and resented the fact that I got into an altercation with him. And there were others who didn't like the way we had treated Budgie. Uncle Bowler staggered toward the stage and threw a glass at us shouting,
'All I can say is fuck you!' – And he meant it.
The Subs roadie cum money man complained about what I paid them (£220), but it was all I had left. Charlie Harper told him to shut up and that the amount was fine. The hall cost £53, PA £100, Security £30.
NORTH WALES PIONEER 11.3.88
Armed with a pint of best bitter and the latest copy of Crud I waited for the late 70's punk movement to reoccur.
Those aged relics from the late 70's punk era, the UK Subs, provided devoted fans, both young and old, with a brilliant and professional look at the good old school of punk.
The 4 piece band were as tight as ever ringing out such fine multicoloured gems as Warhead, Tomorrow's Girls and Teenage, into their seemingly everlasting repertoire.
It was good to see those old timers still belting out the classics of a long gone and sadly missed era with such gusto despite their forwarding years and receding hair.
In front of hoards of young fresh punks, bikers and other assorted bods the support band, Colwyn Bay's very own 4Q, unleashed their own brand of noisy unmusical thrash dotted with interesting "f" lyrics,
However the concert turned out to be a great success and I hope this will pave the way for more frequent live concerts in the Leisure Centre.
Tony Winmore