My memories are very sketchy about this gig. I recall The Fuzztones as I think I have a Peel Session on cassette, whether before or after tonight I do not know, but it would've been recorded around this time while they were over here from the States on tour. They played Bad News Travels Fast which was their 'hit' of the day.
I was living in Dole City at the time (Rhyl) and had very little money. My favourite band of all time, The Damned were playing 30 miles up the road, it was an opportunity I could not let slip. I took my prized twin-cassette Ghetto Blaster to the local second hand shop. The owner took pity on me, he knew I didn't want to part with it and gave me £35 and said he would not put it on sale for two weeks, saying I could buy it back at the same price.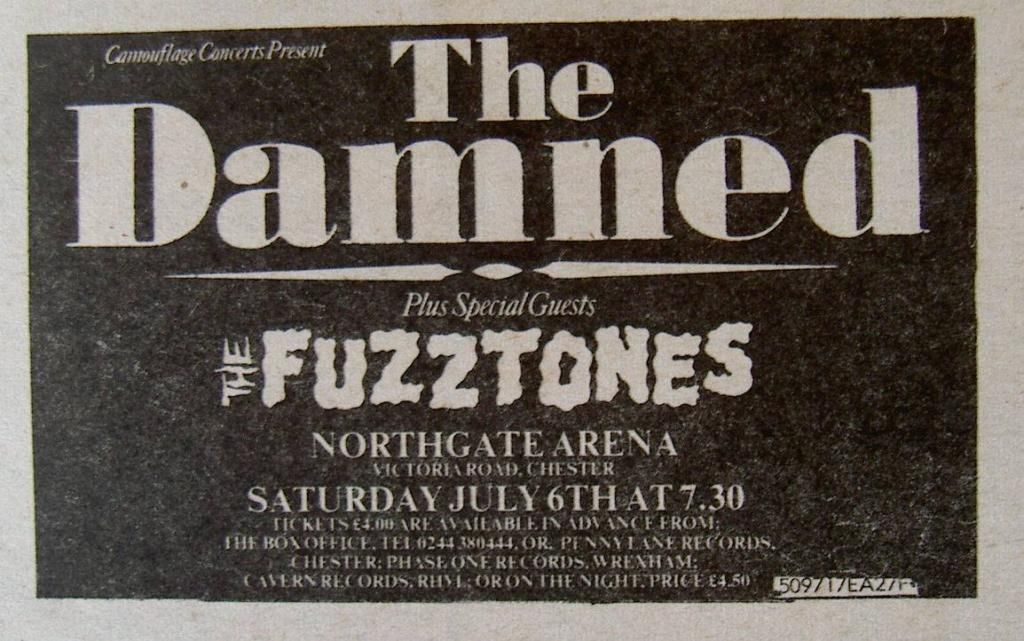 British Rail ferried me to Chester on my own and the lovely sunny afternoon was spent on the grass outside the Northgate, mingling with other like minded punks. We discussed Rudimentary Peni lyrics and a girl called Seraphina squirted hairspray in my ear.
The Northgate Arena wasn't sold out, probably about three quarters full. My sister, Jane was there and I also met Helen who was pinned to the front barrier and would eventually introduce me to the punk fraternity in Colwyn Bay.
The actual Damned performance I remember being good and added to that set list I grabbed at the end they also played Disco Man and Pretty Vacant (I think Rat Scabies played guitar for that one with Roman Jugg on drums).
My sister says, 'Can't believe it was that long ago!!! Me and Alison spent ages getting ready. I was so excited once we got to Chester because it was full of punks/goths! I thought I was going to pass out when I saw Dave Vanian!'