(review n pix by mwj)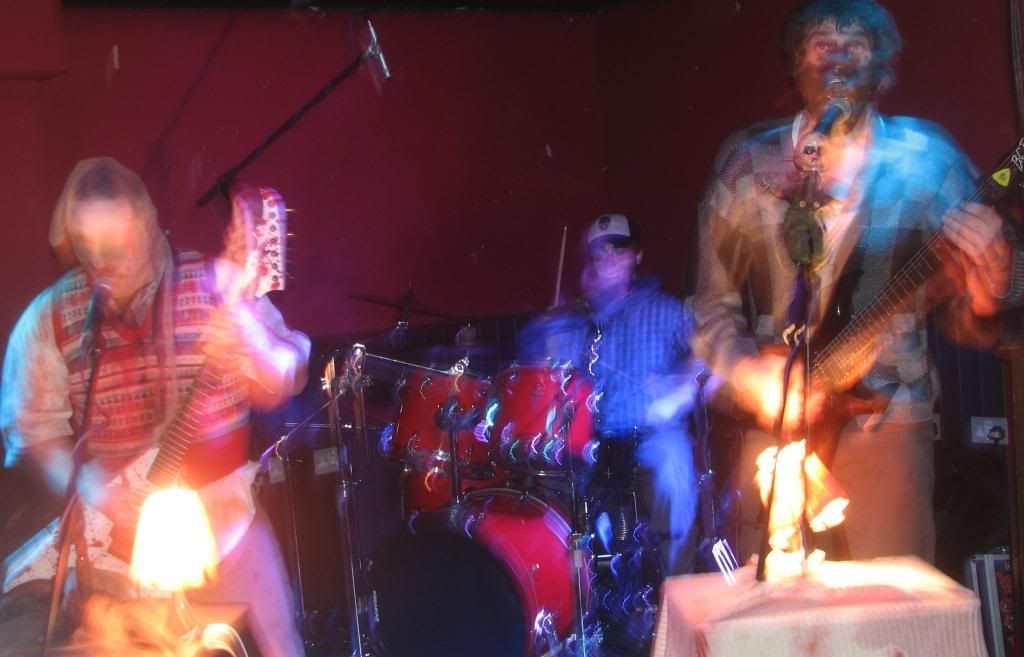 Returning from the internal and external battering of Hammerfest via recuperative radiation fortnight by the pool and beach in Tenerife, it was really diving back in at the deep and dingy end for tonight. Though thankfully the basement Retro Bar didn't stink quite so much of stale sweat and beer as it had on my arrival a few years previously for Palehorse here. It was that I was recalling as me and Gwyn made a late entry to the venue, having missed the grind mentalists of Magpyes unfortunately, or not as their vocalist reckoned it hadn't been one of their better beating shows. Still the party soon picked up, with Foetal Juice on their home turf and maybe glad of a rest being half way or so through a UK and Ireland tour with the rest of this lineup to come tonight. Not flagging though, they got into the superswift rhythms of their old school death metal soon enough and even the presentation of a commemorative pair of crusty tour boxers to the crowd didn't dampen the positive response, especially to the humour in their banter and song titles. Ireland's Zombified took things to another serious level of harsh and precise brutality next, more of a tech death approach with guttural vocals and an impressive drummer driving things along. These, Foetal, and BTK next are all sharing a 5-way split release "A split worse than death" (among 50 other titles!) and glad to pick it up as a fine example of some of the strength in the underground extreme scene. London's BTK (pic above) were up next, seemingly the touring partner of choice for the headliners and like the last time I'd seen them in Liverpool they were frenetically agitated in delivering their hyper-aggression death. With the added bonus of their theatrics I am also amused to hear their samples about the Los Cristianos decapitation. I had an alibi, honest.

Finally, the truculent shambles that is Newport's Desecration (pic above). The fact that they are old hands at the morgue music game comes across well whether they are in front of thousands at Bloodstock or less than a hundred here. The three-piece overcome a steady catalogue of hiccups and disasters with some great naturally comedic banter ("thank god we're not Slipknot, we'd be here all night") to blast through their stripped down and relentless death with an effortless confidence, including airing the title track of their forthcoming album "Cemetery Sickness" which is also available there as a split 7" picture disc. A fine finish to a great set of bands, certainly kept me glowing into the bitter night.