(review n pix by mwj)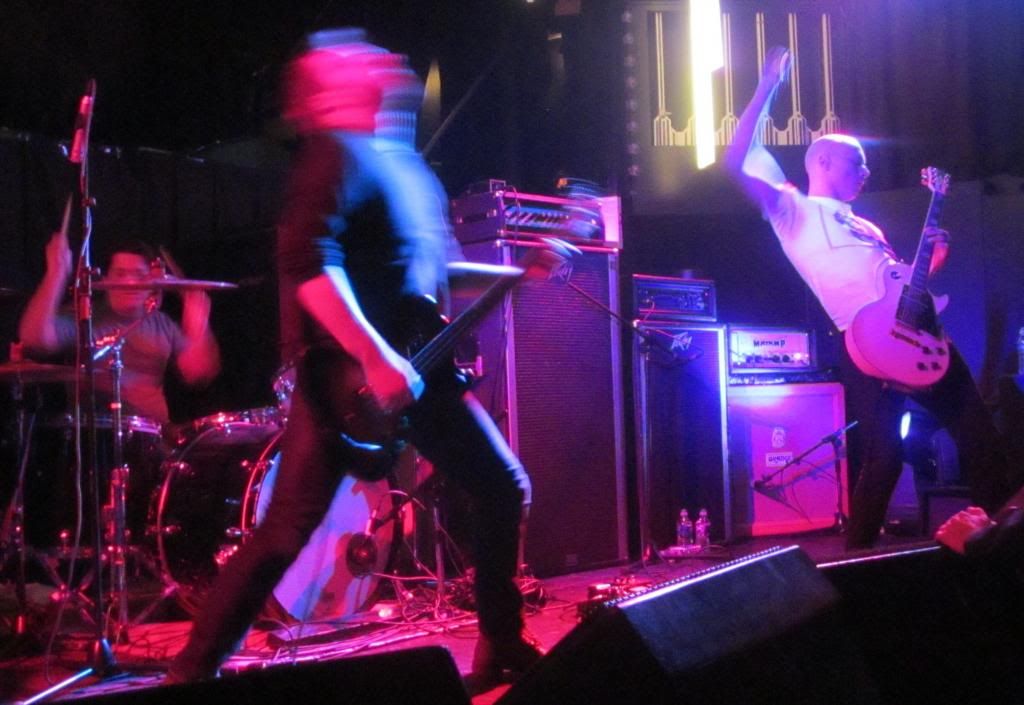 What better way to celebrate/commiserate missing out on the Roadburn festival weekend after my couple of previous years visits than with some crushing doom of the very reverberating vibe that would capture the emotion of the legendary Dutch event? Both these bands had been there last year but I swam out of the crush of smoking bodies about half way through Conan's relentless lava flow and later merely heard Bongripper's unholy racket emanating from the depths of the converted church venue before choosing (rightly, in the long run) to go and see Jucifer instead. Maybe there was the start of a ding-dong bonding/bonging session between them, as here we have a first UK visit for the Chicago instrumentalists, with Conan as the main support and a tour only split 12" available too.
All starting up in Conan's home town too, but after exerting myself somewhat at Propagandhi in Sheffield the night before, I was going to have a more laid back evening. This started at the Cavern Pub (which I'm sure was associated with some notorious stoners or something) for a pint to celebrate a friend's birthday, but then with a full bill of bands I headed over to the marvellous Kazimier. I'd already missed two (Horsebastard and Swinelord) but with recent/forthcoming opportunities of seeing them no great loss. It was still relatively early though so it was not particularly full yet, so plenty of space for the roving singer of Metro Manila Aide.
Very much a fan of taking it to the people in an evangelical style, his Hawaiian shirt soon off to reveal the bra beneath it raised a wry smile but also smacked of trying too hard. Drugs were pretty certainly a factor, which put me in mind of Valleum/Seagull Kinevil but with a solid metal backing and strong vocals more akin to early Faith No More, they were well received by their local fans anyway.
Next Leeds' Humanfly, who struck as quite different from the previous times I'd seen them. Initial confusion about whether this was down to line-up changes but apparently it was just a different hair dye, but they have definitely evolved into a more rocky and upbeat entity than their more serious post metal approach. Not to say they still don't have good progressive structures but less impact for me personally now

No doubting Conan's (pic above) impact, the brutal down-tuned distortion evident even in the sound check. The three-piece summon up phenomenal dirge grooves, exercises in stripped down simple riff work outs that almost take on an industrial quality in their machine-like battering, early Godflesh – a good thing! Excellent double vocal howling attack, and seriously pounding drums to drive things along. They air material from forthcoming album which in some ways demonstrates shorter songs and a punchier approach, but still finish with a traditional steamrolling with the epic "Krull".
Bongripper (main pic) look far more… ordinary than expected, no long hair or flares, a more straightforward business-like approach to creating some huge distorted riff onslaught from the monolithic back line of amps and speakers. Starting off with punishing guitar effect loops that would become a signature link through the set there was a tangible build in tension till they hammered out the first churning riff, jack-knifing their bodies in time to it. Didn't seem to matter that there were no vocals, no banter at all to introduce the likes of "Reefer Sutherland" or "Hate Ashbury", the tunes never lingered too long in any slow depths before rolling on again on a wave of harsh groove. The volume levels were massively satisfying, exactly what you want delivered for a band of this ilk, and hopefully they took the roars of reception as an appreciative welcome to the country.