Social Experiment – Abertillery hardcore punk band (formed Mar17), feat; Puddle (voc), Newt (bass), Paul (gtr), Nicky (drms). Paul and Newt were in Disarm(UK), Rectify, In The Shit, This System Kills, Rejected, Bring To Ruin and Regret. Rel 'Social Experiment EP' (Oct17) and made live debut at Dolls House in their hometown (Oct17). Rel 12″ EP 'Rumours Of Our Demise Are Not Greatly Exaggerated' (01.09.18) (bandcamp)

Society – Merthyr punk band (1980-84), feat; Marcus (voc) (later Foreign Legion), Ian Gravell, James Beattie, Spud, Steve Hammett, and Paul Watkins aka Paul Black (drms) (later Dead On Arrival). Formed at Cyfarthfa High School, debut gig at Tiffanys (which is now an Argos)
Society's Rejects – Oi band from Cardiff (early 80s), feat; Carl (bass), Kizz (drms), Mark (voc), Scon (gtr). Prod by The Oppressed's Roddy Moreno. Their sole LP "Skins N' Punks" on Oi Recs (Oi OIR 007). This was a split rel with Last Rough Cause who hailed from Darlington. A few odd tracks have app'd on CD reissues; "Its Your Life" & "Politition" on 'This Is Oi' (Captain Oi Recs AHOY CD 6 1986) and "United We Stand" app'd on 'The Best Of Oi' (Captain Oi AHOY CD38 1995)
Soda Men – Cardiff based indie-rockabilly band (formed 2002), feat; Euron Griffith (voc,gtr), Stewart Lucas (drms), Andrew Thomas (bass) and Mike Slee (gtr). Rel Welsh language EP 'Tyllau Yn Y Cymylau' (on Rasp 2009)
Sodomized Cadaver – death metal band from Ebbw Vale (formed 2013), feat; Ryan Howes (voc,gtr), Raymond Packer (gtr), Gavin Davies (drms). 
Soft-Hearted Scientists – west Wales band much lauded by Adam Walton's BBC Radio Wales Show. Rel debut EP 'The Wendigo' (on My Kung Fu). Dbl vinyl LP 'Whatever Happened To The..' (18.02.13) (website)
Solar Bud – Swansea punk band (c1995), feat; Clad (Paul Cladingbowl) (bass) (now of Fistfuck), Jacky Rees, Vincent Zap Rees (brother and sister), Dodo and Ant Gray (now Earth to America, The Hypnotrons website) – (brother of Matt Gray ex Darling Buds). Band ended by the tragic death of their young drummer, Dicky in '96. Vince was earlier in Cosmic Zaps
Soldier Dolls – punk band formed 1981, feat; David 'DKA' Alderman (gtr) (ex Blast Off, Animation, later of Slow Jam, I Mobster), Andrew 'Fester' Mae (voc) (ex Animation), Bob 'Slow Bob' Humphries (bass), David 'Evvo' Evans (drms) (ex Animation). This line up stayed together until 1983 when Evo and Bob left to play heavy metal. (Evo went on to drum for Rankelsen and rel a few LP's), Fester and DKA were joined by Jamie Richards (bass) and Matthew 'Morph' Gray (drms) (later of Fenella Fielding, I Mobster, Slow Jam, Darling Buds). Jamie left in 86 just before A Taste Of Blood EP was rel, so Fester took over playing bass and singing for a few months then the band split. Rel 2 tapes; Ten track Sampler and From The Cradle To the Grave and two EP's What do they know and Taste of Blood (#13 in the HMV indie charts). In 2002 Fester and Evo rec a load of old Dolls songs in the hope that it would inspire the others to have another go, the band almost did an impromtu set at a jam night in Cardiff, but time was against them as it was the 1st time all 4 orig members were in the same room together for 19 years. Soldier Dolls singles fetch a good price on Ebay. Fester lives In canada, Evo in Spain and DKA in Paris, the others still live in and around Cardiff. 2004 saw the publication of the book 'Burning Britain' by Ian Glasper which inc the Dolls and resulted in a renewed interest in this overlooked punk band. The orig members decided it was time to re-record some of the unissued back- catalogue. (website)
Solid State – Newport band (1998) feat; Neil Cooper (voc), Scott Wilson (gtr) (both later of MSCF, 12 Inch Ninja)
Solutions – Cardiff punk band (formed May08), feat; Robin Williams (drms), Kai Woolen-Lewis (bass), Nicky Williams (voc,gtr). Debut gig at Buffalo Bar 4.8.08. Had session on Adam Walton's Show 18.01.09. Rel LP 'Before The Roars' (Nov09) (website)
Sopha – Swansea band (1999-00). Dave Robertson (voc,gtr), Mal Roberts (gtr), Ed Bowen (bass), Neil Wasey (drms). Rel 2 good albums and toured extensively around UK and many TV Radio credits.
Something About Yesterday – band (c2003 -now defunct) feat members of All Else Failed
The Somethings – Band (2004) on Taff Pop recs, rel debut single Obsession is King for a Day. More info req'd
Something Wicked – Cardiff band feat; Glenn Thomas (ex The Trap). Played the Meltdown jam sessions at Chapter. More info req'd.
Some Weird Sin – Cardiff punk band (mid80s?), feat; Jason "Pipeman" Stickler (Effigies, The Weird, Sewer Youth). More info req'd
Son Capson – Aberystwyth based off the wall project (c2009) (website)
Souldriver – Aberdare band (2004), feat; Wayne Morgan (b.1981) (voc,gtr), Andrew Price (b.1978) (gtr), Anthony Hicks (b.1981) (drms), Dorian 'Dozza' Holmes (b.1.7.87) (bass). (website)
Souldust – Swansea band, feat; Rich (gtr) (ex Psychodelic Doomnerve), & 2 ex members of Aeolian. (website)
Soulhive Movement – Aberystwyth band (late 90s), feat; Luke Taylor (gtr), Ben Faircloth (bass), Rupert Wood (drms) (all later of Hot Puppies). Toured Italy & rel a single 'Pearls for Swine' on Greenwich Village label. More info req'd.
Sound Junkies – Tonypandy 4-pc band (formed 2002), feat; Paul Shepherd (gtr) (ex Hopper) & Greg (bass), Blare (drms), Rob (voc). Rel single In Audio We Trust (19.11.04). (website)
Soundnation – new name for Honk magazine (launched Jul03).
Soundstorm – band (1987-96) feat; Justin Maunder (voc), Jon Davies (gtr) (ex-Barker), Russ Rogers (drms) (ex Theory Of Index), Paul Hughes (ex Theory Of Index), Adrian Hambly (bass) (ex Theory Of Index). Played many prestigious venues over the years including St Davids' Hall, Cardiff and The London Hippodrome, London. Rel single "Danger Signs" which charted that year produced by Dai Shell (Sassafras). Reformed late 2005 to continue playing after a 9 year break.

Soundwire – psychedelic-indie band from Swansea/Bath (formed 2011) feat; ex members of Shooter, feat; Simon Court (voc), Peter Moore (gtr,keys), Simon Jones (gtr), David Jones (bass), Andy Kersey (drms). Rel singles Burn Deep (4.6.13), We Rise (UXB (15.10.18). Then an album 'Soundwire' (4.2.19) (website)
The Source – hardcore band from SW Wales feat; Adam (gtr) (now of Echo Red & editor of Lime). Band split NYE02. Adam also played in Omega
Space Beans – Pontypridd based post-punk group with minor spacerock elements (c1984), feat; Steven Pittman (vox) (ex Addiction), Philip 'Dickie' Owen (gtr,keys) (ex Rachel's Ravenous Offspring, Jump For Joy), and 4 others.
Sparrow Lane – Swansea band, formed 1996, by Tony Webb (g/v) to play Neil Young, Byrds covers and suchlike, also feat, Huw Rees & Paul Batts (now Kings of Despair). Have progressed and now play mainly songs written by Tony and 2nd guitarist Andy Morse. 2004 line-up is Tony, Andy, Jeff Baker (b) and Denzil (d), although Nick Moore (see Break Super 8 and Kingsway Cowboy) frequently stands in on drms. Live acoustic CD rec at the Monkey Cafe, Swansea, Mar03 – (website)
Spectaculars – Porthcawl-Swansea band (c2006), feat; Tom (voc), Lizzy B (voc), George Jones (gtr), Ed (bass), Lloyd (keys), Dazz (drms). George is son of Mickey Jones (Man). Rec EP 'Vicious Pop' (website)
Spider Kitten – metal-grunge band from Cardiff (formed 2001), feat; Chi, Ptew. Rel 'Things I Can't Kill' EP (2005), followed by the LP 'Ineffable' (Rugland Recs Dec07), then a live download LP 'Mud River Blues' before a 2nd studio LP came out called 'Future Echos' (1.12.08) (website)
Spiderplug – Cardiff punk band (1995-99) feat; Pete (gtr), Jamie (voc) (both now of Adequate 7), Stef Snowdon (gtr) (joined Mr Zippy on bass before studying at Plymouth Uni). More info req'd.
Spike – (Mar71 -Mar72), Penarth progressive heavy rock band, feat; Adrian Angove (bass,voc), David Bush (drms), Ed Griffith (keys), John Ingroville (voc,harm), Robert "Tich Beck" Gwillym (gtr) (also Kimla Taz). Spent all but a month of its entire existence playing clubs in Germany and Switzerland. Steven Parr replaced Ed (Jan72) who went onto other bands before retiring from music. Band became Ingroville in Mar72. See also Firstborn, Rocking Jays, NiteTime Pipeline, Stone Idol)
Spiral – Swansea indie band (late 80s?), feat; Simon Court (later of Sweetest Ache, Shooter). More info req'd.
Spirit of '86 – label of that year run by Hue Williams (of Pooh Sticks). More info req'd.
Spitfire Boys – band (c1978) likened to the Only Ones. Only rel was 7″Funtime. Were orig based in Liverpool, but vocalist Dave Littler moved to Cardiff and used The Nylonz as his backing band.
Split Records – label (c2005) run by Max Odell (ex Manchild) and responsible for releases by Volutary Butler Scheme, White Light Parade, Matt Sharp, Crosbi, Mendoza (website)
Spookers – an electronic/guitar instrumental band based in Cardigan, feat; Gavin Lloyd Wilson (see also Spurious Transients). Have been experimenting with incorporating the spoken word into their music, working alongside poet Dave Urwin. During 2014 Gavin played several gigs with the internationally renowned psychedelic band Sendelica, playing bass (standing in for regular bassist Glenda Pescado) and rhythm guitar (appearing on the track "Maggot Brain" on the album "Live At Crabstock").
Spoonful – 60's Cardiff based outfit infl by the Eyes of Blue, feat; Steve Finn (voc), Mike Blanch (keys), Bob Reynolds (drms), John Harbottle (bass),  Mike Lloyd Jones (gtr) (later of Universe and Ingroville). A very popular blues band their act often consisted of breaking several hundred old 78rpm discs over each others heads, very droll. After furthering his career as an Insurance Sales man for the Co-op, Steve retired but still sings and plays guitar in public. However, he tends to perform in
Spratt and Livo – free-form experimentalist piano-duo (late 70s) feat; John "Spratt" Gimblett & Steven "Livo" Lively. John went onto form Active Spratt and Lemon with Livo's brother Phil.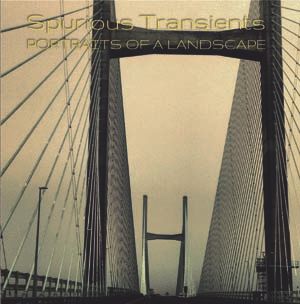 Spurious Transients – project from Pembrokeshire in experimental/avant garde music by Gavin Lloyd Wilson (also of Spookers). Orig formed in 1986 but have had an on/off existence from then until 2012 when new recordings and record company interest gave the project a new lease of life. Self-released album Nov14 having split from record label following differences of opinion concerning marketing. Exhibits strong "krautrock" influences from legendary German bands such as Neu!, Faust, Can, Cluster, Harmonia and Kraftwerk. Fusing elements such as motorik rhythms, Eastern-flavoured drones, soaring EBow guitars and sweeping synths, the music encompasses driving up-tempo numbers through to those of a darker more ambient texture. Incidentally, the name Spurious Transients was inspired by a recalcitrant drum machine.
Squeezebox – Cardiff band (c2002), feat; Les Davies, Tony (bass), Lee 'Penny' Pennington (drms) who died tragically Oct02 age 22. Rel LP (Apr03) 'Drowning in Shallow Water' & single Better This Time (FF Vinyl Sep03) (website)
Starsci – rock band from Rhydaman (formed 2006), feat; Gareth Jewell (voc), Phil Jewell (gtr), Darren Sedgwick (bâs), Gavin Lewis (gtr) and Owain Evans (drms). Played at the National Eisteddfod, and at Parti Ponty, Pontypridd and the Carmarthen Bay Festival. And have appeared on Wedi Saith on S4C. Rel LP 'Bob's Your Aunty (on Rasp 2007)
Star Terrace – Cardiff band (c2008), feat; Chris Urquhart (bass,voc), Rhys Jones (gtr), Barnaby Adkins (drms) (website)
State Run – Porthcawl old skool punk band (2004). Feat; Noel (gtr,voc), Jon (bass,voc), Nick (gtr) and Tom (drms). (website)
Statues of Us – Cardiff-Llantrisant band (1985-92) evolved from The Bulbs, feat; Mike Kennedy (bass) (now involved with Germ Corporation), Boyd Clack (gtr,voc), Clive 'Twink' Trevelyan (voc,gtr); Mark Jones (keys), Martin (drms) (from Shrewsbury). Numerous personnel changes saw Dave & Hilary (gtr,voc), Kevin (gtr), Neil White (gtr,voc), Sue McGarr (keys), Stewart Lucas (drms). The band performed material entirely written by Twink, Boyd and Mike, and arranged by members of the band. They gigged fairly regularly (mostly in Cardiff but occasionally in Llantrisant) and gathered a dedicated following in the process. Rel dble A-side single on their own Revelation Recs, (Doomsday is Coming / Plague in Paradise) but sold very few copies – although it was a firm favourite on the jukebox in The Cross Keys, Llantrisant for a couple of years. Unfortunately, Twink was diagnosed with Leukemia in the early 90's and was forced to curtail his musical activities and the band went into permanent retirement. He died a few years later from his illness. (website)
Steak Records – home to South Wales' least popular musicians, inc Beefcore, Lt Meat (website).
Stealth – (2001) Powys based band. More info req'd.
Steering 2 Music – promo company run by Dom Scarpetta in Abergavenny (c2006) (website)
Steps – Port Talbot band (Jan88-92) (orig formed as GPI in 1977, then changed name to Reactions, then 39 Steps), feat; Pete Watkins (gtr,voc), Mike Morales (drms) and Colin Baker (bass,voc). Baker departed in late '89 being replaced by Mike Andrews (bass,keys). Andrews only lasted a year before leaving. Paul Needs (ex GPI, Reactions) returned on a temporary basis to allow the band to honour some pre arranged gigs in '91. (Not to be confused with shite 90s pop band of same name!) The halcyon years are recognised as being 1986 thro' 1990 probably better know as live band with a healthy live following on college/uni circuit in Wales and South of England the late '80s. But the band still managed to acquire a number of prestigious radio session during this period, incl Radio 1 and Red Dragon, however they never quite managed to make the big break despite regular playing big gigs in Bristol (The Fleece and Firkin is a venue they became inextricable associated with) as well as playing gigs at the Fulham Greyhound and Tunnel Club London. Watkins collected the studio recording of the band on the 1999 CD "Madness in my Method —, Pete Watkins feat the Reactions and the Steps". 2007 will see Rialto Recs rel the long awaited 18 track live anthology  called "The Anthology of Recorded Events – The Steps 1987 – 1991" The collection is remasterd by Andrew Sandoval and produced Russell Smith. Peter Watkins intends to do a number of solo acoustic gigs in support of the CD.
Stereophonics – Cwmaman based 3-pc super group (formed 1996), feat; Stuart Cable (drms) (ex Zephyr), Kelly (voc,gtr) (ex Zephyr) (son of Awyn Jones of Oscar & The Kingfishers), Richard (bass). Combined sales of their 3 LPs 'Word Gets Around', 'Performance & Cocktails' & 'Just Enough Education to Perform' are in excess of 6 million. Cable was sacked (Sep03) due to lack of commitment & went on to host Cable Rock on BBC Radio Wales. Ex Black Crowes drummer Steve Gorman stood in. Rel LP 'Language, Sex, Violence, Other' (14.03.05)
Stereos – Fronted by Alan Collier, this band based in Pontypridd played in the South Wales area during the late 60's. They played mostly Stax Sound stuff and did it quite well. Alan Collier was a talented vocalist and should have gone on to greater things No further information is available on band members after the split
St Even – ambient-dance project by Steven Campey of Newport (c2015) (soundcloud)
Stickman – Llanelli based band (2002) signed to Mighy Atom recs.
Stiff Kittens – Blackwood band, formed 1995 feat; Gary Law (voc,gtr), Lisa (drms), Richard Murray (bass), Steve Price (gtr,keys). Signed to Big Noise in '96 & rel LP "Progress?" in Dec. Orig bassist Sean Birch left in late 1999. Oct02- prod Steve Brown (worked with The Cult, Manics) is to do a new LP.
Sting Like A Bee – Rhythm and Blues band formed by transplanted American, Steve Power. Many personnel changes over the years featuring the cream of Welsh musicians including Mickey Gee, Graham Williams, Tich Gwilym, Pete Matheson, Jack Bass, and Dave Watkins. The ultimate core lineup of Bob Watkins, Paul Westwell, and Vince "VZ" Thomas was also the most successful, recording the self titled album "Sting Like A Bee" in 1990 with producer James Morgan (Stan Webb's Chicken Shack). Disbanded in 1992 with the departure of Bob Watkins to Shakin' Stevens band and Paul Westwell to Southwest Region Coordinator for the Musicians Union.
Stoned Soul Party – Almost legendary rock jamming band featuring Phil Campbell (gtr); Kym Ryan (voc); Bob Watkins (Shakin Stevens Band) on bass; Colin Edwards (keys); Nigel Evans (voc); VZ (gtr); Gareth Jones (drms); Dave Watkins (drms); Graham Hedley Williams (gtr); Phil Picken (melodic bass). With Robert Ashton (engineer)
Stone Idol – (May69-Mar71), progressive Penarth jazz/rock band (akin to Collosseum and Emerson Lake and Palmer). Feat; Adrian Angove (bass,voc), Ian Thompson (Baritone Sax) (later Good Habit), David Bush (drms), Ed Griffith (keys), John Roberts (Tenor Sax) (later Good Habit) who all used to be in Nite Time Pipeline. This band was unusual in that it had no guitarist with all solos being taken by either Saxophone or Hammond Organ. Turned professional (Nov69) & toured Germany and Switzerland extensively. Backed Johnny Johnson and the Bandwagon on a nationwide tour (Jan-Apr70), after which Thompson left. In May70 Willy Blackmore (gtr) (ex Nite Time Pipeline, Pony Express) and Phil Evans (voc) who is the younger brother of Badfinger's bassist Tom were added to the line-up. John had followed Thompson by Jul70 & a month later Charlie Barber (voc,keys) replaced Phil who went onto be in various Swansea bands. Charlie's stay was short lived and Lynn Phillips (voc,harm) (later Kimla Taz) replaced him by Oct70. John Ingroville came in for Lynn in Feb71 & the band became Spike a month later.
Stony Broke – Once described in the South Wales argus as a tight cabaret punk outfit. Formed 1991, originally from the ashes of The Belly Up Blues Band. feat; Butch Waters (voc,gtr) (ex The Effect), Tom Grace (drms) (ex Blind Parade), Dave Pope (bass) and sometime ex jazzer Dave Powell (gtr,voc). Butch went on to other things in 1993 and was replaced by Timmy Gough (gtr) who also played with Hobgoblin throughout this period until 1999. Theo (ex Dirt, Blind Parade, Final Act) came in 1995 on vocals. Richie Dinning came and went on gtr (2000-2003). Predominantly a covers outfit but but still do sets of own material. Led from the front by the unpredictable but always entertaining Theo (aka Terry Theobald).
Stopmotion Men – Cardiff alt-rock band (c2010), feat; G Connors (voc,gtr), Ben Wilson (keys,drms), Hywel Jenkins (bass), Alun D Pughe (visuals). Had session on Adam Walton's BBC Radio Wales Show (10.01.10). Rel Ep 'What Now?' (Feb10) (website)
Storm – band of early 80s(?), feat; Paul Thomas (drms) (later of Freefall, White Room, Zippy and The Public, Celtic Pride). Made debut at Troedyrhiw Boys Club.
Storm Queen – heavy metal band from Cardiff in 1982, feat; Bryn Merrick (bass) (ex Victimize, later The Damned). More info req'd
Straight Lines – Pontypridd punk band (formed 2005), feat; Tom Jenkins (voc,gtr), Dane Campbell (drms), his brother Todd Campbell (bass) (ex Dopamine), James Pugh (gtr). Rel single Versus The Alliegance (2009), with LP 'Persistence in This Game' (2010) (website)

The Straights – Pontypridd punk band (c1978) feat; Dai Bubbles, Peter Kizmus (drms) (older brother of Tony, ex Society's Rejects, now Oppressed), Terry Jones (gtr), Terry Johnson (gtr) and Noddy (bass). They were like a cross between New York Dolls, Velvet Underground and Iggy Pop. Changed name to Masquerade (c1979). No recordings. Sadly, Dai and the 2 Terrys are no longer with us (pic1) (pic2)
Strange News From Another Star – Cardiff band (formed 2007) feat; Jimmy Watkins (gtr,voc),  Harry (Heartbreak) Jones  (drms) as a 2-pc until  Mark Foley (bass) joined in 2008. Had session aired on Adam Walton's BBC Radio Wales show 16.5.10. Jimmy has also moonlighted as guitarist with Future of The Left. Rel LP Deathbyugg (2011) (website)
Strawberry Blondes – Newport band, rel single Kingmob (Apr03) on Thrill City. (website)
Strawberry Dust – Popular South Wales band 60's and 70's.Rel one album 'Ancient Grease' on the Mercury label. – 'Morty ' Mortimer (voc); Graham Hedley Williams (gtr); Jack Bass (bass); Dick Owen (drms). All are still playing in various bands… Morty and Graham formed and still play in Racing Cars, Jack plays in the Boogiemen and Dick has his own band Rattle
Stray Borders – band (c2007). Feat; Matthew (voc,gtr), Carlie Jo (bass), Paul (gtr), Richey (drms). (website)
Strongbox – 64 track recording studios & music production services in Penarth run by Nick Lloyd. (website). More info req'd.
Stupidbrick – Bridgend skate-punk band formed 1997, feat; Ed Jackson (gtr), Mat Alcott (bass), Adam Davies (voc), Garn Davies (drms). Orig singer Vaughan left summer 02 to join acoustic band. Rec 1st demo in Le Mons (1999), 2nd demo Take The Blow (2001). (website)
Substance – orig name for Fenton who realised too many bands had the same name
Suck – Newport punk band feat on Frug Recs' 1994 comp 'I Was A Teenage Gwent Boy'. More info req'd.
Sunsets – Penarth rock 'n' roll band, once fronted by Shakin' Stevens. Still gigging nationwide and abroad, feat; Dave "Bat" Goddard (voc) (ex Backbeats, Wardrobe and the Tallboys), Neil 'Nut Rocker' Thomas (keys).(website) and (myspace)
Suns of Thunder – Swansea band (2003), feat; Greg Bombroffe (voc,gtr), Adam Howell (gtr), Ross Barrington (bass), Jake Thomas (drums). Rel single on Remote Control (15.03.2000) Tennessee Smile followed by 'Gimme Some More EP' (11.09.07). Then debut LP, 'Put Your Music Where Your Mouth Is' (11.05.09). 'Last Of The High Rollers' (09.06.14), LP 'Start As You Mean To Get Down' (28.11.15) (bandcamp)
Superclarks – Rock band based at the Royal Oak in Cardiff. 80's and 90's, feat; Burke Shelley (voc,bass) (ex Budgie) Tich Gwilym (gtr), Dave Watkins (drms). Rel an EP rec at Loco Studios. Gwyn Jones (of NWales' Maffia Mr Huws) played drums for 3yrs after Dave quit.
Superczar – Swansea-based "cosmic rockers" who apparently sound a bit like Joy Division. Debut album Smoke and Mirrors rel 2003. Full line-up uncertain, but apparently feat. Jez Williams (gtr,voc), "Griff" (gtr,voc) (ex Cosmic Zaps), "Davey I think" (bass), (rep. "Big Mat" Dermody, who played on the album), Simon Childs (drms) and Robin Blick (tpt – guest on album). Rel EP 'The Pronk' (Jun04). (website)
Supergene – Carmarthen band (?) (c2008), feat ; Aled Thomas (now of The Conductors). More info req'd
Supernature – Cardiff 4-pc band, rel single Spread Your Love Around (Apr03) on Hungry Dog. (website). More info req'd.
Surfin The Edge of Chaos – female fronted band from Cardiff. More info req'd.
Swank – orig name for Cainer
Swci Boscawen – band/project (kind of from Carmarthen, Aberystwyth and Bangor), feat; Mared Lenny (ex Doli), Twm Champagne, and early on involved Meilyr Jones (Radio Luxembourg, Race Horses), Zak Ravioli and David Wrench. Signed to Rasp they rel a pop-punky single Swci (2005), then Min Nos Monterey (2006) which earned them an appearance on TV prog Bandit (on S4C). Both singles are inc on their LP 'Couture C'ching (2007).
Sweetest Ache – Swansea indie band (c1989), feat; Simon Court (voc) (ex Spirals, later of Shooter), Peter Stone (gtr), Stuart Vincent (gtr) (later Shooter), Ian Stretch Saberton (keys) (later Shooter), Jimmy 'Geriant' Morris (drms), Dave Walters (bass). Later members incl; Rob Lloyd (gtr), Neil Hannar (bass) & Steve Mckrill (drms) Rel 2 LPs, Jaguar (1991) reached Top 50 in the UK charts & Grassroots selling 9,500 copies worldwide.
Sweet Fontaine – Cardiff band (formed 2006) by brothers John and Joe, with Jeff and Tom. Rel debut single Evermore (Dockrad 2.11.09) (website)
Sweet n Tender Hooligans – Newport based hip-hop outfit (c2008) (website)
Swinggang – Studio band based at Briar Bank Studio Penarth. Rel LP on the dA label. feat; Danny Chang (gtr); Pete Hurley (bass); Colin Edwards (keys); Kym Ryan (voc); Dave Watkins (drms).
Swiss Tony & The Vendors – Aberystwyth band (2002), feat; Anthony Hammond (gtr,voc), Ceri John (gtr), Aled Evans (drms), Emyr George (bass). Prev called Bois y Maneg Haearn, Magaldi Fankle, Mwsch. (website) More info req'd.
Swn – Festival held in Cardiff, similar to Manchester's 'In The City' but without the music industry arse-licking.
Symbol of Freedom – Pontypridd punk band (1981), orig feat; Steve Bloomer (drms) Rodney 'Yan' Leyshon (gtr), Lyndon 'Foxy' Fox (bass), John Jones (gtr), soon replaced by Kevin 'Scottie' Hunt (voc). Orig called Drab Confusion. Shared a single with Shrapnel on Words of Warning Recs. Played debut gig Jan85. Scottie left end of that year & Steve switched to singing with Hitler (drms) joining and they also added Alyson (voc).
Syndrome – Pontypridd based project, feat; Andy Bevan (ex Addiction, Campaign 1), and Sian Williams (voc) (ex Campaign 1). Formed 2005 as Williams Syndrome, shortened name Jan07 (website)
The System – Cardiff band (early 80s) – feat; Andy Johnson (gtr) (ex Victimize, Scanners, Carburettors, Missing Men), Socket (bass), Don Sinclair (drms) (later Missing Men). More info req'd
System Changes – (pic) Cardiff band (c1979) formed by 11 year olds, feat; Peter 'Bonzo' Jones (keys) (aka Pete Fuck – see L'pool section), Anthony Moore, Marcus Huggit, Lee Morgan. Never played a gig, did rehearse once and do a Sex Pistols cover, but split up cos Pete's piano stool broke! More info req'd
Yn Syth O'r Rhewgell – fanzine from Brecon (#1 Apr85) (means Straight From The Freezer), I believe was produced by David and Pat of Datblygu. (source)