Zarelli – spacey project (c2015) by Carwyn Ellis (Colorama). Rel LP 'Soft Rains' (on Seriés Aph?nos Feb15) feat synth music adapted to a 1975 recorded narration of Leonard Nimoy reading a Ray Bradbury book There Will Come Soft Rains (website)
Zdronin' Phartz – Probably the only band to use a silent "Z" in their name, Zdronin' Phartz (pronounced Droning Farts), formed in Wrexham in 1988 and gigged with the likes of Angladd Huwcyn, Goodnight Said Florence and Greedy Puppy in the infamous Kings Arms in the town.  Feat; Kevin Baugh (voc), Ed Hodson (gtr), Nick Jarvis (gtr), Gareth Lewis (drms) and Scott Moreton (bass), they played a mixture of 60's psych and 80's indie.  Songs incl; Psilocybin Baby, Mass Hysteria, Mares of Confrontation, Leave It All Behind, and the delightfully titled, Pig's Arse You Bastard. 'Key career moment: Mass urination over the pretentious VW Campervan of Goodnight Said Florence'. Disbanded in 1991.
Zebedee Sez – Flintshire metal band (c2006), have track called The Darkness in Me. More info req'd
Zebedy – Llandudno hard-rock band (formed 07) feat; Jonny Harding-Smith (gtr,voc) (Lantern), David Harding-Smith (bass) (ex Snowblind), Tom Dyson (drms) (ex Harrowdown), later joined by Ben Chamberlain (gtr) (ex Lantern). Played instrumental prog/rock before adding words in 2009! Rel LP 'Exist' (30.11.11) followed by 2nd LP 'Marionette' (01.04.13), then 'Waiting For The Tide' (03.02.23)  (website)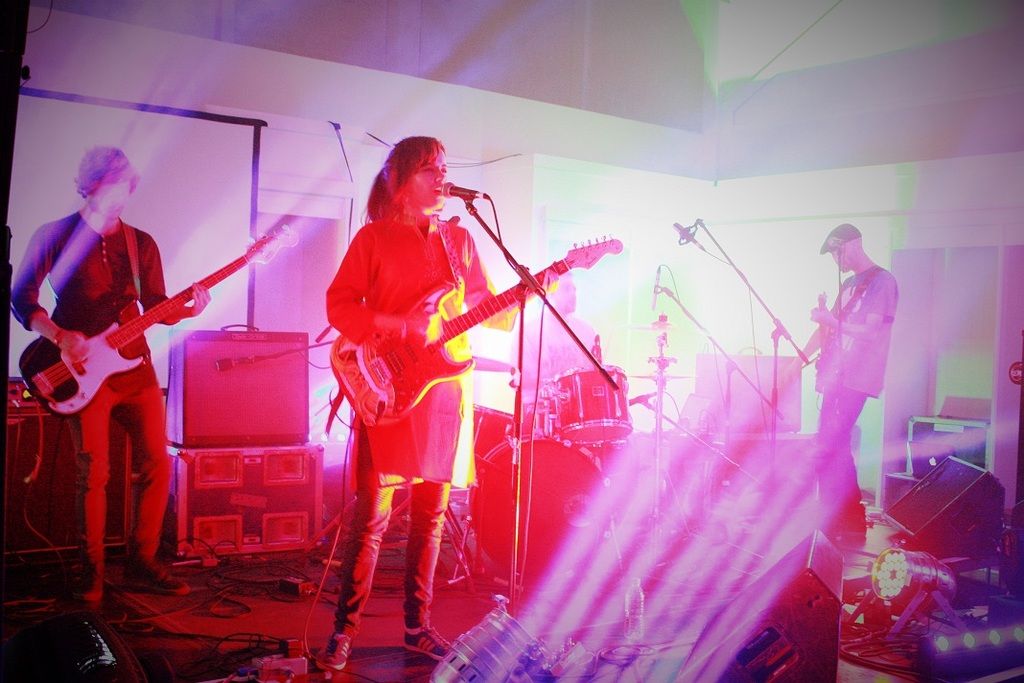 Zefur Wolves – indie band, kind of from Bangor (c2015), feat; Cian Ciarán (gtr,keys) (Super Furry Animals) and Estelle ios (voc,gtr) with Zirian Tahirili, Danny Wall, Trystan Tahirili. Rel LP 'Zefur Wolves' (on Strangetown 2015)
Zenfly – Porthmadog based band (c2000) feat; Aeram. Played. 'Y Sessiwn Fawr' (The big music festival) at Dolgellau, & The Eisteddfod at Llanelli. Also performed on a number of TV progs & have had a lot of airplay in Wales as well as in Canada & the States. They were chosen to represent Wales in the M.O.T.R. (Music of the River) festival held in Jacksonville, Florida (Nov00). Rel CD 'Nostradamus' website
Zenith – rock band Colwyn Bay (formed late 1979). Feat; Mervyn Cross (ex Les Enfant) (gtr,voc), Mark Gowan (gtr), Dave Alexander (bass) and Greg Gowan (drms). Dave was replaced by Paul Tiplady in 1980 and Nicky Murphy (keys) joined around the same time.
Gigged extensively throughout NWales and B'head/L'pool in the early 80s and rec at Aber Studios, Flint. Venues played inc Dixieland Colwyn Bay Pier, Bangor Uni, Plas Coch Anglesey, Sir James Club B'head, Queens Hotel Rhyl (bribes often paid to Sue Kendall from the Weekly News for a decent write up!) and shared the stage with other local bands including Harvest Moon, Trident, Big Waves and Vengeance
Zenith – Llandudno mellow rock band (formed Jan04), Amy Renshaw (voc), Jonny Harding-Smith (gtr) (also Lantern), Dave Harding-Smith (bass) (also Snowblind, ex Casino) and Chris Heath (drms) (ex Red Shift, Aneurism). Rec EP 'Makes You Think'. (pic)
Jon Zep – (real name Richard John Williams) born Dec66, became a close friend of Neil Crud through High School in Denbigh & in their late teens. Once jammed very briefly with Neil in The Spliffs (briefly being 30 seconds!), otherwise no further musical involvement is known. Jon is the artist who drew the cover for Crud #4, albeit 3 years before the zine was published. It is rumoured that he was a member of the notorious Dogs o'war gang but this cannot be confirmed. He lost touch with Neil after they realised that their mischievious personalities got them into too much trouble. Served in the 1st Gulf War as a sapper, now lives in his home town of Denbigh.
Zero Rock – punk band based in Holyhead during mid to late 80s, feat, Gaz Jones (9marchog) (drms), Roger Foot (gtr) (see also Soliloquy), Kev Punk (voc), who according to Bubblegum got into drugs because, 'I know this cos I went to see him once and 2 days later my house was raided by the drug squad.' More info req'd
Zig-Zag Quad – Rhyl synth pop band, best remembered for their forgettable "Who are Zig-Zag Quad" poster campaign in 1986. Feat; Steve Sync, Fairziff, Roger Bickley & Mark Lowe. Roger says: 'I have a tape of Mike [Fairziff] cocking up a Depeche Mode synth line again & again, until we gave up & told him to do backing vocals.'

Zinc – nightclub in Rhyl (1990s). Held Fresh nights
Zodiaque UK – (late 1980's). Rhyl band feat, Steve Sync, Dave Evans (both later of Sync), & Roger Bickley, mainly played cover versions of bands incl, Depeche Mode, New Order, OMD & China Crisis, who were, & still are big influences. They only used analogue synths & drum units as they were cheap to buy in the mid-80's & being 17-18 year olds they couldn't afford the new digital midi instruments which had taken over. However, the older technology recreated the old synth pop classics such as Depeche Mode's Just Can't Get Enough virtually the same as the original. They were barred from the Nova in P'tyn after playing there as, Roger had to be restrained from hitting the manager after he refused to pay them & seeing Rog, Steve, Dave, Fairziff, Andy Fatman, Weeble & probably a few others bearing down on them, the bouncers beated a hasty retreat. The reason they gave for barring the band was that Steve apparantly attempted to glass one of the (female) bar staff. One of their crowning achievements as ZUK was reforming to play at Weeble's 21st in 1989 at which Steve & Rog managed to consume 4 bottles of vodka & several 4 packs in the duration of the gig. This was reflected in the quality of the playing of instruments as the tape of the gig (which mysteriously went missing) testifies!
Zombie Dub – project (2013) set up by Paul Hammond (ex Psycho Sexual Sex Terrestrials, GMX Stuns, deadsexys) and Joe Shooman (ex Vaffan Coulo). Rel single Zombie Nativity (17.12.15) (see)
Zombies From Ireland – zombie / comedy B-movie (c2013), put together by Ryan Kift and Sian Davies and friends in and around Bangor. Very much a no budget cracker! Plot centres around a virus outbreak that spreads when patients of an experiment are ship wrecked off the coast of Anglesey and eat their way across the island. (review)
Zorkie Twins – 4 piece r&b/new wave infl band operating out of Buckley/Hawarden and Chester during early 1980s. Feat; Mike Kendrick (voc,gtr) Colin Miller (voc,gtr), Paul Bedford (bass), John Roberts (drms). One single Mr Simpson now really sought after. Also appeared on the Blank Tapes EP and on the LP 'Trip To The Dentist'..
Zu Bar – venue on the Promenade, Rhyl (also a nightclub) – on the old site of Scruples / Club Zinc. Opened August 2008 and began hosting Wednesday night gigs (a long tradition in the town) promoted by Blood & Lipstick, but 'bar wars' led to these nights ending within months.
http://i1304.photobucket.com/albums/s538/link2wales/Zuggs_zps3029103a.jpg

Zuggs – Bangor band (1979), feat; Gary Stubbs (bass) (CUT23), Maria Hycz and Alan Holmes (gtr) (later of Fflaps, Lungs, Ectogram, Parking Non-Stop)
Zygote – Menai Bridge metal band (formed late 2002), feat; Angharad (voc,gtr), Iwan Jones (gtr), Iestyn (bass) and Simon (drms). Latter 3 use to be in Fleshwound. Gwilym also sang at some point. See now Tinnitus