X – Prestatyn band (c1993), feat; John Wright (gtr), Simon Gregory (bass), Gary Frost (keys), Iain Davies (voc,keys), Joel Dolben (drms), Phil o'Rourke (perc). Rel demo 'The Garage Tape'
X-Ell – Towyn based band (1995- onwards), feat; 3 brothers – Steve (b.1982) (gtr,keys,voc), Chris McElroy (b.1984) (gtr,voc) & Lewis MCX (b.1989) (drms/gtr/voc). Play in a rock/rap/pop style, with influences from Oasis to Limp Bizkit. Have a publishing deal with Universal Music. Often play as 5-piece with Oli Powell (b.1982) (bass), and Gary Pennington (b.1982) (drms). Negotiated a management contract with 'Track Entertainment', who have previously managed Sugar Ray and had major dealings with U2. Changed name to Trans Amp (Apr06) (website)
Xerox – band feat; Dane Jones (now Fudged), played on the opening night of Cats in Rhyl (Mar00) – more info req'd.
Xie – Experimental hip-hop collective from Bangor formed by two 2 ex-members of Fubar, Boy-EE (Chris Gordon) (voc,perc,prog) and blUd (Wayne Francis) (drms,decks,prog,voc). Danno is also involved in the development of the project.Material hopefully released early 2004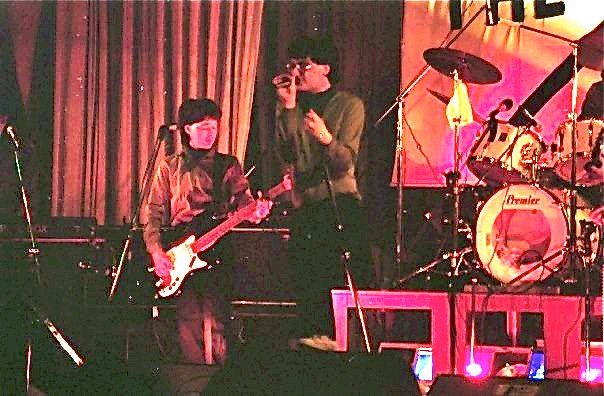 X Men – short lived punk band formed by Steve Allan Jones & Gary Jones (of Amsterdam) Pete Picton (synth)(Grids), Glyn Crossley (bass), Dave Bradbury (gtr) (both ex Units with Gareth Gaz Top Jones on bass). The X Men played 2 gigs (Lampeter uni & Chester college) going down a storm – very like new romantics – a year before the London crowd cottoned on! Had 2 tracks, Drive & Go Away on the 'Systems of Attraction' comp tape. Decided to move to London but only Pete & Steve got there.
Xms3 – 3-pc punk/nu-metal band from Holyhead (2002), feat; Jake Snake Jones (gtr,voc), Dan Dude Morgan (bass,voc), Alex Moller (drms) (ex Gola Ola) who replaced Dave Chalas Jones, who replaced Ash Naff. Cited as a new breed of suburban kids on a quest to conquer a musical dream. Rel new EP 'Ant Killer' (Feb04) prod by Lyndon Rees (Lost Prophets prod), followed by single Skool Sux (2006). Once signed to Green Dragon. (website)
Xsentrik Selection – cult radio show on Shore FM (1997/98) hosted by Paul Hammond (PSST). Format began as a mix of punk, trance, indie with guest DJ slots & interviews with locals involved in the music scene. By the 3rd season the guest DJs had been dropped & a more risque approach adapted, although still promoting local bands the show also tried to cross barriers other shows couldn't. It is probably the only official UK radio show to have played Sex Pistols' Friggin' in the Riggin', Bodies, & Dead Kennedys' Too Drunk to Fuck. (poster)