Vaffan Coulo – Formed 1991. Feat; Trifle (voc,gtr), Bicko (gtr), Mikey (drms), Kerz (bass). Debut at Ffridd Bar in Bangor. Thrown off for playing song called Shit Student Wankers, police called etc. Tours of Spain & Holland '96,'97 almost killed the band. 3 videos for TV: '92 "Rhedeg I Dwydylfylchi" for S4C; 1995 "Rich Woman Will You Marry Me" for Electric Chair on HTV; 1997 "Hwyl a Helynt" for S4C. Three radio Cymru sessions, 92; 95; 96. Rel 1994 "Vaffan Coulo Yn Goch"(Madryn 015) – 4 song EP. / 1995: "Rich Woman"(madryn 016) – 3 track 7". / 1995: "Cowboys Cymru" (Dav120) – cassette album for Mid Wales record label / 1996: "Fast Multiplying In The Skin" (Extune/Tontrager) – split 12″ with German band Ultra Orange on German label / 1996: "Vaffan Coulo" – import LP on Crime Recs (Slovenia) which reached no.4 in the Slovenian Alt Chart / 1995: "Jobs 4 The Bois" – free flexi soundclash with dance producer Johnny R, rel as a ltd edition of 1200 on the front of Sothach! magazine, some of which were given free with Rich Woman. Band split in around mid 98 & had songs remixed by Skinflick. (see also Slater). Kerzy (Jo Shooman) went on to work for Spank Recs. The band are featured in Ian Glasper's book 'Armed in Anger' (2012). (more) (live track from 1992)

The Vaj – Prestatyn punk band (1980-81), feat; Nik Eragua (bass), Pete Bretherten (gtr), Richard 'Tucker' Gray (Rich Dick) (voc & songwriter), Chris 'Smooth' Jones (later of New Order off-shoot Revenge) (drms). Mark 'Muss' Jones (manager- now working for the Visitor newspapers). Formed late 1980, by 4 Prestatyn High School 6th formers into Cockney Rejects, Angelic Upstarts & John Cooper Clarke. The name came from a Derek & Clive sketch. Rich's dad worked at the old Tower Beach Pontins Camp in Prestatyn & they practised on a full size stage there to assorted friends. Debut gig in the North Wales Inn (Rhyl) 17.01.81 (review) (with Holywell's finest The Vots amongst others), followed by a CND Benefit gig in the Queens with 15/20 other bands (over 1,000 present). They did another 5/6 gigs in the Prestatyn & Rhyl area (changing Pete on gtr for a Punkette from the Midlands, Jenny Bell, for the last gig). Rich got bored & wanted to bring in Saxophones etc so musical differences were "actually" the reason this time! All over in 5 months!! Rich was also an A-level Arts student, designed a "The Vaj" logo to be printed on t-shirts that Nik pinched off his father (work's promotional ones) which had an oil slogan on, they just turned them around & screen printed them & sold over 200 to mainly Prestatyn-ites at £3 a time! Songs included: "We are The Vaj", "Who Guards the Guards" & "Stepping Stone" (only cover!) (biog)
Valla – Chester band formed spring03, feat; Mark Pearson (voc) (from Whiston, Merseyside, who went to school with Johnny Vegas), Den Bywaters (gtr), Matt Parsons (gtr) (from Pembrokeshire orig), Jim Candlin (bass), Dave Roberts (drms) (from Connahs Quay) (ex Zirconium). Debut EP- Swimming in Oily Water (Apr04 at MadDog Studios) followed by Punch-Drunk EP (Feb05 at RedCatStudios) (gig history)
Valleum – Amlwch based psychedelic-rock band formed 1997, orig feat; Marcus Peachey (voc,gtr), Andy Culshaw (bass), Rob Owen (voc,gtr), Mike McMahon (drms) (ex-Vaffan Coulo). Recorded 1st EP "Wrong Write Left Stayed" in summer 1998 . During the mushroom season (sept-dec) of the same year Andy fell for a posh bird and went to Uni and Rob was sectioned and had to leave the company of the band (he's fine now), Andy was replaced by Ian (ex-Kresta) and Valleum played 2 gigs as a 3-pc supporting Jack Sharp And The Three Stone Cops. When Beans (ex-Kresta) replaced Rob the songs started to develop a more punk/grunge element he brought with him songs and riffs from his old band which gave Valleum a new and exciting edge, this is the incarnation with which the band has enjoyed most success, in 2000 they played Glastonbury supporting anarchist pop act Chumbawumba, and rec the Tennessee EP. In 2001 they toured, recorded various sessions and hosted a number of open mike sessions @ S.P.A.C.E. in Bangor and Felinheli. 2002, rel the live album "Welcome The Future Or Be Eaten By The Past." 2003 toured Norway rec 1st full length LP "The Revenge Of The Reluctant Messiah" rel in 2004 on their own label (Milkwood), then 'The Whitey Album' (9.6.06), followed by 'The Rainbow Hours' (Nov07), line up is now Marcus, Ian Warburton, Mike and Alun. Changed name to Seagull Kinevil (2010) (website)
Valstumps – Huw Roberts – Rhodri Llywelyn – Gareth Roberts – Llywelyn Roberts – Gareth Williams. Now disbanded, (gone off to college). The summer of 1992 was a turning point in the musical experience of 6 boys from Bangor. Even though playing in a group was not a new experience for them, but the use of the unusual name of Valstumps started a new phase for the group. The musical backgrounds of the individual members of Valstumps helped them form their unique musical style. They made their first public appearances playing in Bangor's small clubs & pubs with unusual English-language groups; singing in Welsh added to Valstumps's originality in the city's English rock scene. Finding a way into the Welsh Rock Scene was the group's ambition, this was achieved when the group won the main prize in the new groups competition at the National Eisteddfod in Llanelwedd 1993. This helped the band's development – after this, the band started to appear more on stage with the "big groups", they recorded one of their songs for the Welsh Language Society's compilation tape called – Oi! Gwrandewch Arna I! (Oy! Listen To Me!). Valstumps received a grant to record their own tape in Les Morrison's studio. The tape was called Cadwyn (Chain) was released in the Neath Eisteddfod of 1994. (more)

Chris Vandal – real name Chris Morris, born Bromsgrove 1966. By a cruel twist of fate ended up being Neil Crud's stepbrother. Began his very short musical career as the self destructive bass player with the Kidneys, so short that he failed to turn up for their one & only live rehearsal. Became an appreciator of music rather than a maker of music. Now lives in Denbigh after moving to Prestatyn.
Vanta – Meilyr Emrys (voc,gtr), Stephen Prys (gtr) Martin Howarth (bass), Gerallt Hughes (drms). From the area around Llanrug Bethel in Gwynedd. Rock band, influenced mainly by The Verve, Radiohead, The Dandy Warhols, Oasis the Super Furry Animals.
VD Crew – name given to the fanatical following of 4Q, mainly consisting of females from Matt Vinyl's family & friends (c1989). Became named so for their resounding vocal additions to 4Q's song V.D.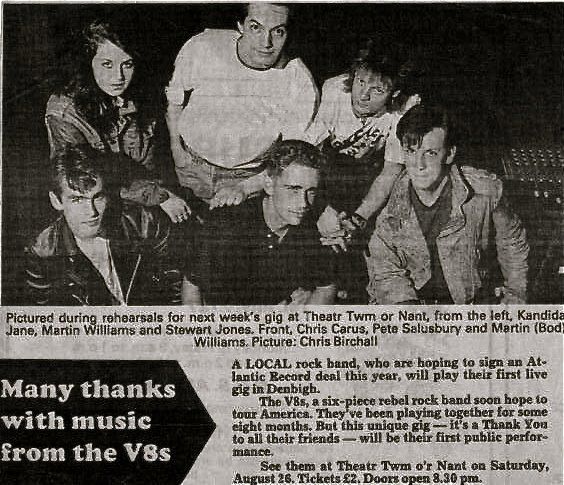 V8's – early 80's band feat; by Marti Williams (voc) – who ran Studio X in Holywell, big mates with Julian Lennon by all accounts. David Stewart Jones (gtr), Steve Cawthray (drms,gtr), Martin Williams (gtr), Chris Carus (bass,voc) (also Germanic Sans, Baby Milk Plant), Royd Baker (ex Baby Milk Plant) and Kandina Jane (Exit). Gareth Davies feat on many recordings. Played at Theatre Twm O'r Nant Denbigh.

Vegas Bar – venue on Bodfor St, Rhyl, on site of old cafe called Van Bodegan's. Started putting regular live bands on toward the end of 2010 thanks to Steve Rastin who promoted and DJ'd there until 2012 when he shifted operations to The North. (See also Bar Blu)

Velvet – Bangor lounge-indie band, feat; Aimee Dobbie (voc,gtr), Mike 'Chewie' Jones (drms), James Phillips (gtr) & Roger Hughes (bass). Formed when Chewie and Aimee met at a gig in late 2014 and found they had almost identical taste in music. Built around Aimee's vocals and songwriting, throughout 2016 & 2017 Velvet played a series of gigs across NWales inc; Festival No6, Gorjys Secrets festival, headlining Oxjam Bangor, Curiad Bangor Pulse Festival. Rel EP 'Fire' (on CEG 26.11.17) rec by John Lawrence rec'd airplay on BBC Radio Wales and Tudno FM. (website)
Velvet Morning – Deeside band c2006. More info req'd
Vengeance – rock band from Rhyl area (late 80s), feat; Tony Babbington (drms)
Venus de Milo – Mold indie band (formed Nov10), feat; Al Guntrip (voc,gtr), Geoff Dobson (gtr,voc), David Durham (bass), Jack Prince (drms). (website)
The Verbs – band. Made début at Cod Club, Bangor 20.04.79. More info req'd
Verm – Llanedwen in Anglesey based thrash metal band formed '94, feat; Sean-Mandrake (gtr) & Alan Davidson (gtr) formed the band, along with Chris Woodz (bass) are permanent members, drummers & vocalists seem to come go, incl Wayne, Dean, Lee, Ian & Phil whose previous band was also called Verm. Played 1st gig in Bethesda Rugby Club to 20 bored people on 11.11.94. 5 track CD/EP out 'Ravaged by Fire Axe' (Website)

Vertigo Bay – Old Colwyn indie band (formed 2014), feat; Mariusz Terpilowski (voc,gtr), Kane Broughton (gtr), Dave Fotios (drms), Pete Fotios (bass). Sound likened to mellow-grunge. Début gig at The North, Rhyl (18.12.14). Rel single Brothers (17.01.15) (facebook)
Veto – Wrexham based band (?) (more info req'd)
Vibe Things – band from Rhyl area (?) 1992.
Vices – Blaenau Ffestiniog grunge band (c2012), feat; Gwion Griffiths (drms) (also Braxton Hicks)
Vicious Circle – Prestatyn based punk band, feat Andrew Tunnicliffe (guitarist & chief songwriter – see also Grids, Mercenary Skank). Supported Black Flag at Colwyn Bay pier Jan 1982.
Vicious Pink Houses – Porthmadog indie band (c1986), feat; Kevin Lane (voc), Jamie Something (gtr), Antony Piercy (bass), Jamie Charnley (drms) (last 2 later of Mynd Am Dani).
The Vic Music Project & Studios – Wrexham resource for all up and coming musicians in and around the area. Opened in 2006 with Feargal Sharkey as guest of honour. The Vic provides help and assistance to aspiring artists, a place for bands to practice and somewhere you can record your music without paying extortionate prices.
Victims of The System – Rhyl punk-metal band (c2014). They split Aug14. Alex and Gaz headed to Manchester and formed Hometruths
Vietnam – Bangor band (formed 1984), feat; John 'Vietnam' Williams (sadly died 26.03.14), Hefin Marian. More info req'd
Vikings Of The Subcontinent – band / project from Rhyl, possibly feat; Carl Roberts (Gintis, Wobbly Hearts)
Vinegar – Bangor indie band (mid-90s), feat; Spaggz (Leon Craggs) (bass) (later Carbonvein, ex-Fubar, Killing Bagpuss, Babies With Rabies, Skink), Rueben Leach (voc) (ex-Killing Bagpuss, Fuz), Dave Taylor (gtr) (ex-Killing Bagpuss, Bucko) & Blud (Wayne) (drms) (ex-Fubar, Bucko). Built up sizeable following around locale & went down in history when police were called to a gig at Bangor Uni & all hell broke loose. Split in 1995 & reformed briely in 1999 with Ashley Roberts replacing Spaggz on bass. Read full biog…
Vinegar Strokes – Deeside (?) rock band (c1990-94), feat; Fred Hughes (voc) (ex Airplane, No Vacancy, Dizzy Mama), Alan Edge (bass), Ray McAlister (gtr), Phil Lowndes (drms), Dave Evans (keys), Fred was replaced by Mike (voc) after about 18months. Band continued for another 3 years with numerous line up changes.
Vinyl – The Movie – working title of a film loosely based around The Alarm's 45rpm chart scam of 2004, when they duped the media into thinking they were a hot new indie band. Production began in Jul10, with filming in Rhyl in Aug10, directed by Sara Sugarman. Lead roles from Keith Allen and Phil Daniels and many parts and extras coming from local people.
Matt Vinyl – real name, Matthew Williams, born 1972. Joined 4Q as drummer in 1988 at the age of 16 making his debut for the band in Brighton & went on to play the band's remaining 43 gigs. Known as Mr Reliable, never missed a rehearsal, never complained & never missed a beat. Introduced the words 'chod' 'brian' 'gooch' & 'nesbit' into the vocabularies of those around him. No known musical undertakings after 4Q split in 1990 until he played drums for Wild Mornings (c2000). Now a driving instructor in Llandudno Junction.

Vinyl Vault – independant record stall at the New Market Hall in Rhyl opened approx 1984 until Crocodile Recs put him out of business. Specialised in rare new & 2nd hand records & bootlegs.
Violated – prev name for Menai Bridge band Hole In The Sky, orig called Sniffer (website)
The Virge – described as The Levellers meets New Model Army meets blue grass meets Janis Joplin & the most original band to come out of Wales ever. Feat; Al – (mandolin,gtr,voc), Dale – (drms,remix), Guy – (bass), Helen – (voc), Jonny – (keys,gtr), Phill – (gtr). This line up has been together for 2½ years, playing a number of gigs in & around the Wrexham, Chester & Borders This 6 piece based in Weston Rhyn, Llangollen & Wrexham. 2 tracks appear on the Spank Recs comp CD 6 of the Best.
Virus – Mold based 4-pc band (2001). More info req'd.
Viva Sparky – fanzine edited by Penfold of Catchpenny Recs, on 11th issue (Dec03), feat; interviews, view & reviews concerning the mainly lo-fi Welsh scene. Available from all cool record shops in Wales or from PO Box 88, Mold CH7 4ZQ.
Vixen – 2003-05 Holywell/Birkenhead based female duo formed by ex-Goodfellas backing vocalists Phillippa Kitchen (voc) and Amy Lammin (voc,violin), full live band feat Nescobar Delmar (bass) (ex-Sofa Kings, Loving Cup), Si Thomas (drms) (ex-Nidd & Friends, Goodfellas), Mark Van Latham (ex-Institute of Air Guitar, Alfs Garage) and PJ Williams (ex-Hand Relief, Bastard Squad, Institute of Air Guitar). (website)
Volume Twins – Name given to Flint twins Mark and Timmy Robinson. The twins have formed and featured in many bands, noticeably 'Ocean Rain', an early version of 'Premonition' and recently 'Pound Foolish'. Their most recent band were forcibly escorted from Theatr Clwyd after their terrifying performance during a charity gig, where the band attempted to perform both sides of Motorheads' 'No Sleep Til Hammersmith' instead of an agreed 60s medley.
Voodoo Magic – formed late 1997, though jamming sessions started in 1995. Both Llyr Ap Cenydd (b.9.10.80) (gtr,voc) & Alun Hughes (gtr) come from Valley, Leon Barker (b.6.12.82) (bass) from Mold, & moved to Valley in 1991, Grwndi (drms).
Vorderman, Carol – TV presenter (b.1960) orig from Rhyl. Noted here for being a backing singer in late 80s for Leeds indie band, Dawn Chorus And The Blue Tits (fronted by radio DJ Liz Kershaw)
Vortex – Bethesda based outfit (pre-1992). More info req'd.
The VOTS – Deeside hardcore punk band (1980), feat; Chris Griffiths (voc), Martin Rogers (gtr), John Drew (bass), Pete Banks (drms). VOTS initials for Victims Of The System. Their following was known as the "vots army" who actually smashed up The Gallery in Rhyl; The Vots being support to Discharge on the night. (a quite nice touch though was that as the police turned up, they stopped the song they were playing, Chris said, 'don't fight amongst yourselves….give it the coppers!' & immediately went into a rendition of The Angelic Upstarts Police Oppression!), Discharge's Drummer Bambi recalls VOTS left a German helmet in their dressing room! Also billed on the CND benefit festival at the Queens in Rhyl 21.2.1981, & played with Jap Connection at North Wales Inn, Rhyl 17.1.81 (review). (pic)
V-Plates – Buckley band formed late 1999 as Disinterpretation with orig line up of Carl (gtr), Tans (bass) and SOJ (gtr). Played 1st gig in a church hall in Buckley after which Bod (gtr) joined & Carl became drummer. Rel The V-EP. (website). More info req'd.
Vul Pecula – Aled Ellis-Davies (voc,gtr), Rhys Llwyd (gtr), David Gwyn (bass), Alex Philip (drms, nonsense), Bryn Jones – (trmpt) (?!). Tecwyn Siôn left in early 1996 Alex (ex-Amddiffyn) now on drums. Vulpecula are a rock/pop/indie (?) group with influences like the Beatles, Stone Roses more. Lots of gigs played throughout Wales, including Rhyng-gol 95 96, Eisteddfod 94 (with Diffiniad), 95 (with Gorkys) 96 (with SFA). A successful EP was released in May 1996, which was recorded in Stiwdio Ofn, Llanfaelog. Appearance on I-dot (S4C – 10.03.97) – songs performed were Gweledigaeth Eliffant Jones Baglu