DJ Ash – Trance DJ resident at Trancemission in Rhyl. 20min Hard Acid Mix was aired on Shore FM's Xsentrik Selection (Apr98), as was a similar mix Dark Acid 9 (aired Oct97).
DJ Messiah – Trance DJ resident at Trancemission, 20min mix was aired on Shore FM's Xsentrik Selection (Oct97).
DJ Sid – Rhyl DJ (real name Jeremy Siddall), has played Trancemission but is unlike his contemporaries as his choice of music is far broader than simply trance/dance. Starting to to do remix work which was online up until 2003. Was in Hobo, & appears on James' Millionaires LP on track 8 Afro Lover where he did all the scratching & didn't get credited for it. Relocated to London with 20 Racine (Jul01), where he still resides. In 2017 formed Kardomah Gang.
DJ Sysygy – Trance DJ resident at Trancemission, but better known as Steven Jones, guitarist for Sons of Selina. 20min mix was aired on Shore FM's Xsentrik Selection (Apr98).
DJ Tweed – Buckley based house/trance act Aaron Mullen, been going since 2001. Says his highlight so far is Djing 7 nights in a row in Rhyl.
DJ Vichy Ssoise – name for Dave The Rave (of Rhyl) when remixing Beastie Boys tracks.
DNA – formed in 1995 by Deian Owen & Ed Cox while playing in the rock band Diems as an outlet for creative urges not catered for in the guitar dominated world of Diems. D.N.A.'s first song was rel on the Gog Rock comp tape, & as a result of airplay on BBC Radio Cymru & a feature in Welsh pop mag Sothach they were asked to record a song for the comp tape Crai Techno (for Crai, a sub label of Sain once run by Rhys Mwyn). The track "U.F.O" which was described in the press as "a ticket to another galaxy" became a popular song on BBC Radio Cymru & resulted in the band playing a live set on air for Gill (the Welsh equivalent of John Peel!). Gronw joined the band in the months preceding the live radio set (a fellow member of Diems that understood Ed & Dei's need to break from their rock pasts). They split when they took time out to finish college courses before coming back to work on new material in the band's studio, & changed their name to Cint.
DNA Project – Trance/Dance outfit (c2000) the brainchild of ex-Psycho Sexual Sex Terrestrials, GMX Stuns frontman, Paul Scouse Hammond. 1st demo Cogs is lighter than previous material put out by Rhyl based Hammond & contains samples of people that mean something to him, ie. family, idols. Cogs was available to download free on the Mr Big Time website. New rel, 8 track One For The Little People (Oct00) takes on a more humourous bent. DNA Project also sampled Sons of Selina tracks into an 8 min piece, not quite a Stars on 45 medley, more like an extremely dark acid trance track. Dec00 – rec a sampled version of Buzzcock's Something's Gone Wrong Again, and Scouse reverted to using the PSST moniker. (discography)
Doctor – band from Bangor area (early 1980s), feat; Elwyn Williams (gtr with Steve Eaves).
Dr Gez – sound engineer, aka Geraint Jones of Llanrwst, who was drummer for Orsedd. He said. 'I realised I was more interested in the other side of the mixing desk than carrying round a big fucking drumkit.' Dabbled with dance music as The Score before becoming a sound engineer at The Forge. Moved on to become involved with the Cool Cymru scene as an engineer. Had a ½ hour weekly slot on Shore FM's Xsentrik Selection in 1998. Worked at Sylem studios in Betws-y-Coed & on tour with Melys, but has since given up live work to save his ears from extinction, although in 2017 has been doing percussion for Colossous.

Dr Phibes & The House of Wax Equations – Liverpool based band in late 80s/ early 90s but had a Deeside singer, Howard King (gtr,voc) (ex In Line With Sphere, Abstract) who formed the band at college in Crewe with Lee Belsham (bass) (also The Expanding Men) and Keith York (drms). They rel a pile of stuff on their own 50 Peel Street label (the name was taken from the place they were living in). Played Glastonbury & also The Bistro, the NME loved them, Radio One's John Peel and Mark Radcliffe adored them. Tragically Howard King's mental health deteriorated and he was tried and convicted at Caernarfon Crown Court for murdering his mother at their Connah's Quay home in Feb97. Sadly Lee Belsham died of cancer (18.05.17). (discography)
Dr Phys – covers band comprising of doctors based in or around Glan Clwyd hospital in Bodelwyddan. Feat; Murdo Alexander, & possibly Roger Dallimore (gtr) (Bobby Owen, woodwork teacher at Denbigh High School used to call him Roger Dalliless, because he was bone idle). Murdo sadly died in 2014.
Dog Legs – outfit / project from Menai Bridge (c2013), feat; Moe Meade (gtr,voc), Liam Bradbury (drms,keys,voc). 'Awkward EP' released 18.01.13 (website)
Dogshit on Toast – Bangor band (mid 90s?). Feat; Kerz (gtr) (later of Vaffan Coulo), Barry Jones (voc) (also of Babies With Rabies) plus various others. Played approx 20 gigs, Kerz says; 'Every gig I think had a different line up, purposefully to avoid writing new songs cause they always sounded different as a result. Alternatively, it was cos gigs were usually about a year apart and it was just for laughs. So at one time or another we had: Wayne (Fubar etc) on drums, Dave Taylor (ex Vinegar etc) on guitar, Dan Shooman (my bro) on bass, Gaz Horne (been in loads of bands in Bangor) on guitar, and a few others hanging around the general area at the time. My favourite gig was me and Barry Jones playing on top of Bangor Mountain at about 1am, a guerilla gig of such stunning success that nobody knew about it. but we did a set, one half facing Bangor, and one facing Anglesey, so the combined crowd was about 40,000 even if they were mostly asleep.'
Dogs o'War – Notorious gang from North Wales during the mid-1980s, membership was unknown although plenty of rumours were around at the time.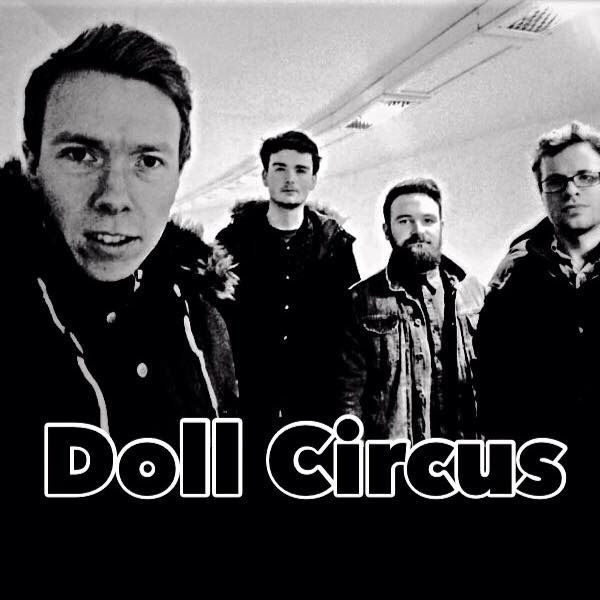 Doll Circus – Menai Bridge garage-indie band (formed late 2013), feat; Jamie Davies (voc,gtr), William James (gtr), Jake Rutter (bass), Adam 'Doug' Jones (drms). Rel self titled EP (21.03.15). Jamie & Adam were prev in Sona. Band went on hiatus in Dec15 when Jamie took on a football coaching role in China (soundcloud)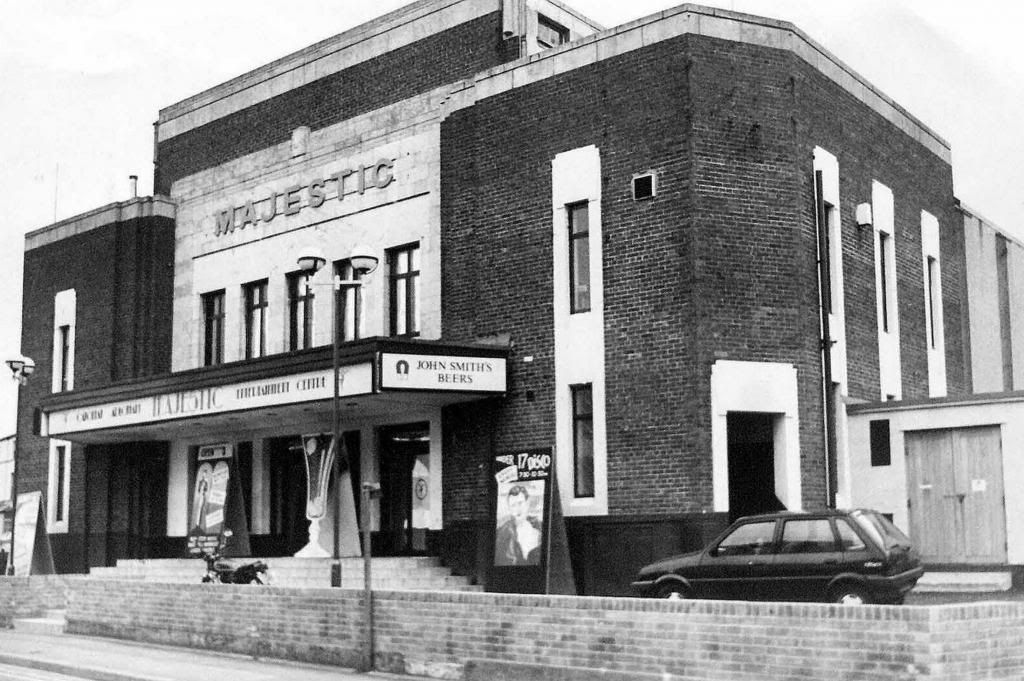 The Dome – nightclub in Caernarfon based in the former Majestic Cinema. Building burnt down in 1994
Doom Reggae – fucked up drum 'n' bass breakbeat noise project from Llanfairfechan (c2011). Feat; Joe McMenemy
Doormat Antics – Colwyn Bay indie-rock band (formed summer 2005), feat; Ben Watts (voc,gtr), Jon Seed (gtr), Peter Seed (bass), Travis (drms). Had to pull out from their debut gig (at school) when a 'random' drummer said he wouldn't do it (they left him in a ditch!). May have rel 'Doormat Antics EP' (2007) (youtube) (gig review)
Doppelgänger – Wrexham alt-rock band (formed Jan11), feat; Dom Simms, Dan Davies, Carl Bowes, Kieran Williams. Rel Murder Of Crows EP (2014) (soundcloud)
Dosse Posse – formed early 90s under the leadership of DJ Ash, a collective of local DJ's, musicians, technicians, visual effect specialists, sound system guru's & general party-heads got a sound system, a few back-drops & a couple of lights & put all their collective energies into putting on well organised & professionally executed parties across the whole of North Wales. By 2006 Ash and Ste J ran Celtic Psy Trance Collective, a forum for 14 psy trance clubs and rigs throughout Wales and N.West. (See also Trancemission)
Dotcommunists – Hawarden metal band (formed Aug03), feat; Sam Currie (gtr), Rob McAllister (gtr), Pete Jones (bass), Ste Ensall (drms), Pete Bailey (voc). Rel EP 'Devil's Cry' (Sep04).
Double Entity – Llay metal band, orig formed 2004, woth present stable line up together since 2005, feat; Gaz Williams (voc), Phil Smith (gtr), Marc Taylor (gtr), Chris McManus (bass), Kraig Love (drms). Gaz always introduces band as 'organised chaos in A minor' and Chris is getting a reputation for being a sex donkey! Split up, playing final gig at Milliner's, Wrexham (18.10.08)
Downbeat Sinatra – Prestatyn based project (c2004 onwards) by ex-Lunatic Magnet, Ian Jones, since moved to Mynydd Isa. Had track Best of Bad play on BBC Radio Wales by both Adam Walton and Neil Crud. And has collaborated with S.Wales band Williams Syndrome co-writing the track Atlanta
Rob Downes – guitarist from Llandudno who joined chart band Then Jericho in 1987, although already established, the band went on to have 3 more UK hits in 1989 & worldwide success. The band split when Rob left to get married in 1994, but have since joined the reunion bandwagon. Previously played in Lost Loved Ones (c1985). His brother, Doug played in Fetish Faye.
Downstream Production – film production company based in Conwy. Run by Joel Cockrill
Down To Earth – band from Wrexham area (mid 80s) feat; Paul Dyson. More info req'd.
Draig – Bethesda / Anglesey based outfit (c1983), feat; Dafydd Ieuan (drms) (now of Super Furry Animals), Huw (voc), Owain (gtr). More info req'd.
The Dreaming – Bangor band (c2005), feat; Helena.
Dred – Prestatyn band (formed Dec04), feat; Gav Lawton (voc,gtr) (ex Utopia, Carbonari, Lucid, Pain Filtered Farm, Jinxed, now Torn Asunder), Mark Ward (bass), Scott Brady (drms) (ex Pain Filtered Farm). Changed name to Crumble and then back to Dred
Drederick Tatum – metal band (c2009) from Wrexham/Chester, feat; Gary (voc), Tom (bass), Sim (gtr), The Shed (gtr), Lewis (drms). (website)
Dressed Naked – Denbigh / Rhyl band (c2004), feat; Colin Jones (gtr,voc) (ex Feedback, later Sabretooth), Simon Parry (gtr) (ex Modest Ego, later Sabretooth), Kris (bass) (joined Mar05), Rhys (drms) (joined Sep05) after Matthew Jones (ex Modest Ego, later Sabretooth) left. Made live debut at a private party then played the Plough, Denbigh (Jul04). Rel CDs 'To Suit Your Needs' (Jul05) and 'Live in Blu' (Feb06). Rec'd airplay on Green Dragon, BBC Merseyside, denbighradio.com, Crud Radio & Dublin South FM. Band split Jul06 playing their last gig at Bar Blu, Rhyl. Colin also runs Useless Ambition Promotions. Reformed in 2012 and began gigging again (fb)
Driftwood – Flint punk band (formed Oct04), feat; Shaun Carr (gtr,voc), John Hinton (gtr,voc), Alan 'Bobby' Bithell (bass), Ciarain O'Hagan (drms). Played Springstock Fest.
Drink Til Dawn – Cefn Mawr (nr Llangollen) band (formed 2003), feat; Spadge (gtr,voc), The Bear (gtr,voc), Phil (bass), Jonny (drms).
Driver – band from Colwyn Bay feat; Julian Thomas (voc,gtr) (from Rhyl), Nigel Smith (bass), Aiden Williams (drms).
Driving Wheels – Chicago blues stuff feat Peter Watkin Jones (ex Crator), played at Pigstock 2000.
Dropped Young – rock,pop,punk band from Rhyl (Oct04), feat; Tyler. Changed name to Tempt Fate (Jan05)
Dros Ben Llestri – Gwynedd band (1988) feat; Dewi Evans (keys)
Drum With Our Hands – Wrexham based label / collective run by Steve Nicholls (Baby Brave, Camera) and Andy Garside (since 2011). Had Baby Brave, Camera, Leaving Isaac's Shop, Matt Nicholls, Orient Machine, Rachel Lloyd, DRKMTR, James Macgregor, Mooi on their roster. Ceased activities in 2017 (website)
Drunk Monkey – ska-punk band (2001) from Llandrillo Tech feat; Rob (voc), Stevie Ska [Steve Brute] (bass) (later Cox, Global Parasite, Spam Javelin, Minus Nine Lives, Chugga), Chris (gtr,voc) & Lil Dave who replaced Gavin Brute (drms) (also of Chinese Chicken Balls). Changed name Jan02 to To Be Announced
Drunken Monkies – Ruabon rock-indie band (formed 2004), feat; Arwel Carter (voc), Ian Hall (gtr), John Burns (drms), Jason Phillips (gtr), Gavin Meredith (bass). Played to 1000 people in Isle of Wight.
Drunk Munkey – record DIY label set up by Steve Brute & Dave Warburton (both of The Cox) in Sep02. Changed name to Pigtown Recs for legal reasons.
The Drwg – Hailing from the dark foothills of Snowdonia, The hairy, Hawaiian-shirt wearing Tarantino fans stick to a very simple philosophy – keep it sleazy. Active around 2016 then announced they were taking some time off (still resting…) (soundcloud)
Drycin – Bethesda based band (1982) feat Rhys Williams, supported Maffia, Y Ficar, Rhiannon Thomas etc around Anglesey & Bangor for a couple of years before they split up because the 2 members who wrote most of the songs demanded more money than the rest. It was all over by the time Rhys was 16. Gruff Rhys (Super Furry Animals) joined them when their regular drummer didn't show up to play a Rock School event in Bethesda, they played 3 songs and this would have been Gruff's first public performance. The band also inc Sion who is now a music lecturer at Bangor Uni & another who now is in charge of the entire budget of the Welsh Arts Council.
Drymbago – band (c2005) feat; Gwilym Morus (voc). Rel single Anian (on Ciwdod Jan05)
Dub Brothers – family named so as 'W' (Double you) being the letter of their surname, Williams. Four brothers, a sister & their mother Ms Dub made up the family, orig from Manchester but lived in Old Colwyn in late 80s. Danny Dub was a session bassist with Black Grape, Jane Bach was Neil Crud's girlfriend and was heavily involved with Crud fanzine and promoting 4Q, and Avion Dub is the face on the front cover of Crud 7.
Dub Federation – Early dance act in that their music & technique was a couple of years ahead of it's time in 1989, feat; Pete Latham formerly of Picture House. Rel 12″ single Keep On Giving in 1991 on Dub Beat recs and 4 more 12″ singles up to 1993.
Dub Munkey – mix artist from Rhyl (c2006) (website)
Duckworth – Lewis Method – 2002 Flintshire collaboration by DJ Komikon & Welsh language techno wizard Y Dref. Rel debut LP 'Heb Fod Allan' on Catchpenny Recs & played debut gig at the Woodhouse, Buckley 18.12.02.
Dudley Arms – pub in Rhyl and regular venue for punk nights since 2002, particularly Punk In Drublic events organised by Dave Cox and Ste Ska [Steve Brute], although events took a downturn in 2008 when operations moved to Colwyn Bay, but started up again the following year until May 2010 when the pub was closed. Used to be called Load of Mischief and was reopened in 2014 as The Cob & Pen.
Duffy – Aimee Anne Duffy (from Nefyn, Gwynedd, born 23 June 1984), known professionally as Duffy, is a Welsh singer-songwriter. Her album "Rockferry" was the top selling album in the UK in the 1st half of 2008. Rose to fame on the back of her hit single Mercy.
Dunky – project by Conwy based Dan Williamson (of Tramp With a Plan) (c2012). Rel EP 'People Are Coming' with Simon Gardner, Tony Parisella (ex Harvest Moon), Rob Outram, Ed Wright & Ella Mae Sueref (website)
Dusk – mellow indie rock band with a hint of blues (formed Feb04), feat; Louise Greener (keys,voc), Ste Ensall (gtr,voc), Rachel Greener (bass), Rhys Roberts (drms). Rel 5-track demo May04. 'We do a cracking version of Teenage Kicks'
Dusty Moonan – former Babakin songwriter (from Rhos-on-Sea)  who performs under this name as a solo performer.  Was frontman of The Affliction before moving to Glasgow in 2007 and also served some time with PSST (2006).  Rec solo LP 'Proper' & changed his name by deed poll to Dusty Moonan (was Mark Moonan). Returned to North Wales in 2012 and has since been working on new project West Coast Sick Line
Duwai Gwallgo – Bangor (natives) band based in Cardiff (?) prev called Hoist Owls of Goi and changed name to Plant Duw as some thought the name (Crazy Gods) would go against them.
D-Void – Deeside (?) based thrash metal band (orig formed 2001), feat; Mart (voc), Rup (gtr), Chris (bass), Carl (drms). (website)
Dybl-L – Welsh language rapper (c2007) – rel 12″ EP 'Gesha Pwy Sy Nol' (Ciwdod). Has appeared with Mr Phormula (c2014)

Y Dyfodol Dyddiol – fanzine from Penrhyndaedraeth (c1987) by Gorwel Roberts (of Bob Delyn) and feat lots of new bands (of the time)
Dying Cows – band (2003) from Dinas Bran. More info req'd.
Aubyn Dyke  – Co-vocalist with Psycho Sexual Sex Terrestrials (early 90s), from Prestatyn she feat  on both their 7″ singles. Last seen performing cabaret. This is her real name!
Dylanwad Drwg – Bethesda band feat Gronw Roberts (gtr) (later of Cint). Rec an LP for Fflach, had videos played on S4C, & won the prize for best band in Wales' National Festival in 1992
Dyserth – just an interesting anecdote about a street in this small village in North Wales. Chris Smooth (ex The Vaj & Revenge) lived next door to the left of the house that was bought by Mike Peters (The Alarm) & the girl who lived on the right ended up marrying Peter Hook (New Order) – this marriage was nothing to do with Chris Smooth's involvement with Peter Hook's band Revenge, apparently they met on a plane somewhere. Dyserth's very own rock star alley! It has also been known for Captain Sensible and Billy Duffy to be spotted drinking at The New Inn, when taking a break from recording with Mike Peters in the village.
Keiron Dyson – singer / songwriter from Rhyl. Likened to a young Billy Bragg with his swipes at the right-wing government. Had session on Neil Crud's Louder Than War radio show (listen)
Paul Dyson – singer/songwriter (b.1963) from Horseshoe Pass, rel CD 'Sounding Off' (Apr02), involved with RISE2 project. Started off with Down To Earth, then drifted in & out of various bands, desperately trying to avoid the Wrexham heavy metal scene, & winding up playing bass & singing in the Nod Corner, a folk rock band.