A5 – Anglesey based project, feat; Johnny R of R-Bennig recs, shared a cassette Gwallgo in Sep91 with Pyw Dall, & rec'd airplay with their rel Egsentric. Dec01- rel CD single CyberGoth which came with 5 mixes & free spiral key chain in case of misplacement.
A55 – blues band variously feat; Tom Bancroft (gtr,voc), Pete Mac, Tony Parisella (bass), and John Heath. Formed orig by Max Hodges and Pete Mac by accident. Max then couldn't follow through due to pressure of work, so he recruited Tom, who then took on the whole show.
A59 – Wrexham alt-rock band (c2007), feat; Thomas Edwards, Steffan Burns, Darren Jones, Ashley Ellis (website)
AAA (Aelwyd Anal Arts) – release on R-Bennig Recs by Johnny R (Oct05)
Aardvark – promo co. run by James Phillips (ex Hand Made Noise, Burnham Burnham, later Velvet, Mudshark Incident) that began as a rock night with DJ Aardvark on 1st thursday of every month at Barrels in Bangor. Has hosted Skinflick, Dammerung. Mar02 – Moved location to Bangor Uni. (Update Mar12) – James runs Aardvark Nights at The Skerries, Bangor
Abandon Hope – (2001) very good punk covers band involved with the MASE organisation. More info req'd.
ABC Records – small independant record shop (late 80s) run by John Philips, selling 2nd hand recs & bootlegs which was on the 1st floor of 18 Princes Drive, Colwyn Bay. Like most stores of this kind in this town, its life span was doomed & lasted 2 years. Closed down soon after being raided by the Obscene Publications Squad for selling the fanzine Crud, the charges were subsequently dropped. (newspaper report)
Abductors – punk band from Glan Conwy (2007-10), feat; Brett Duncalf (voc,gtr), Tracey Howarth (bass) (later Bonzai Massacre, Spam Javelin), Chris Williams (drms) (later Bonzai Massacre, Morvo, Middle Name God). Track Sanity Eclipse was nominated as one the NME's hottest new videos. Also played a 2hour set at Speakers Corner, Colwyn Bay.
Abi Sofia & Alan Holmes – Menai Bridge one-off collaboration, who released a 9min song called Something You Might Lichen on Turquoise Coal (bandcamp)
Abstain – Rhyl fanzine (1993) lasted 3 issues. Mainly handwritten. Edited by Liz (now lives in London), Jane Hatch & Faye. Feat; GMX Stuns, Moonflowers & Syntax.
Abstract – Deeside band formed 1985, feat; Howard King (gtr) (ex In Line With Sphere later of Dr Phibes & House of Wax Equations) & James Davies (voc) (ex In Line With Sphere, now of Alaskan band WUPT), Clive Garnett (drms), Pete Dunn (bass). Played 15 shows in Deeside and Chester pubs, & several benefit gig to aid striking miners and CND. These concerts at Connahs Quay Civic Hall generally feat 8 or 9 young Deeside bands, something of a boom. Their final gig ('87) feat a line up of Howard, James and two Crewe music students opening for a new Tony Wilson project called The Happy Mondays.
A Case For Horatio – Blaenau Ffestiniog metal(ish) band (formed early 07), feat; Dave Fotios (gtr), Rikki Chapman (gtr,voc) (ex The Murder Scene Love Affair), Kane Broughton (gtr) and Luke Bolger (drms). Early members incl, Jason Chapman (bass), Kris Davis (voc), Kev Foster (gtr), Iwan Mitchelmore (bass), Dan Vito and Alex Moller (drms) (Gola Ola). Last heard of in 2020, where Kane had relocated to Birmingham and was recruited members. (soundcloud)
Yr Achos – Bethesda based outfit (pre-1992). More info req'd.
Acid Casuals – techno outfit from Anglesey feat; Cian Ciaran as DJ who boasts of being kicked in the face by (TV chorister) Aled Jones at school. Went on to join Super Furry Animals. Also features Llyr Evans, brother of Rhys Ifans and of fellow Twin Town / 2 Franks fame. Also perform as DJs as Technocrat. Released album 'Omni' on their own Cardiff based Strangetown label (spotify)
Acrid Device – very short lived punk band from Colwyn Bay (mid-80s) feat; Derek Butterworth and Tim (both later of Open Defiance). Jammed a couple of times but nothing came of it.
Act of Supremacy – Mold punk/metal band, (formed Nov04), feat; Jon Say (voc), Arran 'Azz' Symonds (gtr), Phill 'Polo' Poland (bass), Gareth Hughes (drms). Came 3rd in a local Battle of The Bands. By 2007 had become a 3-pc with Azz, Polo and Dale (drms).
Yr Addewid – heavy metal band from Caernarfon (c1991), feat; Iwan Davies (gtr), Jamie Lloyd Roberts (gtr), Jason Wayne Parry (drms), Geraint Williams (voc,bass). Rel cassette EP 'Rhyddhad' (on Crai 1991) (video)
Addicted To Fish – Bangor grungish band (c2013), feat; David Caleb Lee (voc,gtr), James Davies (bass), Kaz Owen (drms), Adam Hilton (gtr). Played their last gig 'for a long while' on 11.09.15. Began rehearsing again Sep21 (facebook)
Adrenalin Talkin – Holyhead punk band, Rhys Parry (gtr), Wacky (bass), Ed (drms), Dave (voc). Band split (c2000), but reformed using same name (2004) as a punk covers band. Pete Ginge (gtr) formed Section 3 and was replaced by Rhys.
Afallon – hip hop Welsh language outfit from Deiniolen feat; MC Pwps (Barry Thomas) and Ap Berllan. Released singles, Snog (2004) and Mam Ti (R-Bennig Nov05).
The Affliction – (2005) project involving Dusty Moo (gtr,voc) (ex Babakin, West Coast Sick Line), Steve Crilly (bass) (ex Babakin), Cumi Pants (drms) (ex 4Q, Sons of Selina, Alien Matter, Deadlight Spiral, Courteous Thief), Steve Sync (keys) (ex Sync, Sons of Selina, Alien Matter, Courteous Thief). Initially began as a Moo side project and evolved into Sympathetic Affliction (playing 2 gigs) before the name change (Jun05). Released demo EP 'Coastline' (Nov05) of which the song Good People rec'd airplay from Adam Walton's BBC Radio Wales Show. Danny Thomas and Dave Majoros (both of Surrealism) were briefly members, Danny played the 1st 2 gigs. Band stuttered to a halt mid-2006 and Dusty moved to Glasgow early 07. Steve Crilly last seen played bass with Fudged (Dec14). (video)
After An Alibi – Llanberis bilingual rock/emo band (formed 2009) (prev called Dirty Words), feat; Hywel Pitts (gtr), Sion Foulkes (voc), Daved Thomas (bass), Rhys Evans (drms), Dan Thomas (gtr). Released 'Moving Up In The World EP' (16.02.12) and rec'd airplay from Tom Robinson (6Music) and Bethan Elfyn (Radio Wales). Relocated to Cardiff but split in 2013 – members went on to form Atlas Will Atone and I Fight Lions (bandcamp)
The After Birth – Shrewsbury based punk band (pre-1984), feat; Dean Obscene Roberts (later of PSST). John Peel sent them back their demotape with the message, 'I love it, keep trying.'. Had to change their title to The Devastaters after complaints over their name.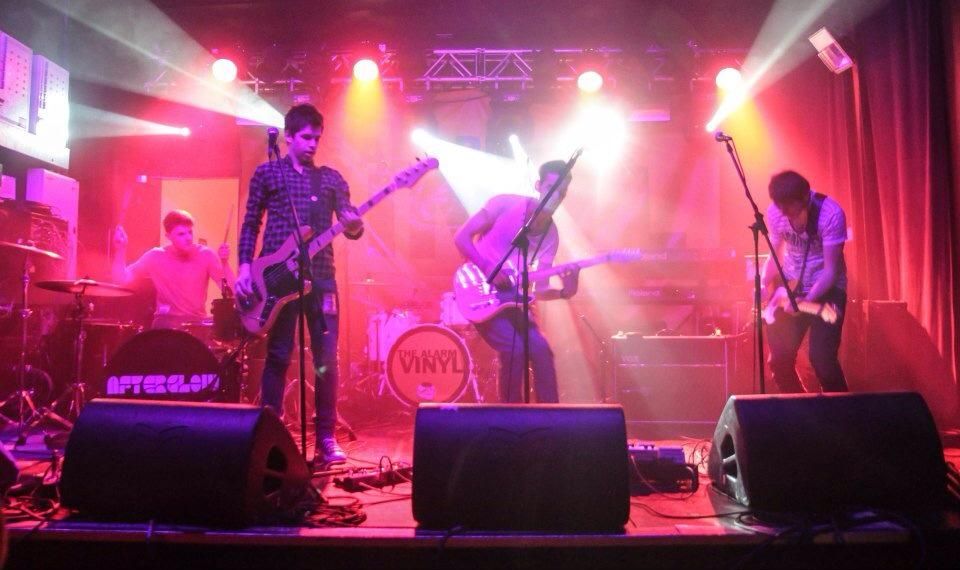 Afterglow – indie-rock band (from Rhyl) (formed 2010), feat; Joey Owen (gtr,voc), Will Peters (gtr,voc), Russ Pearson (bass), Craig Wyatt (drms). May have released an EP 'From Vegas to the North' (referencing two Rhyl venues). Craig played last gig before heading to USA at The North, Rhyl (29.05.14). Then Russ left in Jul15. No activity since. (youtube)
Agent 1475 – Rhyl based duo, Steve Jones from Sons Of Selina (gtr) and Dave The Rave Jones formerly of PSST & The Fluff (keys/etc). High energy hard trance programming with full-on rock guitar riffs & stadium effects to create the organic sound they now possess. Formed, winter 1995. Had a track, Halle Bopping feat on Crai's underground comp 'Crai Tecno 2 – Soundz From The Welsh Underground' (rel 16.06.97) (video) 
Airplane – Deeside (?) rock band (1988-89), feat; Fred Hughes (voc) (later Dizzy Mama), Mark (Miffy) Smith (bass), Bob Mathews (gtr), Mick Jones (gtr), Barry Harris(drms) (see also No Vacancy)
Akashic Tope – Prestatyn based band (mid90s) feat; Goblin & Joel (formerly of She Said, later of Hobo).
Akira The Don – socio-political hip-hopper (since c2004), real name is Adam, born in West Bromwich and grew up in Anglesey for 14 years. Released first of many albums 'When We Were Young' (7.11.06) (spotify)
Aladdin's Cave – indoor market on Rhyl's seafront below an amusement arcade, closed c1988. Sold many bootleg tapes (usually live concerts), & punk badges, manned by Degs (Derrick Nichols). Probably better known for the tattooed punk (Aaron Broster – now a chef) who stood outside on the pavement goading the public to 'Step inside Aladdin's Cave, it's through the arcade & down the stairs.' Aaron's son, Tom Carroll was in Plantfoot, and now performs with Bad Mood & Pete Wylie (Wah!)

Alans Exit – Bodelwyddan progressive-screamo-rock band (c2013), feat; Joe Storer (voc,gtr), Gavin Lawton (bass) (ex Maligned), Daniel Howard (drms). Played debut at the Ty Fry, Bodelwyddan (25.05.13). Changed name to Set The Fuse (Oct14).
The Alarm – Rhyl based chart band of the 1980's, Mike Peters (voc,gtr), Eddie MacDonald (bass), Dave Sharp (gtr), Nigel Twist (drms). Orig called Alarm Alarm having decided to reinvent themselves after ending Seventeen. Played their debut gig at The Victoria Hotel, Prestatyn 10.06.81 & in Nov Rel 2000 copies of 7″ Unsafe Building / Up For Murder on their own White Cross label. In Dec the band become managed by then U2 agent Ian Wilson, finish the year playing with U2 at the Lyceum Ballroom on 21.12.81. more…
Alarm Alarm – original name for The Alarm after they ceased being Seventeen. Soon changed their name after John Peel complained about double-named bands such as Duran Duran, Talk Talk & Alarm Alarm.
The Alarm (mk2) – began as a continuation of Mike Peters' solo project to coincide with rel of the complete Alarm back catalogue on CD with a bonus CD specially rec by Mike, unique to each individual issue. Feat; Mike Peters (voc,gtr), James Stevenson (gtr) [ex Chelsea, Generation X, Gene Loves Jezebel, Kim Wilde], Steve Grantley (drms) [Stiff Little Fingers], & Richard Llewellyn (bass), replaced by Craig Adams (ex Cult, Sisters of Mercy, Mission). American tour in latter part of 2000 brings renewed interest in The Alarm & rave reviews from the US media. Line up continued and rel new single Superchannel (on EMI 6.2.06), entering UK Charts at No.24 and LP 'Under Attack' (20.2.06). The follow up single Rain Down was promoted by a week long series of 'Alarmcasts' broadcast via the website (Jul06), it was rel in download only format but bizarrely EMI messed up and Alarm fans got Placebo when they ordered the single! Supported Psychedelic Furs across USA (Jun/Jul07). Releases became prolific after 2009. Grantley is replaced by Archive drummer Smiley (ex Joe Strummer) in 2010. And Mark Taylor (keys) became a permanent fixture (2011) until replaced by Mike's wife, Jules Jones Peters. (website)
Alchemy – Denbigh rock band (early 90s). More info req'd
Alf's Garage – Covers Band 2006- Bagillt/Flint.  Feat; Mark Van Latham (gtr,voc) (ex Institute of Air Guitar) Laurence ?? (bass), Steve ?? (drms) and Greg Lovelock (gtr) (ex-Mindwerx).
Alien Feelings – Wrexham indie-rock band (c2020) (fb)
Alien Matter – Llandudno based seminal punk band, formed 1998. Began life as crossover American-Brit punk, but mutated into a Johnny Thunders meets oi meets Sons of Selina, receiving rave reviews. Feat; Pete Hughes (voc), Rich (bass), Cumi Pants of Sons of Selina, formerly of 4Q & Frank's Dad, Affliction on drms who replaced Matt Misfit (now Global Parasite), Steve Sync (also of Sons of Selina, Sync, Affliction) (keys) making his debut with them at The Madocs in Colwyn Bay, May 2000. Orig guitarist Muff left Oct2000, Gary Hubble Roberts (Fuzzy Duck, Hub, Scramble Joe, Skunkfish, Anti Virus, Global Parasite) replaced him for 1 gig. Mike from Shotton joined soon after, but left in Jul03 & replaced by Daz Roddick (ex Dive, Whitewash). Rel Bad Earth EP on Q Rings. Noted for their song No Knickers which after 2 mins kicks into a punk version of 2Unlimited's No Limits but with different lyrics. Rec 5 tracks at Rockcliffe prod by Neil Crud Jun02 of which, Bad Earth was played on Radio Wales by Adam Walton & is feat on Poisoned Whiskey Recs Anti-War CD (Mar03). Adam offered them a session (Mar04) and aired 4 tracks. Band ground to a halt in Dec03. Rich moved to London & joined Vamps & Gypsies. Jun05 Pete, Cumi and Gary Hubble had started rehearsing again and Dave Cox had auditioned but soon fizzled out. Apr09, Pete had recruited new members and began rehearsing but nothing emerged until Feb10 when Pete, Cumi, Sync and Mike began rehearsals with Dave Malam (gtr) (ex Dive, Whitewash) and Rob Loughlin (bass) (Deadlight Spiral) (biog and gig reviews)
Ali Todd & Lurker – experienced Flint based blues vocalist (later with DC/79), & a regular at Friday night jam sessions at Flint Borough Club – rec demo CD at Mad Dog studios (Deeside) with Steve Shaw (ex-Premonition), Holywells' PJ Williams (gtr), Colin 'The Copper' (gtr) & Ricky Spangle (ex-Hand Relief, Premonition, Real Crazy Apartment).
Alisons Refrigerated Delicatessen (A.R.D) – Bangor based alternative rock band (1992-94) feat Warren Dyson (gtr), Dyfed Russell-Hughes (voc), Jason Lee (bass) and Russell Dyson (drms). Played gigs in Trax and the Normandie. Songs inc Spontaneous Combustion, Get Out My Telly (about Jim Bowen of Bulls Eye) and Jesus Handles (about Leon 'Fubar' Cragg's driving) it had a storming chorus. The band also did a punk cover of 2-Unlimited's 'No Limits'. They once got into trouble for breaking into a building site and driving JCBs around, and got their name from a shop in Llangefni. Dyfed is rumoured to have worked as an ice cream man. Warren, Russell and Dyfed went to live and work in Warrington. Jason is shacked up with the SFA fan club!!
All About Freedom – one-man hardcore project by Steve Brute (c2005). Put together after The Cox had split up and before Global Parasite formed in Colwyn Bay. Steve also played in Minus Nine Lives, BBR, Spam Javelin, Chugga. Recorded an EP but songs were used by Global Parasite.
All Divided Selves – 2-piece psyche-experimental project from Wrexham (c2017). Debut gig was at Liove Rooms, Wrexham (13.12.18). Added Hendo (bass) to line up in 2020 (soundcloud)
Rob Allen – percussionist with Hooper and later of Perfect Blue (c2007). See Snapshot, Rob
Almanac – Bethesda based outfit (pre-1992). More info req'd.
Alternative Attack – Holyhead based thrash band (mid80s), feat; Spike T Smith (voc,drms), Simon Lewis (gtr,voc), Burton (bass,voc), whose only 7″ rel No Turnin' Back on the underground Looney Tunes label was widely distributed but seldom bought. Became Destroy Babylon after getting banned from most venues. (profile)
Alternative Destinations – Bangor outfit (1981-82) were an instrumental group feat; Ann Matthews (sax) (later Fflaps, Ectogram), Emyr Thomas (drms) (later Reinheitsgebot). They played kind of surf music type instrumentals with lots of drum solos!
Alun Tan Lan – see 'T'
Amazing Expanding Indian – musical project (Aug00) from Dave Macher
Amddiffyn – band from Caernarfon (formed 1990), feat; Aled E-D (voc) (later Vulpecula, Hitchcock). Rel EP 'Pob 6 Eiliad' (on Sain 30.08.90) prod by Llwybr Llaethog. Recorded LP in 1991 'Cleo Pop' but was never released. (video)
Amethyst – Wrexham death metal band, feat; Nige (gtr) (later Hecate Enthroned), Marc (gtr) (later Hecate Enthroned), Ian Maiden (voc) (later Stuntface). Band evolved into Daemonum.
Ameto – alternative laid-back soul project (formed late 2014), feat; Dave Taylor (Rabo De Toro, Heldinky) and Jaci Williams (voc).
AMFX – Denbigh / Wrexham punk band (c2012), feat; Graeme "Moobs" Kynaston, Liam "Waddle" Goddard, Darren "Colonel" Jones, Dan "Ginger" Davies, Oli "Mr 20 jobs" Williams. Debut gig at Midnight Lounge, Wrexham (12.05.12) (facebook)
Amongst The Birds – Rhyl indie band (pre-1990) feat; Mark (drms), maybe Jim Taylor (bass), Brian Moylan (voc,gtr) (later Strawberry Pickers). Brian says, 'Really experimental bollocks, songs inc Suicide (Spacemen 3) Astronomy Domine (Pink Floyd), maybe Touch Me I'm Sick (Mudhoney). I'd do all those songs again in a new band, but just learnt to talk and walk and play guitar again after a car crash; be a while yet.'
Dan Amor – vocalist with Gabrielle 25 from Betws-y-Coed, also soloist. Rel LP 'November Gold' (Lawrence Music 28.07.03), His textured pop/folk songs combine bright melody with splashes of dark electronica. Elation and sadness co-exist, covered in a thick layer of 70s dust. Rec'd airplay in America, Japan and Europe. His next EP rec'd a very positive review in Record Collector. John Peel played 2 of his songs. Prod John Lawrence (ex Gorky's Zygotic Mynci), Welsh language LP 'Dychwelyd' (Return) (Crai 2005), has met with rave reviews, and has saturated local BBC airwaves and TV. Rel 'Disgyn Mewn I Freuddwyd' EP (Mar07) and regularly releases material on his Cae Gwyn label. Dan gigs constantly along the length and breadth of Wales, and beyond: London gigs have inc; The Marquee and 100 Club, with backing band Jos, Dion and Dan. Joined The Peakz (2009) (website)
Amphibian Monks – acoustic band from Conwy (1997-2001), feat; Martin Farr & Wil Williams. More info req'd.
Amser Siocled – fanzine (c1982) by Geraint Williams, feat interview with Celfi Cam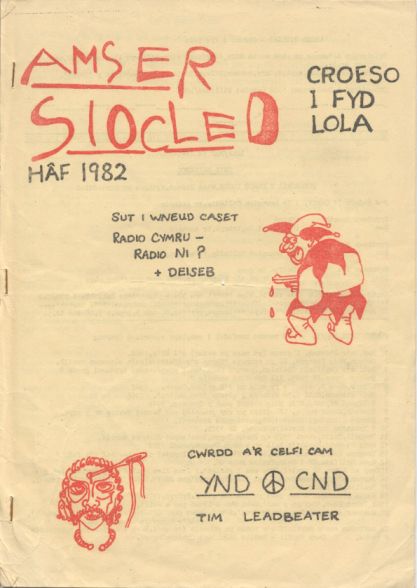 Amser / Time – Nightclub (and venue), based in the students union in Bangor, was a regular haunt of students and local residents alike until it closed in 2010 to make way for the new Pontio building which is expected to be completed Sep14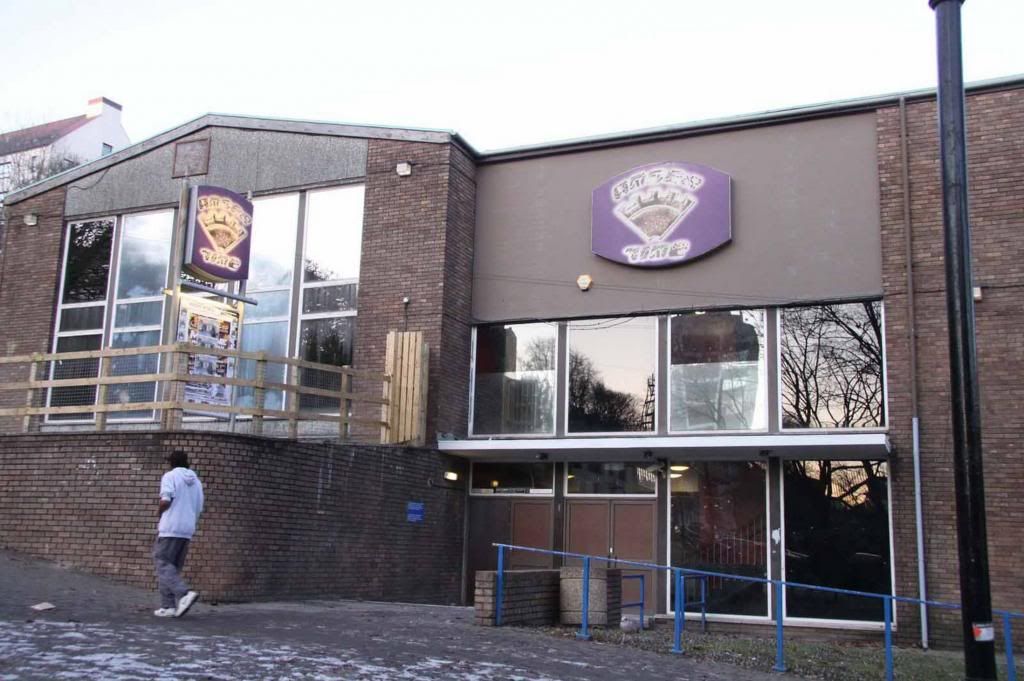 Amsterdam – 1977 Rhyl punk band formed from the ashes of Stripey by Steve Allan Jones (keys,voc), Dave Parry (gtr), Gary Jones (drms) who added Steve Oldfield (bass) (later of Misery Bros) & Eddie Macdonald (gtr). They sounded a bit like Elvis Costello/Stranglers. Eddie left after Steve wouldn't let him do one of his songs in the set (he couldnt write songs for toffee at that point!). He teamed up with Mike Peters as The Toilets & Amsterdam carried on with Dave Parry replaced on gtr by Andy Holt. Played loads of gigs in the north west, often booked the Little Theatre, Rhyl & asked other bands to support them. Biggest gig played was L'pool Uni at the Radio City battle of the bands contest. Also played the Scala, Prestatyn where (possibly) Seventeen supported, & with Siouxsie & The Banshees at C.Bay Pier. Did a demo in 1978 feat; Nights On The Street. Band eventually split up in 1979. Not to be confused with 2001 indie band of same name. (website)
ANAD – young bi-lingual indie band (2001) from Criccieth.
Anaemic – Gaerwen based grunge band (formed apr02), feat; Danial Hemmings (gtr,voc), Darren Morris (bass), Rees Owens (drms) replaced by Nick Kane (2004). Rel EP 'Why Does Everyone Look Like Bill Clinton.' Split Aug08 (website)
Anakonda – Colwyn Bay based rock band whose short career spanned 2 gigs in the summer of 1987 (debut at The Bee, Rhyl 23.07.87). Feat; Paul 'Wilbur' Williams (voc), Nic Allen (gtr) (later NRG), Helen Roberts (bass), & her brother Huw (drms). Self penned song You Shit was pretty decent. Changed their name to The Kindred then immediately split up.
Anders – (pic) Rhyl band (formed 2003 as Inner City Sumo, changed name in 2005) feat; Wayne Jones (drms) (also Jives Room), Johnny Shepherd (bass), Simon Anderson (gtr) and his sister Helen Anderson (voc,gtr). By 2006 Wayne had switched to gtr with Dan James (drms) joining. Name is an abbreviation of Helen & Simon's surname. (website)
Simon Andrew – (Simon Gardner). Owner of Rockcliffe Studios, Llandudno. Almost became a teenage sensation on the crest of the (mid80s) Wham! era, to the extent of being a Sun Page 7 Fella (!), with 2 self penned singles So Confused & Call Me Now (Don't), one of which was a hit in Yugoslavia. Appearances on children's TV & media exposure, incl, front page of Jackie & Fab mags. See also; Trinity, Dare, TKRK
Andy Hamer's Beard – guise for Howlin' Wilf & The Broken Fingers from Rhyl. Andy Hamer was their drummer who says, 'We played The Grapevine in Old Colwyn; a tiny, sweaty cellar, which crammed about 100 people into it, a muso's paradise, if you wanted a musician, just turn up there and ask. We backed Victor Brox there, brilliant gig. We also tried to create the Musicians Collective staging local gigs, mainly at the Bee Hotel [31.7.88], The Wilf and Misery Bros were the 1st electric bands to play that venue, with the help of Jeff Blythin and the Bees Kneez, some nights they were too, crammed to the roof.'
Aneurism – Colwyn Bay based punk/grunge band (c2001) feat; Chris Heath (drms), Chris Leach (gtr) (both later of Red Shift)

Animal Logic – Colwyn Bay band (mid80s), feat; Reg Marshall, Ken Turley, Arthur Holden and Rob Hoyle.
Angel – Caernarfon based band (2000), feat; John Bowden (gtr) (later Kobe) More info req'd, Darkside
Angeldrive – Mold based rock band (split Sep03), orig called Heathen, feat; Steve Layfield & Nick Roe (both now of Plumloco), Thomas (bass) (later Sullen, Cyris). More info req'd.
Angelshare – Kelvin Tonner (Owner of Stable House Studios) designed and built Angelshare Studios at Ewloe Castle.Uprgrading the 350yr old site took almost 6 months to complete during 1993/94. It laterfeat in Pro Sound News as one of the only new UK Large Studio Build's of the time.It wasn't long before major artists began using Angelshare to record and mix whole albumsas well as EP's and Singles. Kelvin worked as either Engineer (sometimes Producer) on almost every session that came there during 94-96. Artists include; John Martyn, The Oysterband, Reef, Mansun, The Farm, Gorkys, The Benjamins, Incantation. Angelshare Studios was considered a very creative environment for many artist's. There maybeplans for it's return. Watch this space.
Angof, Yr – guise name for Llanrwst based Oblivion in order to get 'Welsh only' gigs
Angladd Huwcyn – band from Wrexham (1988-92), feat; Eifion Wyn (voc), Alun Rogers (bass), Kelvin Williams (gtr), Tegid Roberts (gtr), John Heyward (drms). Supported Ffa Coffi Pawb many times and also gigged a lot with Terry Waite a'r Asid [shared the drummer for awhile]. Appeared at the Eisteddfods and gigged around Wales. Appeared on Bobs Pritchard's S4C programme in 2 videos and rec an EP at Stiwdio Les. Style influenced by Dinosaur Jr, Mudhoney, Spacemen3 and Sonic Youth.
Anglesey Strangers – rock'n'roll band from early 1960s tipped for bigger things but nothing ever came of it. Feat; Bryn Chamberlin, Gordon Humphreys. S4C aired a documentary c1997 on the band. Lemmy also hung out at a few rehearsals. Band were heading for stardom until their manager, Joe Meek committed suicide by shooting himself in the head in Holloway (03.02.67). More info req'd.
Angry Maggot – Prestatyn Band/project feat; the much travelled Gav Lawton (ex Utopia, Dred, Carbonari, Lucid, Pain Filtered Farm, Jinxed, and Torn Asunder) and Wardy (bass,voc). Rec EP 'Exit to Exit'. (website)
Anhrefn – (pics) (or Yr Anhrefn, Welsh for The Mess). Bangor based Welsh language punk band 1983-1993. Sion Sebon (gtr,voc), Rhys Mwyn (bass), Hefin Huws (drms) (ex Llwybr Cyhoeddus, Maffia Mr Huws, later Branchala), Dewi Gwyn (gtr), formed the earliest stable line up with approx 15 others passing through the ranks, incl; Dic Ben (Elfyn Presli), Mark Whiteley, Anthony, Dylan Huws, Rhodri Tomos, Dafydd Ieuan (Super Furry Animals). Recognised as 1st Welsh band to break into an English speaking market, becoming accepted by speakers of both languages. Prolific gigging (up to 300 concerts per year) both home & abroad brought huge underground success for a band who flatly refused to sing in English. 2007 saw the Rhys and Sion pick up their guitars in anger again and play gigs under the Anhrefn name, albeit more acoustic than punk rock. They were both involved in the collaborative project Hen Wlad Fy Mamau (1995-2000) and then briefly as Mangre. Rhys later played in Welsh Rebel Outpost and White Ether. (biog) (website)
Recordiau Anhrefn (Records) – label set up in 1983 by Rhys Mwyn initially as an outlet for his band Anhrefn, made a significant breakthrough with John Peel playing tracks off the compilation Cam o'r Twyllwch. Rel Welsh language leftfield-alternative acts such as Fflaps, Datblygu, Llwybr Llaethog, Cyrff. Rhys resurrected the label and began releasing English acts such as Beastellabeast (2009). In Sept 2020 a Best Of… compilation was issued digitally and a month later Anhrefn's debut 1984 single was reissued on bandcamp (discography)
Anhysbys – 5-pc Gwynedd band (2004). Rel single Twyni Tywod (on Gwynfryn Cymunedol -May04). Likened to Gorkys. More info req'd
Ankst – record label started as a part-time venture in 1988 by Alun Llwyd & Gruffydd Jones, with Emyr Williams (Emo of Sciencyn Trempyn & Arfer Anfad) joining much later, the label became a full-time concern releasing Welsh-language pop of varied styles by the 90s. Described as one of the most prolific, eclectic & innovative labels. Though the Super Furry Animals moved on to the big-time Creation recs, they were still managed by Ankst along with Gorky. Notable rel; A P Elvis, the Fifth Anniversary Collection. Feat 15 tracks from the likes of Catatonia, Ian Rush, Ffa Coffi Pawb, Gorky's Zygotic Mynci, Fflaps, Beganifs & Datblygu. A great introduction to modern Welsh-language pop's Zygotic Mynci. (discography)
Annalogue – project (c2009) by Bangor based Ann Matthews (of Ectogram, ex Fflaps). Rel debut LP 'Brocken Spectre' (Ankst May09) (website)
Annioddefel – Blaenau band (formed Jun04), feat; Llio Maddocks (voc), Gareth Ellis (gtr), Huw James (bass), Paul Cockerill (drms), and Ceri Murray (gtr).
Anonymity – (pic) band from Llandudno (?) area, formed Feb02, feat; Robert Scholes (gtr,bass), Ian Davies (bass,gtr,piano), David Lewis (drms), Scott Edwards (voc). Played debut gig at MASE 08.04.02.
Another Three Minutes – Deeside-Chester indie band (formed Oct04), feat; Jonny Edwards (gtr), Jonty Hughes (bass,voc), Pete Hope-Parry (drms), Sam Bellis (gtr,voc). Rel EP 'Over Qualified And Under Educated' (Rec at Autumn Rd Jan05). (website)
Anti-Life Theory – Anglesey thrash/metal band (formed Oct05), feat; Dave Burr Pritchard (voc,gtr) (ex Etonium), Ross (bass), Matt Pritchard (gtr), Martin Pritchard (gtr) (ex Salem), Luke (drms) replaced by Ben Norris (ex Entity). Leon Craggs (ex Carbonvein, Fubar) was orig bassist but left due to ill health
Anti-Mute – orig name (c2008) for Deeside band Calling Shotgun
Antishoe – Anglesey punk band (late 90s), feat; Dave McCann (now of Micrographia). More info req'd
Anti-Virus – Colwyn Bay protest punk band (formed mid2007), feat; Gary Hubble (voc,gtr) (ex Fuzzy Duck, Alien Matter, Skunkfish, Global Parasite), James Latimer (bass) (ex Dead Hedgehog, Psilo Psybin), Daz Roddick (drms) (ex Dive, Alien Matter, Deadlight Spiral). Dave Cox (of Global Parasite has also appeared with them). Soured relations within the band saw activities cease in 2009 (pic)
Ants In Their Pants Records – label from Gwalchmai set up in Aug05 by The Shadowy Proprietor (aka Johnny R)
Anubis – Penygroes bi-lingual indie-grunge band (formed mid 2001), feat; Liam Beck, Gwion Owen, Ifan Jones, Jamie B, Rich Williams. Rel EP 'Y' (2004). Rec session for Radio Cymru. (website)
Anweledig – Formed 1991 in Blaenau Ffestiniog, consisting of about 9 members, though like Tystion collaborations are frequent. Feat; Ceri Cunnington (voc) (later Brython Shag), Rhys Roberts (bass) (also Sibrydion), Alwyn Evans (drms), Iwan 'Oz' Jones (gtr), Gareth 'Gai' Thomas (gtr/keys) (Brython Shag), Joseff Buckley (allweddellau), Hywel Wyn Jones (trmpt), Edwin 'Llangian' Evans (sax) and a load of people who seem to do odd jobs. Have Rel an LP, Sombreros Yn Y Glaw (CRAI060). Ceri was reknowned as a 'sex god'. Rhys also ran Complete Control Music's North Wales interests.
Anxiolytics – fuzz-psychedelic band from Bangor (c2022), feat; Rhys Trimble (voc, electronics) (also of Lolfa Binc), Sister Midnight (keys) (ex The Stash), Nomi Leonard (bass) (ex Wendykurk, Dogbones). Rel song Numan (05.03.22), followed by Esgyn Amgen Eigion (22.04.22) (bandcamp)
Anyways – Abergele based band (c1990) feat Dean Paul Davies. Rel track He's Really Not So Sweet on 'Unknown Ten' comp on Rain Tapes.
AOTC – hard rock band from Bangor (formed Dec01), feat; Bryn Roberts(voc), Joe Davies (gtr) (ex Wake Up), Alex Morrison (bass), Joe Taylor (drms) (ex Wake Up). Rec demo summer03. (website)
Apache Cymru – Welsh lang electro-hip hop from Waunfawr. Had track on Radio 1's Session Exposure (2003)
Apathy – Mynydd Isa band (c2005), feat; Dale Jones (voc), Ben Peers (bass), Lee Davis (gtr), Dan Hallows (gtr), Alex Hart (drms).
Apocalypse – early name for Anglesey metal band Verm, complete with Iron Maiden / Eddie-esque aggressive koala(!).
Ap Ted a'r Apostolion – Dyffryn Nantlle based, formed spring 1998, feat; Robin Eiddior (voc), Iolo Tudur Owen (gtr,keys), Gareth Thomas (gtr), Steven Green (bass), Garym Jones (drms), 1st ever Welsh tribute band, performing updated versions of 70's & 80's Welsh rock classics from Edward H Davis & Geraint Jarman. They have performed consistently since their formation, travelling across all parts of Wales, playing to packed audiences. Rel an album called Pastorama on Sain in 2000. All have been members of notable past groups like Maraca, Wenfflam, Dilyn y Dall & Trydan.
Aquiesce – Prestatyn / Gwespyr band (formed Jan04), feat; the much travelled Gavin Lawton (gtr) (ex Carbonari, Lucid), Rob (voc,gtr), Nile Greenall (bass), Nick Kelly (drms). Orig called themselves That Petrol Emotion until realising a band had same name.
Arctic Circle Llandudno based ballad/rock gtr/keybrd duo (2001), feat; Scott & Stuart. Have track Forever More on the MASE 'No Boundaries' CD –
Arfer Anfad – band formed by ex-members of Sciencyn Trempyn, feat; Emo (Emyr Williams of Ankst), Matt Bryon (voc – brother of Pete Ian Rush)
Argon – Llandudno band of late 70s, feat; Tony Parisella (also of Harvest Moon, Mwg, Company), Rob Downes (later of Then Jericho). More info req'd.
Aristocrats – Llandudno based rock'n'roll band of 1962-65, feat; Ray Gardner, father of Simon Gardner. Played residency spot at the town's Washington pub.
Army of Crows – (pic) very heavy/doom metal band from Bangor (formed Jan05) feat. Guy Barlow (voc) (ex Kobe), Declan 'Paddy' Parry (bass) (ex Ysoriant, Hitchcock, This Thing), Danno (gtr) (ex Grot, Fubar) and Gaz (drms) (ex Fubar, Carbonvein). Guy left Aug08 and re-emerged under the moniker Rochester Thorn in 2023 with guitar instrumentals.
Arnie – (pic) Wrexham band (formed 2006) by ex members of Sweet Leaf, Thom B (voc.gtr), Tomas H (voc,gtr), Stan D (voc,keys), Wardy (Tom)(bass), Adam V (drms). Had song Colours Fade played on BBC Radio 1 by Bethan Elfyn (website)
Aros Mae – Caernarfon indie band of early 90s feat; Meilir Hywel Tomos (bass), Steven Tomos (gtr), Eluned Haf (voc), Cian Ciaren (drms) (now Super Furry Animals), Hywel Wigley (gtr). Broadcast on Fideo 9, Rel demo Parodi. Part of the early 90s Welsh phenonemon of teen bands, helped by extensive media coverage by S4C (now largely subdued). Members are now in various other groups, incl; Tokyu.
Arthur & The Woodsmen – Bangor lounge band (c2011), feat; Kevin Pritchard (voc,gtr) (ex Tom Certain, Baker Wicked), Craig Beal (voc,bass) (ex Baker Wicked), Arthur Woodcock (voc,drms) (website)
Arthur Bond & The Blue Jobs – Bethesda based outfit (pre-1992). More info req'd.
Artisfiction – new name for Colwyn Bay hard rock-funk band Kickstart Kitty, (changed name Apr12), feat; Zacky Storm (voc) (ex Bite, Freaky Peach), Karl Doobwah (gtr) (ex Freaky Peach), Kidd (bass), DD Lee (drms). Rel eponymous EP (16.05.12), and tour almost continually (facebook). Split late 2014, Zack went on to form Spitting Pips
The Asbos – 7-pc Denbigh indie-rock band (formed 2006), feat; Gruff Ceiriog (voc), Aaron Williams (gtr,keys), Matthew Mellor (gtr), Josh Neal (gtr), George Baker (sax), Carwyn Lloyd (bass), Gaz Williams (drms) (ex Melaphobia). Played debut gig at Denbigh High (Mar06). (website)
Ashbey – Wrexham indie band (formed 2006), feat; Sam Jones (gtr,voc), Dan Davies (gtr), Dom Simms (bass), Kie Williams (drms). (website)
Aslan – celtic-folk rock band formed at an Anglesey commune in 1975 (anyone know where?) by Malcolm Owen, Paul Fox and Paul Mattocks (now in Silverback) who returned to their native Hayes, Middlesex once the commune collapsed (in '75) and went onto form The Ruts. More info req'd
Asscandles – early incarnation of Interpreted Heros from Anglesey
Astro Monsters – Orig called Invasion of The Astro Monsters, from Colwyn Bay (1990-93), feat, Robin Reliant (later of Sons of Selina, PSST & ex 4Q), he formed this outfit after being relieved of guitaring duties by 4Q in summer 1990). Robin wrote & rec all the material with his brother, Adam Hemuss singing the very long songs such as Octopus, Creature Feature & Crosstown Traffic, & Dave Slave on bass. Heavily relied on the Madchester-Ned's Atomic Dustbin- EMF sounds of the time.
Astronauts on Mars Bars – experimental outfit from 1992 feat; Dean Obscene & Dave The Rave Jones both of Psychosexual Sex Terrestrials at the time, short lived as the rest of PSST didn't want their attentions drawn elsewhere. Wrote a song called Death. Dave subsequently joined Agent 1475, Fluff before moving to London
Astro Zombie – fanzine (1997-2005) compiled by Ollie (native of Rhyl now in York). 1st issue had long interview with Sons of Selina. Astro Zombie became a website offering festival / psyche info and a radio show. Ollie helped set up Northern Star Recs.
As Ya Do – Denbigh based 3-piece covers band (c1990-95) feat; Diana Davies (b.1967) (voc), Phil (gtr,keys). Played tirelessly on the club & cabaret circuit.
Asylum – progressive-punk band (formed Oct01) feat; David Howell (gtr) & Guy (gtr) both of Abergele, "Noddy" (voc) & Nic Barrowclough (drms) both of Rhyl. Nick & Dave were formerly of Type 20.
A2M – (pic) Flintshire based band (c2006), feat; Marc (bass), Pete (gtr), Gav (drms), Steve (voc). More prolific in North West. Rel debut EP 'Human Error' (Feb06) (website)
Atavistic Endeavours – Harlech band (c2006), feat; James Currie (voc), Lee Graham (drms). More info req'd
At-Ems – Penyffordd punk band (c2007). More info req'd
Atlantic Sound – Llandudno band (c1960s). More info req'd
Atlas Will Atone – Bangor loud band with quiet bits (formed Jan13), feat; Ben Jones (gtr), Aled Hughes (gtr), Sion Foulkes (voc) (ex After An Alibi),  Rhys Evans (drms) (also of I Fight Lions, ex After An Alibi), Daf Jones (bass). Have 2 tracks on Bandcamp. Debut gig at Rozzys Rock Night, Holyhead (Apr13), played Focus Wales (Apr14), rel debut EP (27.02.15). By Aug16 they had split-up. Rhys and Sion formed Patryma (2020) (website)
Atol – A sub-label of Ankst run by Emyr Williams at Penygroes (c1995)
Audiobloom – Llandudno band (c2012), feat; Neil Harrison(voc,gtr), Hef (b.voc,perc), Cooper (drms), Paul (bass), Simon (gtr). Click pic to enlarge (website)
Audio Terrorists – North Wales based project (2002), by Dave Robinson of Pocket Venus. Rel track Mercy.
Auntie Flo's Fadge – Rhos-on-Sea punk band (early 90s). feat; Jamie Wilson (gtr) (ex Orgasmic Funkers, Shaftsbury Ave, Out of Use, now Seize The Day), Hannah Mart (voc), Reg Irwin (drms). Dusty Moo says, "no bass player, and they fookin' rocked. Played ROA night at Eirias High School, then with Orgasmic Funkers at the legendary Llysfaen Village hall gig (Apr93). Great Flo's tunes incl 'Cool in Chords', a slap in face tribute to Brett Anderson.
Aurbennig – new offshoot project / label set up by Johnny R of R-Bennig Records of Gwalchmai. Released dbl-LP 'Ffordd O Fyw' (2018). Had session on Neil Crud's TudnoFM show (19.11.18)
Auto Bagpuss – Bangor based fanzine/comic of late 80s edited by Blob
Automatic – comic zine (c1994) by cartoonists (inc. Daryl Cunningham of Buckley). Ran for at least 4 issues. See also Invisible Comics
Autumn Road – small but well equipped studio near Wrexham, owned by Nino Errico local guitar teacher. (website)
Ava In The Dark – Leeds band (c2020), listed here for featuring Kiera Bickerstaff (from Dyserth) and Tommie James (from Prestatyn). Rel 'Delete Us Forever EP' (Dec20) (review)
Avanti – Bethesda, Pwllheli, Rhoshirwaun, Y Ffor based Celtic rock outfit (1990-93), who had Dave Thomas (from Pwllheli) as their sound engineer, Dave was also involved with Thunder & Lightning. Band feat; Melanie Rogers (voc,woodwind), Magnus Martin (gtrs,bass,keys,voc), Peter Romero (gtr,bass). Steve 'Mandolin' (bass,mandolin), Wayne Chappell (drms). Debut gig was at The Heights, Llanberis. Mel and Magnus later formed Peppermint Iguana then Tarantism
Avocado Dip – Herts based zine dedicated to Super Furry Animals, 1st issue out Feb 02. Edited by Sarah Jafar (email)
The Awakes – new Betws-y-Coed project (2009) by Rich Eardley (ex Melys, Colossous) and Aaron Watkinson. Both formed Peakz (website)