Lager Lager – Kirkby band (formed Jun86), feat; Kevin Kelly (voc,gtr) (ex Cook da Books, Lunjay Blue Armey, US Companion), Alan Kelly (drms) (ex Secluded Places, Lunjay Blue Armey), Carl Davies (keys), Billy Walsh (bass), Nigel McKeown (gtr,voc) (ex Reciever). More info req'd
La La Bam Bam – band (1982-84), feat; Jeff Skellon (bass), Mick Bulger (gtr) (later Christians), Mark Kemp (voc),Mark Edmundson (later Nadsad Fashion, Feathers & The Fire, Visual Aids, Royal Family, Flock of Seagulls) (replaced by John McQueen), Clive Gee (keys). Rel 12" Colour of Your Eyes (on own First tooth recs Oct84). Had a track "Is it?" on 'Blush on Black' comp LP (1985). Supp Undertones on their farewell tour at Durham/Bradford Unis. Also supported various bands at the Royal Court and rec session for Janice Long on Radio 1. Some members went onto to form Empire.
Thomas Lang – (b.1962) solo artist from Toxteth who began his recording career in 1984 as Tom Jones and worked for British Rail and sang in the clubs. Rel EP (1000 copies pressed – early85) with David Hughes (ex OMD, Dalek I) and played debut gig at Berlin Café with John Murphy (bass). Signed to CBS (May86) and added Andrew Redhead (drms). They acted as Peter Coyle's (ex Lotus Eaters) backing band to keep the money coming in while they recorded their own stuff. Paul Thomas (sax) and Mark Vormawah (gtr) were added. The debut LP 'Scallywag Jazz' (1987) was rel under the name Tom Cearns and was toured extensively (inc Japan and supp to Suzanne Vega). 2nd LP 'Little Moscow' (1990 CBS). 3rd LP 'The Lost Letter Z' (16.9.91 on their own Dry label). LP 'Versions' (1996 Telegraph). Murphy and Hughes colleborated a lot in early 90s on film soundtracks. Everything went a bit quiet for Lang himself by the end of 1997, but he re-emerged in 2006 to start gigging again. (website)
Language – Wallesey westcoast rock band (formed 1983) feat; Barry Hilton (drms) (ex Instant Agony), Dean Johnson (later of Dean Johnson & The British Invasion). Rel tape 'Live At The Cavern 18.7.84' (Racket Recs). Radio Luxembourg called them the Best Newcomers (Oct84). More info req'd.
Larks In The Park – summer festivals held in Sefton Park. Began in 1979 and organised by Derek Murray, Terry Canning and Selwyn Hyams. Garry Gannicliffe says, 'They did "guerilla" gigs, playing on the level with a generator in a van for the PA setups in Princes Park on 4 consecutive Sundays. It wasn't quite right so they decided to get more people involved (Terry dropped out) which is when Martin Cooper and I were asked to help. Ann Borthwick was there in those days too but as she worked for Derek it was only in a clerical capacity. In 1981 Derek all but dropped out and Ann & I became the main artiste liaison people with the others doing more behind-the-scenes admin stuff. Derek was the BBC liaison guy too but by 1982 he was really just a figurehead.' Just about every band on these pages from that era played there and attendances reached up to 20,000 when the weather was good. The events were free, with fundraising gigs and bucket collectors collecting for the cause, and all the bands were local. Ran until 1985. (history)
Larrikin – band (c1991), rel demo 'Shoot Me'. More info req'd
La's, The – band (1984-91) feat; Chris Sharrock (drms) (ex Cherry Boys, Icicle Works, later Dave Stewart, World Party, Lightning Seeds), Lee Mavers (voc,gtr), Mike Badger (gtr,voc) (later Onset), John Power (bass) (later Cast). Signed to Go Discs & the well known There She Goes took an age to make the charts. Many line up changes after 1986 incl Paul Hemmings (gtr) (later of Onset, Lightning Seeds), Ian Templeton (drms) (ex Streetband). More…
Last Chance For A Slow Dance – orig name for Chance, used between Oct82-Jun84. Played Everyman, Bierkeller, Warehouse, going thru many drummers! Bought a drum machine and changed their name. See Chance entry.
Last Chant – band (formed 1981 by friends from Liverpool Bluecoat School) feat; Brian Ashcroft (bass), Andrew Hussey (gtr), David 'Dix' Dickie (voc,gtr) (later Black), Tim Blanthorn (violin), Richard Evans (perc), Colin Billinge (drms) (later Heaven Tonight). Rel 7′ single 'Run of The Dove/Strength Alone/Tradition' on Chicken Jazz Recs Jazz-4 EP (Oct81). Re-surfaced in 1987. More info req'd.
Last Night At The Fair – band formed Aug83, feat; Lee Walker (voc), Steve 'G' Griffith (bass), Grant Walker (drms) (all ex Barbed Wire, Dark Entries) & John Whitehead (gtr). Band temp split after Grant broke his wrist & reformed Jul84. Rec demo Eternal Flame (1985). Also feat; Gayle Lunken & Allison Jordan (b.voc) after 1985.
Late World Noise – radio show of mid 90s on BBC radio Merseyside. Presented by Roger Hill, Marc Jones, Ian Jackson & Keith Curtis. Played anything from trance, ambient to psychedelic to African music, plus local bands would play acoustic sessions live on air.
Lawnmower – band, formed 1982, feat; Alan Peters (voc) (ex Almost Blues, Supercharge, Opposition, 29th & Dearborn, Love Ponies, Beach Bastards), Mick Hucknall (voc) (later Simply Red), Martin 'Yorker' Smith (gtr) (ex Accelerators), Tony Doyle (gtr) (ex Accelerators, later Adams Family), Tony Dolman (drms) (ex English, Z Victor 1). Joined in 83 by Mike Nelson (sax) (ex Systems). Rel LP 'The Cat' (Jun85), 7″ Thin Man (Oct87). Line up changes were frequent incl; Kenny Roberts (gtr) (ex Opposition, 29th & Dearborn), Chris Larsen (drms) (ex Blue Poland), Brian O'Donnell (gtr) (ex Herbie Pops Out), Frank Maudsley (bass) (ex Flock of Seagulls), even Craig Charles. They were regular sunday nite crowd-pleaser at the Everyman Bistro
The Laze – Wirral based 4 piece hard rock formed in 2002. Dave Perry (voc) has been quoted as "As rock musicians we feel an affinity to Vikings. We've got long hair, and desire for excessive hedonism." Have recently organised a 'rock night' at the Zanzibar called 'Valhalla' .
Leavers – band feat; Jon Campbell (gtr) (now Blynd Zenith). More info req'd
Le Bateau – 90s venue
Legsakimbo – Wirral band (1983-92), feat; Chris Farley (gtr,voc), Roy Jones (voc,gtr), Keith Wilson (sax), Les Rowlands (bass), Brian Douglas (dms). By 1984-85 Les was replaced by Geoff Davies (bass) (later H2II, Insanity Beach), & Brian by Keith Hughes (drms) (later of New Frontiers, Contortion Co.). From 1986-89 Keith had gone & the drumming was done by Chris Hooker with Denny Bolton (keys,voc) adding to the line up. Played NW and NWales, & in 86 toured Holland and Ibiza. Returned to Ibiza 1988 as 3 piece (Chris F, Roy and Denny). Frank Smith (keys) (1991-92) replaced Denny. Chris Farley lives and works in Ibiza. Roy Jones lived and worked in Tenerife, but has since returned and is doing solo shows on the Wirral. Legsakimbo started life as a soul band. Roy and Chris then started writing material. Built up good local following as good time rock-funk band. Gigged virtually non-stop for nine years.
L8 Connection – Large black soul/funk band from Toxteth – very much in the "Real Thing" mould – performed at the 'Alternative Jubilee' gig in 1977. Rel "What's Happening To our Nation?" – a 12″ on Inescapable Recs. More info req'd
Liar – band that became Silverback. More info req'd.
Eve Libertine – co-vocalist with anarcho-punk band Crass (1977-84). Real name Bronwyn Jones from Liverpool
Lies All Lies –band (1980-81), feat; Jim Turner (voc,gtr) (also Electric Morning), Graham 'Leafy' Wood (bass), Paul Hornby (drms) (ex Pink Military Stands Alone, Nightmares in Wax, Shattered Dolls, 051, Dogs d'Amour, The Quireboys, Gunslingers). More info req'd
The Light – band (mid-80s), prev called Box Of Toys, feat; Brian Atherton (voc,keys). Rel 2 singles on Inevitable Recs, Contrasting Strangers (1985), Pride Of Winning (1986).
Lightning Seeds – Band that began as a side project by ex Big in Japan & Care member Ian Broudie. After leaving Care Ian went back into production work for bands like Icicle Works and Frazier Chorus. In 1989, though, Ian turned to writing songs. Still signed to Ghetto, he rec Cloudcuckooland and chose the name Lightning Seeds, hoping that one day this little side project would become a band. In 1989, the single Upside Down was due to be released. This was cancelled and Pure was released, making # 16 in UK charts. In the same year, Joy was released, which failed to break the top 100. Apr90, All I Want was rel. Life Of Riley was his 1st Top 30 hit but having signed to Virgin they were soon to drop him. For LPs Ian recruited Simon Rogers for co-production work, Clive Layton (keys), Terry Hall (ex Fun Boy 3)was co-writing and b.voc, as did Ian McNabb (Icicle Works). 1994 the 3rd LP 'Jollification' was to be toured & a live line-up was formed with Chris Sharrock (drms)(ex The La's, World Party, Icicle Works), and Martyn Campbell (ex Rain) who was a friend of a friend. The 3 rehearsed in The Warehouse, owned by ex-Bunnymen member Les Pattison. 1st single, Lucky You as did the album. An extra guitarist Paul Hemmings (ex-The La's) and Ali Kane (keys) joined the live lineup. New single in '95 Change went straight in at number 13. With tours over the UK and Europe, festival appearances and the singles that followed Change (Marvellous, Perfect and a re-release of Lucky You, all with imaginative and quirky packaging), helped Jollification to clock up well over 600,000 sales quite quickly. 1996 saw the #1 hit 3 Lions On My Shirt with Baddiel & Skinner. In '96, Angie Pollock (sung on Terry Hall's album "Home", worked with Shakespeare's Sister) joined the group replacing Ali Kane. Chris Sharrock left to work with World Party on the album "Egyptology" in 1997, with Mat Priest (drms) from Dodgy. 1997 Zak Starkey (drms) took over for the Like You Do tour. By the end of 1999 Paul Hemmings had now left. New single Life's Too Short showed a new more dance-orientated sound. The album, 'Tilt', features Ian collaborating with a few of his old mates (namely Terry Hall and Steven Jones from Babybird) plus some new friends to work with. Tim Simenon helped with the beats and co-produced / mixed a track called Get It Right on the new LP and a few songs were co-written by Mark Cullen of Fixed Stars. The band then took a 'long break'.
Lilac Trumpets – band (formed 1983), feat; Neil Senior (bass) (ex Precautions), Steve Caughton (voc,gtr) (ex Precautions), John Patterson (drms), Ian Lewis (keys) (ex Precautions, Dream Legion, now Alternative Radio). More info req'd
Liver Aid – Live Aid concert held at the Empire 20.09.82 feat; Electric Morning, Mel-o-tones, Fragile Friends, Reverb Brothers, Liverpool Express with Sandie Shaw and Jilly (?) Marsden, The Searchers, Personal Column, Mr. Amir, Lawnmower, This Island Earth, Black, It's Immaterial, The Christians, Bingo Bros, The Lotus Eaters, Icicle Works, Cook Da Books.
Liverpool Express – band feat; Kenny Parry (later Da Biffs), Pete Phillips (gtr) (ex Foxglove). Rel 'Best of' LP (Jul02). (website) More info req'd.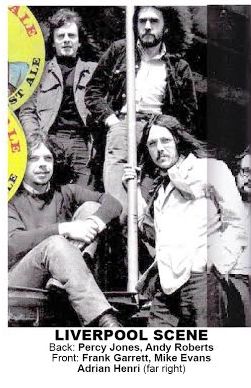 Liverpool Scene – Anarchic 'poetry' band of the 60s, feat; Andy Roberts, Adrian Henri, Roger McGough, Mike Evans (later Deaf School), Percy Jones (bass), Mike Hart (gtr), Brian Dodson (drms), replaced by Pete Clarke (The Escorts), who in turn was replaced by Frank Garrett. Debut album was produced by John Peel in 1968. Had songs like The Entry of Christ into Liverpool. Toured with Led Zep in '69 and split on stage in May70 when Henri attacked Evans with a mic stand. Evans, Henri and Garrett are all natives of Rhyl (see North Wales section – Purple Chapter, The Informers)
Live Transmission – duo, formed May85 feat; Peter McVeigh (gtr,bass,voc), Paul Whelan (keys,bass), both ex Transmission, Apathy Ru, In Vogue. Had 3 tracks on comp tape '98 Miles' (Jan87), and You'll Be Free on 'Modesty Kills' comp LP (Audiovisual Jan88). Debut gig at Merseyside Int Youth Fest (1985).
Living Legends – short lived band (1982), feat; Peter Coyle (later No Trace, Jass Babies, Tin Ethics, Lotus Eaters), Paul Simpson (ex Wild Swans). More info req'd
Livingstone –
Lloyd Collection – band of 1985 formed by Mike Lloyd (keys) (ex Neuklon), Mark Birchall (drms) (ex Rafique, later La's), Donna Lowe (voc) (ex Neuklon), Colin McCann (ex Neuklon), Tony Brown, Steve Walsh. Rel 7″ Maggie's Farm (Mayday Jan86) as a benefit for L'pool Council Support Fund & sleeve was designed by Sex Pistols' artist Jamie Ried. In late '85 they played as a duo with just Lloyd & Birchall.
LO Girls – London based Liverpool band (c1987), feat; Peter Bowe (voc), Martin O'Hara (drms) (both ex Split Pigs, Kracken, Platnum-Hi), Rob Rea (bass) (ex Platnum-Hi),. Neil Kay (gtr). Rel one single
Lomax – venue on Cumberland St, plus larger sister venue L2 on Hotham St.
Look Out Oscar – Wirral jazzy-pop band (c1987), feat; Natalie (voc), Mark Tilliston (bass) (ex Founder Members, Waterfront), Steve Lawson (keys) (ex Founder Members now with Superbad – see Foghorn Leghorn in North Wales listing), Trev Dodd (voc) replaced Natalie, Ian Davies (bass) (ex-Sahara Crew) replaced Mark. Name change to Pyjama Party, broke up mid 90's.
Loop Garu – (pic) Toxteth band (formed 1988), feat; Adrian Jackson (ex Royal Family), Dave Kennedy and Peter Jones (aka Pete Fuck). One time drummer was Ian Templeton (later La's). Got signed but had to change name to Garu, due to London based Loop Guru. (website)
Lori And The Chameleons – project (1978-80) feat; art student Lori Lartey (voc) (married to Martin Healy of Dead or Alive), David Balfe (keys) (ex Dalek I Love You, Big in Japan, later of Teardrop Explodes, Food Recs, Bill Drummond (gtr,voc) (ex Big in Japan, later KLF), Gary Dwyer (of Teardrop Explodes), Ray Martinez, Tim Whittaker (drms) (ex Deaf School, Sex Gods, Gale Force). Rel 7″ on Zoo Recs Touch which was reissued twice again on other labels up to 1981 & Lonely Spy on Korova (1980).
Lost – band formed 1991 to 1994, feat; Dave Woodworth (voc,gtr), Mike Shepherd (gtr) (later Skinny), Steve Parker (bass) and Pat Davey (drms) (later Skinny), played gigs in L'pool with Small, (now Smaller), Honey, Melthead. Mike, Steve and Pat then joined Richville.
Lost Gravity – band (c1975), feat; Tommy Horton (bass), Jonte Wilkins (drms) (later O Boogie Bros, Flock of Seagulls & many others). Played a couple of pub gigs in Toxteth area
Lotus Eaters – band of early 80s feat; Peter Coyle (voc), Jeremy Kelly (also Wild Swans, The Lovers, Psycamesh, Care, Diamond Sutra), Mike Dempsey (bass) (ex Cure / Associates), Gerard Quinn (gtr), Stephen Creese (drms), and (at some point) Dave Whittaker (ex Jass Babies, Here's Johnny, Herr Lune). Rec several radio sessions in 1982 & signed by Arista Recs. Rel The First Picture Of You Jun83 hitting No.15 in UK charts. Followed by You Don't Need Someone New Aug83 & Set Me Apart (early84) also the LP 'No Sense Of Sin' and one more single Out On Your Own. Early 1985 rel It Hurts and shortly after Jeremy Kelly left they split up. Vinyl Japan rel LP 'Silentspace' (2001) with a single Stay free. (website)
Louie And the Lettermen – band (1986), prev called Be La Deuce, feat; Richi Riding (voc), Alan Gillibrand (gtr), Paul Grivosti (bass), Graham Chesters (drms). Demoed a song Don't Stop Believing with high hopes, but nothing materialised. 3 of them worked for the Royal Mail and their work manager John Smith came up with the name. Alan married Pete Pennels' (Social Rejects) sister.
Lovebomb – Acid-jazz band formed 1995, feat; Nel (voc), Steve Cox (gtr) (ex Reaction, Call It Belief, Lovelight, Traveller, later Trinity), Glyn Williams (keys) (later China Crisis), Steve Frankland (bass) (later Trinity), Darren Frankland (drms) and Lauren (b.voc). Firm favourites of Bourbon Street (now Zanzibar) Played alongside Space at a Radio City competition when they gracefully withdrew, after revealing they had just been signed,  but still performed! '….linking unashamedly commercial pop with a subtle Jazz texture.' Radio City.
Lovecraft – Widnes band (c2004), feat; Craig Sinclair (gtr,voc), Karen (bass) (ex Flamingo 50). Regular performers in the current crop of bands to be emanating around the 24/7 & Defcon set up.
Lovelight – psych rock band (formed 1990), feat; Wayne Johnson (voc), Daryl Palmer (gtr), Tim Doyle (bass), John Marsden (keys), Ritchie Long (drms). Played first gig at The Picket and numerous other gigs before Daryl left, to be replaced by Ste Cox (Traveller, Lovebomb)
Love Look Away – band (formed 1982), feat; Paul Curran (voc,bass) (ex Hambi & The Dance, Knopov's Political Package, Mogodons), Adrian Mitchell (gtr) (ex Mogodons), Phil Allen (drms) (ex Moderates). Described themselves as 'romantic pop with an edge.' Made debut gig xmas82. More info req'd
The Lovers – 1989-90 project feat; Jeremy Kelly (ex Lotus Eaters, Wild Swans, Psycamesh, Care, Diamond Sutra) on instruments and Darren Jones (voc). Rec demos. Re-formed in 1995 with Tom Hingley (Inspiral Carpets) as vocalist and this project continued through the following years (website)
Love Pastels – band (c1978) that never got off the ground feat; Les Pattinson (bass) (later Echo & Bunnymen) & many girl vocalists incl, Shirley Alston, Rosie Hamlin & Arlene Smith. (See also Cicero Gymnasts, The Geoffs)
Love Ponies – band (1980-81), feat; Alan Peters (voc) (ex Almost Blues, 29th & Dearborn, later Lawnmower) & Terry Canning (bass), Terry Sterling (drms) (later Afraid of Mice), Lenny Vartel (gtr), Andy Hughes (bass) (later Joker), Bill Nighey (voc), Steve Cockrill (gtr). Prev called Opposition
Lovers By Design – solo project from 1984 by Steve Downey (gtr,voc) (ex Come in Tokio), using various musicians inc, Steve Hilton (voc), John Jenkins (keys), Gary Cooke (drms), Andy Griffin (gtr,voc), Roy Campbell (bass), Andy Redhead (drms,keys,voc). Rel 3 demos, one each year 1984-85-86.
Luglo Slugs – late 70s punk band feat; Alix Johnson, Dave Hardbattle (drms) and Danny Hampson (all later of Modern Eon), Mal Jackson and Joey McKeckney. John Peel once described them as 'Ugh!'. Had track Benched Down and Bottled Up on the Street To Street comp LP rec at Open Eye Studios. Changed name to Tank Time then One Two. Alex now has studio in Southport (Naboo), Danny teaches art in L'pool, Mal is a psychiatric community officer in Ormskirk.
Lumberjack Ballet – band formed by Phil Franz-Jones of Afraid of Mice after he sacked his touring band in 1983. In '84 he worked with a new band this new name which was essentially a new Afraid of Mice. It was a basic five piece. After about three gigs, he decided to sack the whole band (although he may have continued working with the drummer).
Lumiesence – band of mid-90s feat; Karl Bader-Bailey (gtr,voc) (ex Jules Verne, Playhouse, Bulah Wig later Acacia Gum, Superdude), Rob Harrison (drms), Tracey Smith (voc). Dave Potts (ex Jules Verne) replaced Rob. Karl described the band as 'a horrible guitar pop type thing).
Luminous Beings – avante garde-jazz-punk band of late 70s. Had 3 tracks on B;head comp LP 'A Trip To The Dentist' – Myself And My Hero, Shadows Giants, TV Can Kill. (Nov80). More info req'd
Lunar Apple – Birkenhead heavy / psych band circa mid 1980s. Infl; Hawkwind, Doors, Velvet Underground. They used to drink in The (late, lamented) Angel; a hangout for local bikers, freaks and such.

Lyle Marshall Band – L'pool/Widnes group (1971-72), feat; Roger Tinsley (voc), Nick Gryzb (gtr), Keith Jones (bass), Bob Gibson (drms), Mick Kearns (sax). They were a sort of minor "super" soul band formed from 4 ex-members of The Chris Carma Road Show plus sax player from Barney Rubbles Booze Band (both very well known in the north west). Roger and Nick got back together in 2011 and are still together in the 60s soul band Memphis Nites mostly playing gigs for the Merseycats charity.
The Lynwood Sessions – Wirral based group that I was told to look out for whilst at The Iron Door – All very mysterious, as I know nothing about them nor can I find anything…