Gaia Recs – label formed Jan87 by Mike Keane. Rel LPs for Royal Family & The Poor.
The Gallery – Live music venue in Oliver St, Birkenhead circa 1979-1982. It was owned by John Reid of Strife. It later became Stairways. Claim to fame was that the early line-up of Iron Maiden played there. It was basically a mecca for local and national small-time heavy bands.
Gambler – band 76-81 feat; Mark Singleton (gtr) (ex Afraid of Mice, later Now Hear This, Bobby Arnold Band), Kev Kelly (gtr), Nick Bellis (drms), Arnie Stevens (bass), Finley Woods (keys). Rec tape 'Angel' rec in L'pool on a basic 8 track.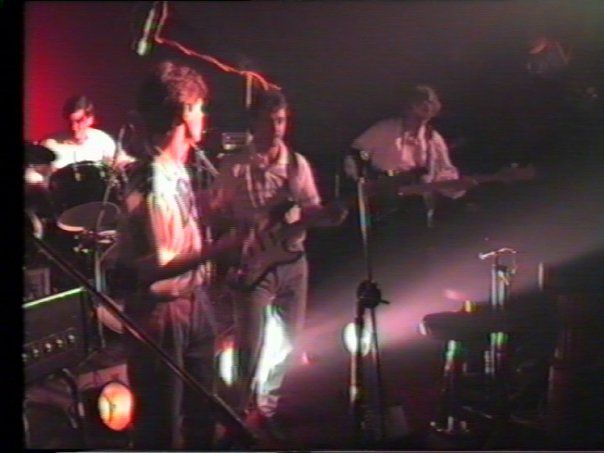 Game Of Soldiers – rock band from Norris Green (1982-89), feat; Dave Cooney (voc), Dave Long (gtr), Keith Sands (bass), Mick Hanratty (drms), Gary Marshall (keys,voc). Debut gig at The Mayflower.  Regulars at The Venue Club and The Firehouse in Bootle throughout the mid 80's. Their first single "Big Bad Money World" (rel 1985) and made it to #10 on the local charts (source HMV). There were many changes in the line up after this and the band eventually split in 1989.
Games – Wirral band, feat; Brendan C, Steve K and Colin H, rel 7″ on own label First Law of Games (1980), also feat on 'Street To Street Vol 2' comp (Open Eye recs Sep81), 7″ 'Dance This Way/Love Canal' on Open Eye Res (OE007) and their debut single was Childsplay. Brendan says in May08, 'we have recently been approached by a label to tour and reform for an electro scene happening over in Germany.'
Garden Party – music fanzine (1984-85) co-edited by John Jenkins (of Come in Tokio, Persuaders), who also played very brief keybrds for River City People
Gaskin – band (early 80s), feat; Bren Spencer (later Kamarg). More info req'd.
Simon Geddes – manager of Liverpool band Dead Class (c2006). Started working for Roger Eagle in Eric's in 1978 at the age of 17, and was co-promoter with Dave C at The Warehouse until its demise. Simon then ran The Royal Court up until Apr05. He says, 'In the early days we ran the Klub Court gigs at the Venue, Pickwicks and Becketts, then later we ran the World Downstairs and the Basscamp. I remember vividly some top class nights.'
Geisha Girls – band (c1979), feat; ex members of The Mutants – Paul Codman (drms) (later Egypt For Now), Keith Wilson (see profile) & Roddie Gilliard (now of Muffin Men, but check his profile), & Steve Cockrill (ex 051, later Windows), playing a harder driving power pop vibe. Since 1983 Paul has worked as an actor, director and musician. Currently plays percussion with Smokin' Sean Butler And The Neon Hearts
The Gentle Scars – raunchy dirty sexy band, feat; Claire Rogers (gtr), John Hase (drms), John Murray (gtr), Martin Dempsey (bass) (ex Yachts), Steve Lamb (voc). Rel album 'Reflectoporn' (2008) then 'Songs For The Loveless' (2020) (spotify)
The Geoffs – imaginary band (c1978) made up by Les Pattison (later of Echo & The Bunnymen), who called himself Geoff Lovestone. The idea was to call all the members Geoff, but it never got off the ground. (see also Love Pastels, Cicero Gymnasts)
Get Set Go – punk fanzine from Maghull edited by Donny, 2nd issue changed name to Snake Bite. More info req'd
Gheko – band, one member now with Odega. More info req'd.
Giant Killers – Wirral rock band (formed 1987) feat; Gary Blue (voc), Jimmy Stratton (gtr) (ex Room To Move, Waterfront), Dave Mayers (gtr), John Paul Jones (bass), Andy D (drms). More info req'd.
Giant Smiles – brief name (Nov87) for Wake Up Afrika
Gilliard, Roddie – member of Muffin Men, but started back in 1975 with Muthers Riun before joining Bugs, & went through a succession of different bands incl; Gypsy Blues, Geisha Girls, The Press, Afraid of Mice, Windows, Munchies, Da Biffs.
Gingerbread Club – venue of early 80s close to The Warehouse. More info req'd
Glassback – Wirral rock band (1994-01), feat; Craig McDonald (voc,gtr) (ex Sinner, Stormbringer Switch), Mike Read (gtr) (ex Corkscrew), Dave Molly (bass) (ex Switch), Nikki Cross (voc,keys,sax), Clive Cresswell (drms) (ex Blackjax). Mike's band Corkscrew were on TV's New Faces show, see also Havana Clue
Glass Torpedoes – band of early 80s, feat; Nick Reid (gtr) (later of Nightmares in Wax), Barbara Donovan (voc), Kate Gill (voc), Mark Coleridge (drms) (later of Glitter Band, Smokie, The Stiffs, Project 23, Ex Post Facto). Signed to Rough Trade, Rel 7″ on Teen Beat Recs 'Someone Different' TBR-1 (1979), also rel 7" Unreal The Real (on Leo Sound 1980) as John Milton & the Glass Torpedoes, then 7" (back to old name) Tall Stories (Leo Sound 1981).
Glide – experimental, ambient-psychedelic side project by Will Sergeant (Echo & the Bunnymen). He began recording in 1978, before the Bunnymen began, with a cassette-only release ltd to 7 copies 'Weird As Fish.' Also rel soundtrack LP 'Themes for Grind' (1982), & called himself Glide 1997 when rel 'Space Age Freak Out' . A live LP feat the 30-min computer-composed "Frozen Teardrop in Space," (1999) on Ochre Rec. 2000/1 saw Sergeant performing a series of shows as Glide, sometimes as an opening act for the Bunnymen (website)
Goat People – band (formed Spring86), feat; Elizabeth Kay (gtr,voc) (ex Marshmallow Overcoat), Jonathon Swain (megaphone), Philip Saunders (gtr), Judith Laity (drms) (ex Royal Family & The Poor, Marshmallow Overcoat). Barry Sutton simultaneously of Marshmallow Overcoat & Walking Seeds later of La's, Mirrorball joined on drums (Jan87), with Judith playing cello, Chris Clarke (bass) (ex Ex Post Facto, Placenta Sisters) was also added. They used to play over tapes of chart hits, making as much noise as possible.
Goat Throttler – UK's only real 'old school' death metal band (formed 2002), feat; Loui Fellows (voc) (ex Devoid). Demo (2003) 'Das Goat' (website)
God – band feat on D-Beat comp tape (on Bop A Dub Sep85). More info req'd
Go Heads – Birkenhead punk band 1988-98, feat; Gary Shelley (gtr,voc), Steve Hockenhull (Hocky) (voc) (also Instant Agony, 0898, Venomous Youth, Bite Back), Rob Burbridge (drms) (ex Instant Agony, Noizebleed), Kenny Smith (bass), Dave McTavish (bass). Played over 100 nationwide & renowned for turning them into a loud & fun filled event, played The Bistro, Rhyl (05.04.90) brought 15 people with them & 2 got barred. Rel 7″ single Big Nose (1994). Kenny is sadly no longer with us. (video)
Goldliner Records – label run by Colin Frost (ex Fox Glove later Tutors, Supercharge, Circus Circus, Laughing Freeman) to release material by his band at the time Eat At Joe's. Ran from 1980 – 83 & dist by Spartan.
Gone To Earth – band of mid 80s, feat; Tudor (ex Das Reiner, later Public Disgrace, Dementia), Jane Alexander (voc) (later White Russians), Dave Thom (bass), Dave Robinson (voc), Dave Clarke (violin), Harry (drms). Signed to Probe Records and had one album for sure maybe two. They were managed by Geoff Davies (Probe Records) And Sam Davis (RIP) of (Deaf School AKA Eric Shark) Toured UK with Half Man Half Biscuit. Mick Bawden (Dead Men's Suits) was their roadie, who says, 'We also did a tour of Spain with Los Rebeldes and got barred from hotels for staying up all night playing guitars. Dave Robinson went a bit crazy and the band split in around 1989.'
Grampus Eight – band, formed as 3-pc 1999, feat; Mark (gtr,voc), Andy (bass). Orig feat Tom (bass) (also Redrighthand, Instant Agony, Area Affect), rel split CD with Dina, then a 7″ Subway on Complicity Recs then Tony (gtr) (ex Tokyo Adventures) joined. Rec 'Turn Up The Stereo' LP then Louise (drms) joined. Some members went onto play in Short Sharp Shock. Went on hiatus mid04 with view to reform Oct05
The Grande – indie-rock band (formed 2009), feat; Ben Sherwen (voc,gtr) (ex Priory Falls), Melissa Parker (voc), Joel Lynch (gtr), Paul Davenport (bass), Phil Stevens (drms ) (ex Priory Falls). (website)
Gravy Train – St Helens cult band (1970-74), rel 4 LPs on Vertigo; Gravy Train, Ballad of A Peaceful Man, 2nd Birth, Staircase To The Day.
Great British Mistake Part 2 – band formed in 1982, played debut gig at the Everyman Bistro and were asked to leave after 3 minutes!. Changed name to Reiner Chaos (see also Das Reiner)
Great North Western Hoboes – band (formed 2002), feat; Robbie Taylor (voc,gtr,banjo,fiddle,mandolin), Mark Hannon (gtr), Stuart Irwin (bass), Nick Walker (drms). Rel 2 singles on Viper Recs 2003. Played L'pool Music Week (Nov05), and competed in the John Peel football tournament on John Peel Day, 13.10.05.(website)
Green Antique – Runcorn band (1980s), feat; Jeff and Phil (both of Titanic And The Icebergs). More info req'd
Groovin' Records – rhythm 'n' blues label run from Hoylake since 2005 (website)
Grown Up Strange – Ulverston new romantic band (formed 1981), feat; Chris Hutchinson (voc,gtr) (ex Spurts, Hormones), Toby Wren (gtr), Norman Scott (keys), Mike Gaunt (drms) (ex Spurts, Hormones). By Jul82 Toby & Norman had been replaced by Steve Wildgoose (bass) & Greh Shields (keys) & within 2 years they too had been replaced by Simon Bennett (bass) (ex Hoi Polloi, Sonny & A Million) & David Williams (keys). This line up moved to L'pool & supp Icicle Works (Sep85). By 1986 Simon had left & they continued as a 3-pc, but for live shows they were joined by Roy Corkhill (bass) & Colin Waincombe (gtr,voc) (both of Black). Rel 7″ A Wing & A Prayer (Ugly Man Recs Aug86).
Grrr! – formed mid 2003, heavy heavy noise outfit, feat; Guy (voc), Dave (bass) Terry (drms), also of Mr Rays Wig World and Cock Off), Ken (keys), Graham (gtr). Rel one demo so far, are starting a monthly night at Hev'n and Hell (Nov05)
Guild of Defiants – Liverpool (website) (myspace) hardcore-pop band based around brothers Andy (voc,gtr), and Mark (bass,voc) who met up with guitarist Paul whilst at school, though apparently them hated each other. Andy was a member of early groups such as Impact and 3 Page Early but these came to nothing and he eventually roped in brother mark and formed Smiling Assassin, the sound being augmented by now friend Paul. Ultimately Stewart joined on drums but this in itself presented a problem as he lived miles yonder in Devon and was only in Liverpool as a student. However no replacement was found and once Stewart had finished his course the band stepped up a gear and began gigging regularly. Apparently the odd moniker is reference to online gaming (Guilds)
Gypsy Blues – band (c1978) feat; Roddie Gilliard (now of Muffin Men, but check his profile), & ex members of Bugs, formed to play US Airbases in Germany, think they recorded a radio show in Frankfurt.