Obscene Extreme Festival @ Battlefield, Trutnov
5th-9th July 2023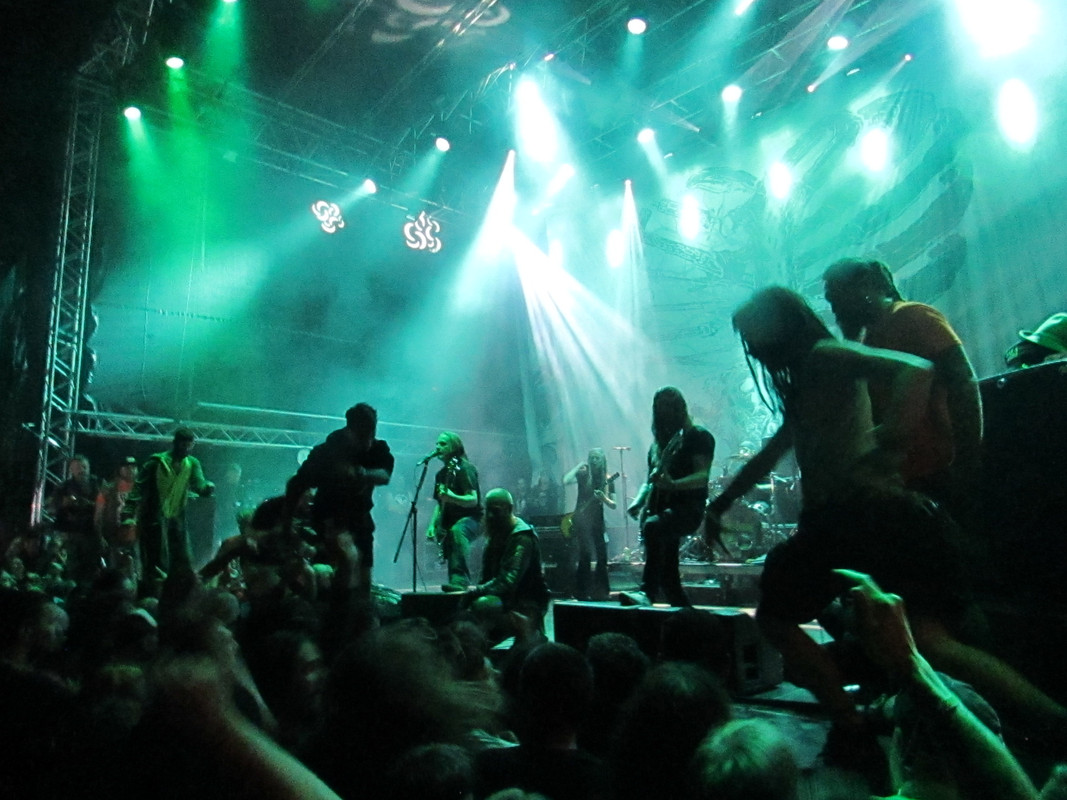 The world grinds on…things have become harder logistically and financially for all in the "post"-covid years but fair play to the heroes who are still trying to bring us some entertainment in the face of it all. Itching to return to OEF after a year off, with little news like the renewal of the sometimes injurious benches in the amphitheater done in conjunction with the local authority  suggesting that the town appreciates to big influx of business that Curby and his team bring to the party here, 24 years worth of it.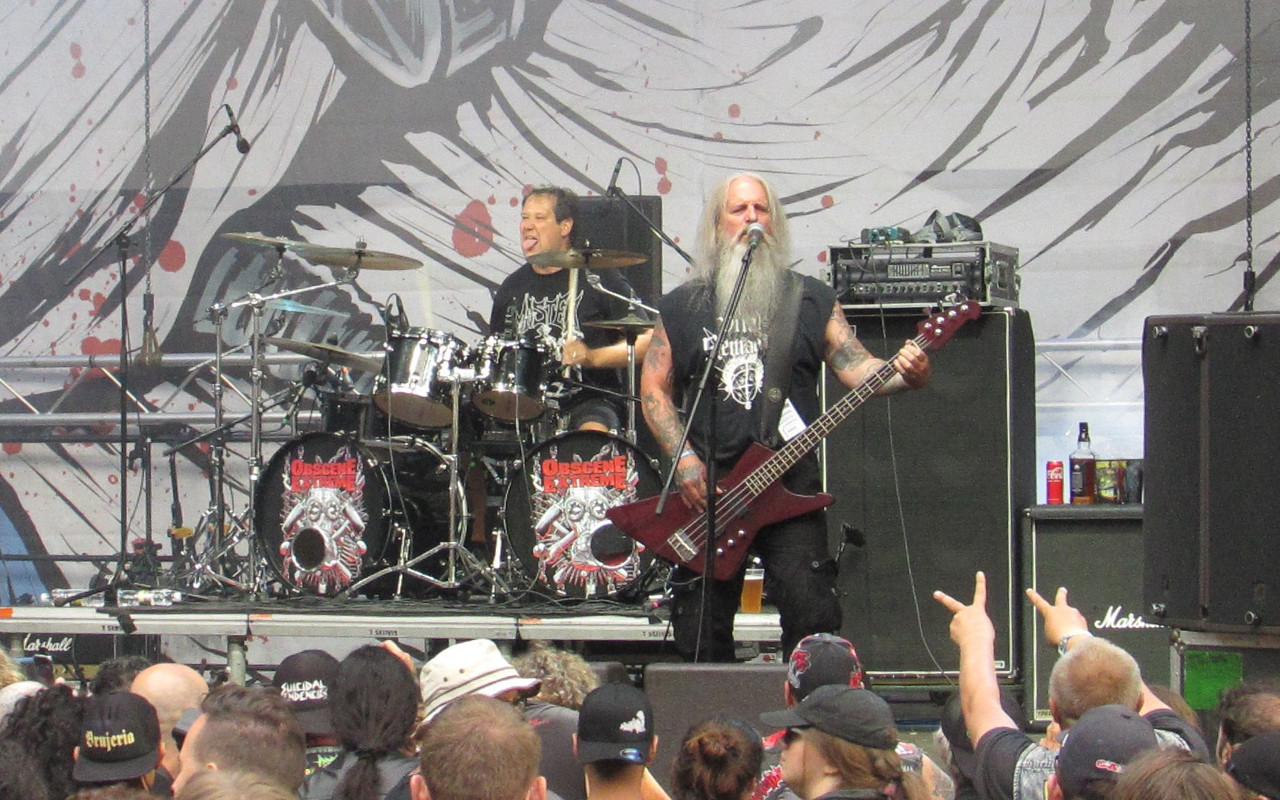 After Freak Olympic shenanigans interrupted by thunderstorms, it certainly is a more comfortable, spacious feel when we settle in for the warm-up show on Wednesday, this year's theme being  "Old School". Through the afternoon this leans to a pretty thrashy mix of stuff but evening brings some solid action with Death Strike (above) (/Master, difficult to tell where one ends and  the other begins) bringing their gruff proto death grind classics, then Scotland's Hellripper tearing through their retro feeling modern take on venomous thrash with boundless energy. Germany's Holy Moses are making a farewell circuit after 42 years of tech thrashing, the older stuff definitely hinting at Voivod vibes, frontwoman Sabina puts all to shame with her breakneck headbanging. Birthday cake presentation makes for a heartwarming party moment, not exactly dampened by the traditional S+M theatre show following abusing some Saint/Sinner to a disturbing and ominous sound track provided by the excellent Blind Ruler Cursed Land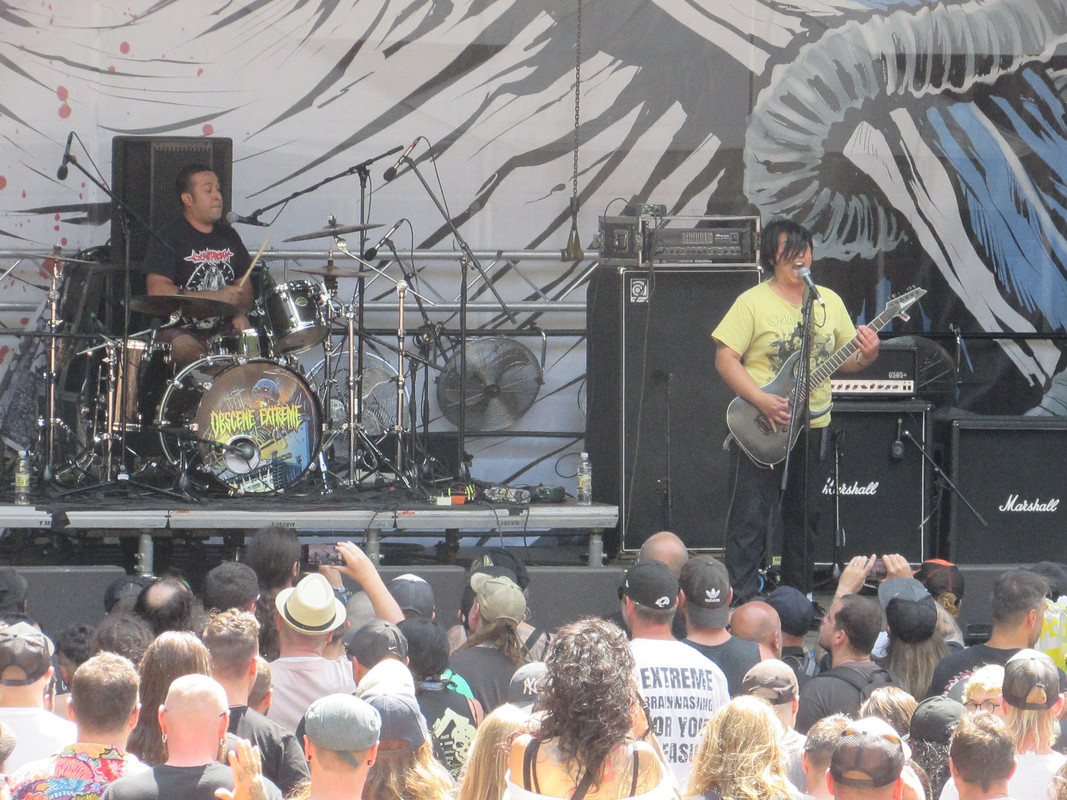 shit brains
diploid
Thursday morning sees grind wake up calls from the likes of Prescription Death and Pure, interspersed with young thrashers Refore echoing the great days of early Kreator, and the filthy
taste of death from Entrapped and Obliteration. The fun really gets into its groove though with the 2-piece Shit Brains from LA, who win over the hearts of all here with obviously enjoying being here to deliver their power-violence blasts, everyone uplifted like the relentless crowdsurfers. Boneyard's death and Controlled Existence's grind kept things bouncing along but the next highlight for me was Sweden's Gadget, who I'd really enjoyed at last years ChimpyFest too. Tight and vicious grind in the Scandinavian tradition, the vocalist is serious in her delivery of the raw vocals too. Poland's Vader I've seen quite a few times over their almost 40 years but as not for a while I'd maybe forgotten just how solid an outfit they have become. Absolutely on point death metal, with confidence and appreciation, and a Slayer cover to finish tops it off. Vomitory perhaps faded a little in comparison but still kept it deathly until we reached the nominal headliners, our own Carcass (top). As an old bastard who's been in from the start I think I can justify my cynicism (call me El Cynico..) over their more polished newer stuff that's not really for me but as hoped this set was more tailored for their old school worshipping audience here, which was an absolute treat. Given that they are a seminal spiritual founder of, and inspiration to so much of the musical filth that gathers here its great to see a two-way love in of what they bring and how they are received. No let up but maybe a shift of gear to the Mexicali death dance that is Brujeria. Might be masked but obviously no Shane or Jeff as main members, though the latter does reappear as a guest after having a breather, it's great brutal fun as their every visit is, the stage absolutely swamped with people. The organisers knowing exactly what they are doing, next is Sick Sinus Syndrome hitting us with "the Carcass set we all wanted", the Czechs giving us a homage to their old school sound but with sharp songs of their own that really do the job.
I have an early night 1am but only so I can get up at 2.30 to not miss Diploid, the least I can do seeing as they've come all the way from Australia. I've liked their crusty, experimental heaviness for a while and they give a great show to make it well worth it.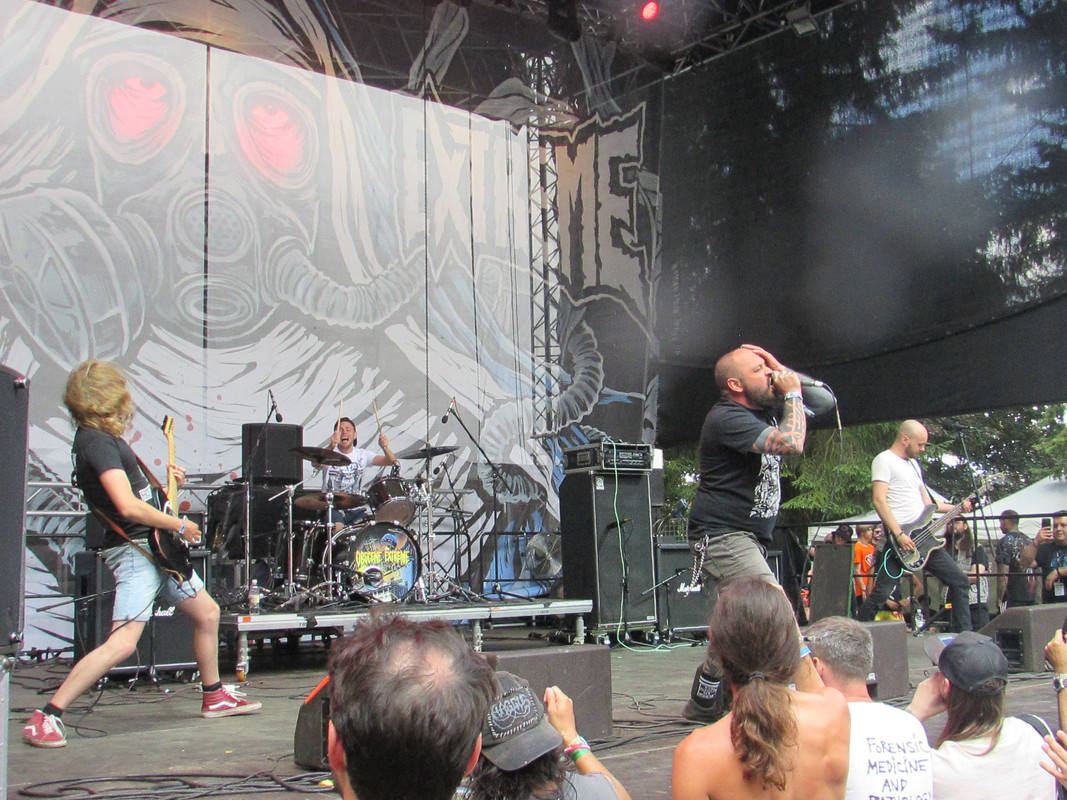 travolta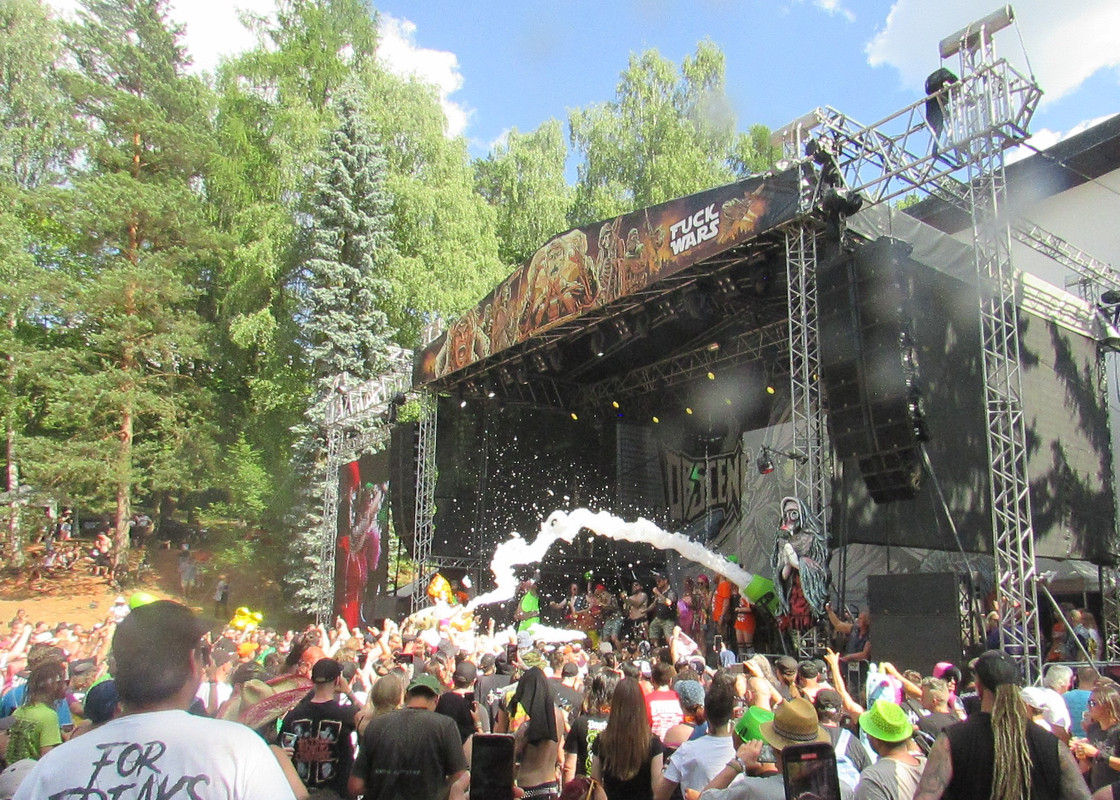 serrabulho
The quality darkened death tones of Mordloch herald the start of Friday, newish local band but impress with their overall style. Been looking forward to seeing A.F.K (Aargh Fuck Kill) from
Germany for the first time, after loving their recent album for its hugely overdriven crusty hardcore. They certainly satisfy, am intrigued by the singers vocal control box, this is the future! Some good friends next in Belgium's Travolta, their short, fast and loud approach to hardcore/power violence is perfect, and they also come across genuinely as having fun while being serious about their content.
Germany's Bastard Royalty are recognised from their previous time in Accion Mutante and are enjoyed in the similarities of their d-beat crust attack too. Supertight, ultra blasting grind from the returning Animals Killing People sandblasts the palate before we have the prime gore-grind party band of the weekend in Serrabulho from Portugal. It is stupid, guttural, slamming and its what we've all been waiting for as definitive OEF. Its almost like they've osmosed the silliness of the preceding decades and refined it into sample laden songs, and then taken us on the World Record length conga line around the whole arena, which they did. Whilst spraying the whole pit with giant foam cannons. In the sun, what fun. More death/grind combos from Gutslit, Disgorge, and Cytotoxin before a shift of pace back to the legendary Italian thrashers, Bulldozer, celebrating their own early releases 40 years back. To be fair the first time I saw them here I was more blown away, and landed on by stagedivers, but a bit of an odd stage setup and some more pedestrian songs aside, it was still enjoyable.
Pyrexia from the States were main event of the evening, but while there was no doubting the power of their brutal death metal it seemed a bit formulaic to me. The same was true about their NYHC dudes do death banter, it was a bit meh for me. Certainly not the case for Japan's Fuck on the Beach next, their old school grind/power violence punching us with relentless fast combos, but also having a lot of fun. The pit and stage were suitable wild, an absolute pleasure to catch them here. A bit of the solid grind from Poland's Antigama send me on my way after a full day.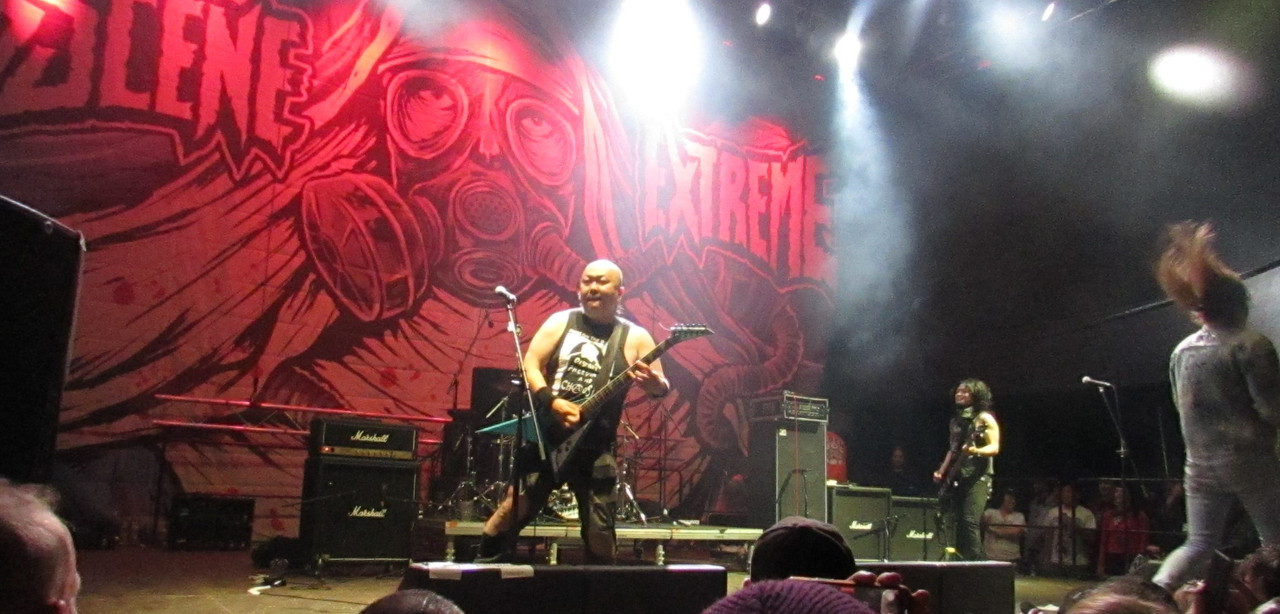 fuck on the beach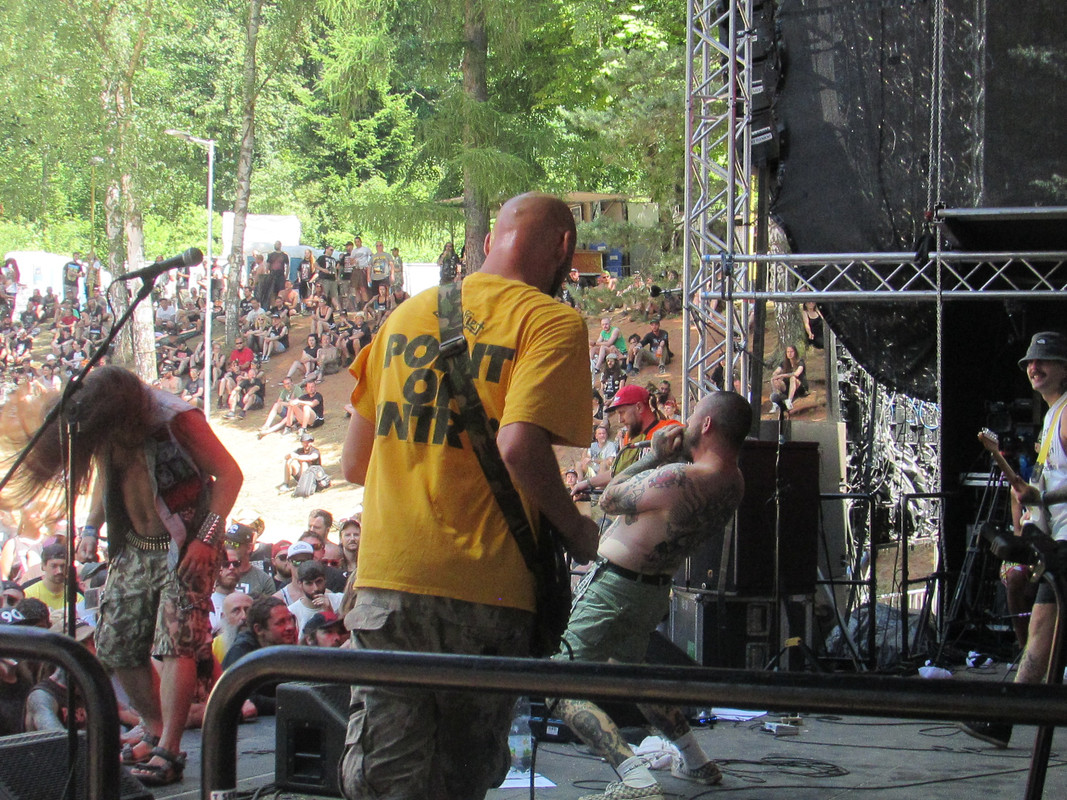 endless swarm
speed noise hell
Earliest start for the final day on Saturday, to catch the Swiss heavy grind of the wonderfully monikered Exorbitant Prices Must Diminish. Again, via Chimpy, knew this was going to be a quality show and certainly was, drawing good early riser numbers. Didn't know much about Sweden's Iiivilja next, but they turned out to be a highlight and great discovery. Classic dbeat hardcore with a relentlessly overlapping dual vocal onslaught gave me a shiver up the spine it was so good, and I picked up their album right away.
Entertaining experimental power-violence from Ixias and Terminator x next, before some Scottish representation in a similar if even harder hitting style from Endless Swarm. Absolutely ferocious as ever, constant movement on stage and in the crowd, great stuff. More Japanese insanity from the returning Speed!! Noise!! Hell!!, who's crusty hardcore just sounds right for the great legacy of bands of that style from their homeland. From the comfort of the benches we see the singer disappear into the pit on a regular basis, it's chaos. Been looking forward to once again seeing Incarceration from Brazil via Germany as it had been a few years since catching them in a support slot in Manchester. Still got the energy in spades to their frenetic death metal, Daniel remains a charismatic frontman driving it all along, look forward to the next time already!
M.40 I loved when I first caught them here maybe a decade ago, and while the Swedes retain elements of the crust hardcore that appealed to me at the time this live set also includes a lot of brooding, building passages which I don't have a problem with in general but I just felt sucked the energy out of what they could have brought here. Play to your crowd! No matter, Belgium crust
legends Hiatus were exactly what was required, old guys, the singer suggesting he sadly may not be here much longer, but d-beating us into submission with a relentless but atmospheric set. France's Blockheads up the tempo and stakes once again, hard to believe they have reached a 30 year anniversary now too. Blistering, battering grind, the singer floating off into the crowd, it's a lesson in pleasurable punishment.
Italian punk legends Raw Power storm through their set but to less attention than I expected, preferred them in the up close and enclosed environment of Levyfest in Manchester last year. Its still non-stop bouncing hardcore riffing, and we again pay tribute to old school guys still being energised to spit it out at us.
Finland's Rotten Sound are an institution and practically an installation here! Filthy and heavy furious grind, they are the inheritors of Nasum's crown in the similar quality vibe they execute with vicious precision. As  Massacre's "From Beyond" remains one of my favourite albums and defines death metal to me, its always with great anticipation I look forward to catching them live. With yet another cobbled together lineup Kam Lee still has the subterranean vocals to stir the soul, the classics kill and the new ones stand up surprisingly well instead. But with an odd metal classic karaoke padding the set, the whole thing was ruined for me with his inane, infantile "banter", totally at odds with any punk ethics of the event. Enough to make me think I would not bother seeing them again. Shame.
The messy end of the night now, with great death grind from Ireland's Abaddon Incarnate who I hadn't seen for a long long time so was pleased to see/hear they were still cutting it so well. And in spite of being on last legs backstage jibber jabber and the quality hardcore/grind mix of Spain's Teething provide a high to end the event on, sated in both ear and liver.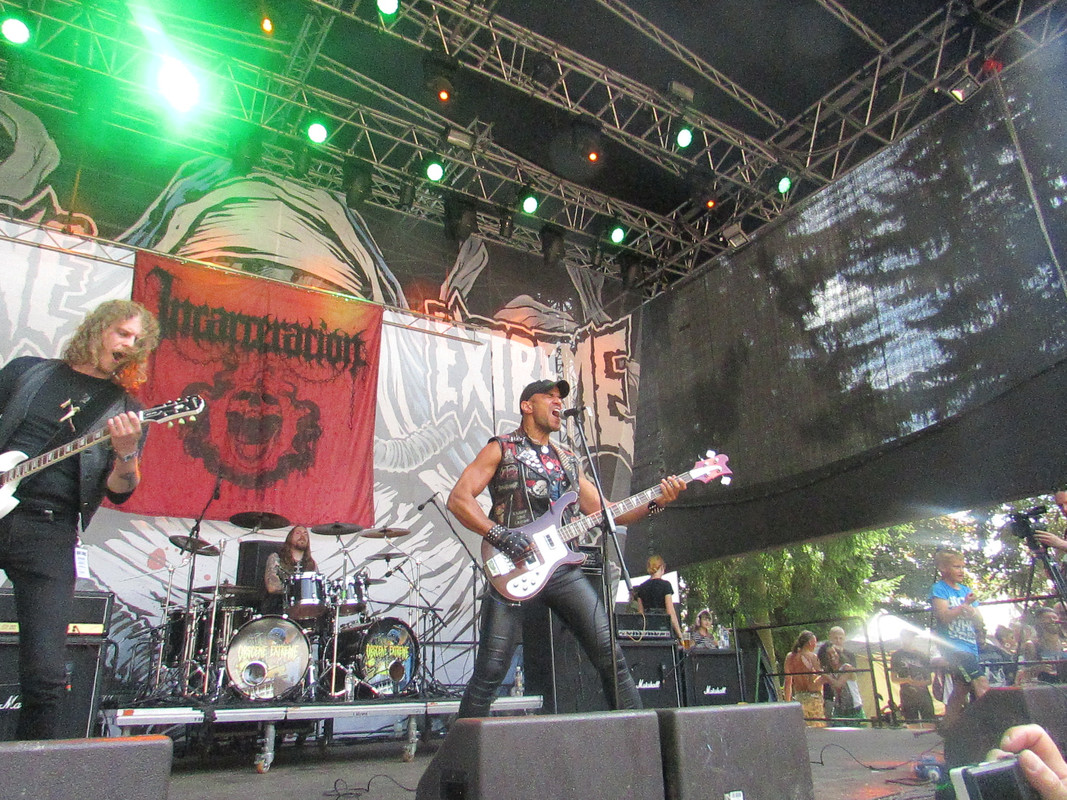 incarceration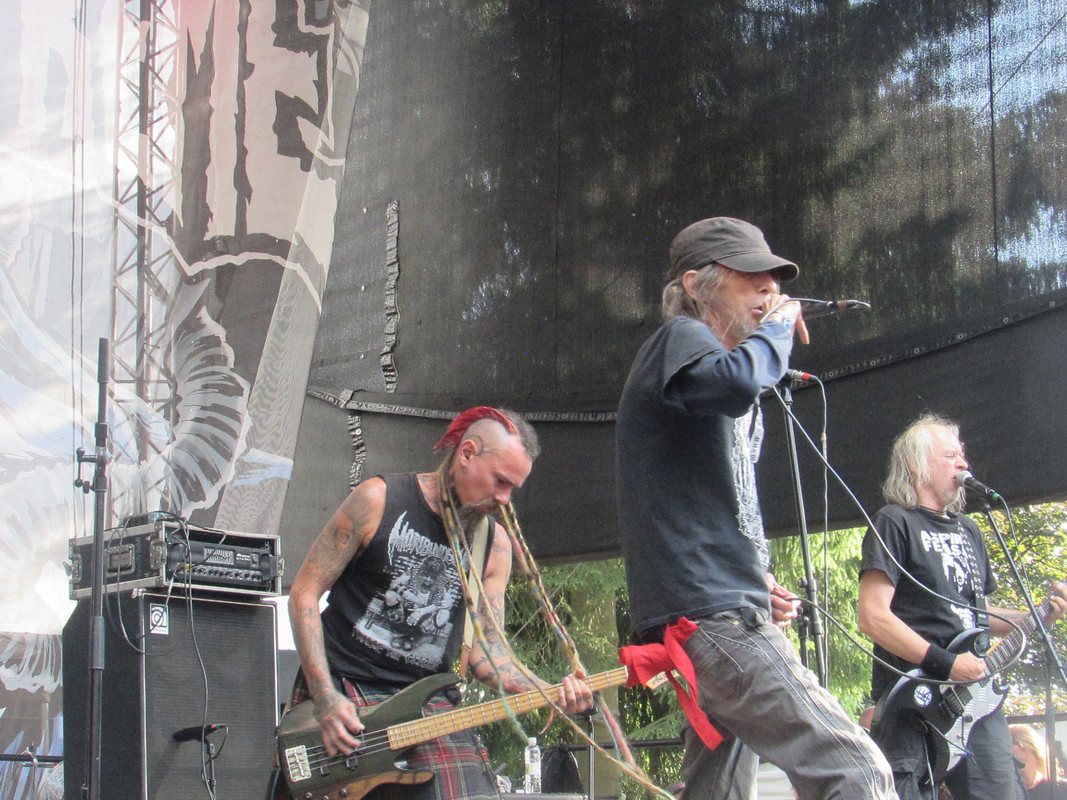 hiatus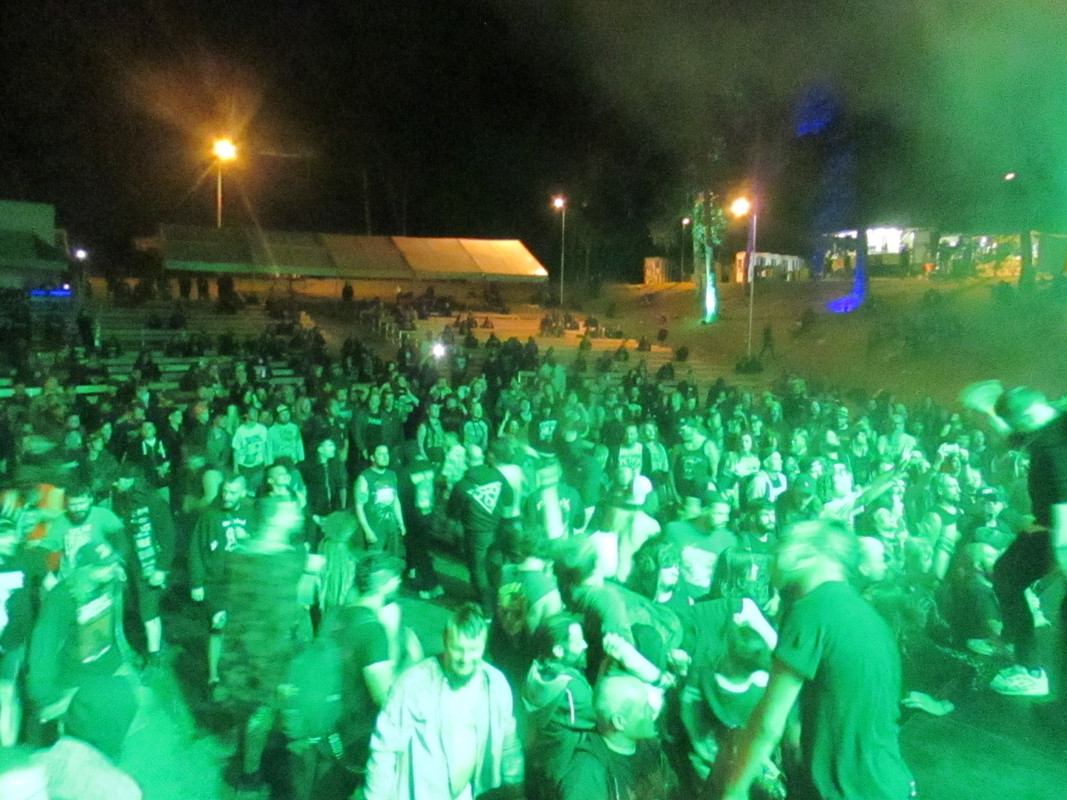 teething
Next year mark's the events 25th anniversary and that seems as good a reason as the very many others to return again. I think numbers may have been a little down this year so hopefully as much support can be given for attendee numbers to ensure it's continuation. It is a difficult balancing act in running an underground festival with no big commercial sponsors, and trying to keep prices at a level where its crusty core audience can still afford to attend. OEF stays true to its convictions though, and that I celebrate.  And pray for more!