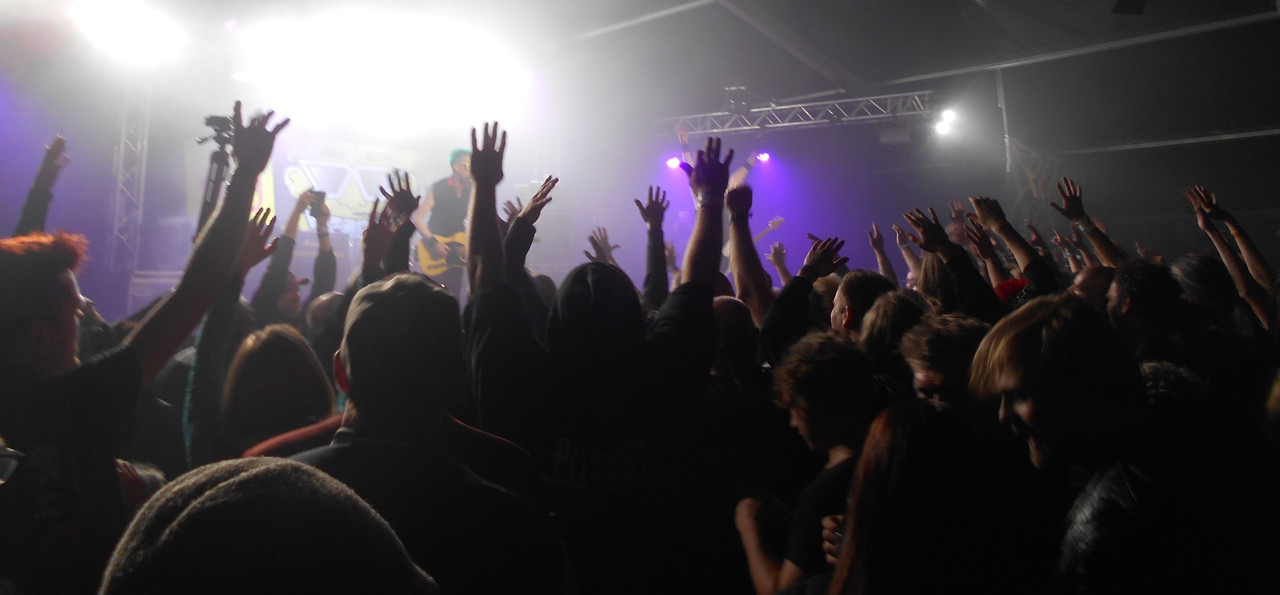 The two or three year withdrawal symptoms from Euro festivals showed up in the ache in my bones when I shouldered my rucksack and tent to set off to Liverpool airport for the short hop over to Amsterdam. As soon as that was dumped on the conveyor belt and pints were sunk though I was completely looking forward to the adventure again, especially to a new destination. Friends had spoken highly of their 2019 pre-covid visit, the line up for 2020 was pretty stunning for a cheap price and at a small intimate scale, so I'd snapped up a ticket. That initial goldmine had been somewhat ravaged by the time the twice postponed event has come around, with the loss of the likes of Repulsion, Dropdead, Slapshot, and Grave, but there was still more than enough to appeal as well as the trip in itself.
We had plenty of time to get across country by train to virtually the eastern border with Germany, where we picked up by a shuttle bus from the nearest station to take us to the festival site, on the edge of some golf resort. Hearing the driver relate how this was basically a bunch of old school friends voluntarily getting together to make this happen on their isolated doorstep gave me great positive DIY vibes. On arrival on this Thursday warm-up show there was barely a couple of hundred folks there, loads of space on the single camping field immediately adjacent to the "arena" (it just seems to small to call it that, "yard" maybe!). Got the feel of the layout and then had 3 tribute bands to entertain us, a Gorefest one which seems a bit niche but it is their homeland I guess, a Motorhead one which is always a winner for me, and good to hear them do some rarer tracks, and a NOFX one to finish, which was also interesting to hear a Californian accent done so well in the songs compared to the Dutch banter between them.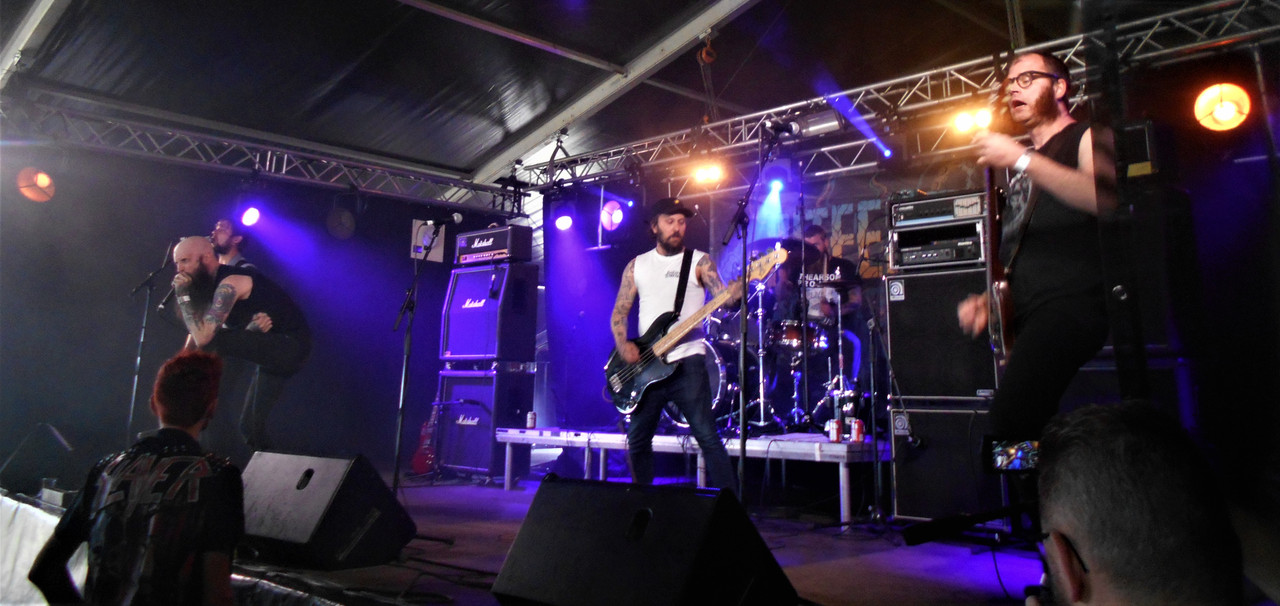 fredag 13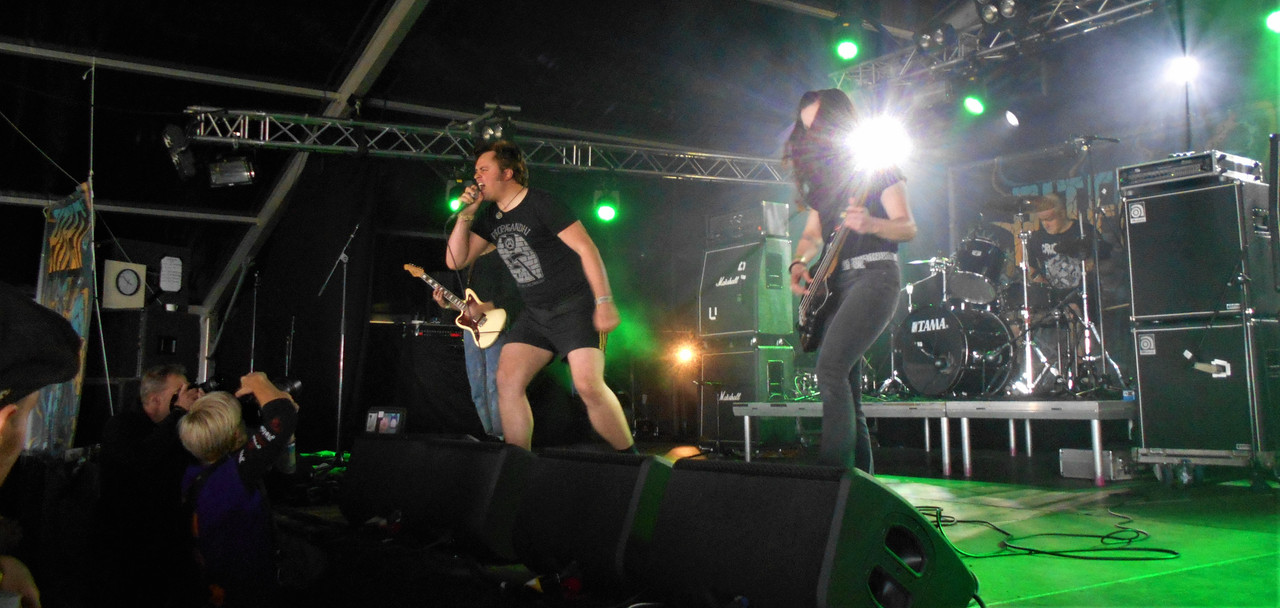 youth deprivation
Only a mid afternoon start the next day so time to enjoy the bright sunshine and the breakfast bar at the campsite which was a real bonus and cheap too, before getting onto the proper breakfast of beers. Headed to see the first band at the smallest "Crustbus" stage, which no longer involved a bus but was instead an inflatable venue. Novel, but seemed to have failed in its first task as it had deflated! I don't know if the band were trapped in there but it resurrected soon enough and things started promptly. The Shivvies were pop punk that seemed to like an idea and repeat it a lot, but generally not for me. What was a much more satisfying opening for me came with the phrase "the festival starts when the dbeat kicks in" as Fredag den 13 (on Friday 13th no less!) delivered that in spades. The Swedes were a real raging force of gloriously distorted hardcore that got the blood pumping and the crowd moving at the middle "Punkhol" stage, open-sided marquee with solid wood floor. First chance next to visit the largest Skullcrusher stage (they are all less than 100m apart with the beer hall in the middle!) where the youngsters of Youth Deprivation are not intimidated by the scale at all and put on an excellent show of energetic angular hardcore. The bass player ("The Finger"!) particularly impresses with her relentless attack and groove. Into the dark/shade/fog of the Crustbus again for some death metal from Mouflon (no, i don't know why they are named after a sheep).
Proper old school "pure filth" but with excellent doom breakdowns and inventive structures and melodies lurking within the mire. USHC from Hometown Crew over at Punkhol, but while it was earnest and energetic not sure it moved far from the generic, a bit like their name. Lords Of Flesh on the main stage was a last minute fill-in to compensate for the loss of Grave, and featured an all star jam band cast covering death metal "classics". While they were effectively done and the constant rotation of members was fun I'm not sure the set list was what I'd have picked, but I guess they were limited with collective knowledge and preparation time.
Not really much chance to get into the Peter Pan Speedrock offshoot Tankzilla at the packed Crustbus but enjoyed some of their rocky hardcore from outside those rubber walls! Also had
chance to sample the various food and mead on offer, not cheap but at least reasonable quality.
There's also free/uninterrupted access and return to the campsite so you can rely on your own supplies too.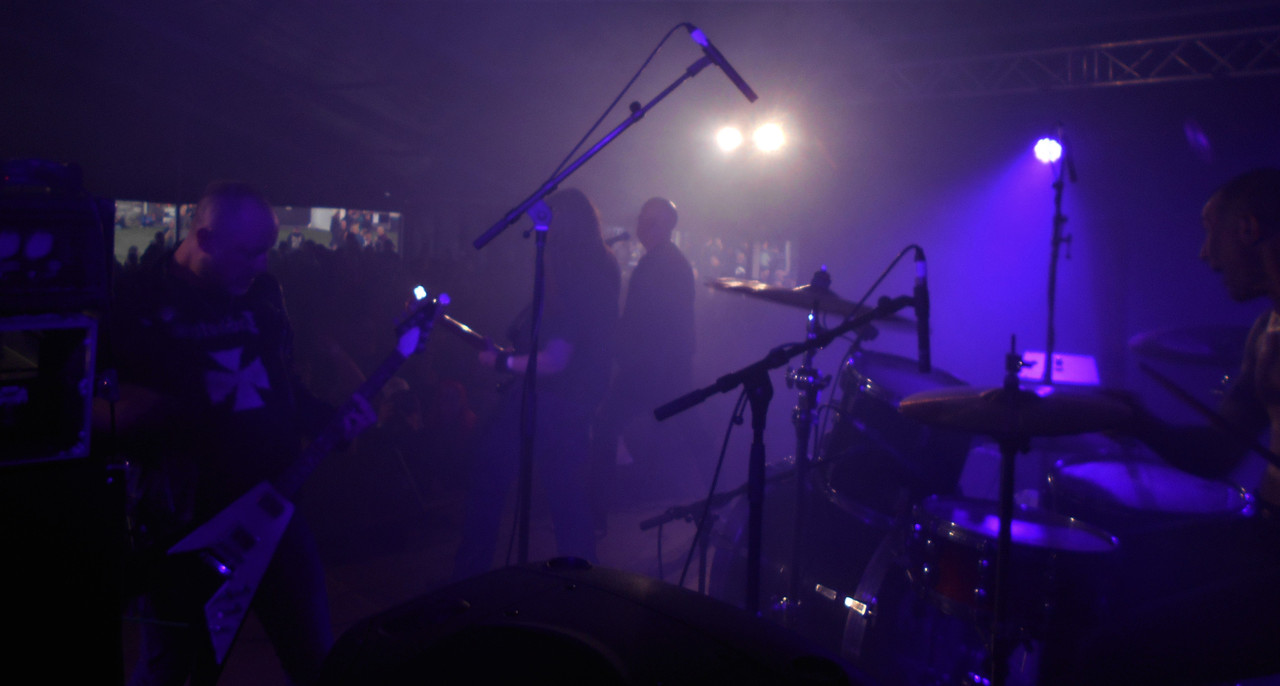 skitsystem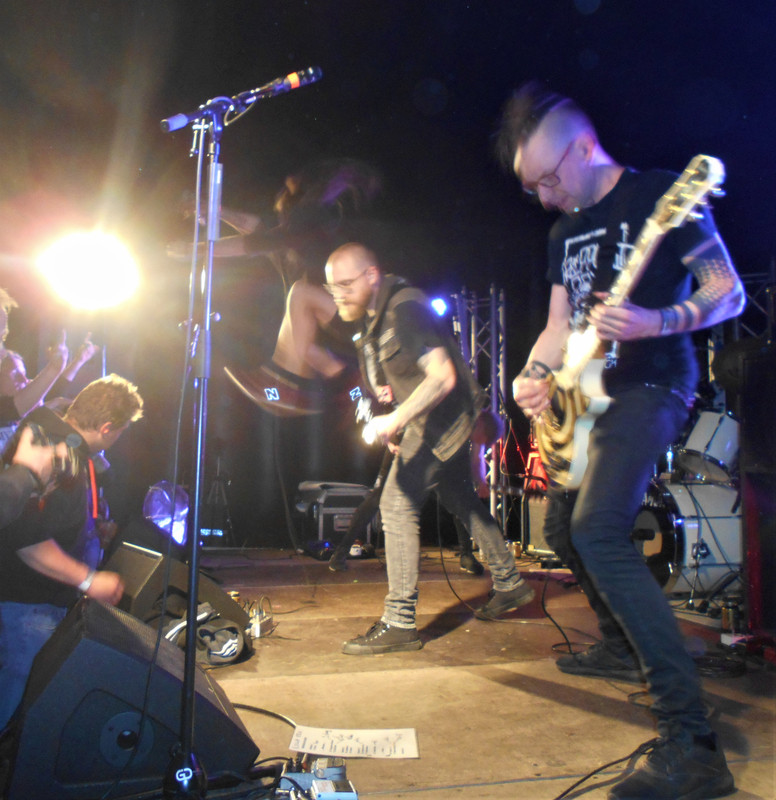 myteri
Had a blast of Blood Red Throne at the main stage, their ferocious technical death metal as crisp as ever but over to Punkhol with plenty of time for a personal highlight of the weekend in Skitsystem. Not often they had a lineup together to do many gigs beyond their Swedish shores but they still absolutely batter a set of classic dbeat kang hardcore that is legendary. Super
satisfying punk fun. Their younger compatriots Myteri are in the Crustbus with a new album just released, and while its more anthemic and progressive in the structure of its crusty hardcore it still has a relentless punchy centre and effortless energy. Lighter relief to close the evening with first the main stage headliners, on their 40 th anniversary tour, The Toy Dolls (top pic). People had come specially to see them, never mind any other bands, and having seen them before at Hellfest I know they are great entertainment. It's not just about the elephant in the room, they are consummate lively performers with their slick stage moves and plenty of humour. Breaking out the triplenecked guitar (and just playing one) is a classic. I returned to the depths of the Crustbus to catch Brazil's Sick Sick Sinners deliver some uptempo psychobilly (and pick up a tshirt for a mate). While they had good energy and hooks and threw in a cover of Motorhead's "The Hammer" I thought the sound was pretty bad, but that could just be psychobilly in general. A full and fulfilling first day none-the-less.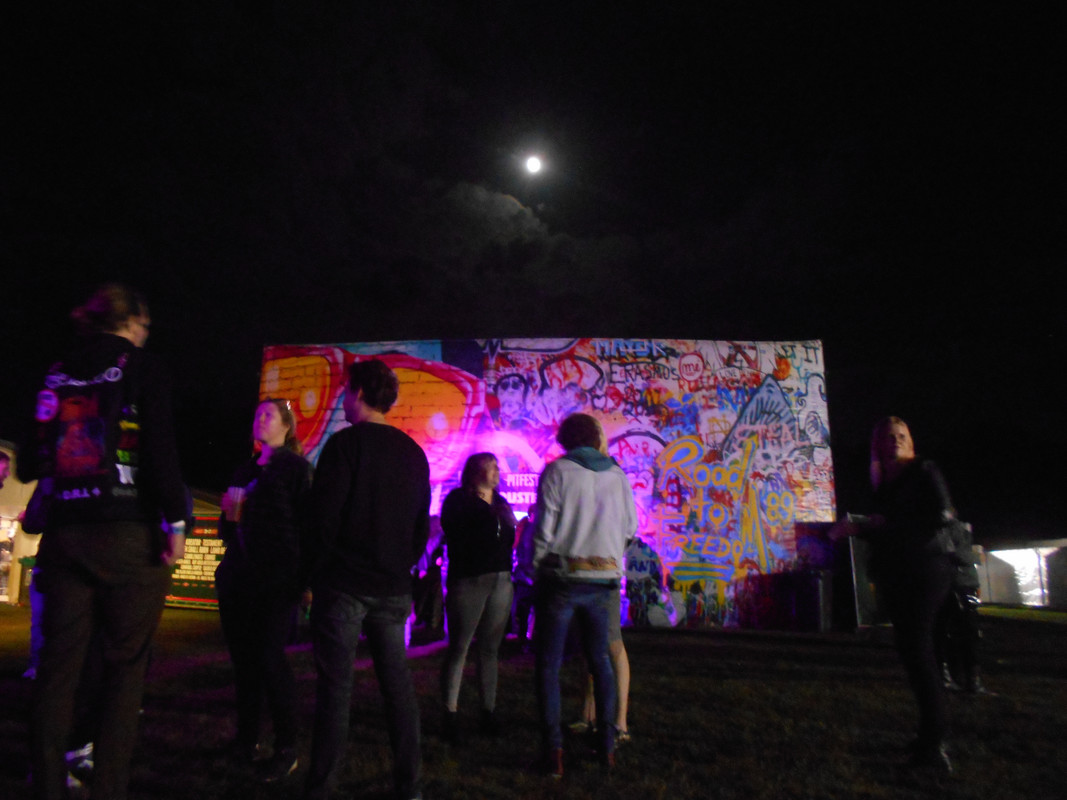 space chaser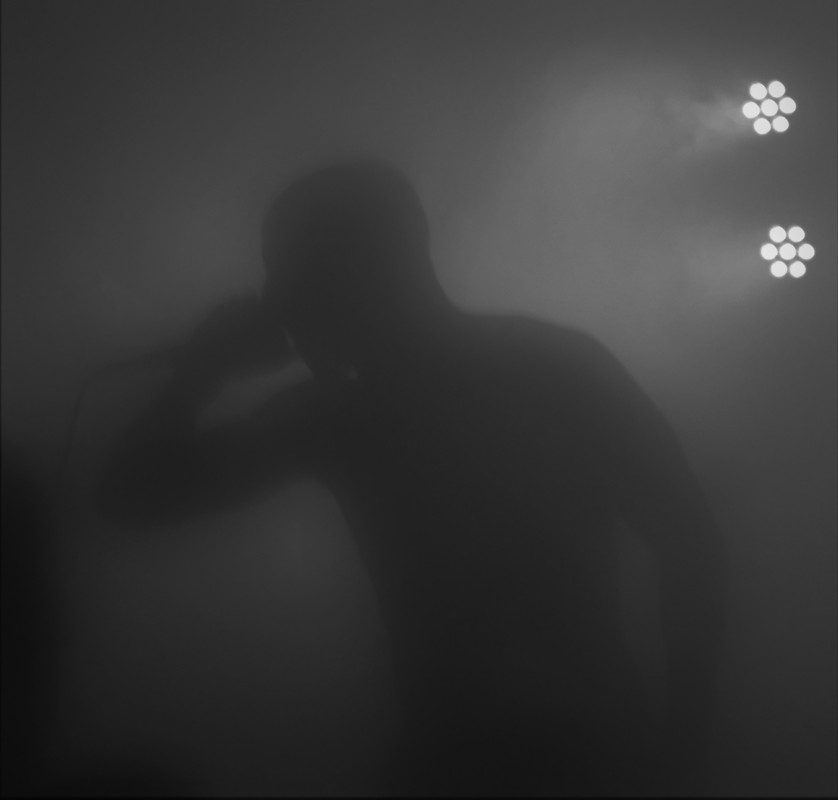 A slightly earlier midday start for the Saturday with Open Veins from the US. Raw hardcore with a crust edge, their appearance was facilitated by the unfortunate loss of Dissidence after their
guitarist's death a couple of weeks previously. He was commemorated and the rest of band were still in attendance and giving their music away for free so that he was there in spirit, these things
brings tears to my eyes pretty easily these days. With other friends arriving and being bumped into, we sat out over near the main stage and listened to Burial Remains, who really impressed me with their thunderous old-school Entombed-esque death metal, great tones. Was encouraged to check out Indian Nightmare and they were great entertainment, mixing the traditional heavy metal cheese with some more serious thrashing. Graceless gave us more death metal but I found it a bit more pedestrian/not getting out of third gear compared to some of what had gone before more effectively. Back to Punkhol for Spacechaser who despite being from Germany could easily have been Bay Area thrash, intense riffing and a singer who totally carried off the higher pitch intensity of the likes of Heathen or Agent Steel, impressive stuff. Sneak in the side door at Crustbus to be absolutely brutalised by Blind to Faith, the sound system in here giving sheer punishing levels to their sludgy hardcore. Been a few years since I'd seen these Belgians supporting Nails and think they've have really stepped up a level in terms of a convicted and bleakly uncompromising performance, stunning stuff. The thrash is unrelenting with Insanity Alert next, who've been hilarious the last couple of times I've caught them. The line up is changed again but the focus remains the effervescent frontman and the singalong signboards, still fun but not sure they've moved on much and wonder if the joke will get thinner over further time. No messing around with Yacopsae, the Germans being a grind favourite of many of the crusties here including me. Every time they deliver their stop-start onslaughts with stunning precision, god knows how many songs they get through before I have to take a breather from the heat.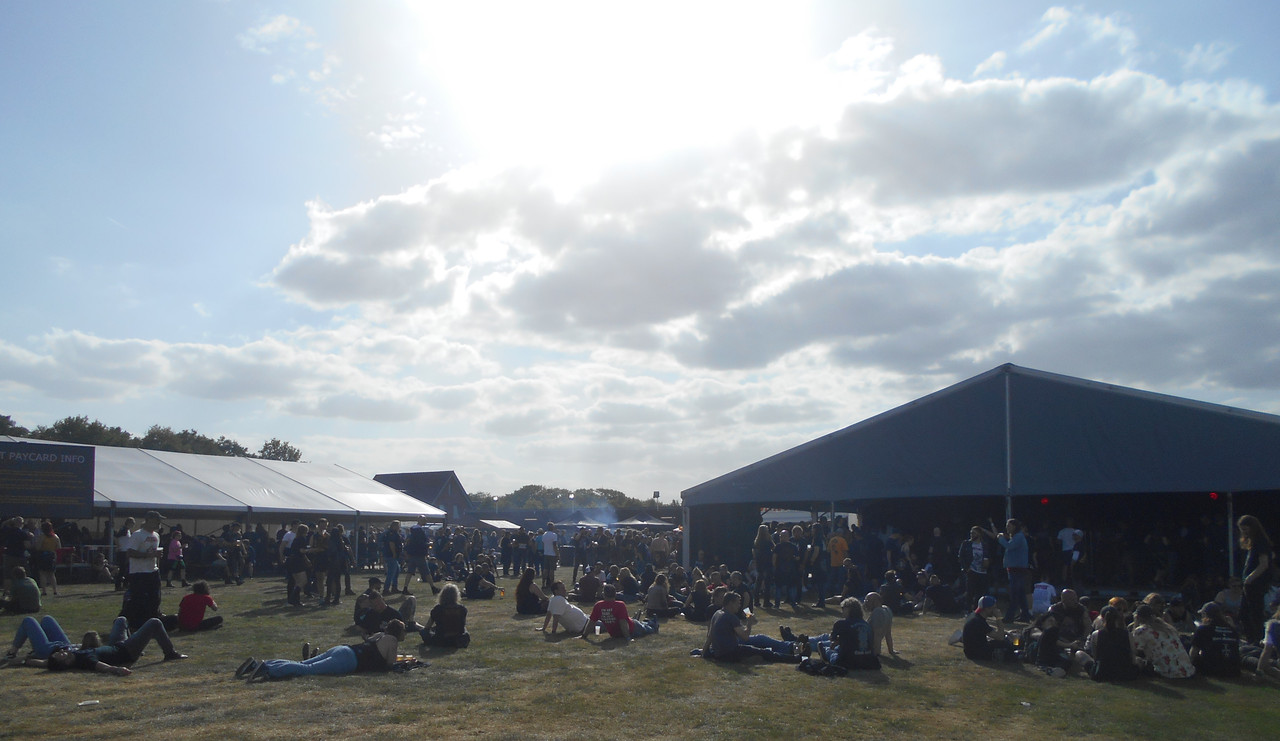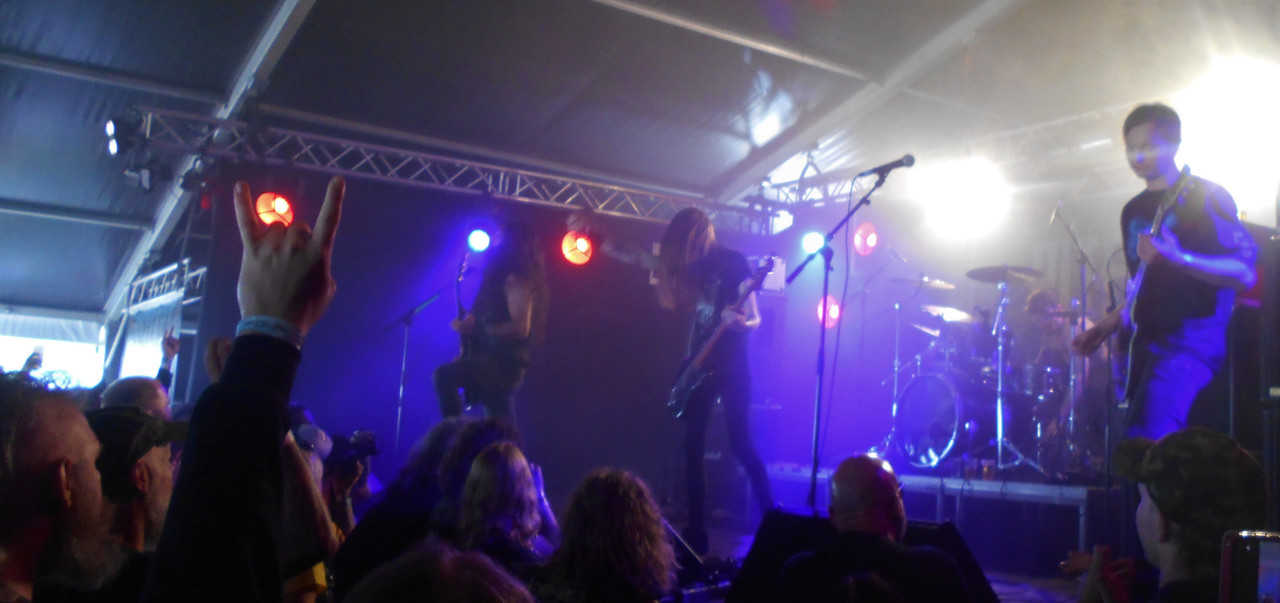 dodsrit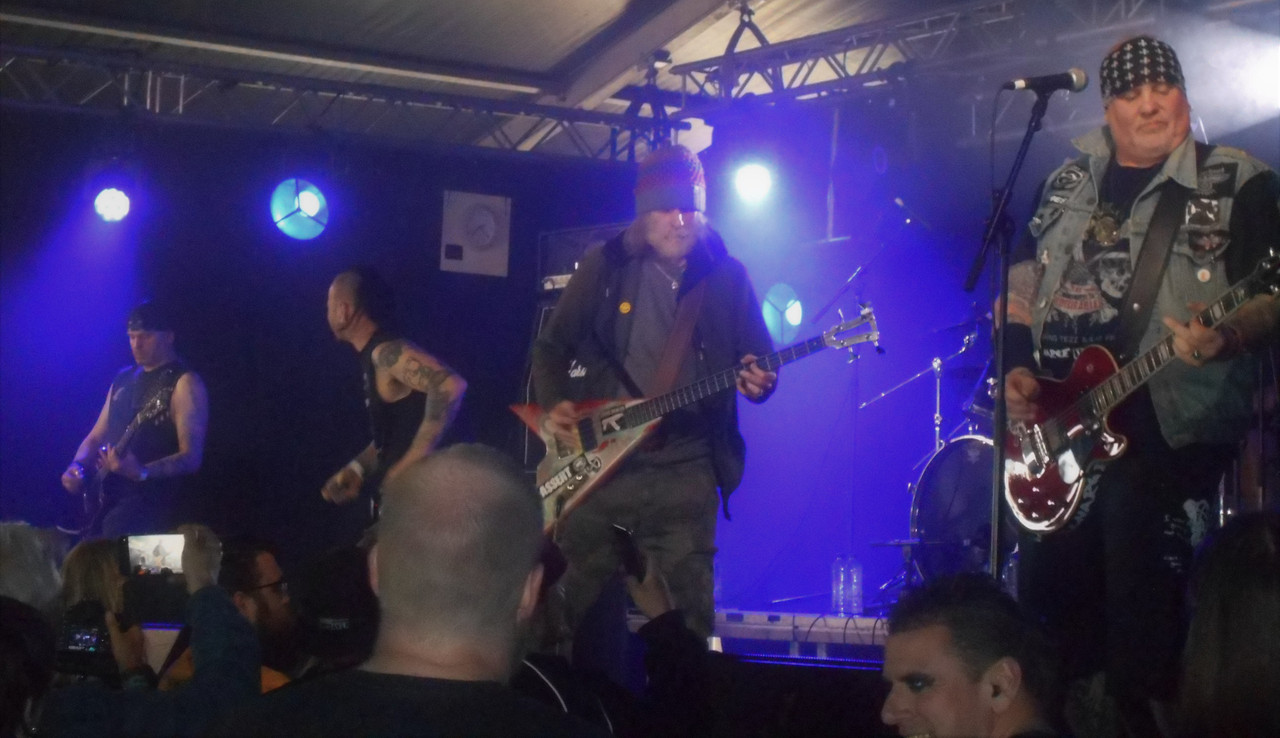 discharge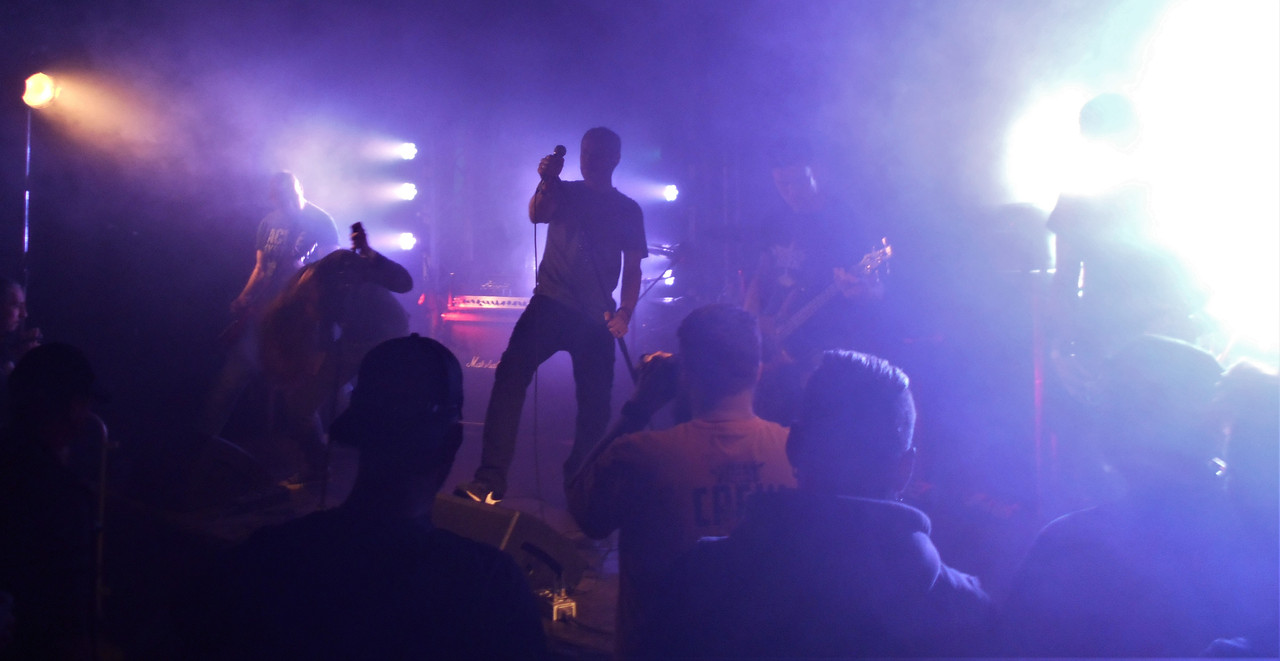 morser
Refreshed enough I am prepared for a band I was really looking forward to for the first time after hearing the quality progressive black/death/hardcore in their recent releases, Dodsrit. They certainly hit the spot, with a well paced and structured set that ran you through the emotions with plenty of mellow breathers between the roaring controlled cacophony. Ireland's Gama Bomb over at the main stage I'd not seen long ago so maybe that's why I was less enthused to watch much of their thrashing at the main stage, it just didn't grab me much. Took a look in the bus at Lies!, some heavyweight Dutch hardcore in the US style which was decent enough, before taking up a spot at Punkhol for the privilege of Discharge.
The scene legends are just that, and their seminal influence is massive, but this time I'm not really moved by the show much here either. Maybe overthinking when formula becomes formulaic, it also seems a little forced at times.   or maybe its diminishing returns when i've seen the so much. Things are back on track at the bus as I get to see Morser for the first time, despite them having a few decade history our paths haven't crossed. Dual vocal is always a winner for me, but also there's something relatively unique in their combination of death/grind/metallic hardcore, its intriguing and interesting and I'd see them again any time soon. The novelty of US speedcore veterans Cryptic Slaughter is somewhat lessened with me having seen them at Obscene Extreme before but there's some great blasts of mayhem among the banter. I'd also seen Brazilian thrasher's Violator there and been stunned by their intense and relentless performance and what do you know, they haven't slowed down even now in their 20 th year. It is bonkers riffmania, earnest political lyrics and introduction, and inspires constant pit and diving action, you love to see it.  As you also do to see other bands who have already played in the crowd and pit enjoying their time here, reinforcing the unpretentious DIY vibe of the place. Our headliners for this evening are At The Gates (below), bringing an anniversary airing of their revered "Slaughter of the Soul". First ("as it's a short album") there is time to give us some newer tracks and they are still operating at a strong and incisive level. But when they kick in with album opener "Blinded by Fear", still one of my all time favourite songs, the reason for its status is clear. A perfect controlled explosion of hammered riffing and roared vocals, and while they were cited as developing "melo-death" I think this was only relative, and this is a supremely hardhitting album. Well, it was until the main stage power blew. There's an awkward lull but Tompa remains the affable host and by literally sorting some extension leads they return to complete the job. It's one to savour for sure, and will be repeated at Damnation festival in the UK this autumn. As a palate cleanser for the whole weekend we have our eyes and ears totally abused by Spasm and their goregrind insanity. The mankini clad "large" gentlemen grunts and squeals to his backing of some excellent distorted bass and backing tracks, and it's a lovely twisted ending to the proceedings.
The next day we can get the shuttle bus back to the train and meander our way home, and even though my out-of-shape/practice body is suffering somewhat, in and out, I will happily return to check this event again. It's moving to a new slightly more urban/accessible place next time so I'd be interested to check that, but the combination of intimate scale and excellent bands make for a winning formula that I hope they can retain.