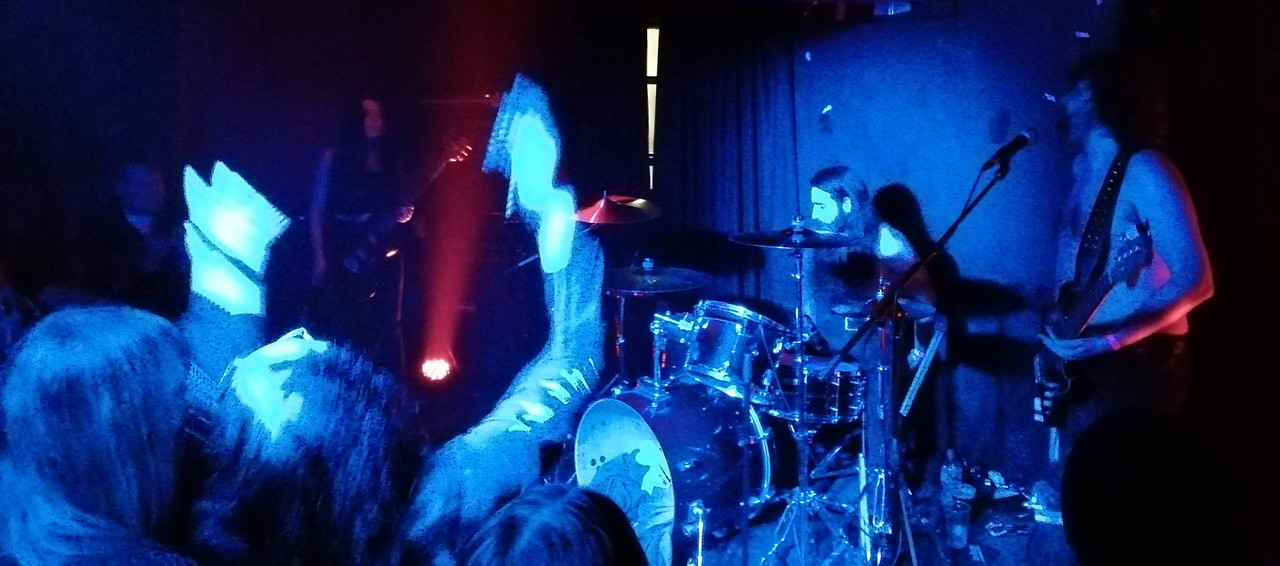 There's no way I can calculate/remember but Leeds must have over taken the NW staples of The 'Pool and Manc-land in terms of the number of gig trips for me.  Aided by the draw of bigger festivals like Damnation and underground belters like Dreadfest and Break The Chains, as well as decent independent venues that support a thriving local scene of good folks it's well worth the extra less-than-an-hour to get over the Pennines.  And with my son now handily placed there too for free accommodation!
We had only been here a couple of weeks back for the band-related wedding do of a couple of the Misery organisers, but the eclectic line-up of this all dayer got us back straight away.  The Fenton band room is not massive so it was easily sold out and there was a good turnout for from the mid afternoon off, the throngs of fancy dress students on a seemingly eternal pubcrawl filling the downstairs too.
First offerings are an early gig in their history for locals Votiv.  Featuring long time colleagues Ben and Joe formerly of Groak among a multitude of other quality output, they are joined by the drummer from Deviated Instinct.  Together they create some relentless heavy dbeat punk, dual harsh vocals effectively used.  As a three piece I also love the track where the guitar drops out to feedback and you can hear the bass furiously riffing on in the background, great prospect for more to come
Razoreater up from the Midlands: I'd been looking forward to catching as all their previous recorded material I'd heard I properly savoured.  In the live environment too their tight blasting deathgrind certainly hit the spot, brutally loud in tone and punchy in delivery.  Rabid vocalist encourages the early doors crowd in to enjoy the intimate beating.   The only disappointment was they didn't yet have their new album on vinyl to sell me, will have to catch them again!
Last time I saw Bristol's Atomck was in Newport supporting ENT a few years back, with the predominant memory of that night being "SPEED!".   Exactly right as even if their riffing is what you'd expect from the jazzier end of grindcore the drumming from Karl is next level.  Like the guy from Whiplash in intensity but in micro-doses, it is a jaw dropping performance even to the seasoned fastheads here. Vocals alternating between guttural and seagull, it's an uncompromising set all round.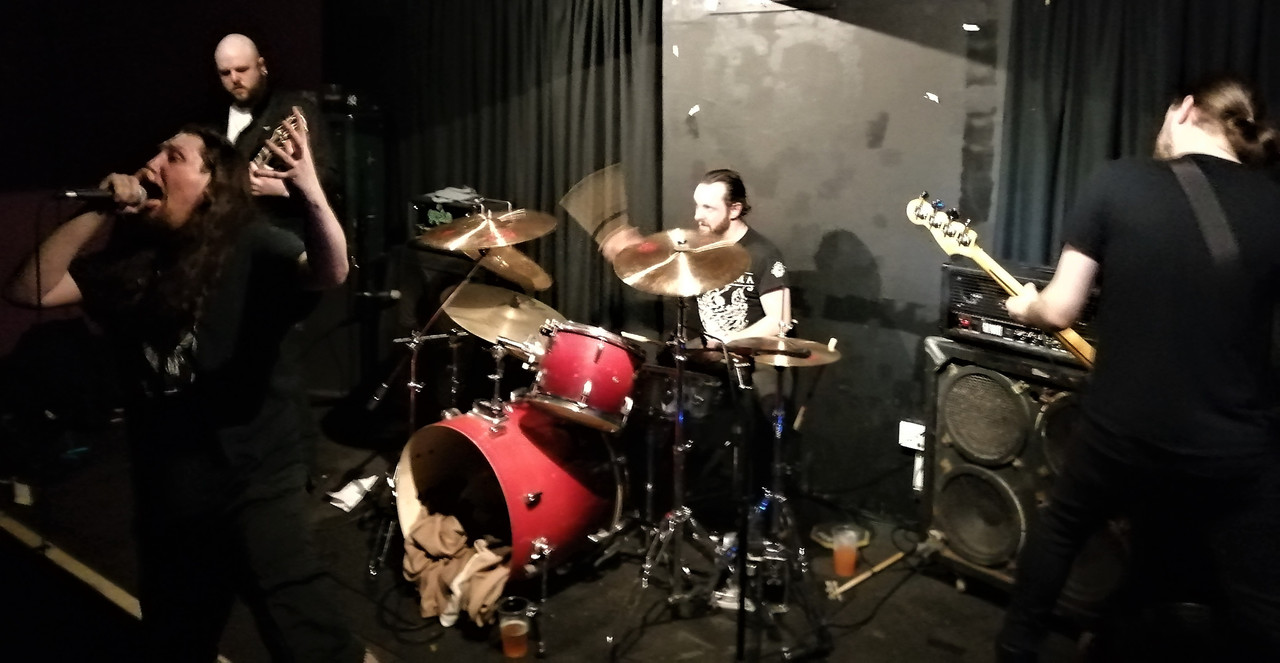 Another band I was really looking forward to seeing for the first time was Deus Vermin (above), on their home turf too.  I'd picked up their demo and LP release and their take on blackened death / deathened black was exactly what I liked in terms of bleak and battering tones and atmospheres.  With the ubiquitous Bernard on vocals, though also giving it a distinct style in contrast to his other projects, they really translated that into live, a real maelstrom of vicious, intricate waves.  Both guitarist and drummer seemed to be complaining about Repetitive Strain Injuries but they've only got themselves to blame!
Crepitation were here at the party a fortnight back but rather that taking the edge of this show, I think I enjoy them more each time I see them.  Maybe because at first face value they might be mistaken for some caveman slam death metal but actually the more you pay attention they are actually sonic scientists synthesising the most effective brutal riff and run combinations into crowd pleasers. That goes for the vocals too, extensive explanations of gloriously complex and stupid titles for songs that have NO WORDS, just vocal noises used as another layer of precise hilarious chaos.  You don't have to dissect their approach, just revel in the rave death mess!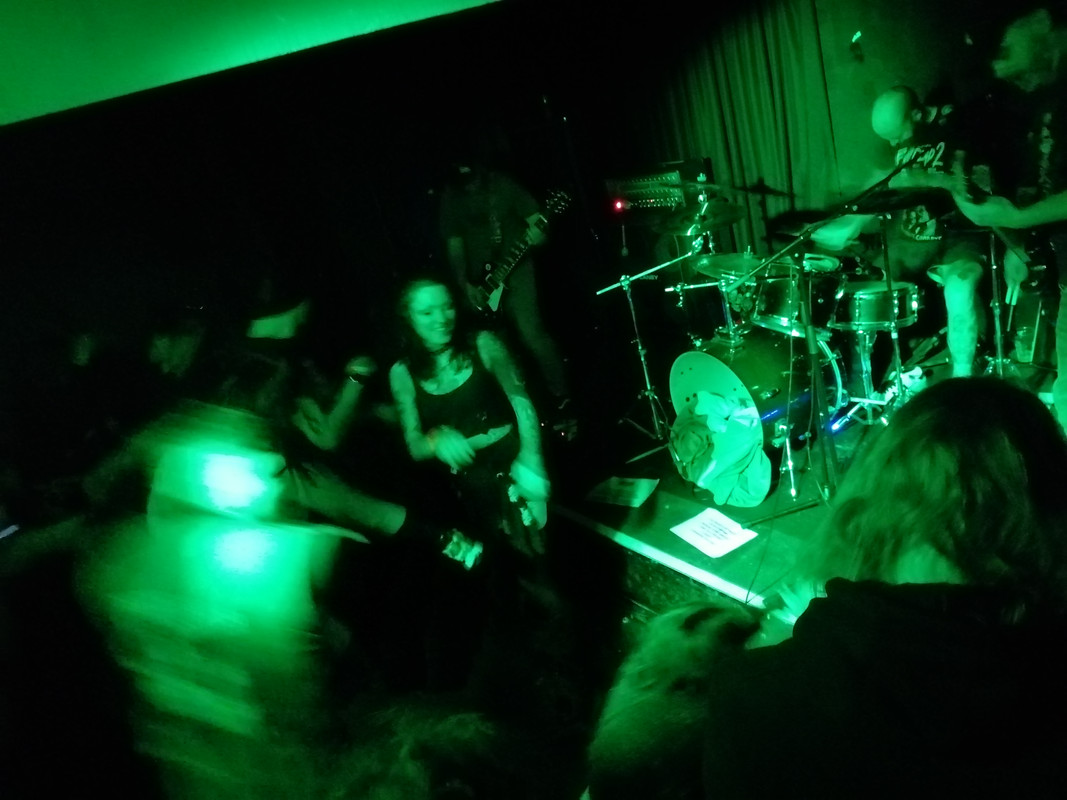 I think last time I saw Gets Worse (pit chaos above) was when we dragged them over to North Wales for a gig, and despite the global interruptions since then, they almost seem to have Got Better.  Just a really confident performance of their precise stop-start heavy power violence/ hardcore, they always been more than the sum of their parts but each of them brings quality to the mix, with all sharing the vocals back and forth too.  The new bass player has fit seamlessly in and is even taking more a role than his predecessor, can't wait to hear their new album presently
To close out another welcome return for a band not seen by me since Roadburn 2015, distorted doom deliverance in the form of Merseyside's Coltsblood (top pic).  Despite technical difficulties then they had still levelled the place and have definitely stored some pent up energies for this first gig back in a couple of years anyway, I was at the bar with the drummer as he ensured he got drunk enough for the performance.  Brooding bass and drums overlaid with haunting guitars, all at a somnambulant pace and an aching atmosphere, only to explode briefly into intense sludge-punk outbursts.  Roared harsh vocals from the bass player, but only adds to the reverberating disquiet they create.  The longest set of the day (by twice some of the others!) certainly doesn't feel like it, as we are washed away by the noise, and excellent comedown from a day that has provided satisfaction all round.  False advertising, WHERE WAS THE MISERY????