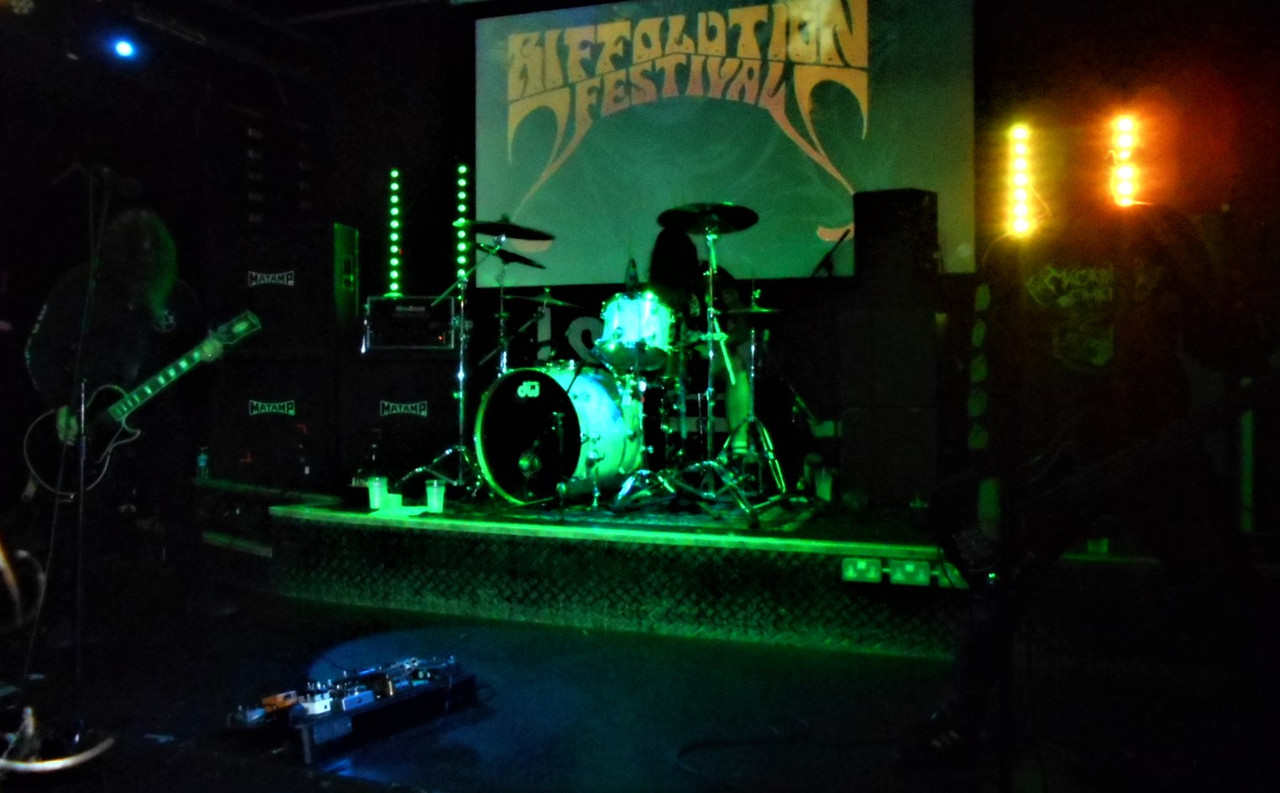 Conan
So, the festival season is upon us.  Not the summer one with its cancellations and constrained efforts, but a raft of autumn ones that are here to rescue us from our musical deprivation.  In the space of a few weeks I'll be indoors and outdoors, home and abroad, grasping these nascent opportunities of a return to a warped, noisy, reality.  Promoters have persevered and kept juggling the balls of ever-changing circumstances, and I praise them for delivering the goods at the end of the day.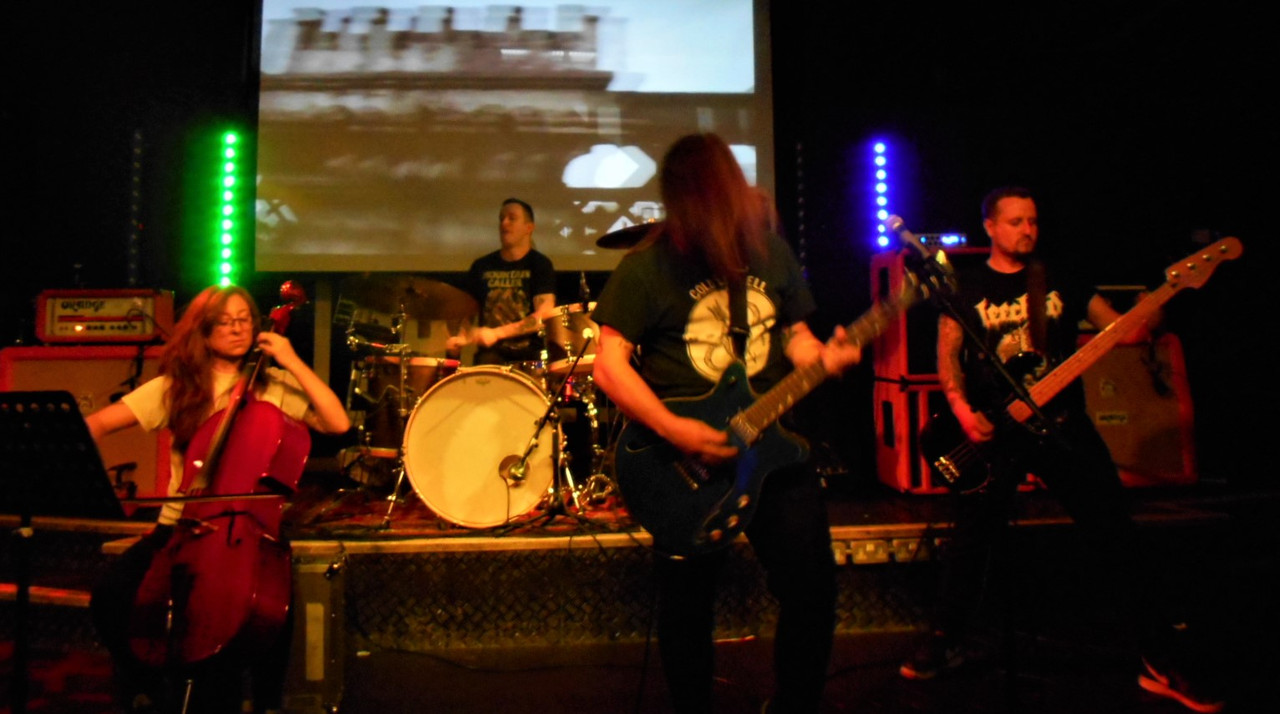 Pijn
My own efforts were above and beyond too, just to add to the experience, as I drove to Manchester via Durham.  With best efforts was never going to make the start but got in after the first couple of bands and all was good.  First time at the Bread Shed and I'm impressed with its set up and sound system, two stages in one room at right angles making for the simplest of changeovers for bands and punters.  First band I caught was Lacertillia, from South Wales (though you never would have guessed…), initially having a big retro atmosphere of Zep meets The Doors, before settling into some more modern heavy grooves.  That will definitely be the theme of this weekend, huge stoner and doom riff reverberations to shake your booty and internal organs, very well captured expressed by Stonus next.  From Cyprus via London their sound is huge, yes familiar Sabbath and Electric Wizard riffs are present but they carry it off with gusto and create an impressive force of their own.  We are taking regular re-hydration intervals in the adjacent bar where you can still hear the music and be able to hear all the catch-up conversations with our friends, this break is interrupted with accusations of merch theft though.  What?  This record that's signed by the band after it had been bought?  Apologies accepted and happy to continue, as we are drawn into the Cybernetic Witch Cult.  Trekking up from Cornwall themselves, there's a great spacey psych element to their sound with keyboard tides enhancing repetitive riffing, I pick up their "Troglodithic Trip" LP for further future adventures.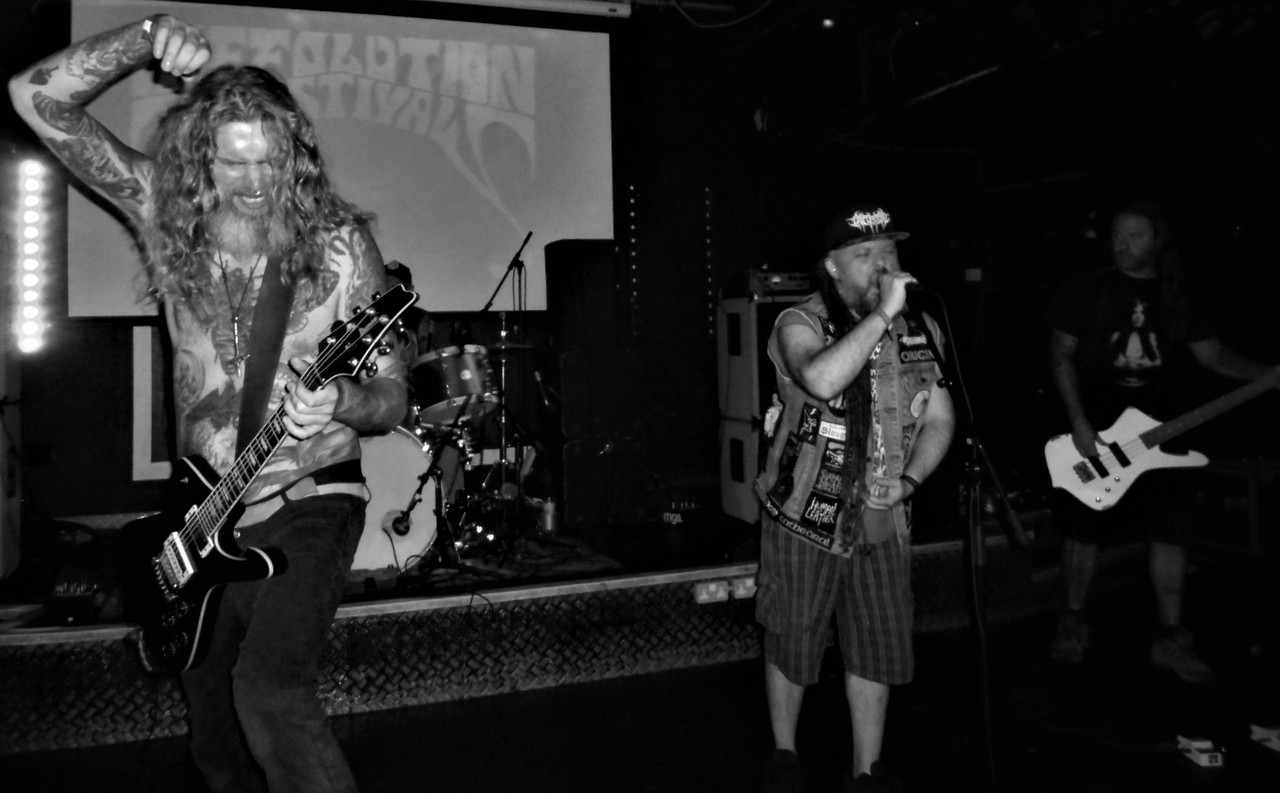 Seabastard
Erring on the side of caution with a break for tea we return for locals Pijn (not pronounced Pigeon) and their instrumental epics.  To a projected background of grey landscapes their music is far more emotive and colourful as they shift rapidly through many textures of heaviness and openness.  The cello work included always works for me too, as a fan a four-strings in general.  A resurrection from the depths with Sea Bastard now, their first gig back after a hiatus for a few years.  Not sure my ears have recovered from the last time I saw them with Primitive Man, and soon the punishment is at full volume again, with their colossal drawn out sludge riffing and raw screamed vocals.  We tread water but are washed by the tsunami of sound back to the bar before the end.  Chubby Thunderous are also on home turf and bring the party stoner to their gathered fans, with mosh pits and surfers breaking out with their more up tempo set, including a Sabbath version which was never going to fail.  Finally, a worthy headliner in the awesome Elephant Tree.  Can't have squeezed many, if any gigs in since the release of their 2019 "Habits" album, what a pleasure to hear the beautifully constructed progressive heaviness of vision that really sets them apart.  Three way soaring vocals add a powerful layer and there are increasing keyboard flavours too.  They have an easy-going on-stage vibe and appreciate the crowd response as much as we do their glorious sonic efforts.
Elephant Tree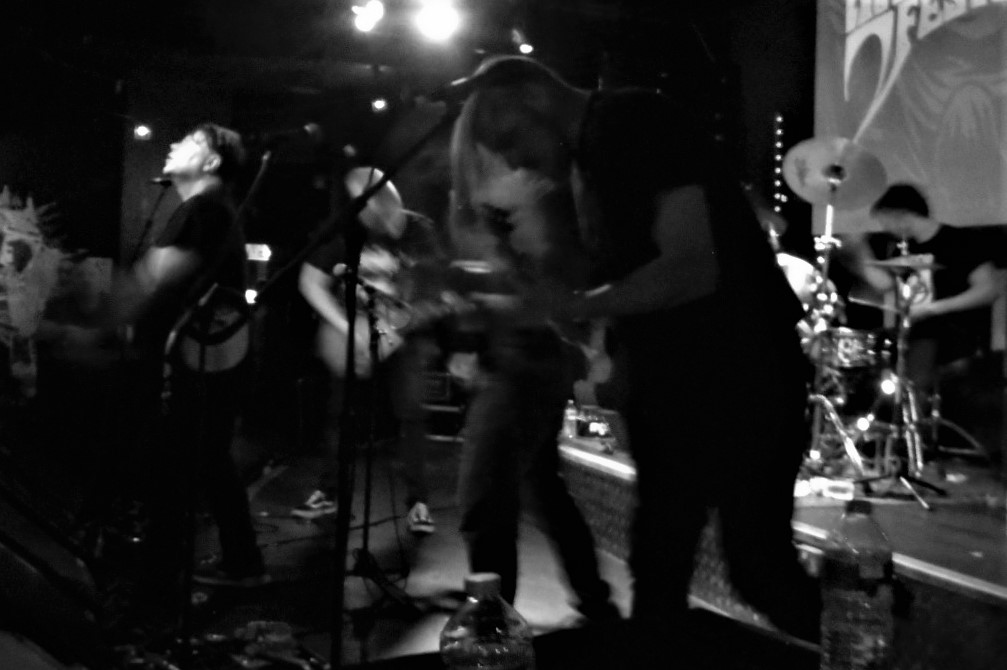 Ohhms
Get the train back for the Sunday social, in good time and spirits for the slightly later start.  A bit quieter today which i'm a little surprised about given the quality of the line-up but maybe it's a day of rest for some.   Locals Soden provide an initially mellow atmospheric almost jam band feel to build up to some wall of noise powerful waves of repetitive doomgaze riffing.  Just the thing to ease us into the day.  I'd last seen Son of Boar in their home town of Bradford, and this evening they provided a more seething set of sludge, a lot of energy and steam rolling heaviness in their set though not averse to mixing it with more languid stoner vibes.  Desert Storm were also very entertaining, a great punishing rhythm to their songs giving an almost heavy industrial vibe to their metal, although offset at times by the more sung Southern Rock style vocal.  Well, they are from Oxford.  Bassist's focus and delivery reminded me of Shane Embury in a good way.  Seeing Ohhms here in Manchester was one of the last gigs experienced before lockdown so it was pleasing to see them still as fired up as ever on their return.  Although vocalist Paul seems to have found some shoes in the meantime.  They touch so many diverse bases among the metal subgenres but are ultimately progressive and above all interesting.  Bassist Chainy ends up in/on the crowd as is tradition, much fun had.   Like Ohhms before them, Telepathy were another band that had their new album emerge into the isolated void of the couple of years with no chance to follow up in the live environment, so it was great to hear some of "Burn Embrace" get an airing tonight.  Heavy post metal, ever changing multi-layered compositions to the extent that you sometimes cant grasp where the feel of the song is going, but that could just be the cumulative beer consumption too.  They certainly come across as a band in sync with the riffs at their heart.  I think was my first time seeing Tuskar and I was impressed that the two piece of guitar and drummer/vocalist produced such satisfyingly crushing sonic brutality.  Drawn out riffs, howled vocals, kicking into a ponderous second gear of shambling intensity, it's a real celebration of the distorted sound.  And a mere appetiser for the daddies of the scene and tonight's headliners, Conan.  From the off they have a sound that resembles riding on flowing lava, though not quite to the volume that was making my eyeballs vibrate when I saw them at Hellfest once.  This is chronic doom that occasional breaks out into a free for all punkish battle charge but for the majority is a colossal bombardment of grand levelling downtempo doom, not impending, actually happening.  A pleasurable way to leave this plane and get the train.  A great event all round  that felt like a natural return to the ways of old, here's to the continued progress in salvaging the scraps of metal from the apocalyptic oblivion of the last couple of years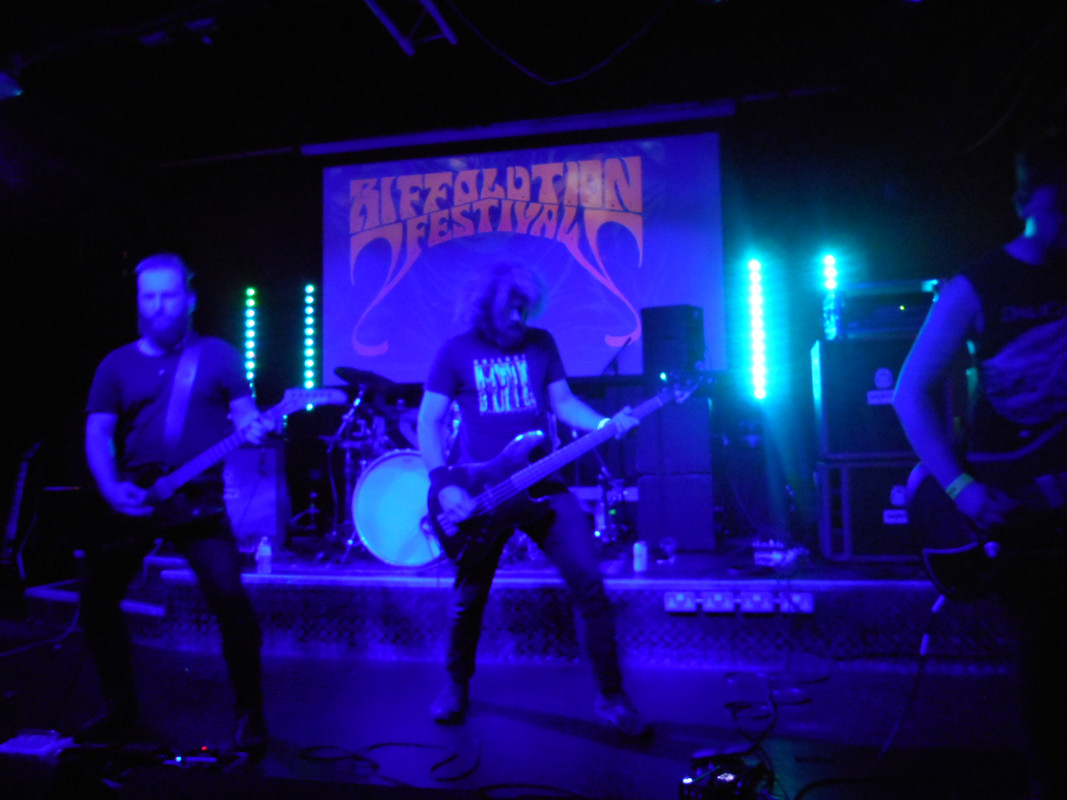 Telepathy