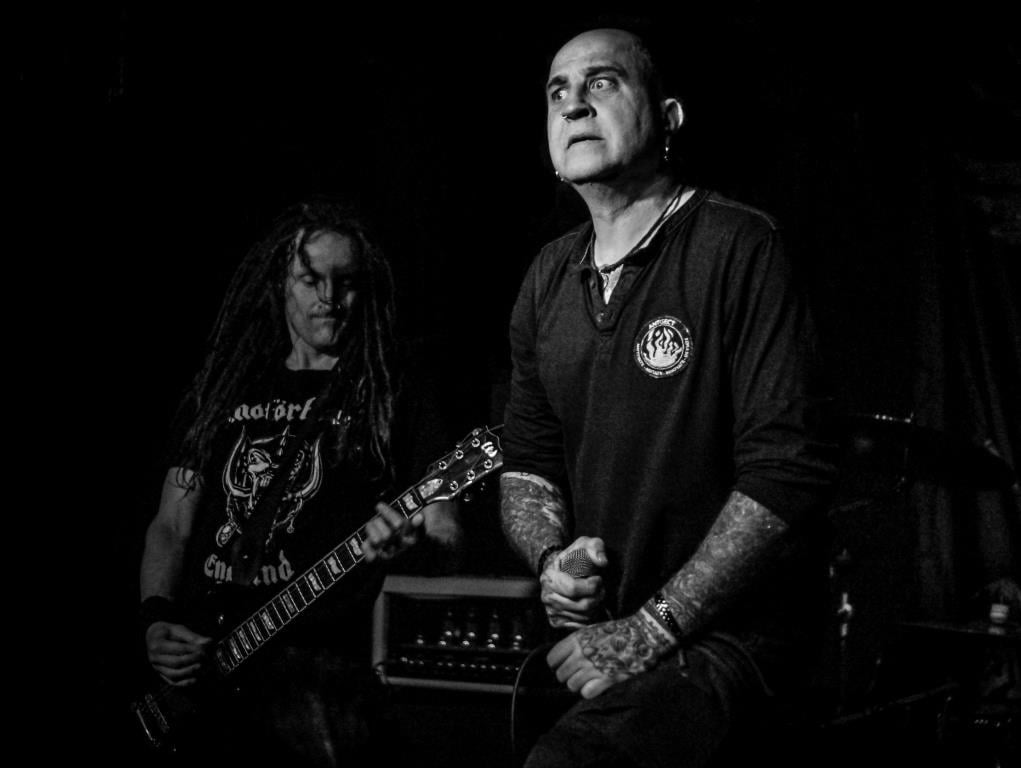 EOM (photo – phil king)
Smashing the windows of opportunity.  As if live music of a DIY variety wasn't chaotic enough without the last couple of years snowploughing it to the kerb under a pile of other shit.  But god nose as your dog knows I've tried to seize the chances of getting to gigs when they have been presented, and harboured half a hope we were getting back into some form of satisfaction after the summer, but no.  This marvellous lineup of punk looked like a final nail in the coffin of the year as the next one rapidly goes down-hill before its even started.
None of that gloom existed this day though, as a boozy train ride up to Manchester (11.4% bananas), breaking up the journey from Piccadilly to the pub (a couple of hundred yards?) with more pubs, and then getting there to discover an endless stream of arrivals of friends from all over made it exactly the "underground punk works do" we needed.  The black and white clientele suited the black painted venue perfectly, but under this dark surface there was bubbling laughter and mutual love, a great Yule gathering
Hearing the howling noise from upstairs called us to the feast of fun and fury, kicking off with Oldham's Wolfbastard.  All Dez's bands (also fronting Foetal Juice and Burial) are entertaining and fair play to him for keeping them all going at such a consistently good level.  The simple Motorhead meets Discharge and Venom in a skip round the back of a butchers vibes charge along, the sharing of the vocals as well adds extra punch.  New material on the horizon apparently…
Next up more Mancs with a welcome return from Vitriolic Response.  They've had to reassemble another lineup due to unfortunate circumstances but its not like various members have not been busy with other projects in the meantime.   But there's something special about the combination they bring in VR, super solid crust with riffing nodding to Doom, a real urgent energy occasionally breaking down into atmospheric sections before blasting on again.  New 12" coming soon co-released by labels including Pyrrhic Defeat…
Trekking up from the south-west, a first chance to see Zero Again.  Another "supergroup" or at least collection of experienced souls, they've really hit the ground running with some rapid fire 7" releases, this is top notch charging hardcore.  Inventive structures powered along by the thrashy bass and fired up vocals.  Frontman Dean has never been shy of taking it to the crowd and menaces in an amiable way among us, and it's much enjoyed all round.
Subvision had come from the opposite end of the isles, though maybe here was making a nice mid point for all.  Wasn't familiar with the Scots before but they made a pretty immediate impact with their more crunchy metallic hardcore, hefty distorted riffs and a strong vocal rant akin to Jaz from Killing Joke.  Not sure it maintained the same level of interest throughout for me but kept the party rolling on.
Wigan's finest Cress were set up with a different line-up to when they played in Colwyn Bay a few weeks back, now joined by extra part-time vocalist Stig.  Their collective onslaught was still the glorious same though, the relentless drum machine beats underpinning the anarcho-punk tirades.  A tension is created that builds and builds, even if they are quite laid back on stage, with the projected visuals providing further apt stimulus.
A great final building block before the demolition hammer of the headliners, Extinction of Mankind.  Celebrating their 30th year of "too punk for metal, too metal for punk" crust ferocity, they're core line up has  been pretty consistent over recent years which seems to have added to battering controlled chaos.  Ste is always an engaging frontman as he spits his lines with venom, the music is simultaneously tight and raw, it all adds up to a perfect finish to a great day that has flown by.  Covid wont lead to the Extinction of Mankind, or finish them off either!
We kindly get a lift back to avoid the horrors of the last trains out of xmas pissup land, so we're even home to carry on with the party at a good hour too.  Maybe eking out the pleasure or looking to disappear into a drunken sleep where we could wake up at some unknown time in the future where great gigs like this happen with certainty!  Here's to waking up from the nightmare into the  fresh hells of 2022.  Cheers