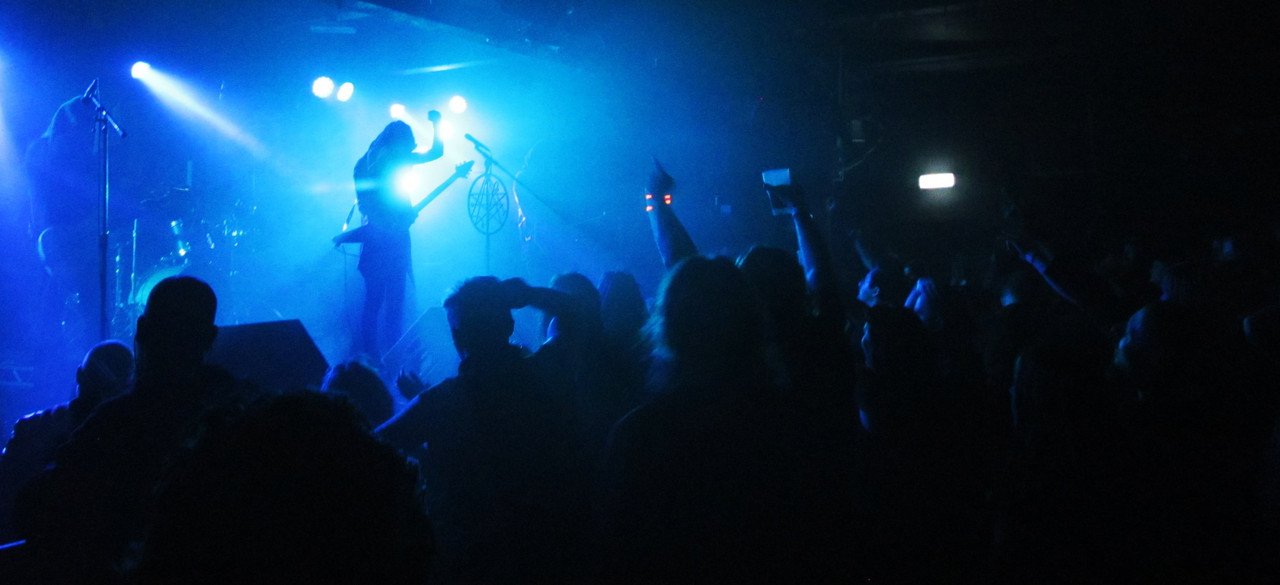 What better way to emerge from the bleak/mild midwinter than with an uplifting day of blackened metal in the frozen wastes of South Yorkshire.  The strong and interesting line-up put me in a mind our trip to the highly enjoyable North of the Wall in Scotland a few years ago, if on a smaller scale.  In keeping with the hazards of dabbling with the dark ways the event had taken on a cursed aspect with a last minute forced change of venue/ city, and the loss of a couple of bands, but once you've committed to black you can't go back.  The prime bands I wanted to see were still there so all was good.
Arriving at lunchtime left our car at a B & B we couldn't get into yet and headed down through the centre via pubs to try and locate the Corp.  Some 6 years since I'd been here to see Propagandhi but as soon as I spotted the Devonshire Cat pub round the corner the flashbacks were strong.  We had to return here soon enough as the venue still wasn't open due to another band having dropped out due to a member literally cutting his finger off.  Wow. Are the Yakuza involved now? When we eventually got in we were crammed into the bar space as the main downstairs stage was still sealed off for the completion of a soundcheck, it gave a good feel to the keen numbers attending,  then at last we were good to go
First was Formicarius, from London, complaining about the cold, the (half-naked) southern softies.  Good job their music had a bit more fire and fury to it, strongly structured black metal with a good diversity to their songs.  They captured very much the British style of black however that might be defined, definitely a powerful and dynamic prospect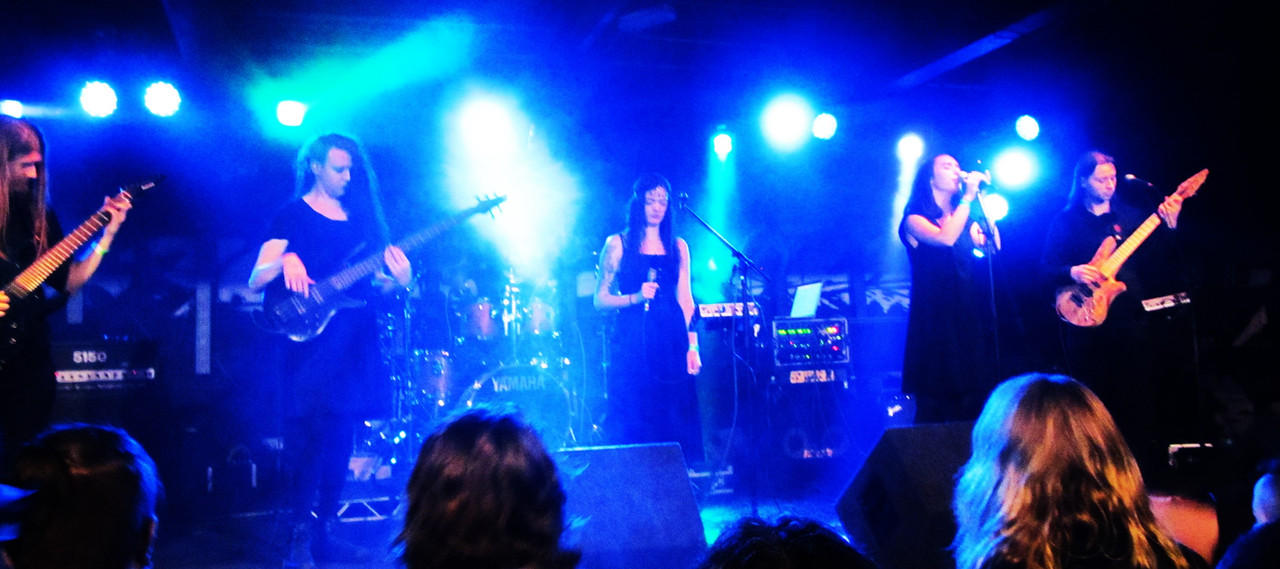 Cairiss from Reading certainly had the numbers on stage but initially this only created a lilting minimalist and melancholy progressive folk feel, with one beautiful operatic vocalist.  Ah, the light to the shade as this crash landed into brutal roars from the other to accompany some blistering technical brutality. Seriously accomplished and stunningly evocative, these are an instant fave, reminding me of seeing Dead to a Dying World at Roadburn.
Speaking of being crushed, the bar prices encouraged us to get a pass out for a while, returning in time to catch the end of Vehement.  Grim and raw black metal from the South Coast, a rasping main vocal interspersed with more sung sections from the bass player. Good tones from the instruments and a set that was enjoyed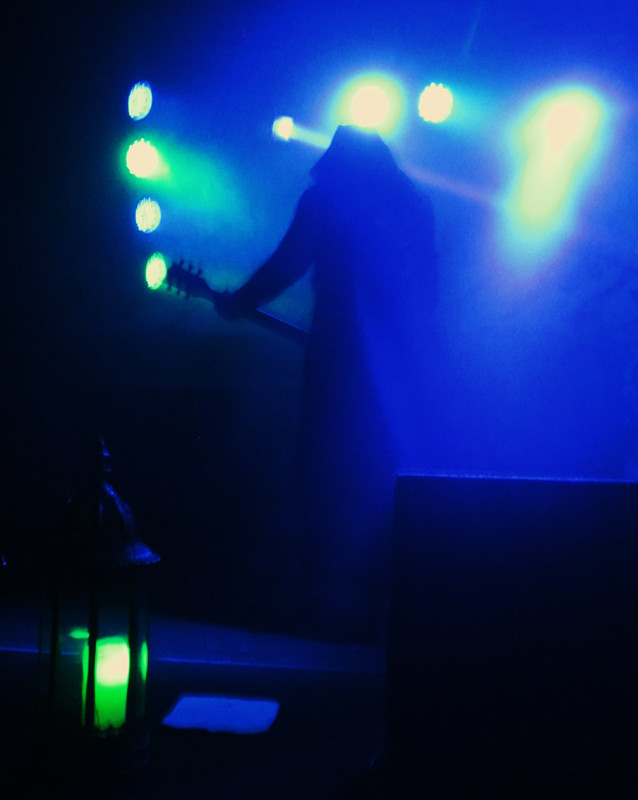 The Infernal Sea I had been looking forward to seeing again as one of the leading lights of filthy and ferocious UK black metal but while their plague masked theatrics were familiar enough there seemed to have been a deliberate shift in their music to a more accessible, dare I say Ghost-like(!), simplification and a change down in gear pace.  I was quite thrown and unsure, some evidently older blasters still made for a pleasurable onslaught.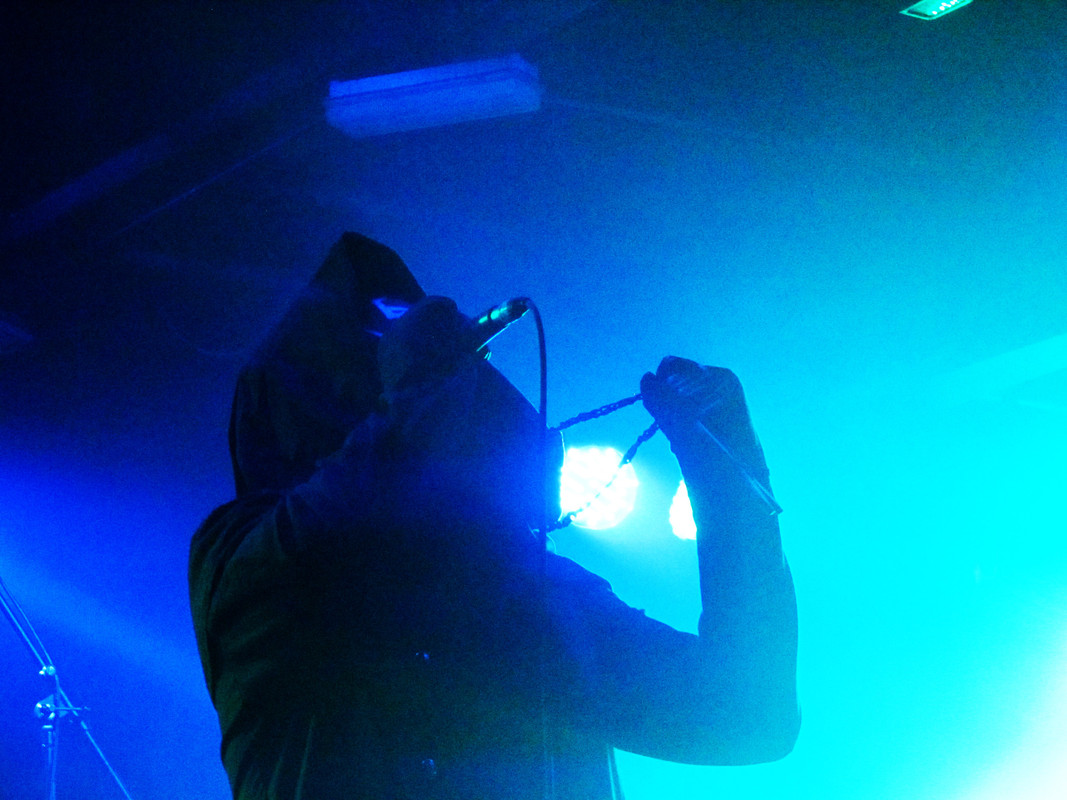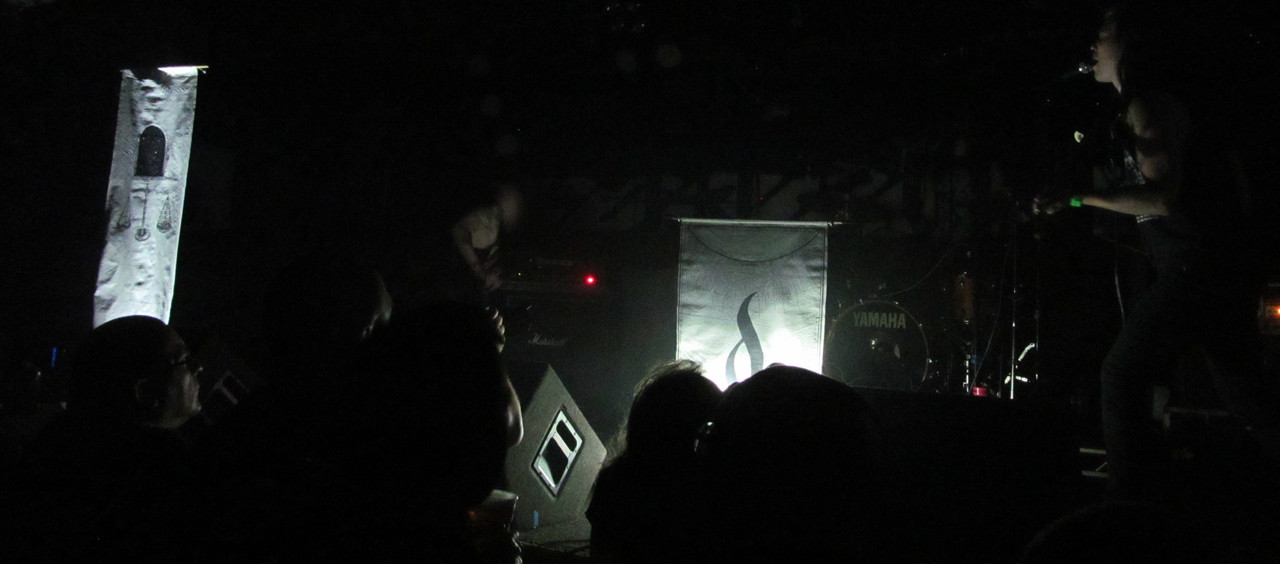 Dawn Ray'd haven't strayed too far from their original phenomenal impact, their new album displaying the same mix of intense hyperspeed harshness mixed with anguished violin breaks and vocal exhortations.  If anything, with their extensive touring, they have become even tighter and more defined in these shifts through the passages of pain and polemic. I certainly appreciate them taking the time to state their political position and direction in these troubled times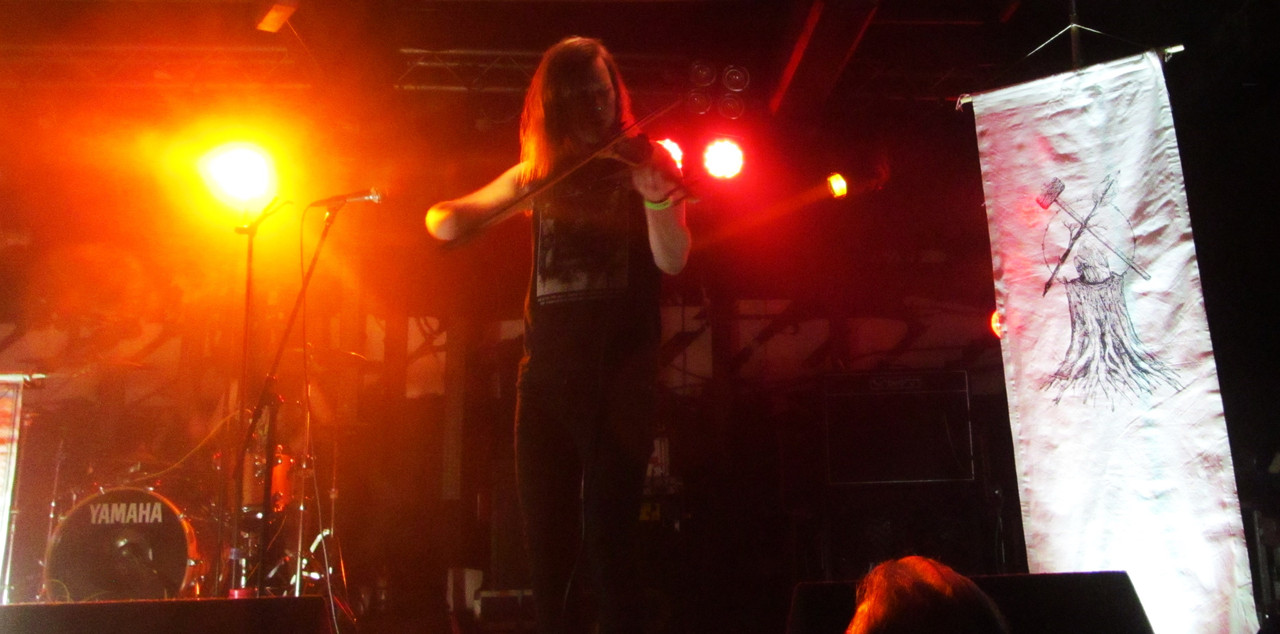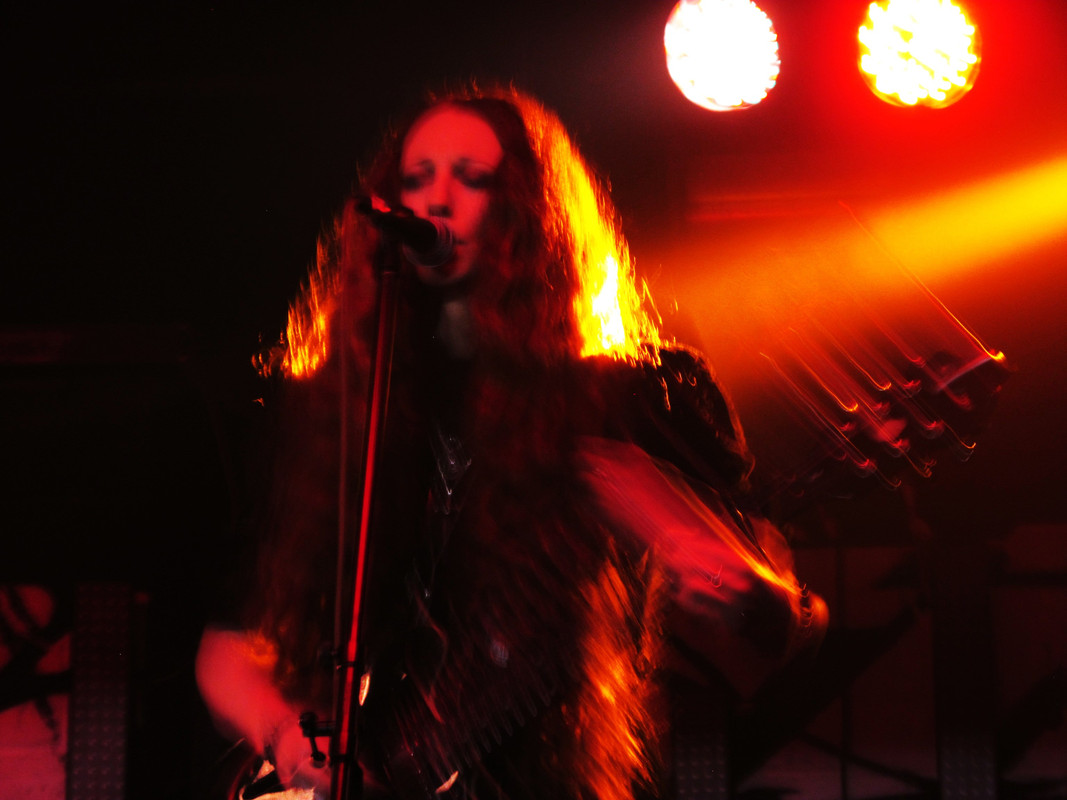 Calming us into further contemplation a welcome chance to see again Darkher. Just the sparse drums behind the haunting vocal and resonant strummed guitar from Jayn, here there is a devoted focus on the epic melodies unlike when I last saw them a bit lost in London.  Heart-aching and yet at the same time with a driving stride and current that sweeps you away.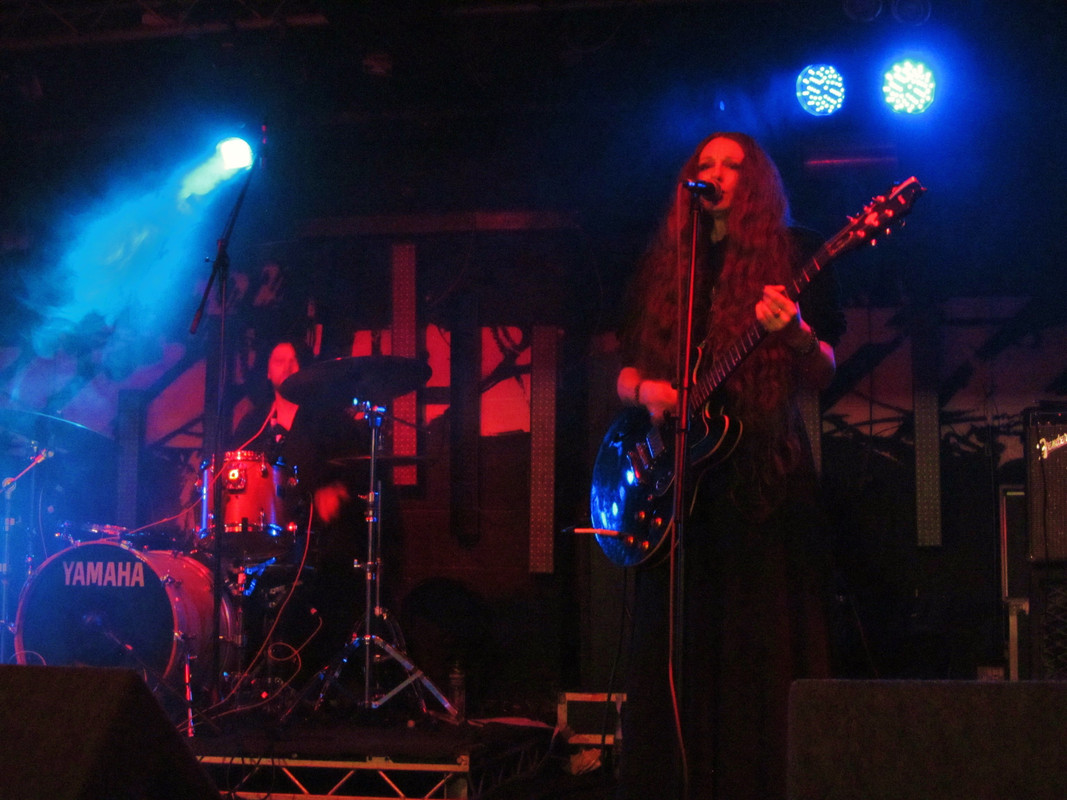 To finish, a descent to the darkest depths with the French Lovecraftian acolytes, The Great Old Ones.  Been meaning to catch these for ages and they were the ultimate convincer to attend this summoning ceremony.    With elder sigils adorning the stage the cowled band unleash a monstrous yet beautiful tsunami of blackened death, harsh tones and blast beats shifting shapes in the fog to unsettling evocative breakdowns.  The madness is extended to epic proportions with an extra long set to compensate for the earlier absences/mysterious disappearances, and by the end a very satisfying conclusion to the day.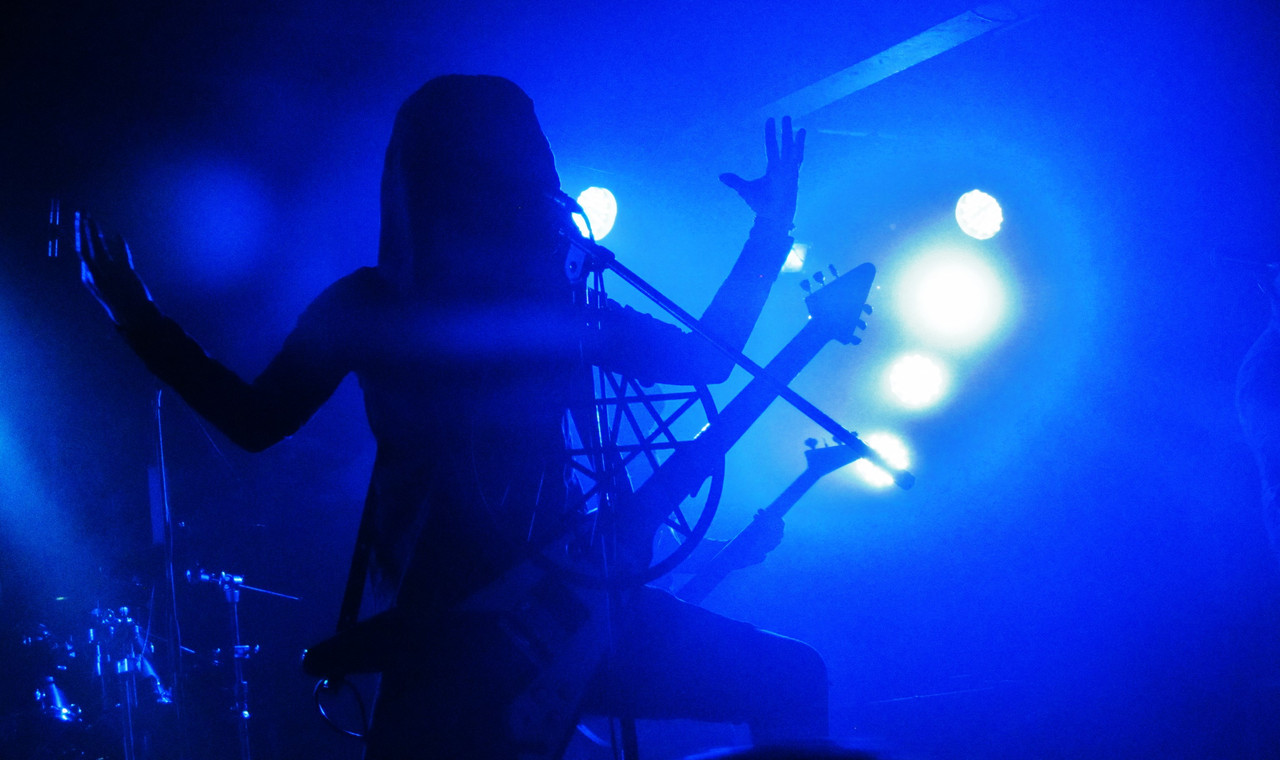 We break up our journey home in the lost realm of the Dove and Rainbow and have thoroughly enjoyed the expedition, thanks to the organisers for persevering through adversity and delivering us unto the dark!