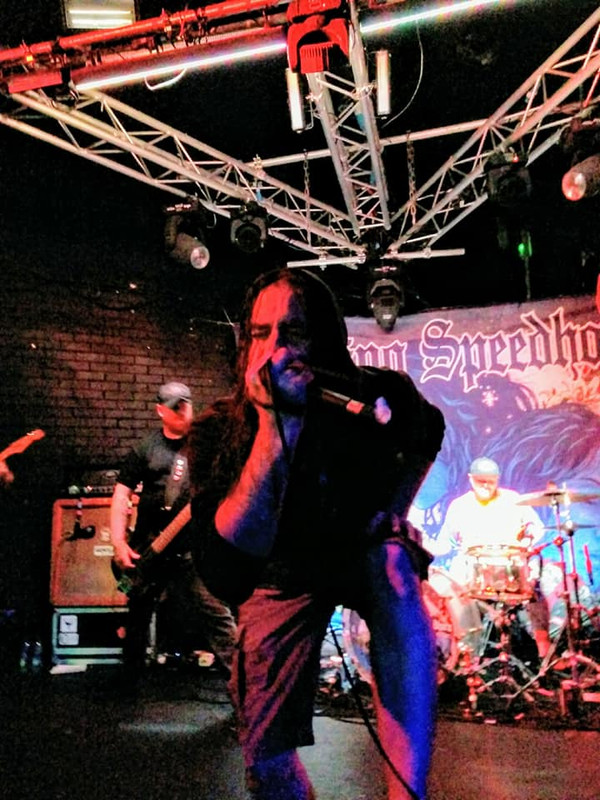 Now that Hammerfest has headed off to the sunnier climes of Great Yarmouth metal visitors to the West North West are fewer and further between. Hence even on a school night the opportunity had to be grabbed to see and hear some heavy vibes, as the Corby-ite sludge sluggers swung by this way on a UK tour.
With only a day of weekly sensibility to survive we did set out on a bit of a warmup sesh but were in time for local openers Vetala. Having seen their first gig over in Llandudno Junction new that these experienced musicians gave a solid show, but this was literally amplified through the hefty PA in house here to give some real reverberation to their riffs. The drummer is also super hard-hitting to the extent of trashing his snare before the set is done. There's a great celebration to the sludgy doom riff, topped with harsh vocals, personally I'd like to see more variation in their set as they develop.
Cheap drink interludes meant we missed the start of Desert Storm but no disrespect to the lads from down south, had seen and enjoyed them on previous occasions. Again, they were right in their groove of a more stoner variety but their collective power was pretty impressive. The singer Matt
told me he was more than a little hungover, but think they still gave a full on performance, and tracks from their forthcoming "Omens" album stood up fine in their set.
So to finish, the monster that is Raging Speedhorn. There was general surprise when reminded just how long they've been going at more than a couple of decades, but thinking back they were very much at the start of UK sludge along with the departed Iron Monkey. They've sustained this endurance with line-up changes but even to a half full hall this current incarnation gave nothing less. Starting at ear-piercing (even to the half deaf) volume they launched into a swaggering, flailing onslaught of down tuned riffage, the tones glorious in their filth. The two vocal combination is fantastic, conjuring the same vibes as Extreme Noise Terror if not the speed. One is down in the crowd trying to stir up some action, and the impression that they are having fun with this is confirmed by a special swap for us here, with the drummer taking the vocal for an Monkey cover while a vocalist fills in for him. The set is hugely satisfying, we are steamrolled along with sheer riff power and if anything I am more enthused about them than ever. So look forward to future returns to these parts hopefully.