Supersonic Festival 2019 @ Various venues, Birmingham
19-21/7/19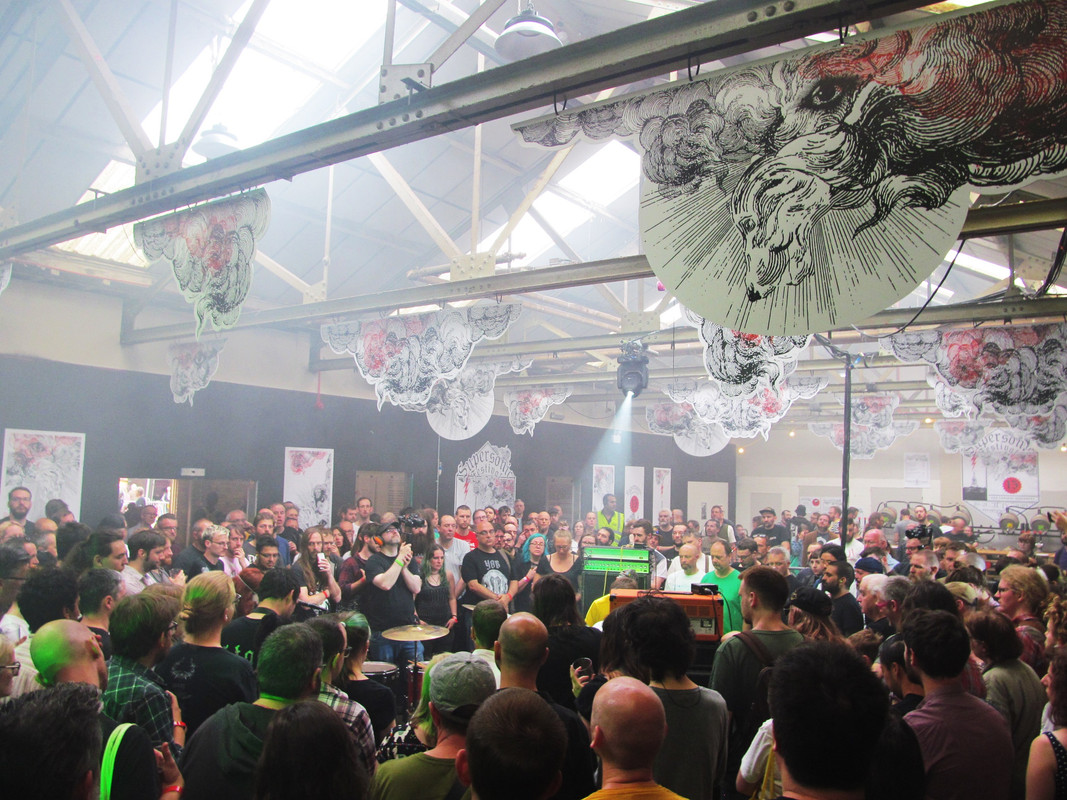 I have had some amazing times at Supersonic previously, but my three prior visits were limited to single days as opposed to the weekend.  I also hadn't been since 2012 as for me it had drifted to the lighter/weirder end of the experimental spectrum from the previous mix of the celebration of noise that had appealed to me.  However this year they dropped a bomb of a line-up for their 15th anniversary, and with friends from UK and Europe also descending I was signed up for the full experience early doors, before it eventually sold out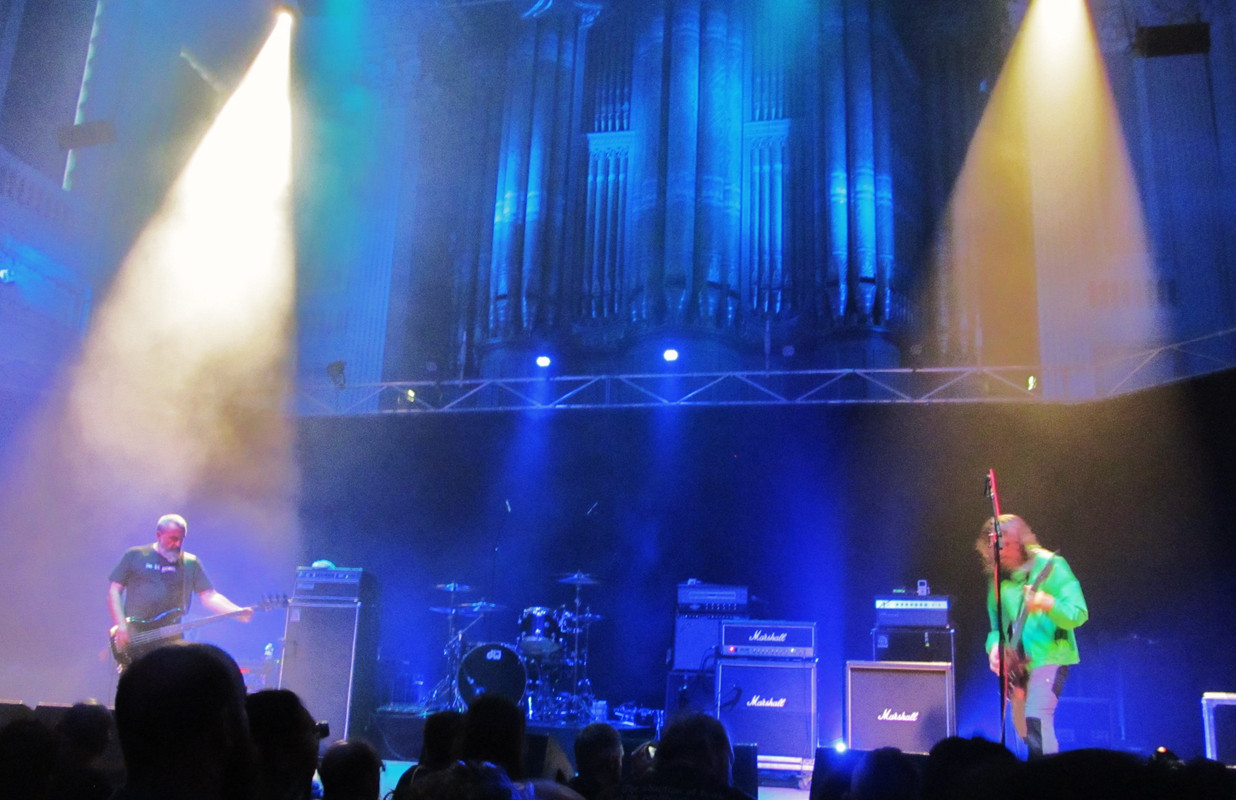 godflesh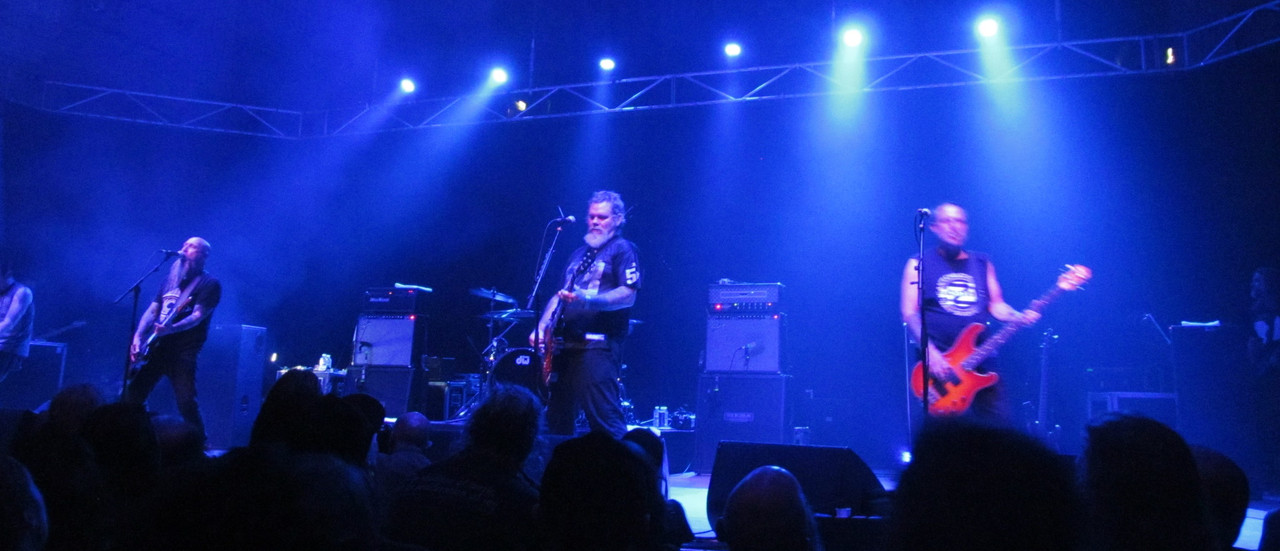 neurosis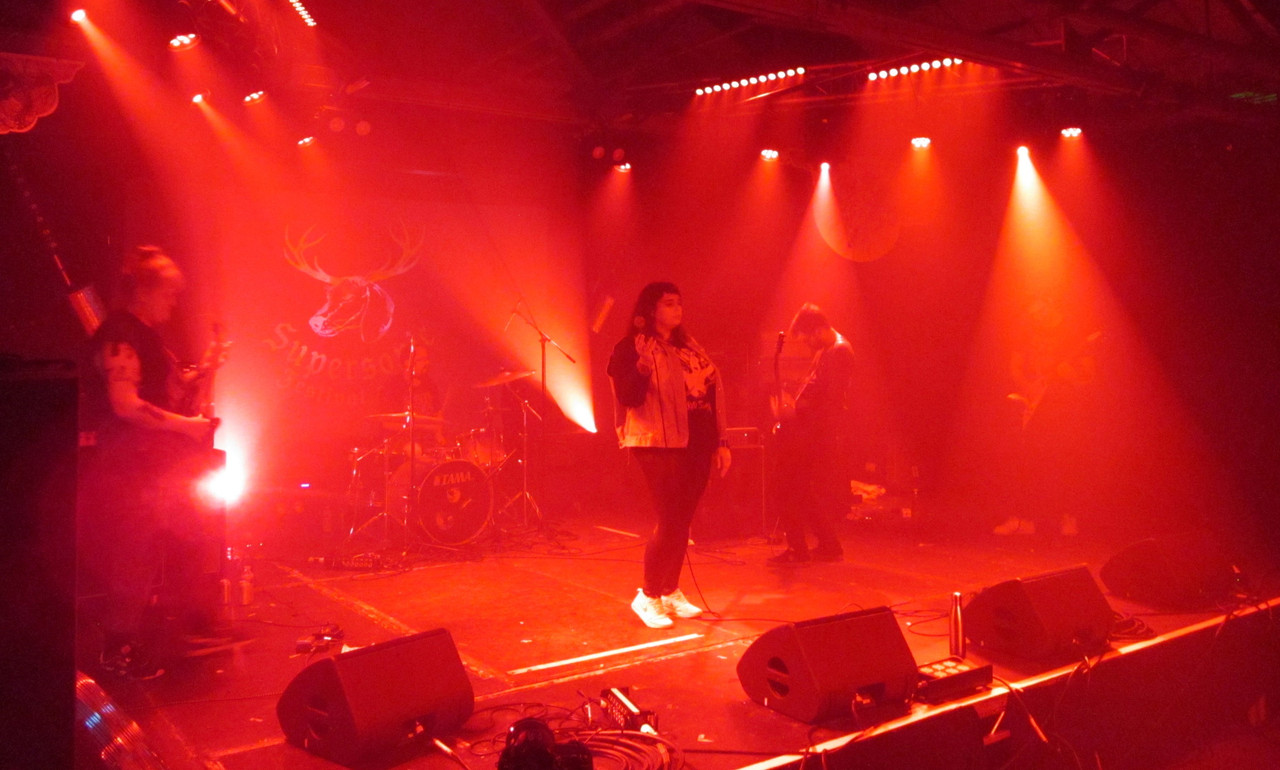 savage realm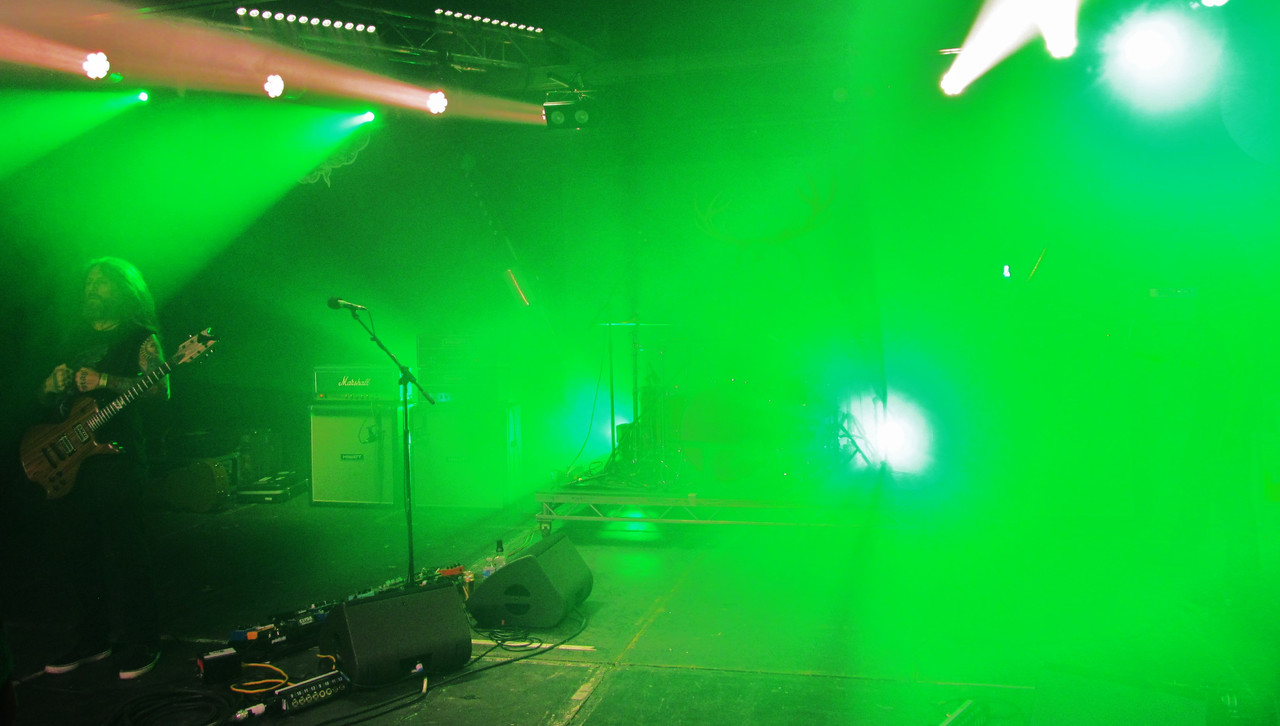 yob
Not quite early enough on the day as having work commitments on the Friday meant we had to rush down, leave car at friends then get a lift back to the Town hall where the event was kicking off, to join a queue in the rain outside that was still there perilously close to the scheduled start time.  All clicked into place fine then, and we were in with drinks and friends in time for the slightly delayed start.  What salubrious surrounding for the likes of us, the huge ornate hall with the massive organ behind the stage.  Openers Godflesh were pretty at home in their (old) home town though, and after making sure it was dark enough, treated us to their trademark industrial beats and riffs brutality and beauty.  I see them a lot (as you may have read…) but part of the pleasure is they are always mixing up the sets so I get to hear songs I haven't heard before live as well as other consistent favourites, though nothing from Streetcleaner!  The sound is pretty immense up close, phat bass grooves from the laidback Ben, and Justin's roar sounds the best I have heard in a long while.  The only gutter is it's over far too quickly.    All the more space and time for Neurosis, and they certainly fill it.  The post metal legends have the volume and atmospheric heft to fill this space, and start with the lumbering anguish of "A sun that never sets" before shifting through their new catalogue.  Its' all about the light and shade, the gentle passages and harrowing vocals drawn out, hanging, and giving no quarter into devastating heaviness.   The balance can be questionable where the  suspense seems overblown but there is no compromise,  just vision in the sound.  That they finish with older-school "End of the Harvest" and the cathartic apocalypse of "Stones from the Sky" blasts us into headbanging happiness and reminds us of their majesty.   Then we all exodus out and head across the centre to Digbeth and the "aftershow" which is based at the venues that will host the rest of the weekend.  These are among a wealth of creative and artistic space in converted factory units and stores in this area that is great to see the place repurposing.  We head to the Warehouse for something relatively raw and new in Savage Realm.  A big retro sound to their take stripped down punk/proto-death crossover it's ok but had expected something a bit harder hitting.  Bonus points for old school Bolt Thrower back patch though.  Remain here for our closing treat, with the doom force that is Yob.  The three-piece's huge riffs operate across vast horizons, and Mike's vocals have a surprisingly emotional core.  You can be lulled and washed by the heavy tide of riffs, in the middle it might drift a little too much but that could be as much be to my lack of focus, but it ends in a storming fashion, as does a very satisfying evening.

big joanie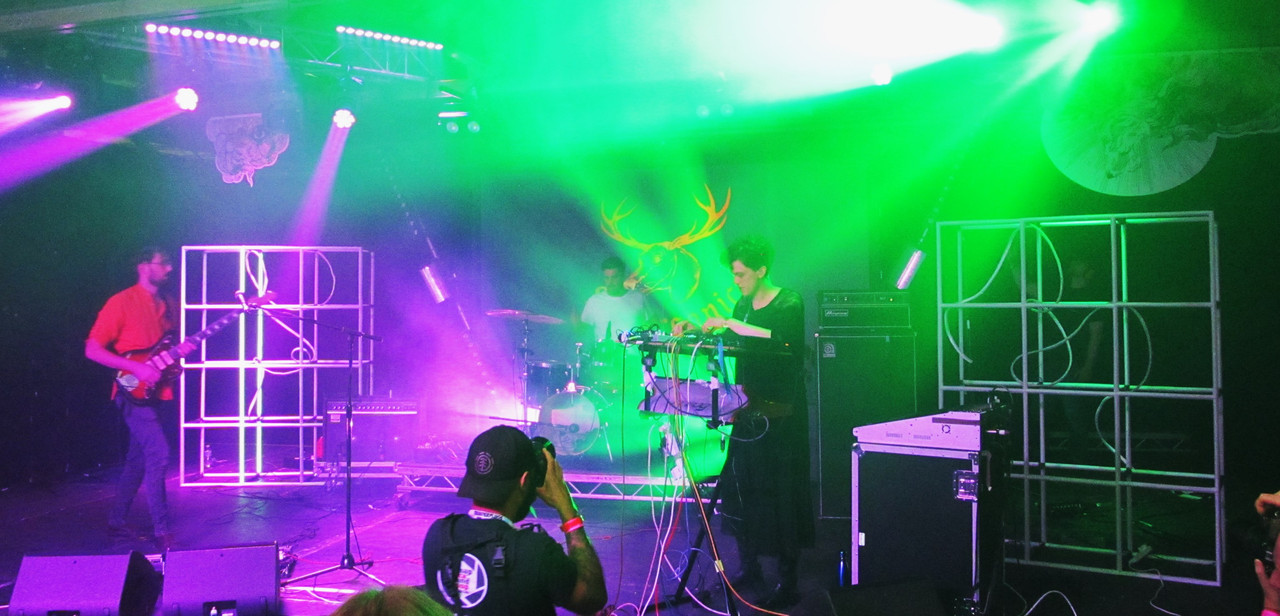 matters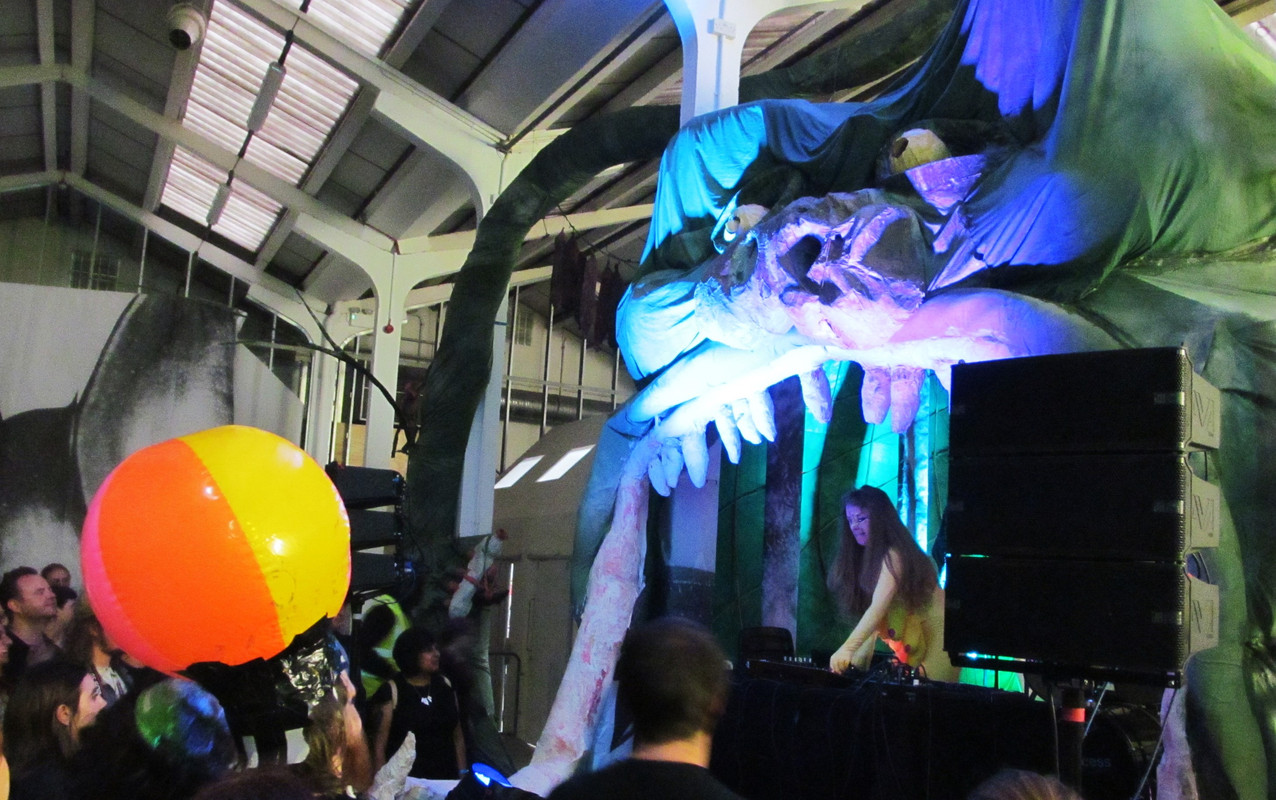 aja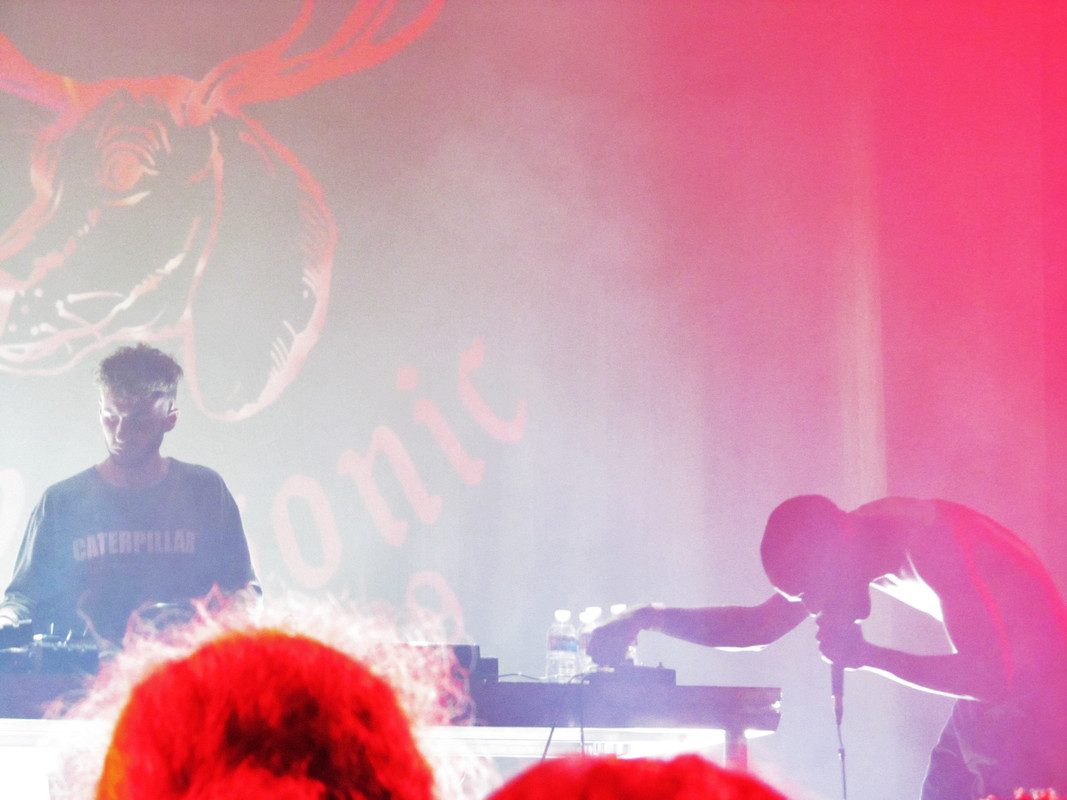 prison religion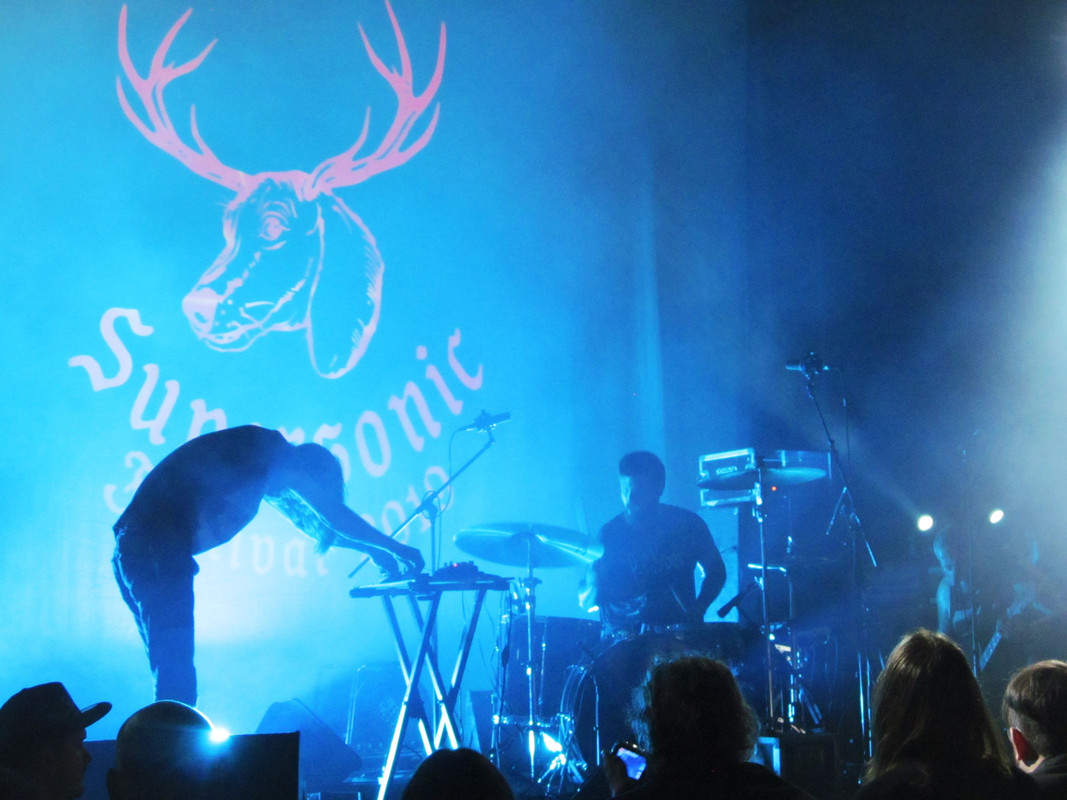 the body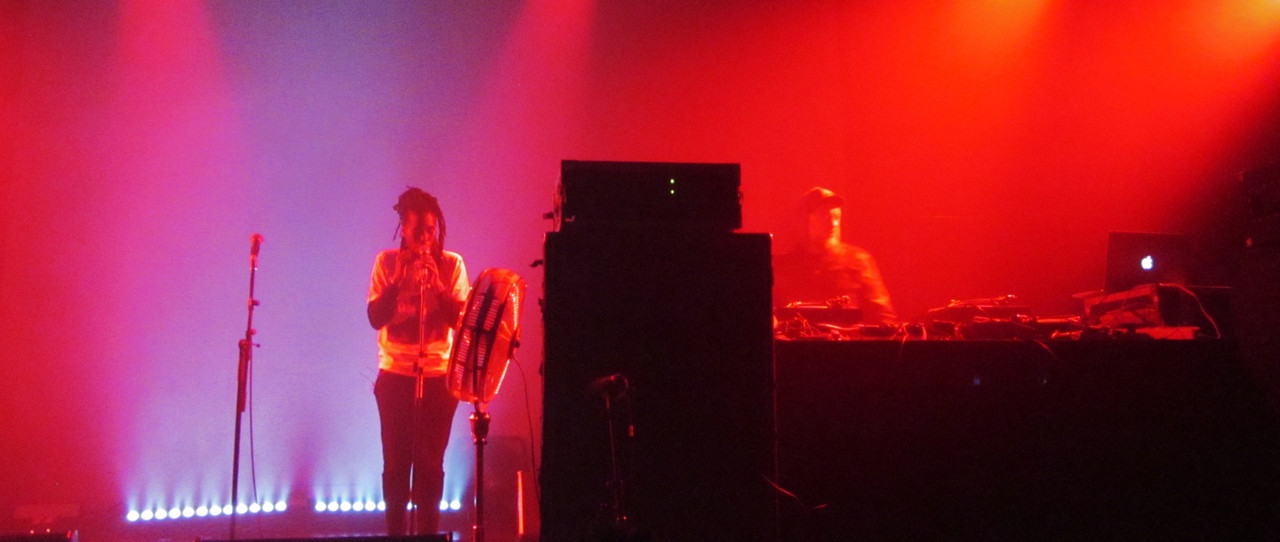 the bug w/moor mother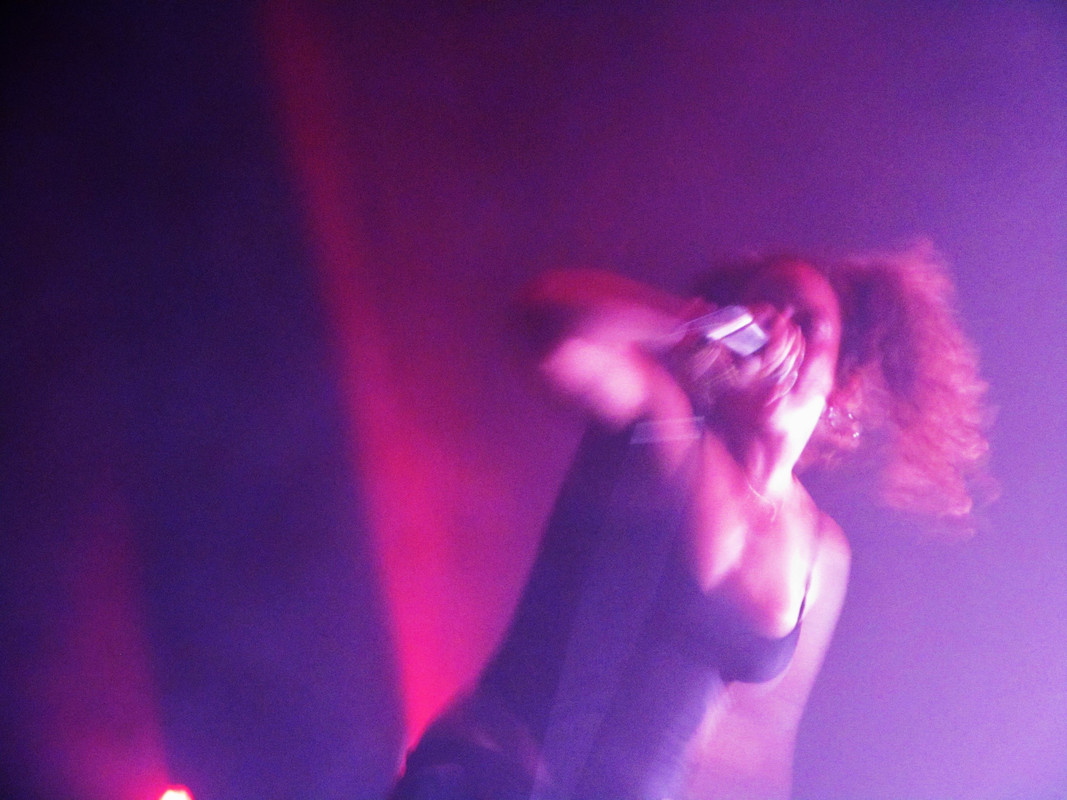 miss red
Saturday morning sees us continue our "high" culture tourism to the exhibition at the city Museum by the Home of Metal organisation celebrating 50 years of their seminal sons, Black Sabbath.  For someone raised in this darkness and fed on filthy vibes this is a church of unholy relics.  It's just a thing of beauty and ultimately I feel like I am welling up a bit, they remain an awesome cornerstone of all.  Phew.  Let's get some noise in our ears to clear our heads.  Back to the Warehouse for Big Joanie, who've been getting a fair bit of press recently.  A pretty simple take on strident punk from the female three-piece but the sound is quiet and for me lacks impact, I'd again been expecting more really.  Not that I have listened to much in advance, rather to experience things first hand but the descriptions don't match my interpretations, my loss as lots are here to enjoy.  Something that does hit from the off and with no prior knowledge are Matters.  This is a multi-layered  combo from Brum, with a striking sculptural stage/light set thrown in.  Hypnotic beats overlaid with synth loops and waves, live drums and guitar in the mix, it's a really diverse and intricate construction that is always transporting you on to some future destination.  Off out thorough the wonderful graffiti-ed train arch wastelands to find another venue and to be introduced to Aja.  This space is made more intimate with a specially made "monster head" stage in the middle meaning only a portion in from is available for a crowd (latecomers can't get in).  So it's up close and personal with the disturbing/alluring lady in her multi-breasted morph suit while she assails us with marvellous dirtily distorted thumping techno freakouts.  Then strips to the waist and continues.  This is fine, my partner assures me while i defend artistic expression ;).  Exactly the kind of random insanity I love about the fest.   Back for a first visit to the huge Crossroads venue and  some more restrained electronic punishment from Prison Religion, on release from the States.  A table-top of electronics on the main stage manipulated by the two-piece give us a fractured and staccato mix of hard noise, shifting rapidly between colossally deep industrial vibes to break-beat skittering, poetic phrasing to roared anger, and a whole lot besides.  Another great revelation for future investigation.  We don't stray far from here via the bar and social and food spaces outside, the hilarity/glory of the Black Sabbath karaoke, before this space next hosts The Body.  Also over from the US, these are renowned sonic experimenters in their own right, with a bit more traditional ingredients of drums and guitar to mess with as well as the electronic aspect.  They often collaborate for releases but live by themselves this is a pounding, repetitive machine-like exercise in aural extremity.  Powerful and impressive but doesn't keep me there  til the end.  The break is made all the longer by the delays in headliner The Bug getting going.  First it's just late, then we have some sonorous spoken word guest, then lead vocalist Moor Mother also gives us extended cutup speeches and cyclic verbal venom.  There is just the occasional rumbling threat of electronic volume from the monolith of decks and cabs filling one side of the stage that K-Mart lurks behind.  Maybe half an hour later the anticipation/frustration has built to such levels that the drop is abyssal and maybe that was the plan all along.  I genuinely laughed out loud at the monstrous assault upon my soul and insides when the apocalyptic bass finally kicked in.  it was glorious, such a massive sound, so satisfying, just like the last time I saw him here.   Everyone is bouncing to physical sound pressure and loving it, dub-techno on an immense scale and some of the most abandoned fun I've had at a gig recently.  The mic is passed to recent collaborator Miss Red and she provides an even more uptempo climax to the show.  Now that's what I call super-sonics.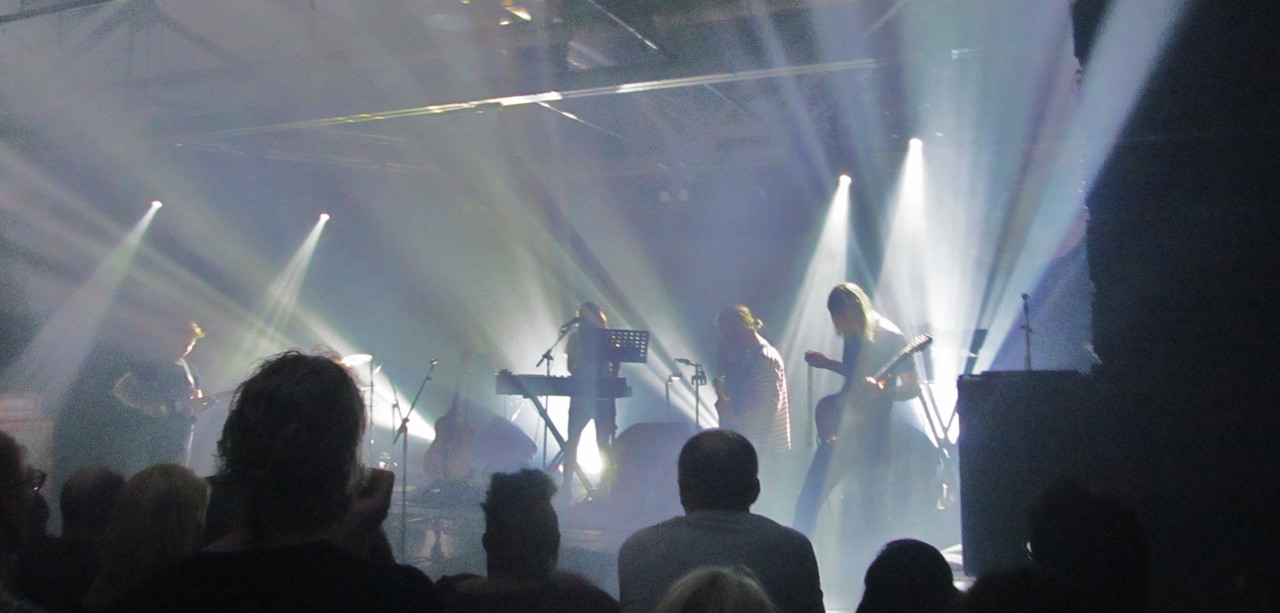 anna von hausswolff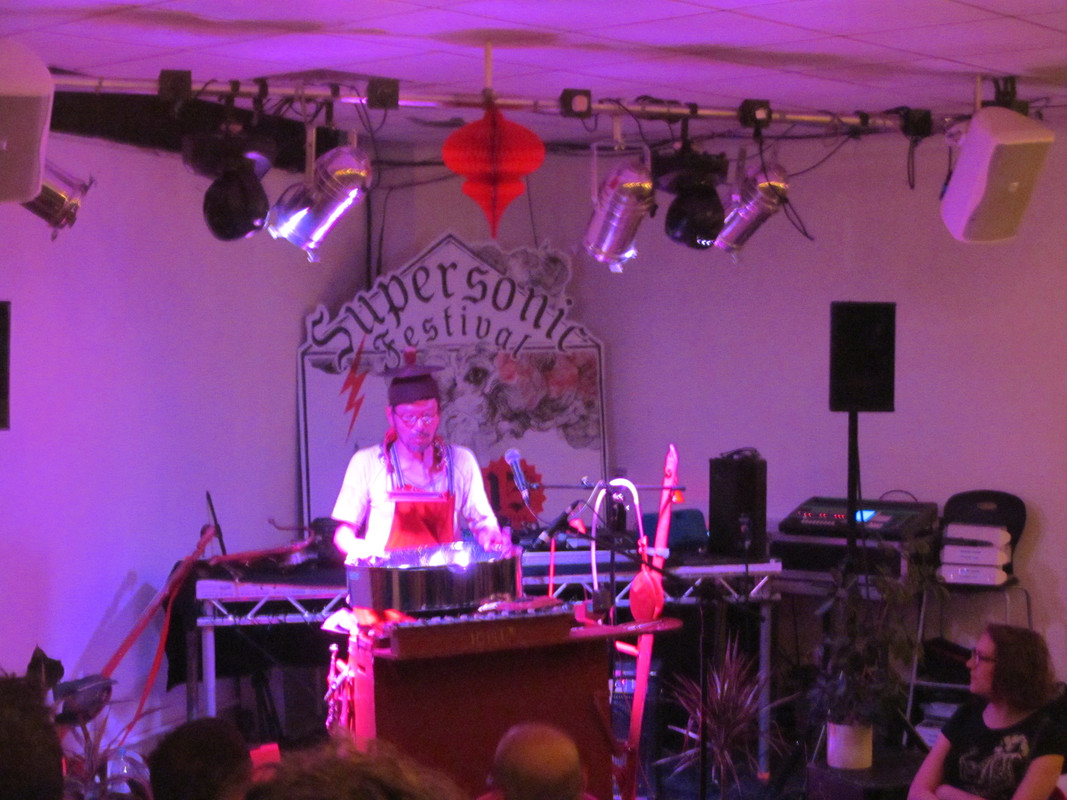 ichi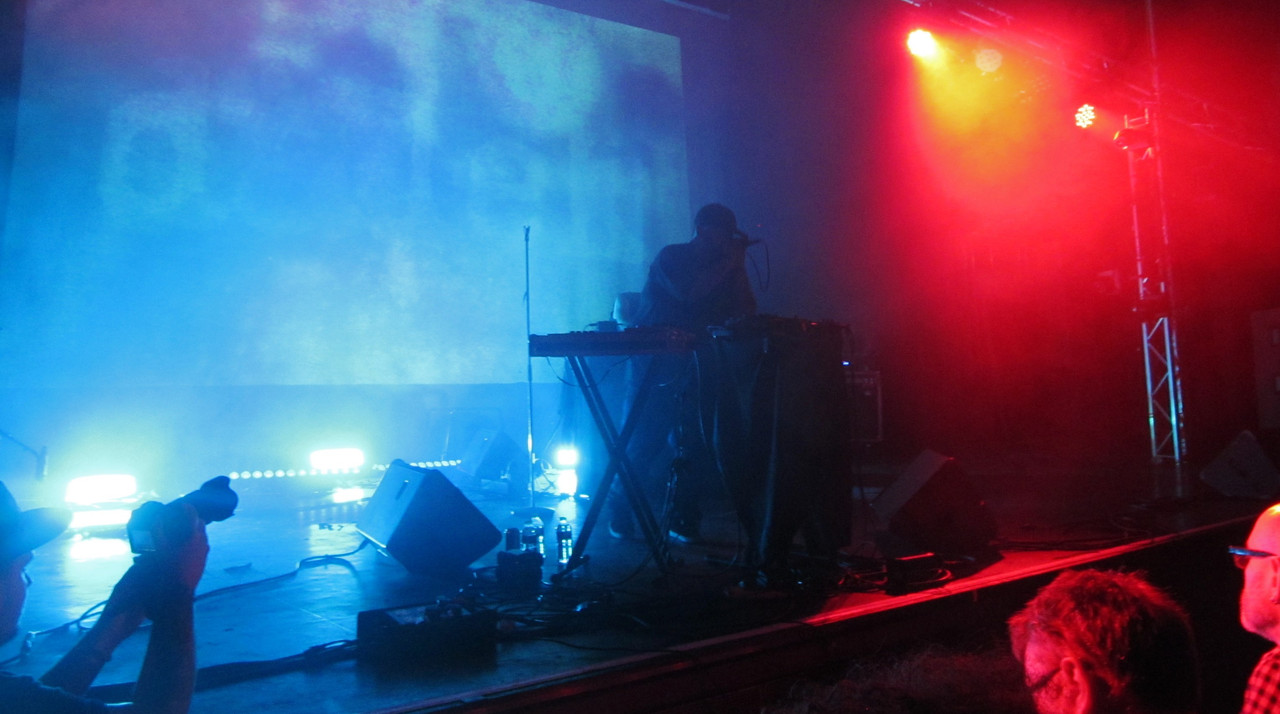 dalek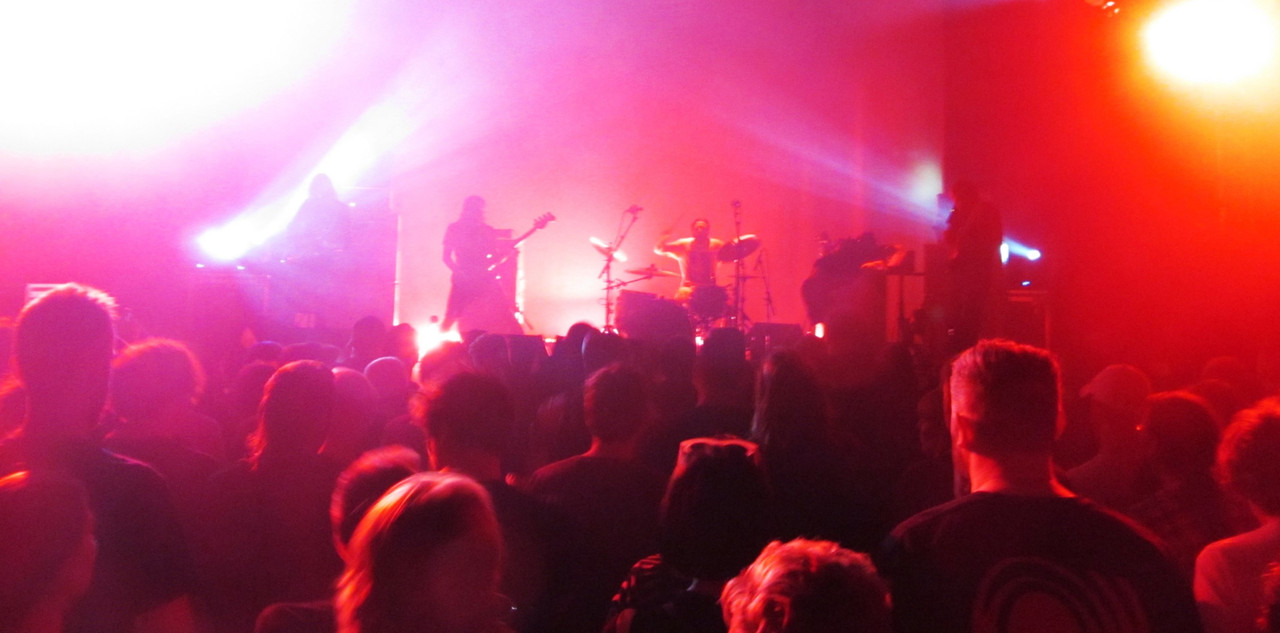 pigs x 7
Another morning of quiet reflection, or possible deafness. Another warpig-pilgrimage to the new Black Sabbath bench and bridge followed by refreshing canalside cider.  Then by the mid-afternoon make it over to catch the mysterious Victim, I'm a little late but there are a few people leaving already.  All that was known was this was to me full on metaaaaal, but in the bright interior and on the monster stage I'm really not sure how to feel.  Are they deliberately aping the ropey sound of underground cellar-dwelling cult maniacs or are they just really bad at playing?  Bit of blood splattered face, tortuous falsetto vocals, and relentless repetitive and stumbling basic riffs, it's strange and compelling.  I really felt a victim. To what? I don't know.  Let's cleanse the aural palate with the collective cacophony of Sly and the Family Drone (top), the assembled group playing in the round on the floor of the Warehouse.   Body/Vice is guy in hospital robes reciting an NHS experience over some drones.  I take another breather and wonder off to an associated exhibition on early Polish punk sharing a space with a video exploring aspects of sound.  The bit when I was in featured the sound of a naked cock being swung about.  Thank god I'm not on drugs.  I elected to listen rather than actively watch Mono from Japan at the Warehouse sitting at the bar benches nursing a pint.  Not that their ethereal mix of lilting gentle guitar layers with occasion breakouts of thundering pos-tmetal heaviness was not enjoyable, but energy conservation is now the order of the day.  Folks are evicted from venues for soundchecks which is a little awkward, and there are rumours that there has to be a change of set locations later due to surprise curfews, but the general vibe remain relaxed and social.  There's a great selection of independent artist merch market to peruse and continual weirdness on the stage there. Jerusalem In My Heart was a one band of layered traditional middle eastern sound and electronics, with an interesting live spliced projection but didnt hold mt interest for long.   I was back to the Warehouse to watch Anna Von Hausswolff having bailed out on her show at Roadburn to catch something clashing.   The Swede leads her band with almost operatic vocals and organ dirges, at times this is captivating droning heaviness, at others the warbling is a little odd.  I return to the main space for the bonkers theatrical minimal noise creation from the wonderfully eccentric Ichi, before we're into the main Crossroads hall for an early start to Dalek, before the majority are even there.   I've seen them destroy tiny back rooms of pubs and they are still huge in this cavernous space, a wall of shimmering noise and steady beats underpinning his effortless hip-hop flow.  Marvellous stuff and really picks us up to the finish.  I am going to have to bail out soon for my long drive home but the start of Pigs x 7 is simultaneously ace and gutting that I have to go.  The most conventional band for a while, they combine a heavy Hawkwind-y psych groove with an modern inde-punk edge and intent.  It really is a great finish to a great fest, I am completely enthused by the event again and will look forward to what they come up with for our curious ears next year.  Something to get your teeth into maybe…