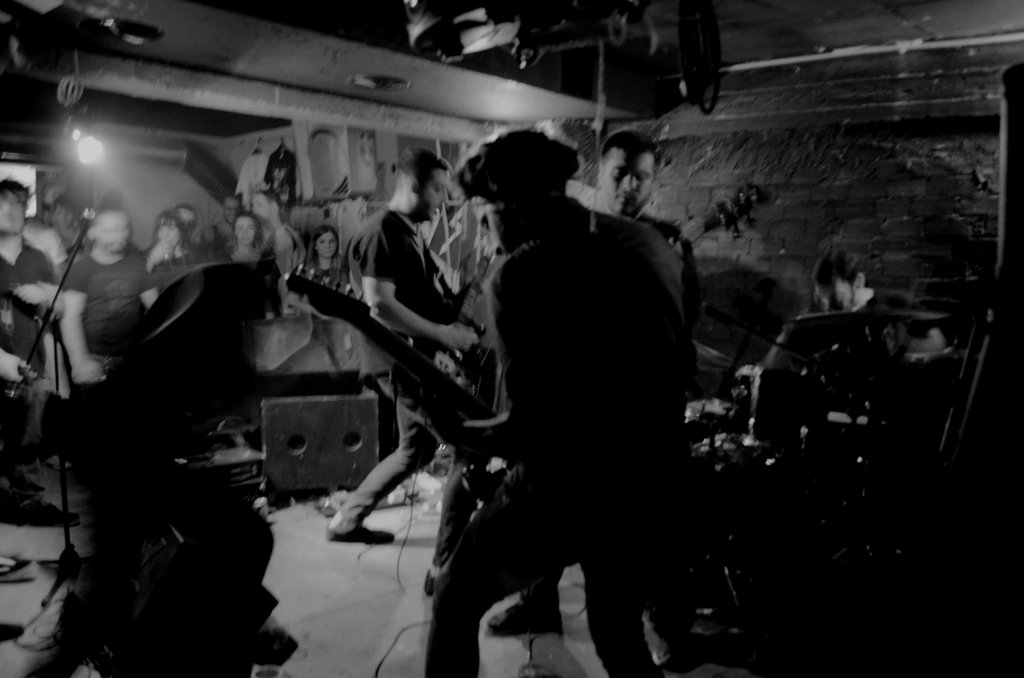 I was already hungover in Manchester after a Saturday trip to FCUM and firm but fair refusal to gain entry to some Northern Quarter Establishments.  Gave up trying to solve the mystery of where all the whiskey went and tried to restore the cultural balance visiting some art galleries.  And more pubs.  By mid-afternoon I was suffering badly but what better way to clear the head than Greeks bearing the gift of hardcore. 
I'd first heard of the headliners via the always excellent and reasonable Prejudice Me Records of this dirty old town, and they were involved in their last release and bringing them here tonight.  Fuel is always a cosy, welcoming place so we were in the thick of it to enjoy the evening entertainment
Locals Fatalist have been going a couple of years but I'd only just cottoned on to them, and was instantly blown away by how ferociously good they were.  Charging. energetic hardcore with great prominent bass, and 3 way vocals really add to the impact.  A real edge to their delivery that is tangible with the crowd in close proximity.  Booked them to come to Wales straight away!
Main support Mavro Gala (Black MilK) was also over from Athens, but completely new to me unlike their compatriots.  Three piece action, was a bit concerned by the drummer limping badly to his kit but it didn't seem to hinder his performance at all.  They had an emergency bass player (from Kalpa) due to theirs being stopped from travels due to being a non European national, food for thought for our current path to glorious isolation.  You couldn't  tell though, and their intense and emotive angular hardcore is really striking, I pick up their new  vinyl album freshly available for this tour.
Finally Kalpa, universally in black, dark as their hardcore.  On record I'd thought them a little more crusty and perhaps more metally with their last release "A Grand Misconception".  Live though, its fast and forceful hardcore, with a precision and subtle melodic structure to it that really raises the game.  Not a long set, but with plenty of diverse shifts and roaring catharsis it is very satisfying and I', grateful for them trekking over here.
That sorted me right out!