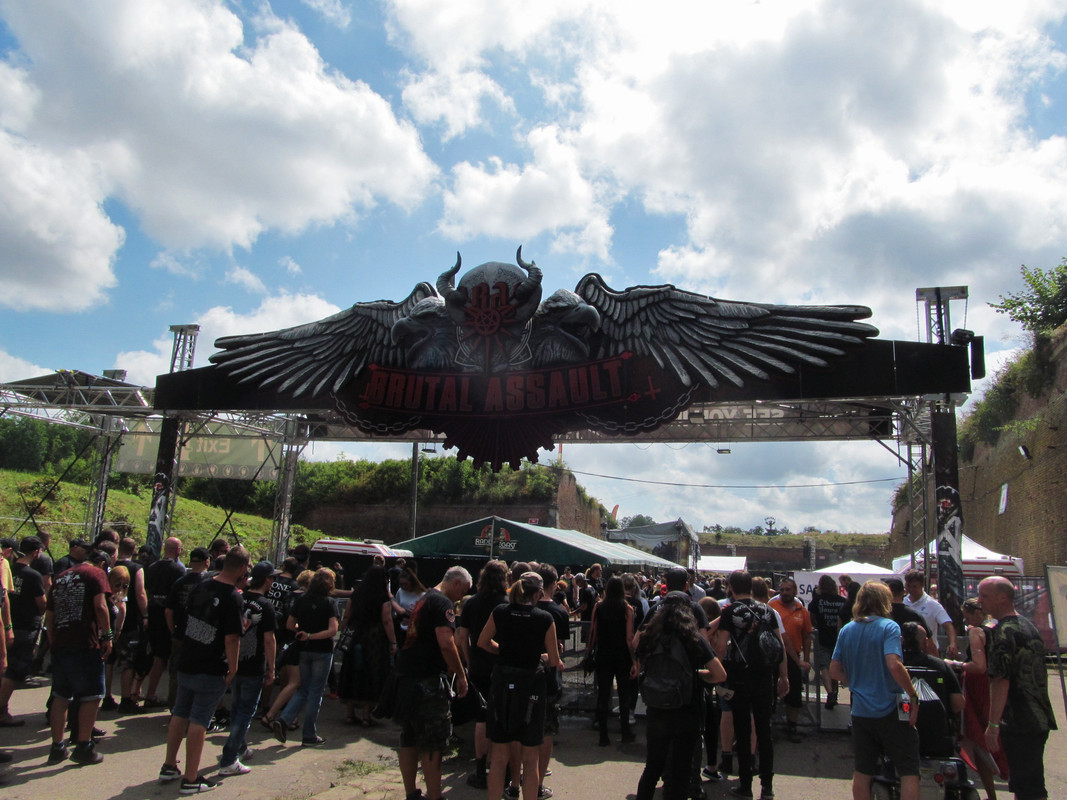 See, 24 years ago even I was (relatively) young.  But in the last ten years of frenzied festival going  this monster on the far horizon, the biggest in Central Europe, has been clashing with Bloodstock weekend, or has featured bands on the Euro circuit which I would catch elsewhere, or I've needed weeks to recover from Obscene Extreme…. Enough with the excuses!  Another phenomenal line-up for the eclectic heavy tastes that it always seems to have, a gathered group of fellow adventurers and we're in for the second of my Czech trips of the summer.
We decide to hang on to civilisation for a little longer in Prague and miss a Tuesday pre-show at the festival site, but then get an early morning train to miss the influx to Jaromer, which is only about the size of Conwy, and will be hosting 10k plus metalheads for the duration.  The other Conwy similarity is the massive fortress the hosts the event, although a massive 18th century construction unlike our medieval heap. A laden trek with all our camping stuff, then a self-inflicted problem of having no barcode to book in meant the stress levels were rising, but then we are sorted into the well-organised VIP areas down by the river.  No time to hang around once set up as there's a 1pm start for the band so we venture up to the main square for our first taste of the chaos.  What a great spectacle in itself  with the two main stages side by side against the huge walls of the fort,, lots of sculpture scattered around, copious bars to head straight to.  We give the whole place a quick circuit to orientate ourselves but there's too much to take in, we might need more days!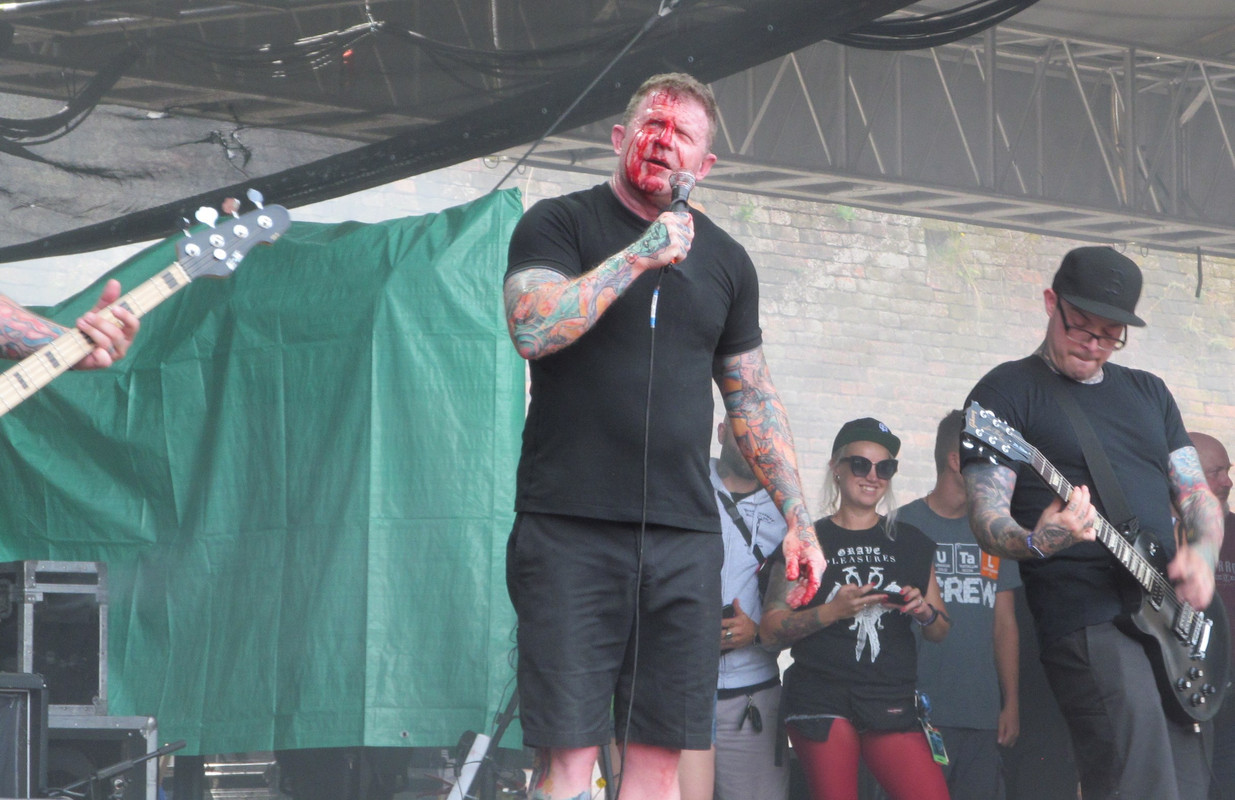 slapshot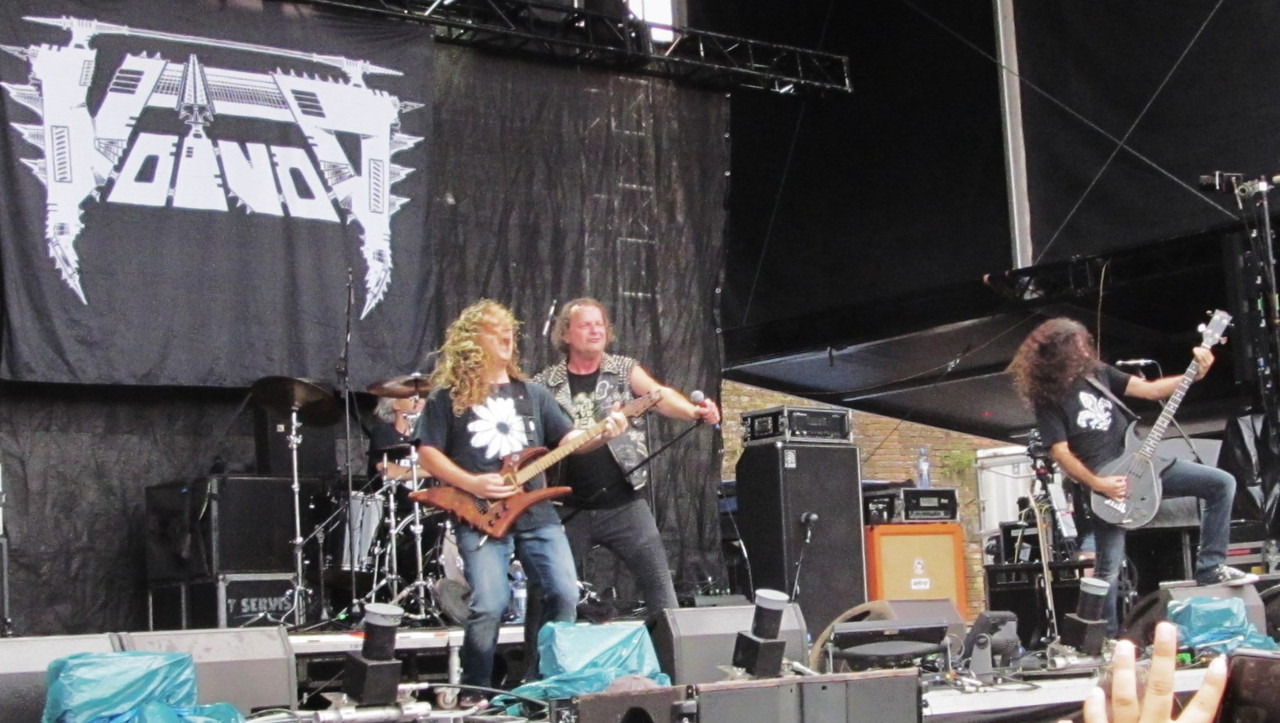 voivod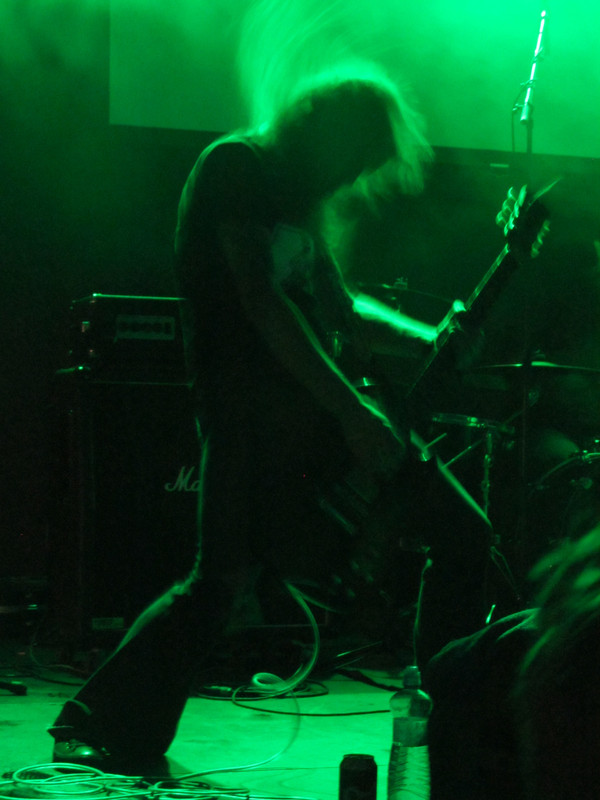 belzebong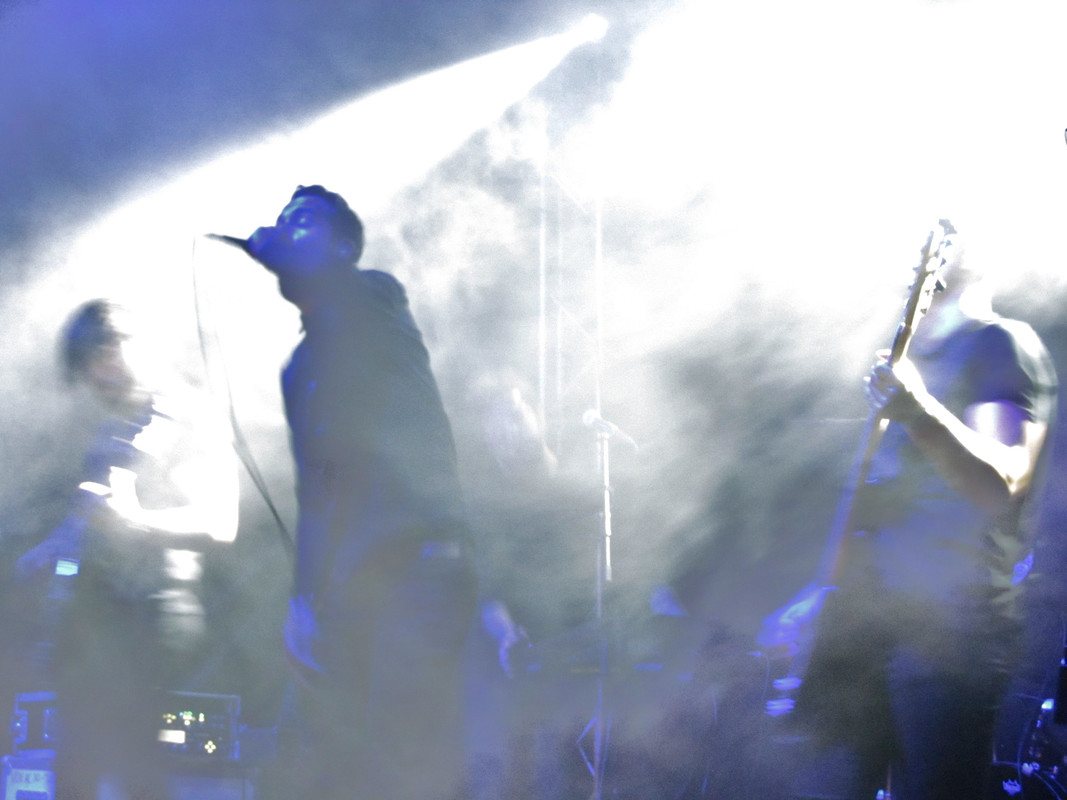 deluge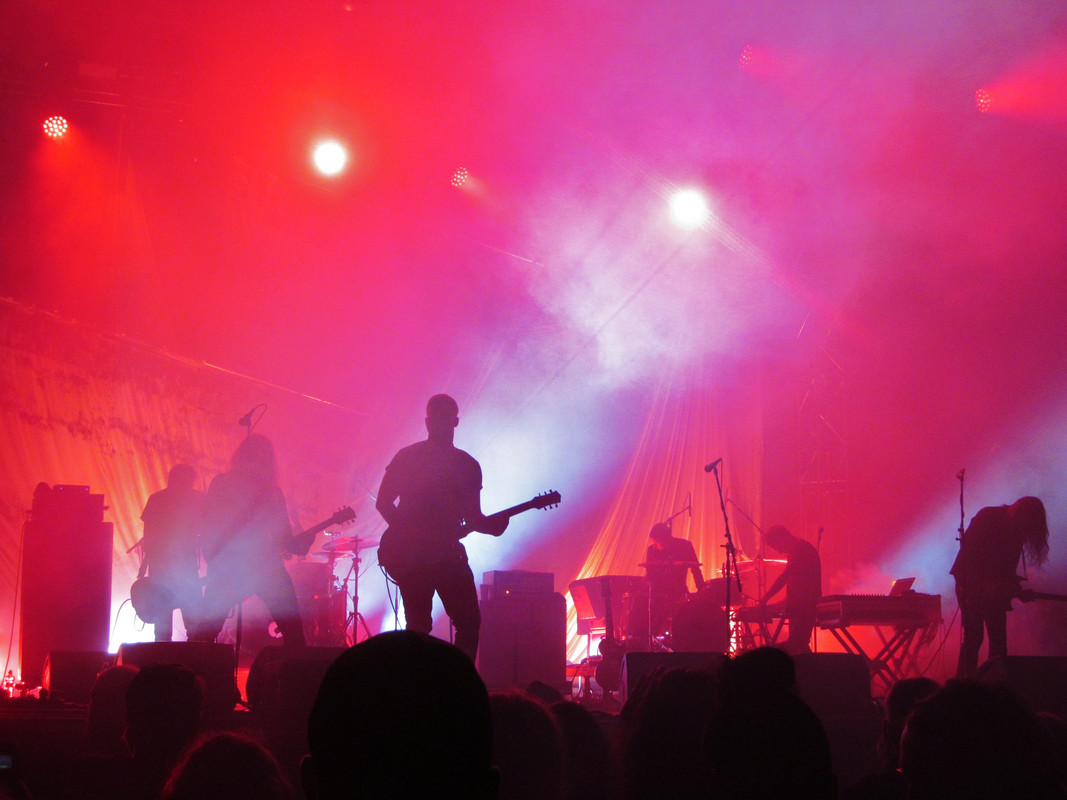 cult of luna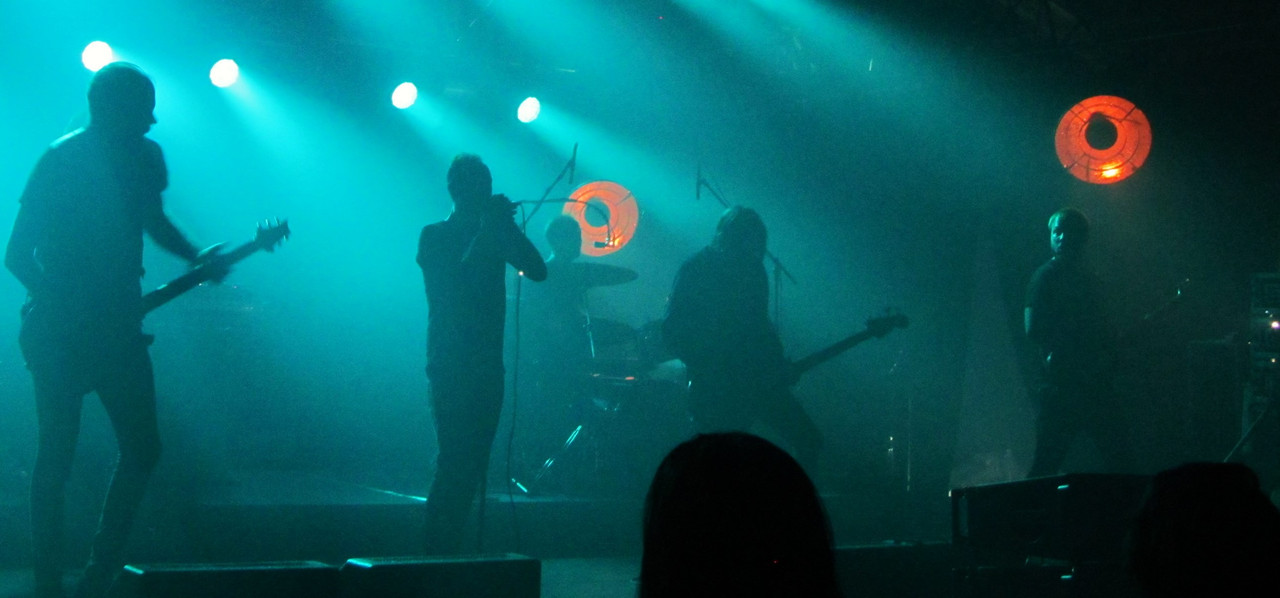 the ocean
Opening the day for us were the Danes Hexis, who I'd last seen in a café in Prague a couple of years back with about 100 people.  Their brutal blackened sludge/hardcore is an uncompromising harsh onslaught, and they are definitely in the zone in their performance.  First of many US hardcore legends for the weekend in the shape of Boston's Slapshot, they retain the original energy with revitalised lineup, singer Jack is still bashing his head and bleeding everywhere, and "What's at stake" gives me my first genuine shivers up the spine of the visit.   I head to the far end of the fort where the Obscure tent is found for some quality Swedish grind from The Arson Project who I have enjoyed at OEF before.  A great intensity and ferocious sound, as you always expect from that nation.  I go back to the mainstage to catch the end of Crossfaith, there's no doubt it's a polished show from the Japanese and among the techno metal mix there are some excellent bits but the whole thing does strike as a bit of a contrived pop experience too, to me.  No worries we are able to shuffle over to the adjacent stage for Canadian thrash legends Voivod.  I think they have become a bit more of a party band now with crowd interaction and having a laugh on stage but underneath  that they have classic old school songs which make tears well and necks snap.  Their new stuff stands up too.  Time for a break and to gather our strength for a heavy evening sesh.  I sack off Faketushka to worm my way back into a packed Obscure tent for Eyehategod.  Unfortunately it was a bit of a wasted trip as the sound was atrocious, the bass reminded me of when I started with a 30 watt karaoke amp, and when Mike asks "Ever feel like you've been cheated?" I wouldn't go that far but maybe he's acknowledging their own ropey show, a shame cos I've heard them destroy in the past.  The aural palates require cleansing then so we get up front at the Octagon Stage, an enclosed courtyard reached through tunnels and vaults.  With The Obsessed dropping out last minute, Wino rivalling Mike 13 for his reliability, the doom was now to be delivered by Poland's Belzebong.   And deliver they surely did the instrumental band creating great nodding waves of stoner glory, huge distorted vibes that get you in the guts, excellent.   Enjoy this space so much happy to stay for the cathartic blackened post-metal/hardcore of Deluge, who are new to me and a very satisfying revelation.  Really anguished pummelling with an animated frontman, will definitely be checking out their recordings. They also provide a suitable warmup to the immensity of Cult of Luna, who have grown to headliner proportions from the band I saw in a club in Nottingham on their first UK visit.   They take their time, 50 minute we get 5 songs of their epic layered post-metal, with a stunning light show to complement.  Such evocative compositions, really something special.  I'd already got the pre-order of their new album in and have complete faith in it being another stunner.  Hypocrisy's melodic death is held in high regard and I have seen them before, but a poor initial vocal sound in my opinion left me struggling to get into it so I instead elected to enter The Ocean over at Obscure.  Many similar ingredients as COL, but different tones and inflections, almost prog noodling at times but still offering the heavy shade breakdown riff crushing in contrast to the lighter intervals.  It's a great colourful end to a long day.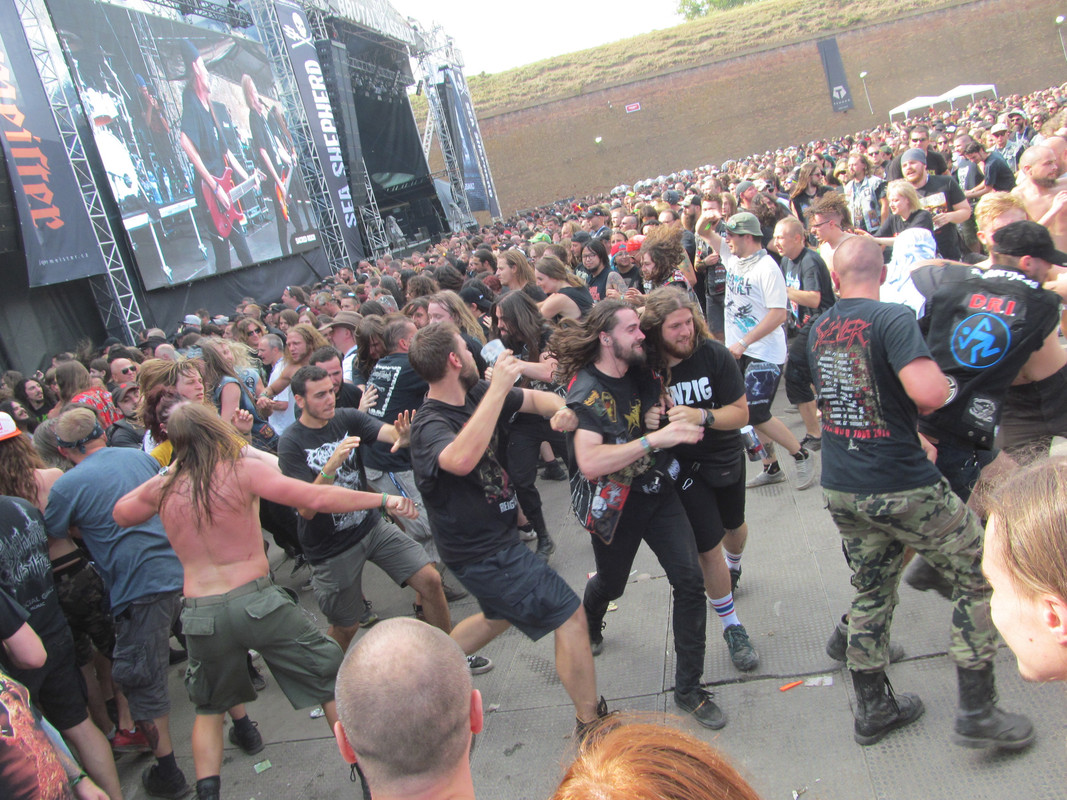 sacred reich pit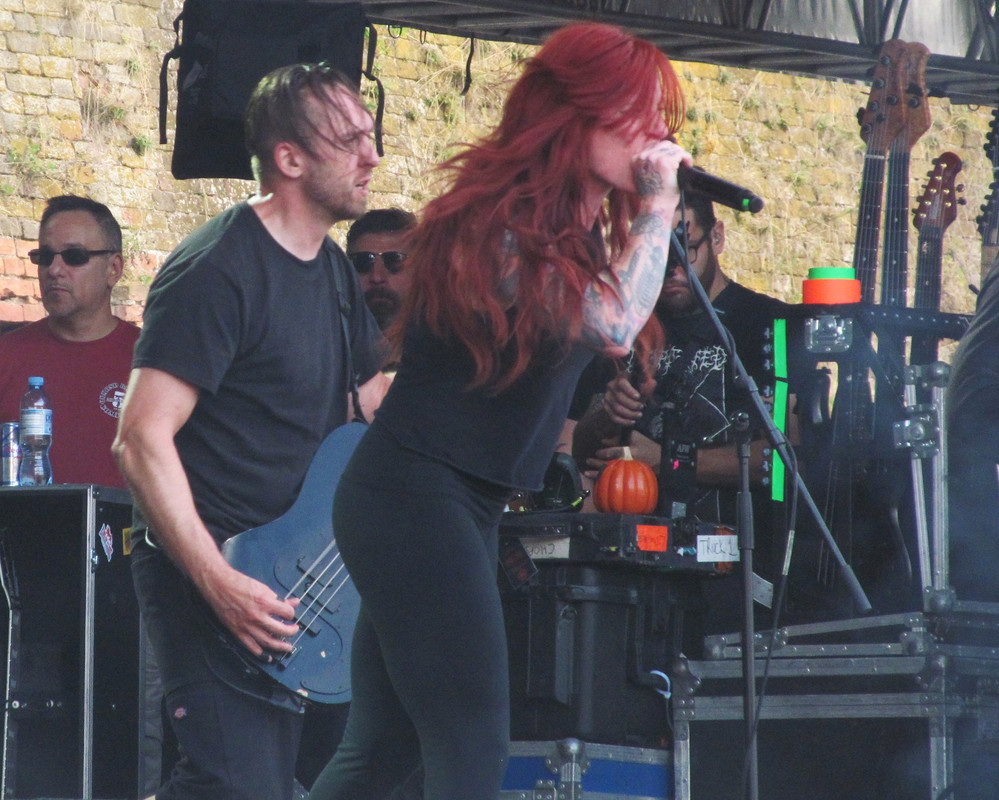 walls of jericho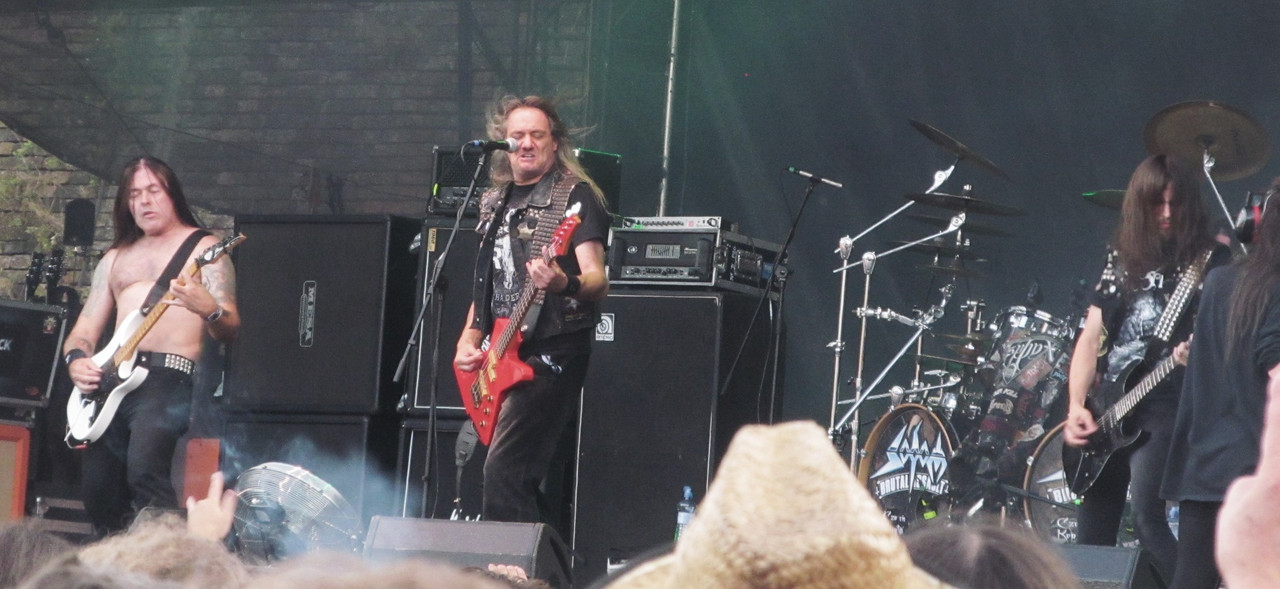 sodom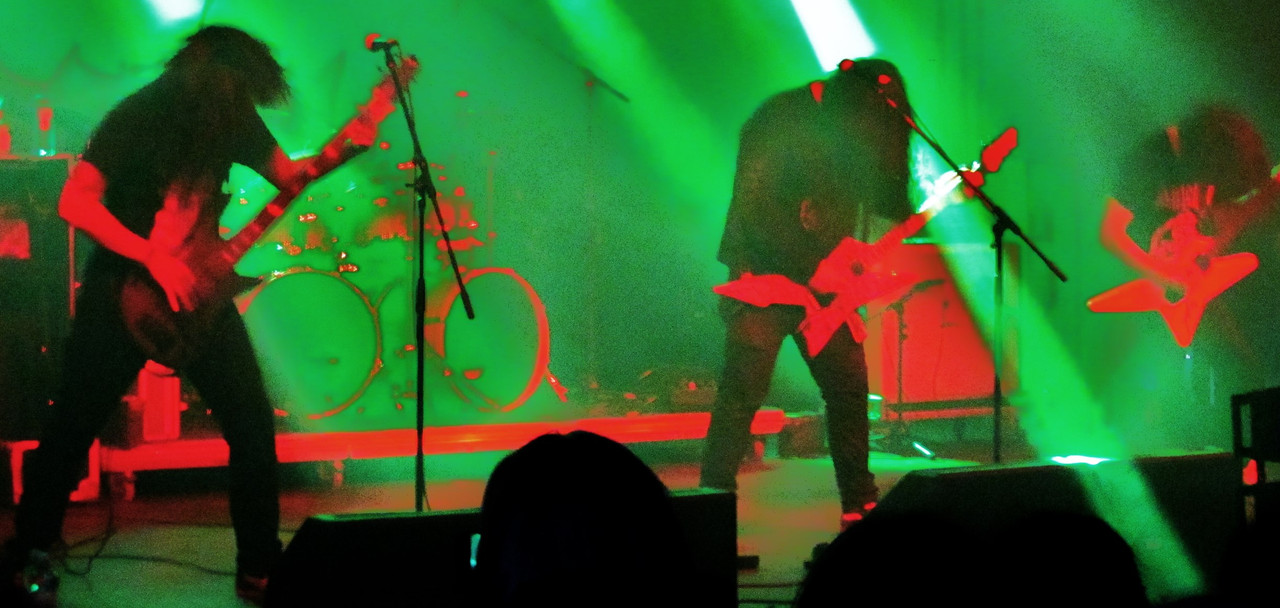 skeletal remains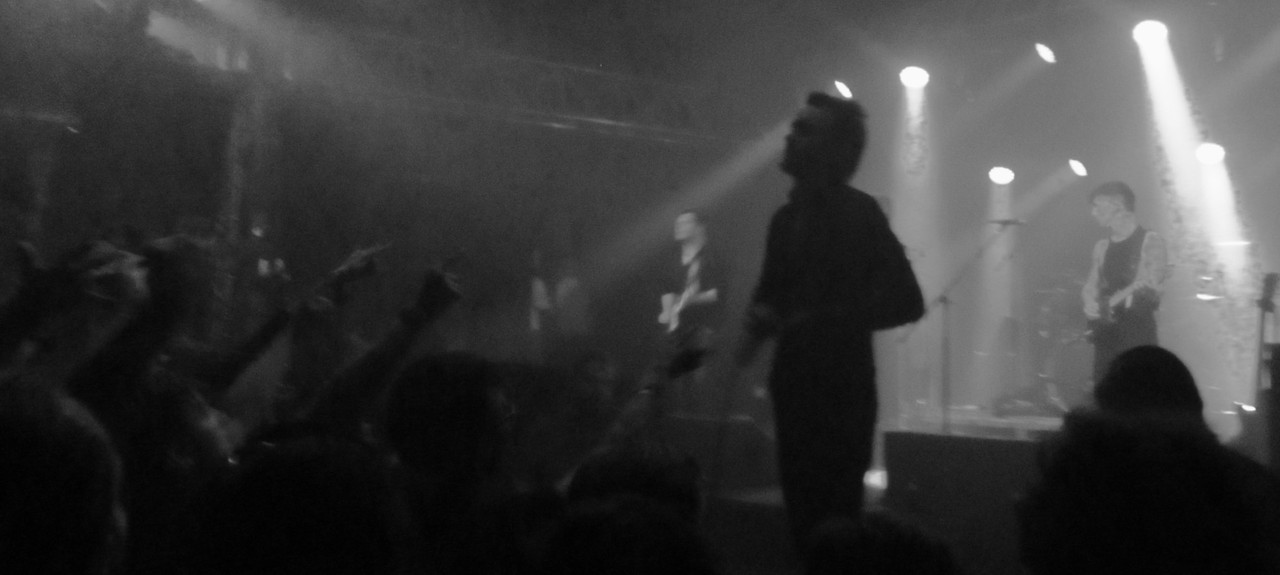 daughters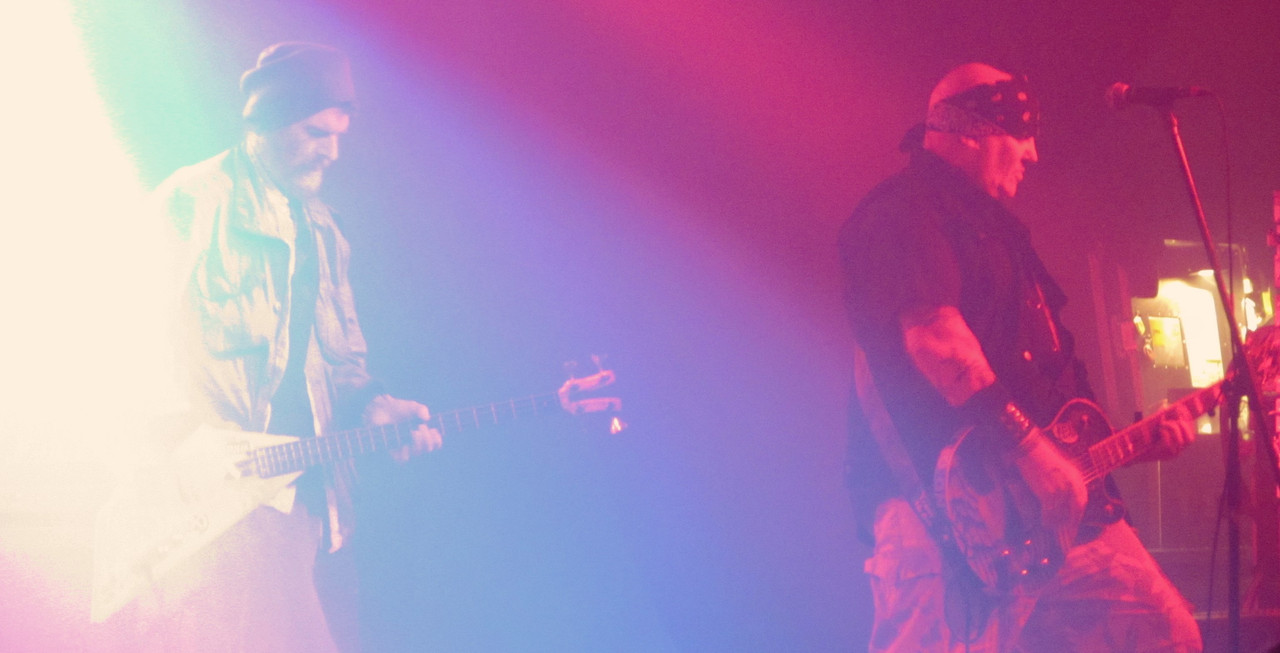 discharge
Thursday it's a lovely morning for a stroll in to the main venue square and to have an absinthe lemonade breakfast while watching Sweden's Letters from the Colony.  Didn't know much about them but they do put in a great show of progressive modern death metal, not out and out brutality but mixing up the structures so there are interesting contrasts.  Something less complex but still massively enjoyable is a rare opportunity to catch the "OLD SCHOOL" (as we were reminded often) death of Jungle Rot.  Thrashy riffing and thumping breakdowns, its good fun and widely appreciated.  We had shopping missions to undertake, and the interval also saw us socialising with our new camping friends  over tea (liquor, 62%).  We return for more thrashing via the legendary thrashers Sacred Reich, who as well as giving us their classics have offerings from their first new album in decades.  Revitalised with a young guitarist who seems completely at ease jumping in at the deep end here they certainly get some pits going.  We gather with our friends in "The Bunker" bar for a Downfall-esque scene where it is confirmed that Deicide who we were all looking forward to as a headline highlight later, the first time in about 25 years for me, have cancelled.  Some excuse about missing flights but they have a reputation for this already, the flakey death metal conts.  Oh well.  Walls of Jericho and Sodom give their consistent attacks of  metallic hardcore and old school thrash respectively but I'm not particularly struck by them this time.  Sick of it All are always much more of a lively and involving prospect and their US hardcore is always delivered with gusto by Lou and the boys, helped by what I presume is some of their kids too.  I leave these to get some proper death metal satisfaction after the disappointing news, and Skeletal Remains over at Obscure provide that in (gravedigger) spades.  I had only heard bits in passing but they were spot on in raw and relentless, focused old school fashion but with a modern precision.  Top stuff.  A bit of reeling around and catch some of the psychedelic rituals of Olaf Olafsson and the Bad Trip at the chillout zone and even some of the super harsh Russian war film "Come and See" at the adjacent cinema.  Back to the tent for Daughters, although that is a very different experience.  I'd seen them earlier in the year at Roadburn and that was pretty insane and here again they are an uncomfortable force of nature.  The churning, looping, and battering noise rock with the drawled lyrics provides rare hooks, just an onslaught of edgy rhythm.  There's massive sing along worship in the crowd, like Idles or Slaves they seem to have struck a dissonant chord with a lot of people.  More doom to calm our minds, and back to the Octagon for Windhand.  This is of an epic traditional nature, with retro female vocals flowing beautifully over the top of the sub-Sabbath riffs, they are great.  I'd wanted to see Car Bomb for a while after being quite blown away by a track off their last album, but as generally math rock is not my thing so it proved to be in this live environment, as it didn't have the same heft and impact so it wasn't for me.  Deicide's replacement on the main stage turned out to be the locals Brutally Deceased who had opened the day on this same stage.  A thinned crowd for their pretty straight forward slamming death metal but I'm sure they would have embraced and loved their emergency role.  This does give ample opportunity to finish the night over at the Obscure again with the punk gods Discharge, who do what they do as well as ever with this professional latest incarnation.  The D-beat goes on, until it's time for an enormous door to slam shut on the night.

dr living dead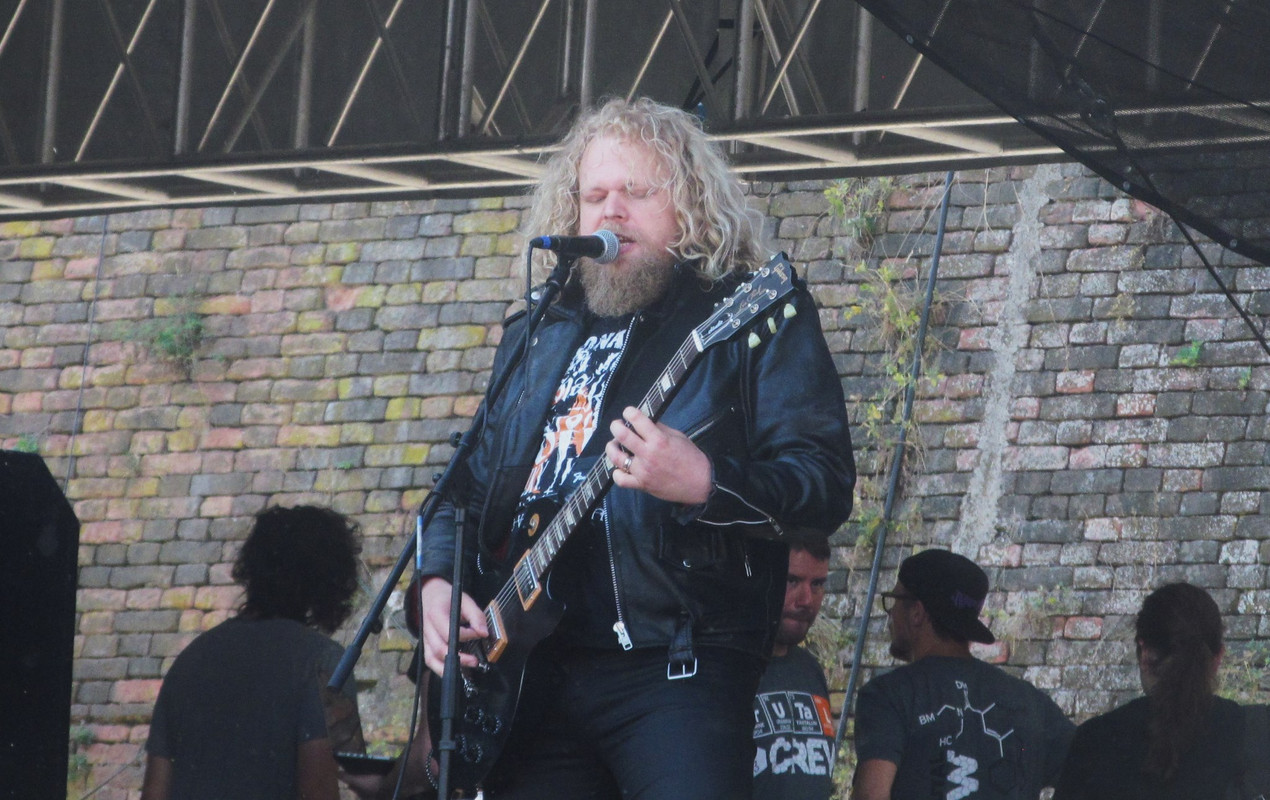 cad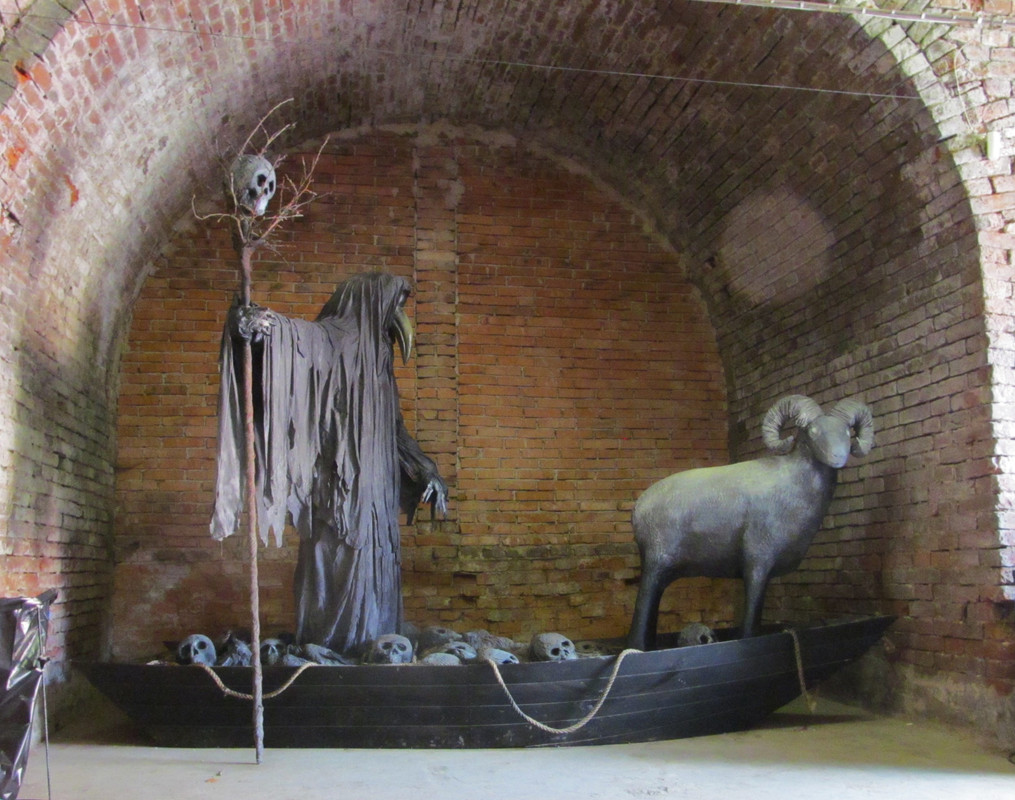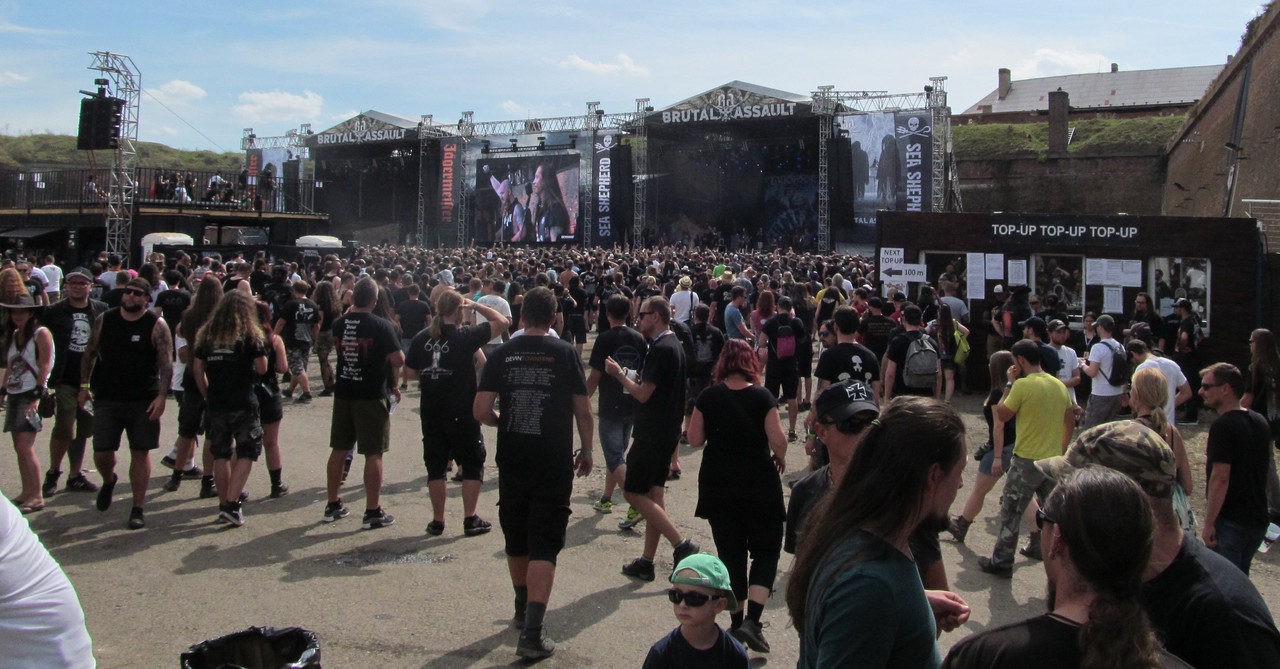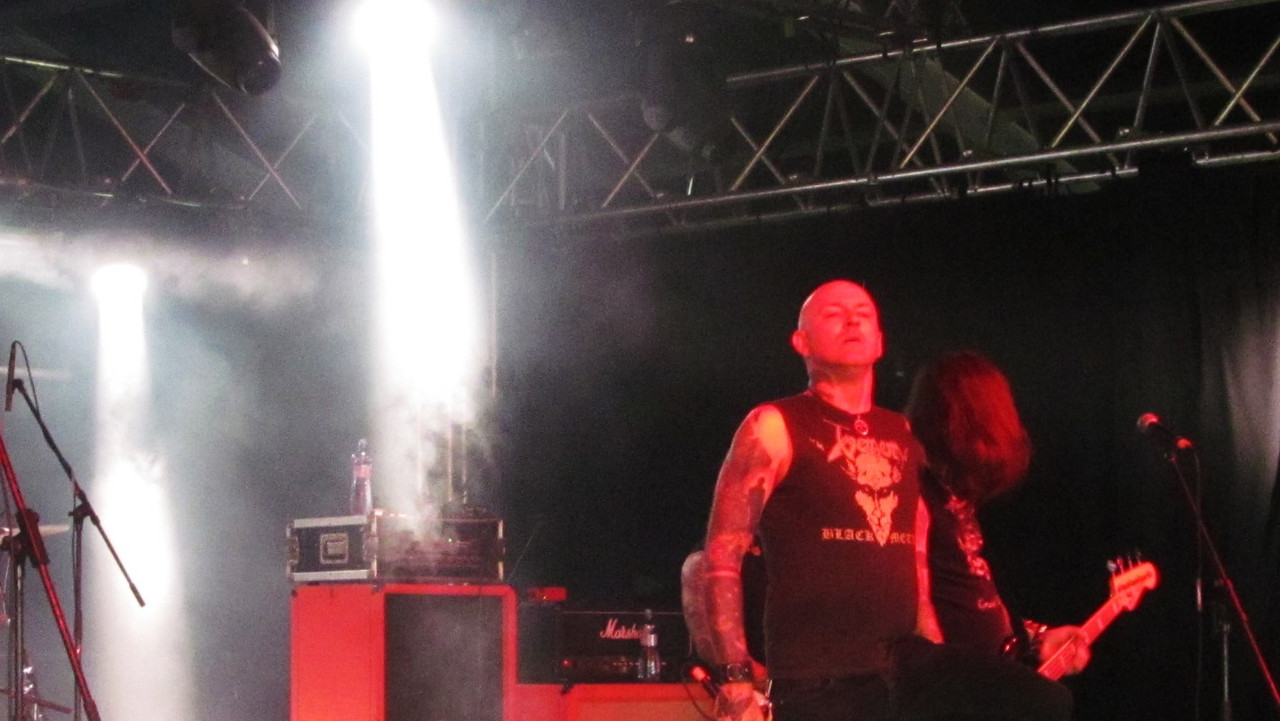 wolfbrigade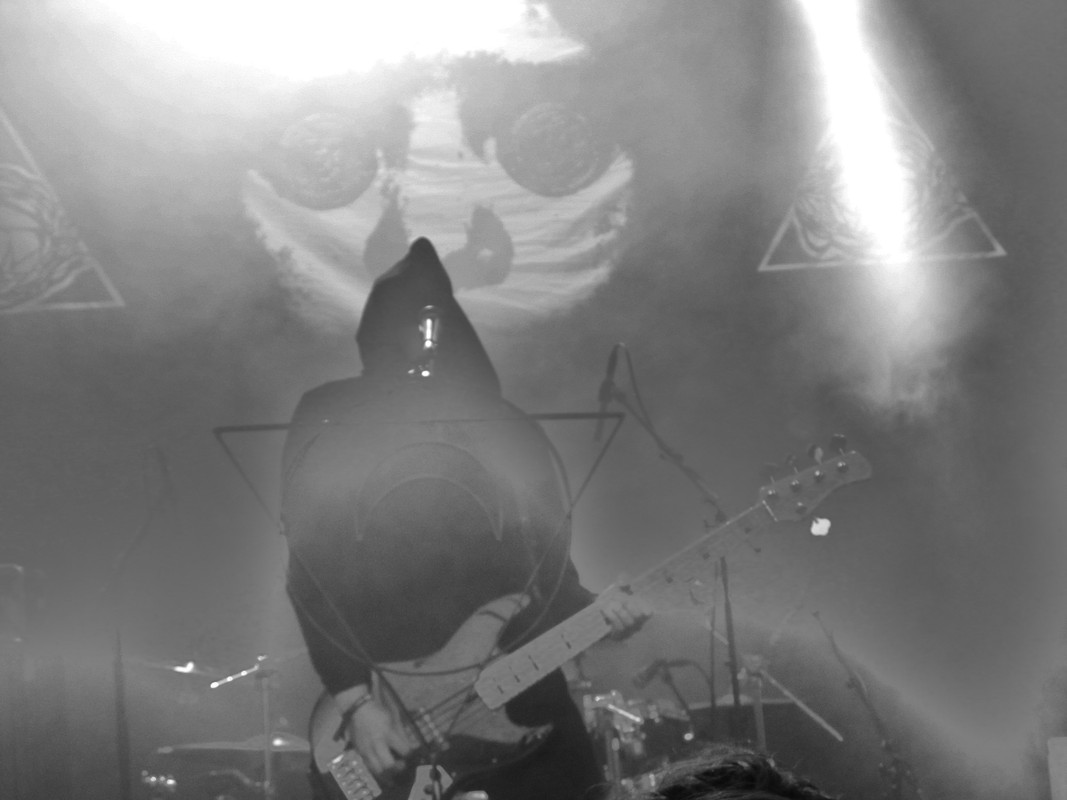 au-dessus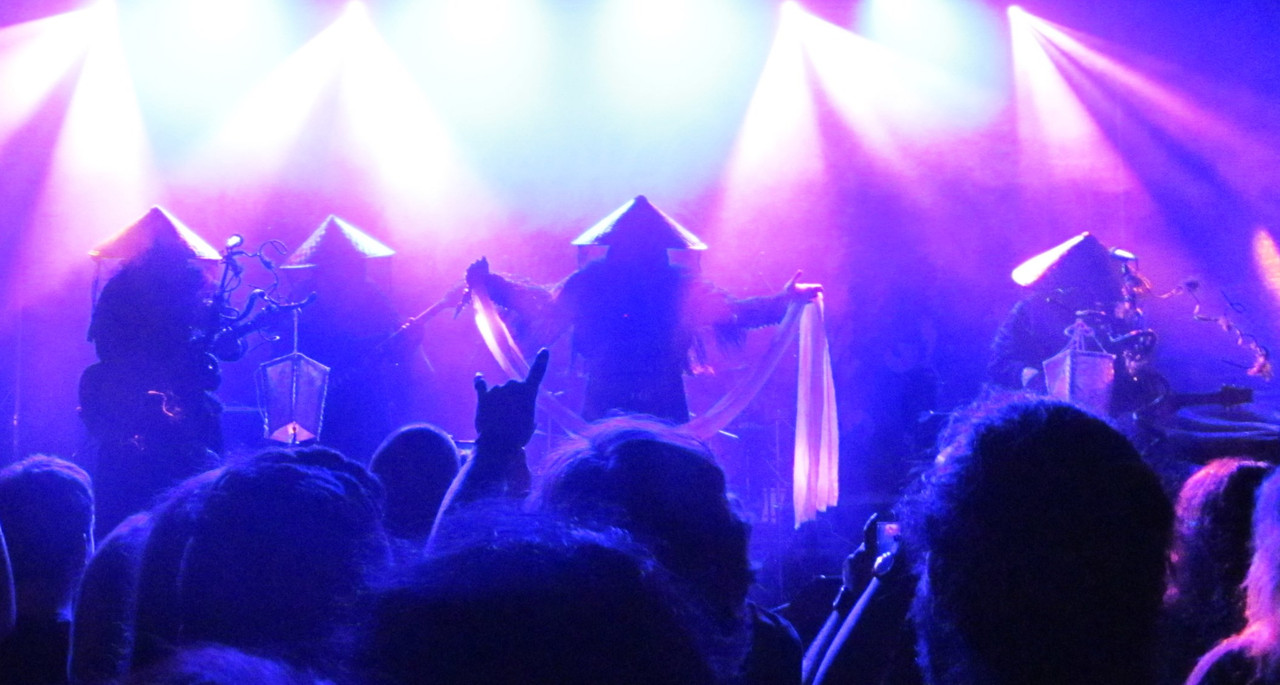 zuuriake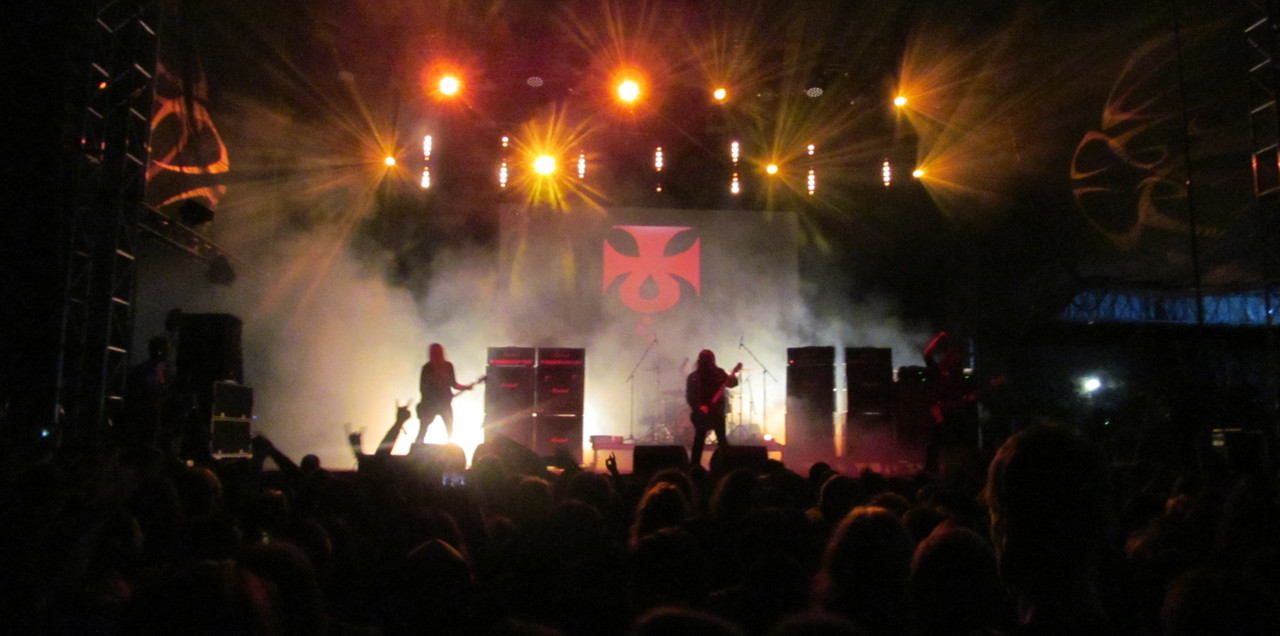 electric wizard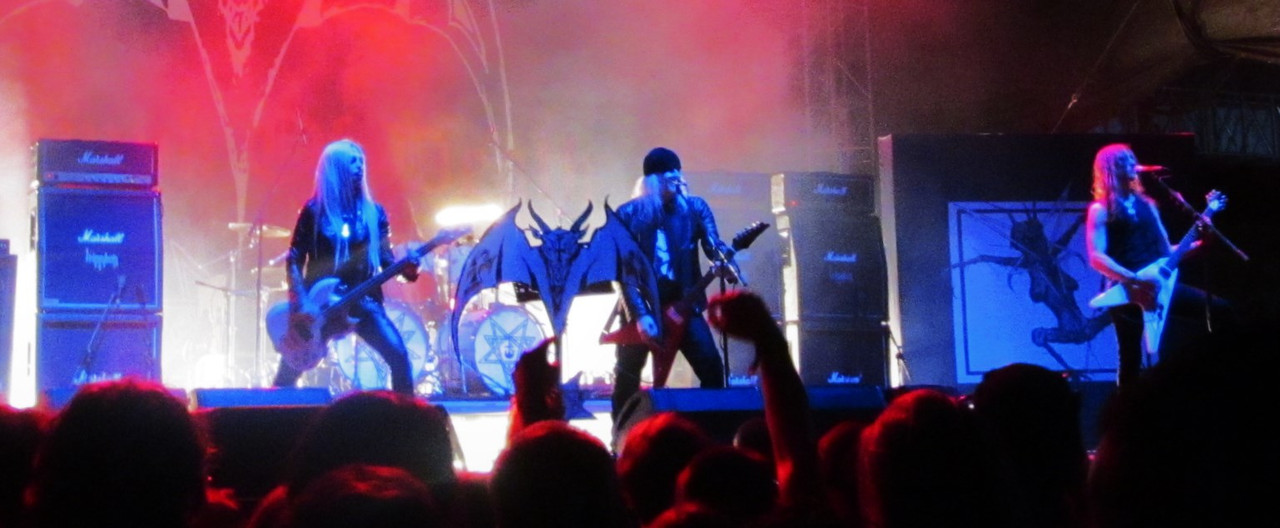 triumph of death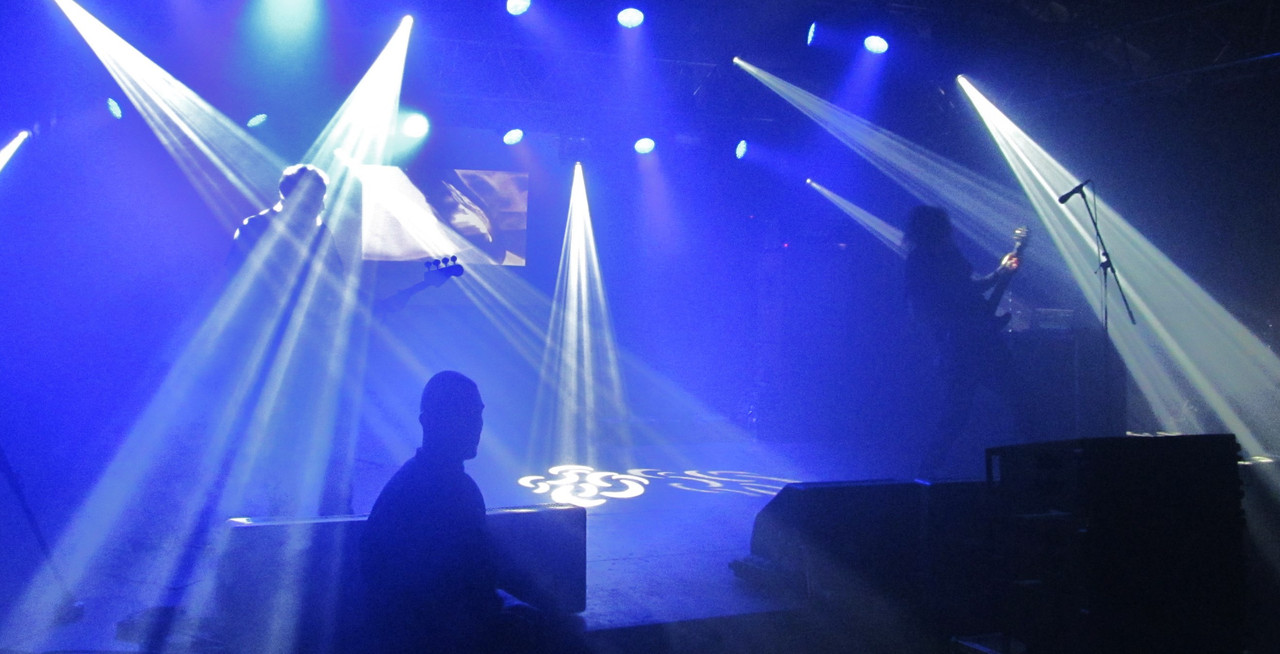 godflesh
Like seasoned veterans we are able to crawl in like zombies before midday for a hi-energy dose of Dr Living Dead.  The Swedes had been really impressive opening the day at Hellfest a few years back and hit the ground running and jumping here again on the main stage with the Suicidal Tendencies style crossover thrash.  Next door next, with some similarities but a whole lot more besides, are the Slovaks Cad.  Really love this band and they are obviously much appreciated in these parts as main man Stefan banters at length in his native tongue.  Great charging crusty punk or epic hardcore, with lyric hooks aplenty its heart-warming stuff.  Or maybe that's the absinthe.  We do more exploring of the art galleries and food selections, trip down to town once more, but then the call of the hunt beings me back all the way over to Obscure for Wolfbrigade.  Effortlessly amazing Swedish crust of the finest order, driven along on charging beats and riffs, and more harsh vocal hooks.  Right up my street.  Even in evening light Lithuanian black metal act Au-Dessus create some really dark atmospheres at the Octagon stage.  Cloaked and with a smoke drenched sculpture enhanced stage, their blend of furious blasting harshness with epic tortuous post-metal structures is a spell-binding experience.  A little breather to pay respects to completion of the bunch of US hardcore in the form of the godfathers Agnostic Front, before back into the octagon for something exotic.  Hailing from China, Zuuriake have given a cultural twist to their take on black metal, and their traditional garb and decorated set certainly are like nothing seen before.  However I didn't find the music ultimately remarkable, so went for a chillout in the chill out and the hope of seeing Godflesh side project Final.  That wait also went on beyond comfort so restless feet guide us back to main stage and Electric Wizard.  The doom masters and mistress I have found hit and miss in the past, but when they hit, like they did tonight, it's a massive reverberating riff pleasure.  The rumbling grooves get me properly carried away, like at head height and over the barrier to the front.  Following on here we have another veritable iconic show in the return of the ancient beat that is Hellhammer, or the tribute band thereof called Triumph of Death.  This is Tom Warrior of Celtic Frost fame having a run through the seminal band he created back in the day that even though it was the rawest, simplistic evil riff expulsion at the time has since been regarded as such a foundation to many extreme metal scenes.  It's great to see them having fun on stage though, self-depreciating with his "and by the way…OOF" to give us his trademark death grunt.  There's maybe a bit more polish to the proto-black/death performance after all these years and experience but as a whole it's an enjoyable blast from the past.   That leaves us with Godflesh over at Obscure at 2am to close out the night.  As you may know, I see them a lot and  this one had a massive sound to their pummelling industrial riffs and beats and was a familiar set of a good trawl of their recent and classic material.  I thought the flow wasn't the best and not the tightest performance, plus they wound it up pretty quickly at the end, late enough I guess.  My feelings weren't at all influenced by my crowd surf ending abruptly with a drop to the ground flat on my back, giving out a Tom Warrior tribute grunt, a circle of heads looking down upon me for a moment maybe wondering if I would live or not, before eventually helping me up.  Cheers, it's been a good day anyway.

altarage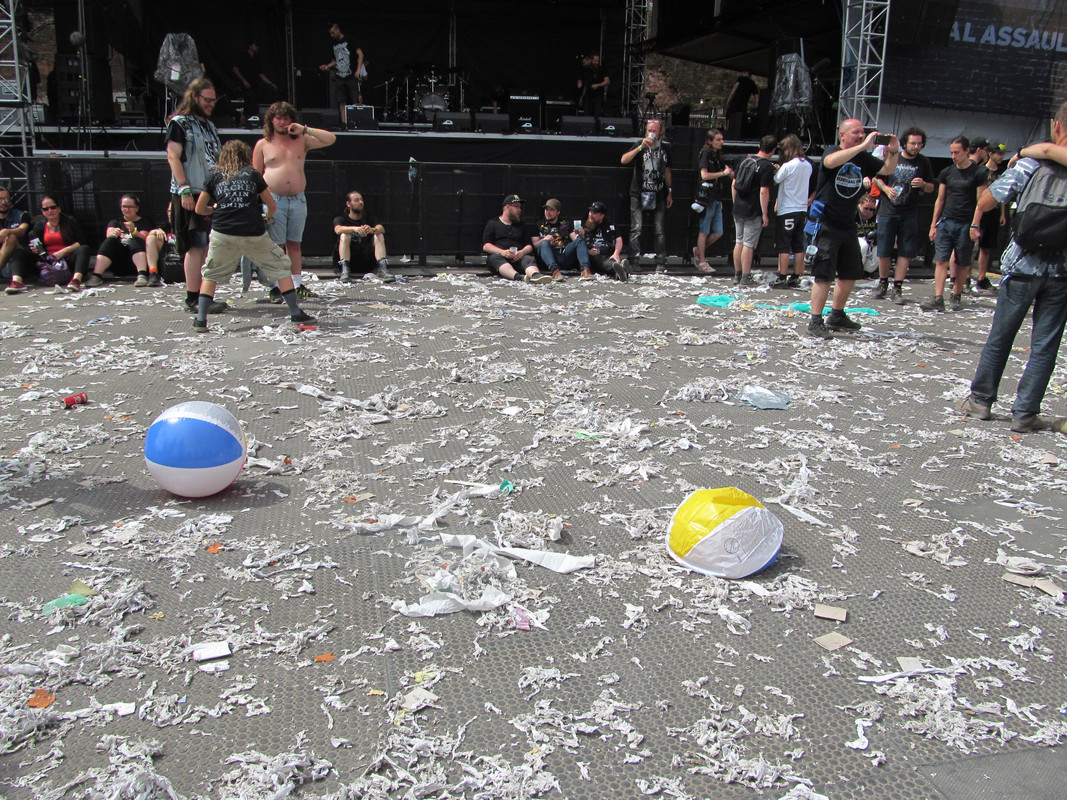 post gutalax

violator

saor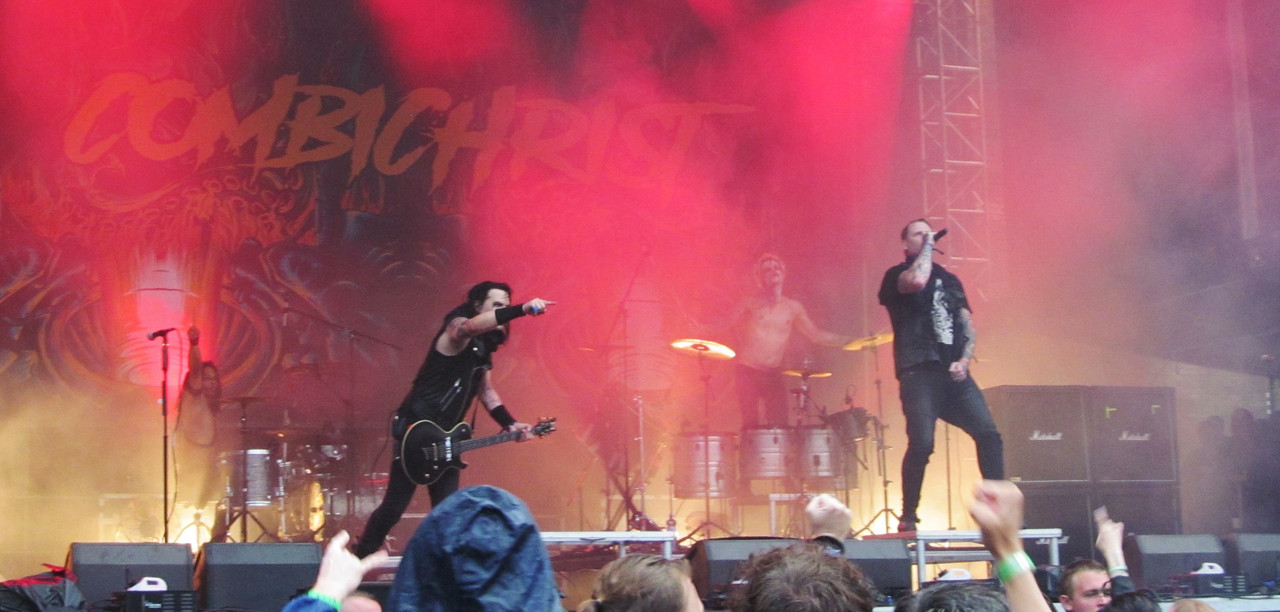 combichrist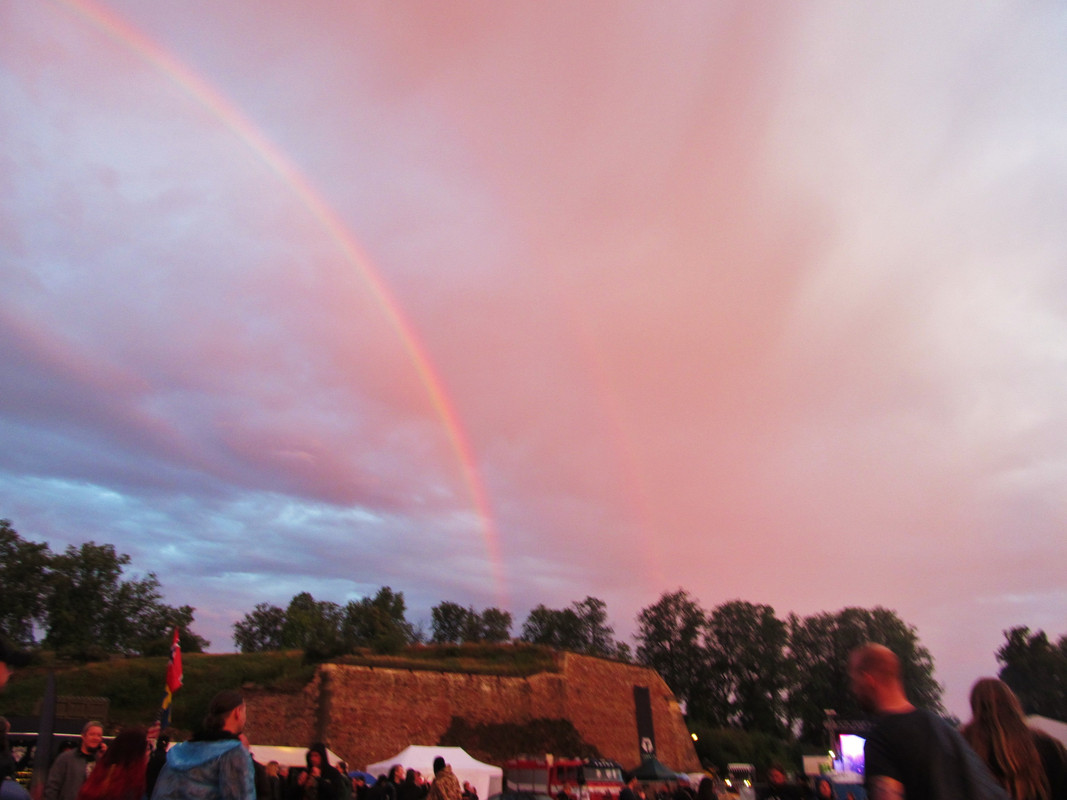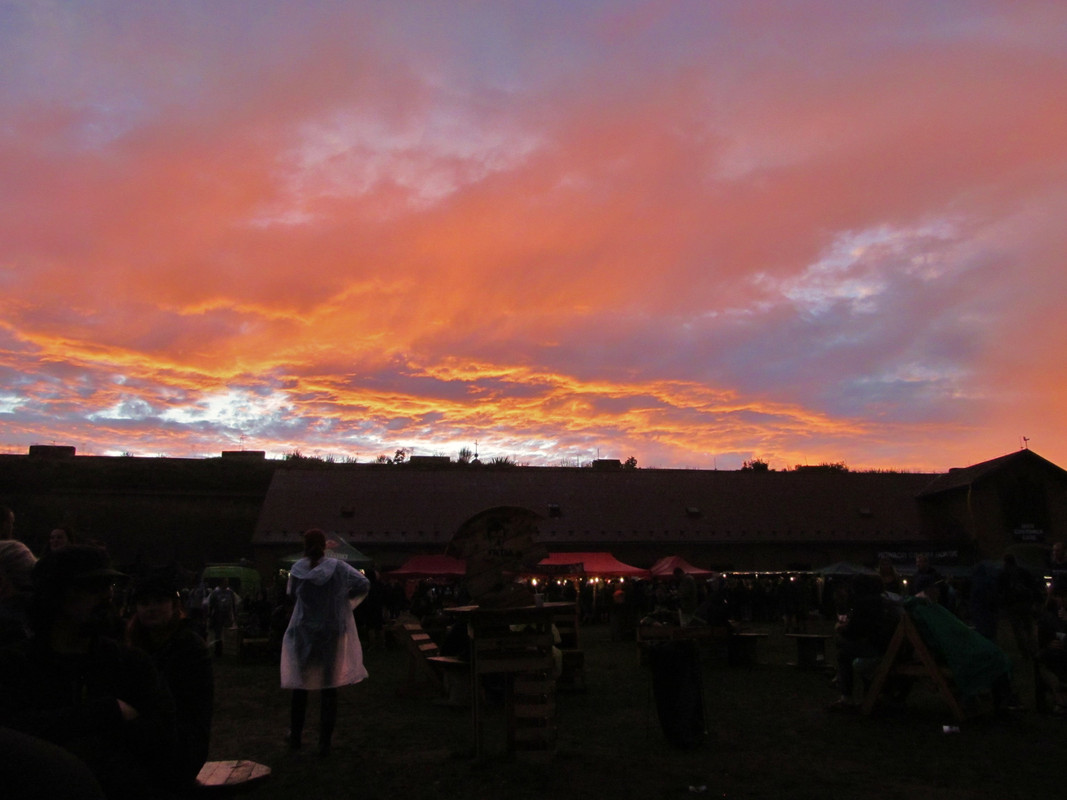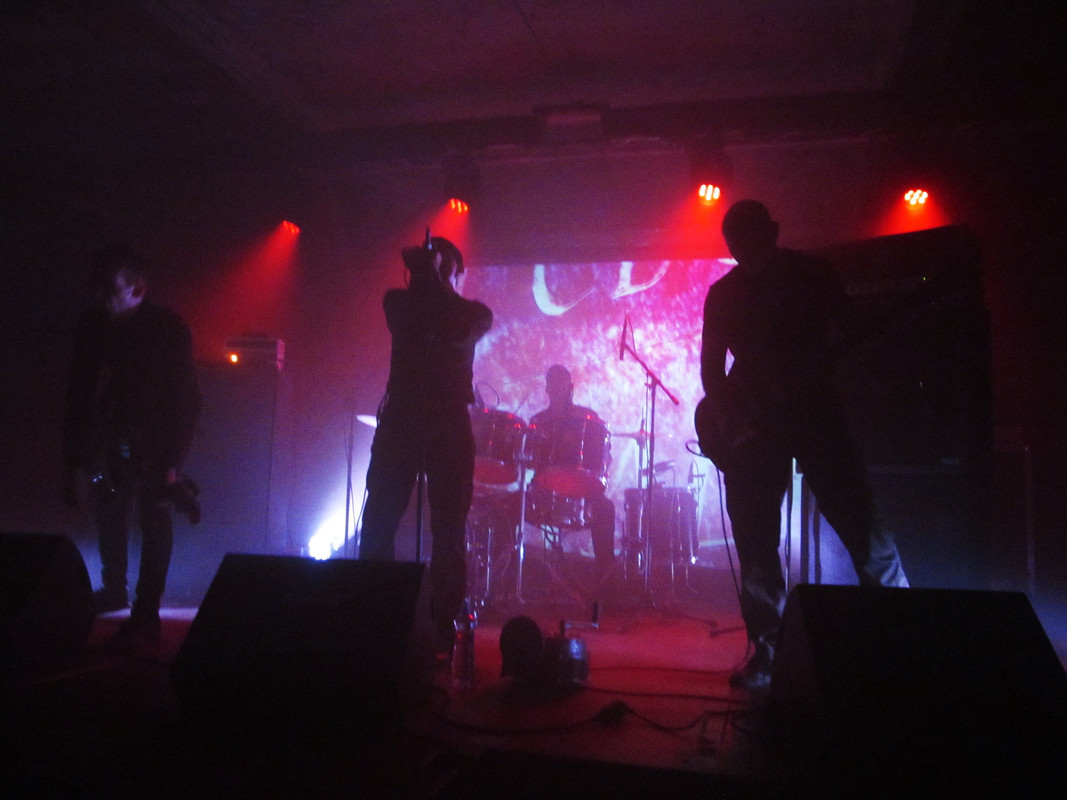 jude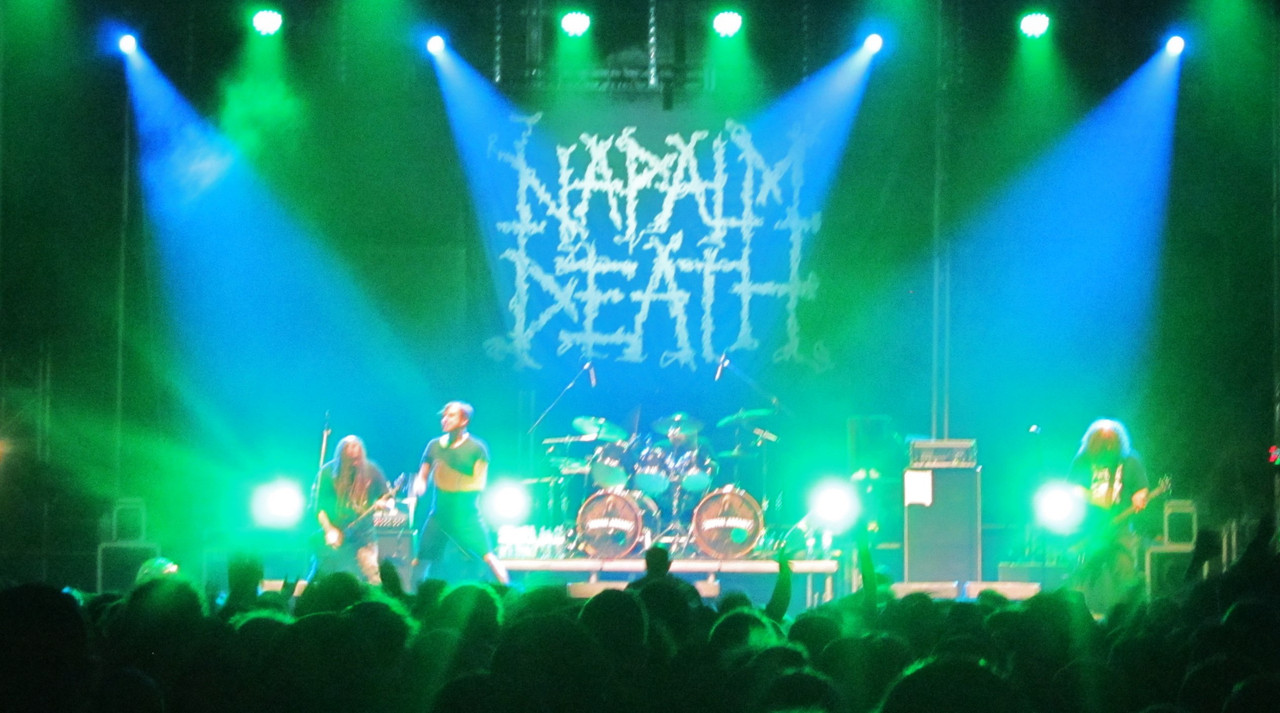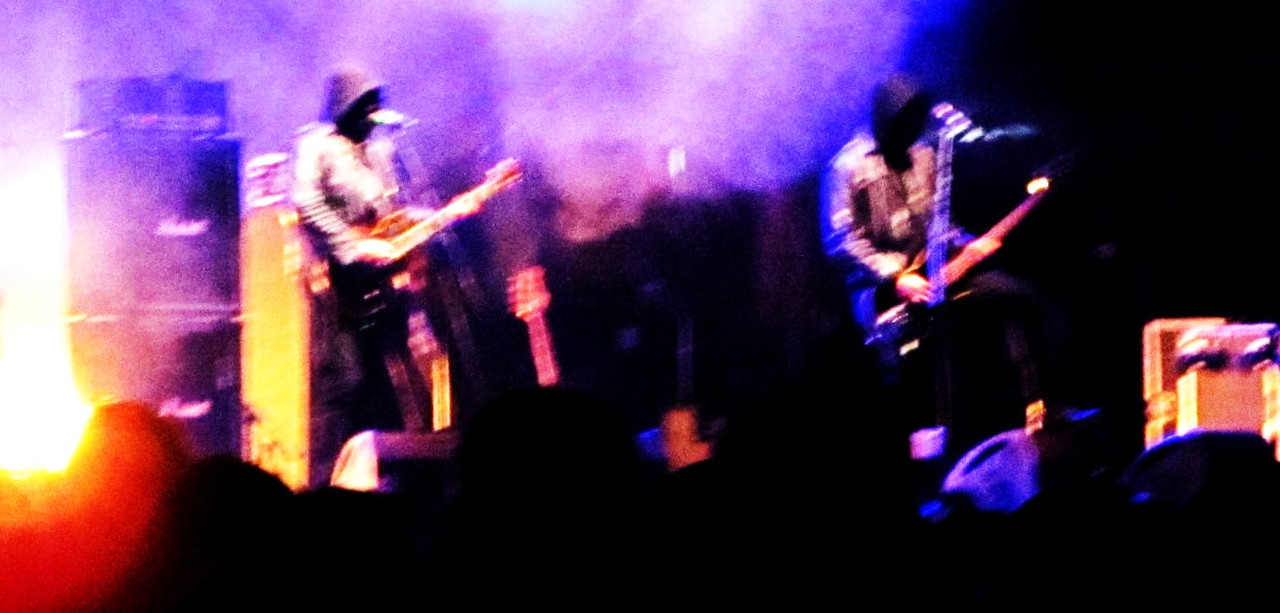 mgla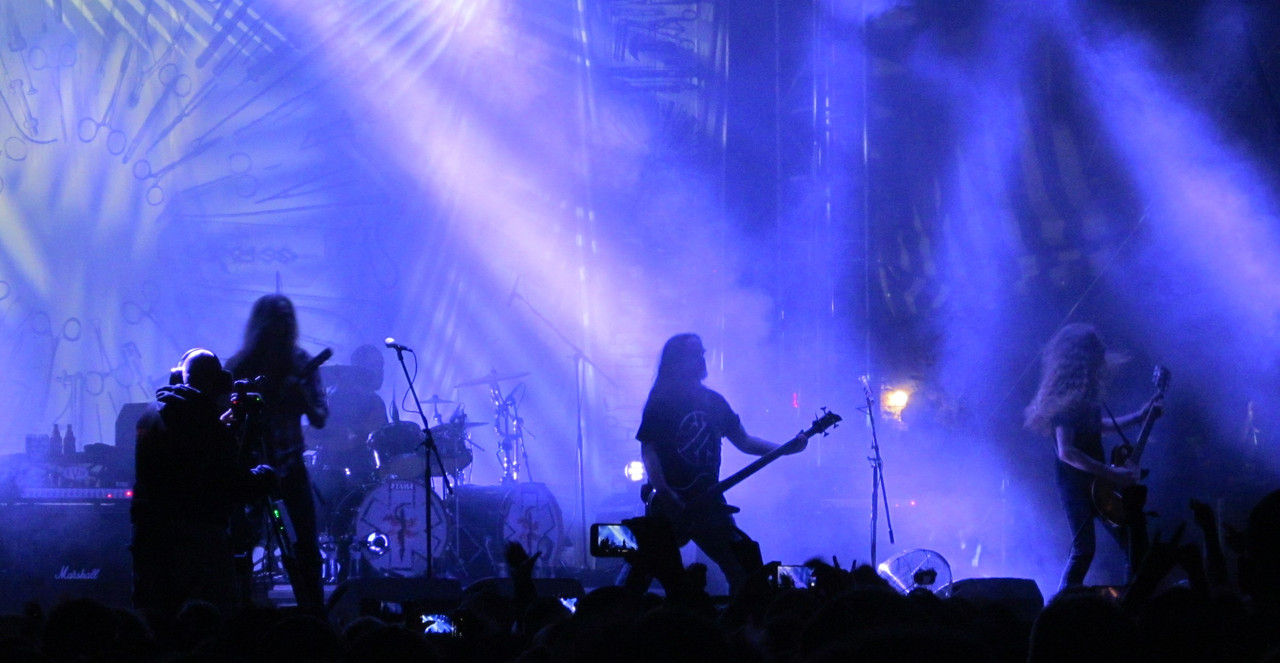 carcass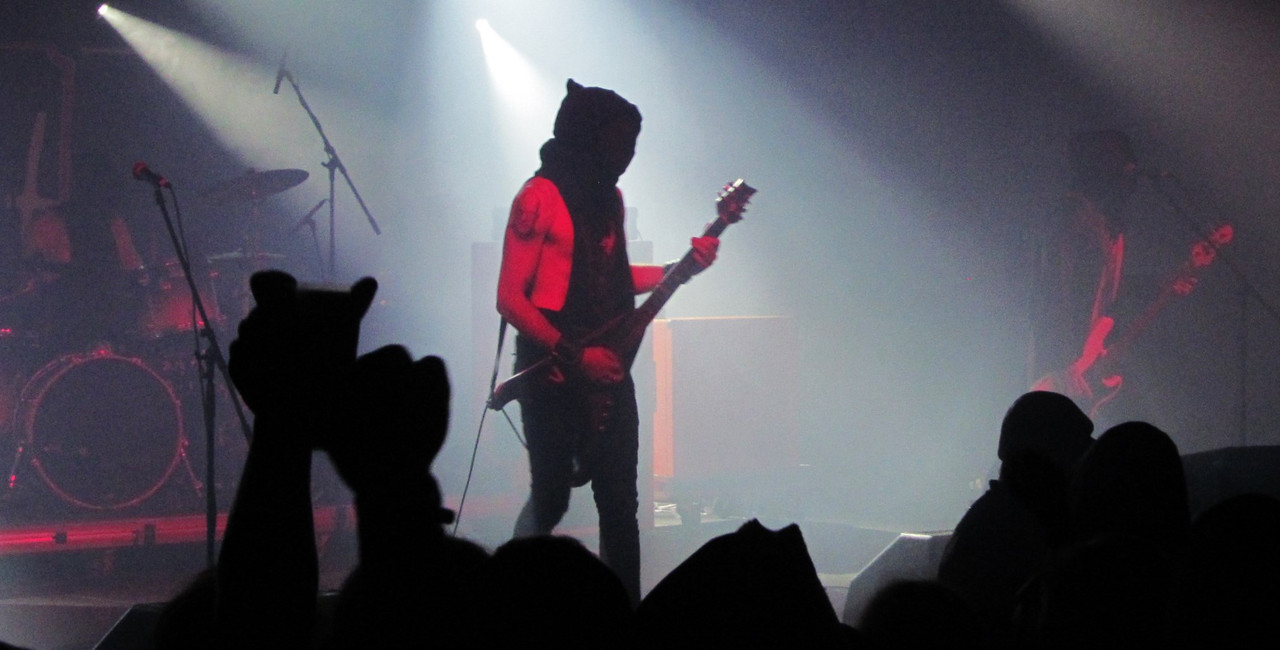 midnight

anaal nathrakh
Things were not necessarily the best for the last day, Saturday.  The weather had turned dismal and an early trip to first aid suggested cracked ribs.  But there smiles enough to see that after effects of the Gutalax goregrind party that had devastated the main arena first thing in the morning, apparently having one of the biggest crowds of the weekend.  So we'd missed the sights of crowd surfing portaloos and more toilet roll than you can shake a bog brush at.  A whole lot more serious was the brutal dissonant back metal of Altarage, the cowled and masked Spaniards maybe drawing some influence from the apocalyptic Portal in their uncompromising and chaotic riff catharsis.   Watch some Vampillia but the avant-garde Japanese experimental orchestral ensemble is hard on the hungover head.  The singer is a real possessed case, and musically they are all over the shop like Fantomas with some more classical elements.   Something easier to process is the top notch thrash of Violator, from Brazil.  They had blown me away at a recent Obscene Extreme with their energy and conviction, and I'd rather have my thrash from these than the diminishing returns of Testament and Anthrax who I'd left for alternative clashes already here.    Even in the rain they get a great response and are completely in love with the connection with the crowd themselves.  Demolition Hammer was one band I wanted to check for sure since it had been decades since I saw them at Wrexham Memorial Hall, their death/thrash was even heavier than I remembered and a tighter act now too, but a veritable downpour meant we had to retreat to the Bunker for other liquids.  Next brave the elements and mudbaths to trek to Obscure for Scottish folk-tinged black metal Saor.  Enjoyed there lulling atmospheres with lilting violins before heavier soaring brutality would kick in, but then we have an urge to get to the main stage for Combichrist.  Last time I saw them I found them a bit cold and mechanical but there they are in full on raging beats  (double drummers) and belligerence, their industrial dance metal like a nastier Prodigy.  It certainly lifts the mood in spite of the weather, and you realise the other bonus of having the hard standing in this main square else it would be a whole lot messier.  Back to the tent for Ven Buens Ende, another resurrection of a long dead black metal act.  Had been lucky enough to support these when they first existed in the 90's and recalled their abstract take on the genre but here it was either the prog or the blasting, some was ok, some indifferent.  Entertaining watching the main man zooming around stage on his office chair!  Call into the chill out zone for something that is anything but, with Jude from Poland coming across as a cross of early Swans dirge-y industrial brutality mixed with The Fall, especially as the singer has a proper fight with someone in the crowd at some point.  The edge is definitely felt. We watched Napalm Death from some distance but the consummate performers can make a gig seem intimate whatever the scale.  It's a high quality set of their grind punk but the same as I've heard at a few recent outings, as is the banter, as is the talk of the forthcoming album which was also the case last year.  Crack on boys!  They don't dedicate Nazi Punks to the Mgla in spite of their recent "guilt by association" controversy, the Poles  who are on stage alongside next, and there's no boycott as they hold a massive crowd with their melodic black metal.   We take some time to enter some other underground tunnels in the dark which had held shrines and displays but now were empty and dark.  We raised a glass to our friend Steve who had sadly passed away at this festival a couple of years back and the  moment was right.  Further beers ensued and I popped out to catch a bit of goregrind/death metal Carcass, timing it perfect for me with the old gem of "Exhume to Consume" but then found myself enjoying a lot more of their set which I'd previously been dismissive of given their new clean-tech approach.  It also helped that Jeff wasn't slagging everything off. Well past Midnight but  that's who I'm off to see last, doubling the times I've seen them in the space of a year.  Again they are hugely entertaining death rock'n'roll, with great chorus hooks, not taking themselves too seriously while still pretending to be.  The whole fest is closed out for us by Anaal Nathrakh, the Brummies inheriting this late slot due to flight delays.  They cover a lot of bases in their set from operatic classic metal to filthy hostile grind/death mayhem, so are a fitting conclusion and distillation of the whole event
What an absolute treat of a festival, i was completely won over.  Spoilt like a kid in a sweet shop with the quality of the line up taking me back to the joys of the original more underground Hellfest, this one seems to have judged its current level fantastically.  But its not just the music though that is the core, there seems to be a lot of thought into the whole experience there that is  much appreciated.  I will definitely be back!