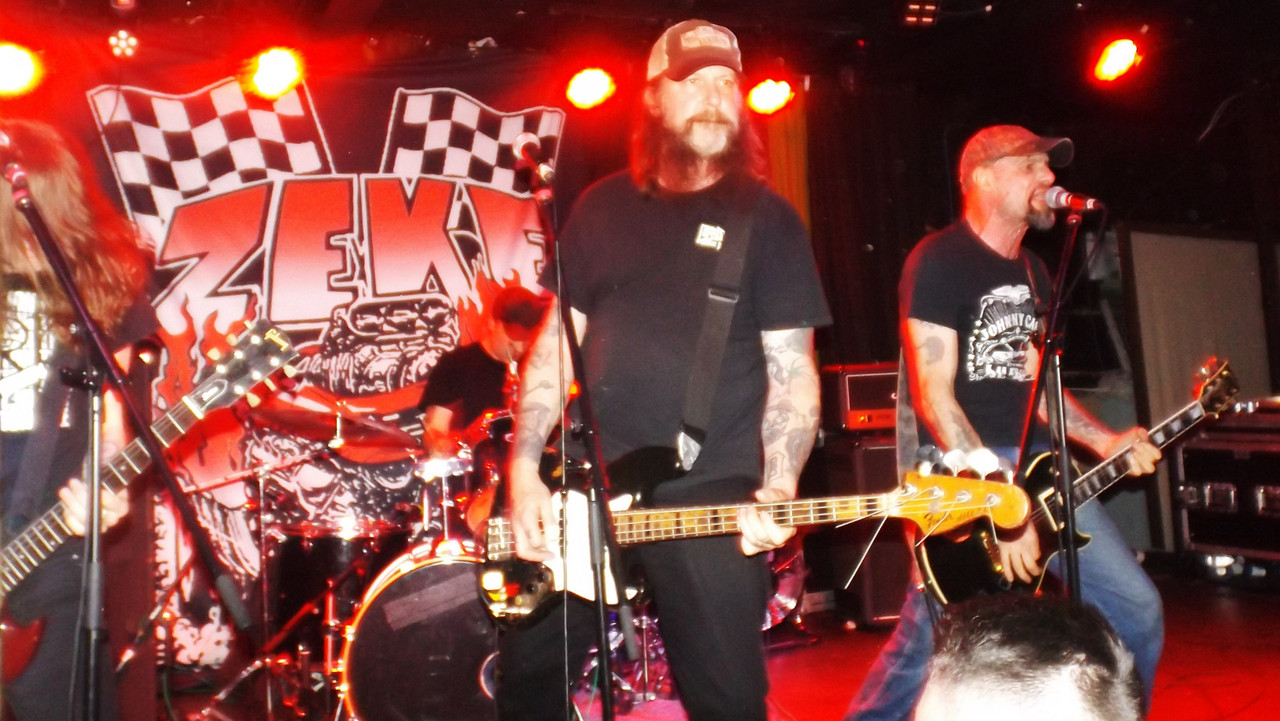 This was a long time a'comin, but jeepers it's now coming fast!  Been some 15 years since super-speedy Seattle scrappers Zeke brought their turbo punk rock over to the UK and I didn't even see them then anyway.  But in starting our own current band project as an intention to mix their rocking rhythms with some added grind filth couldn't miss this opportunity to pay homage and draw fresh inspiration from their visit.  Their new "Hellbender" album on Relapse is a half hour of top quality mayhem but fully expect many classics to be machine-gunned out too.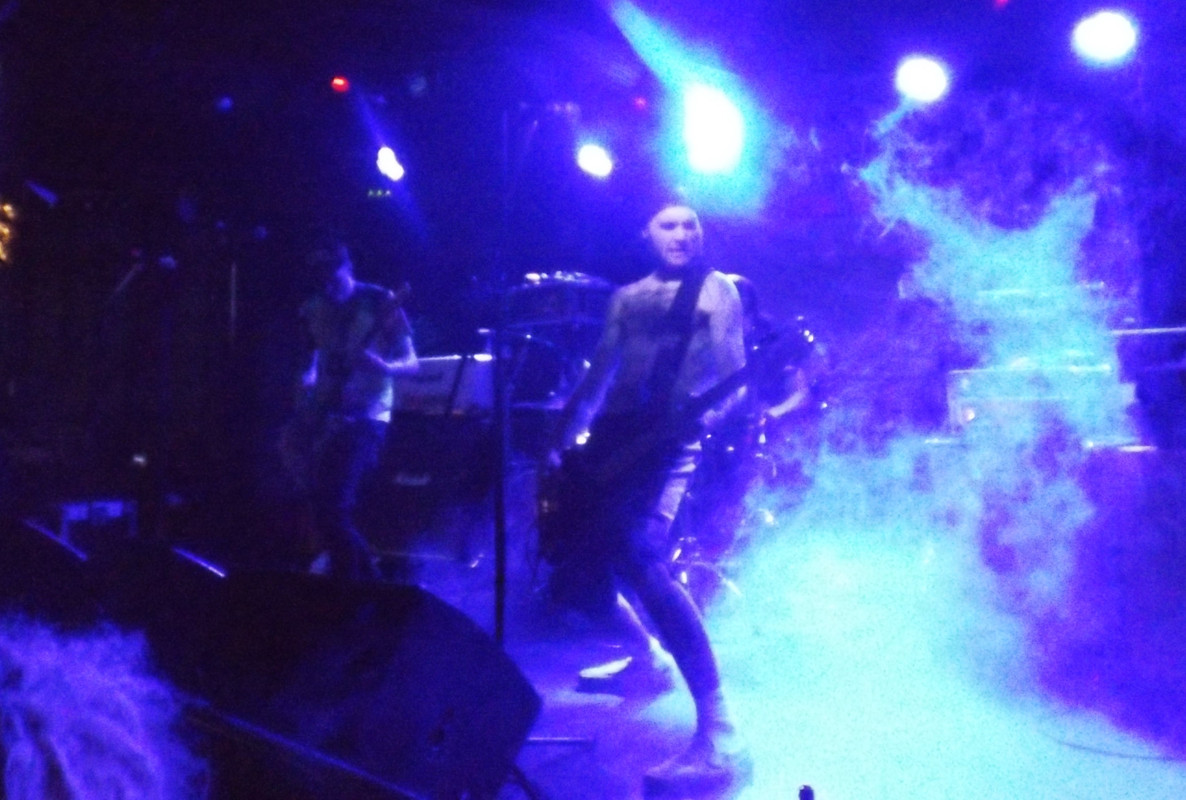 Busy night in Rebellion but not sold out, there's already good anticipation as the South Walians Pizzatramp are ready to go and not hanging about on our arrival.  Had heard lots of good feedback about these guys and sure enough they're excellent entertainment.  Not only belting hardcore with an excellent rhythm section but strong shared vocal attack in their short blasts of songs.  Added to hilarious piss take banter that carried over into some nonsense tracks, they were roundly applauded and I would definitely check them again.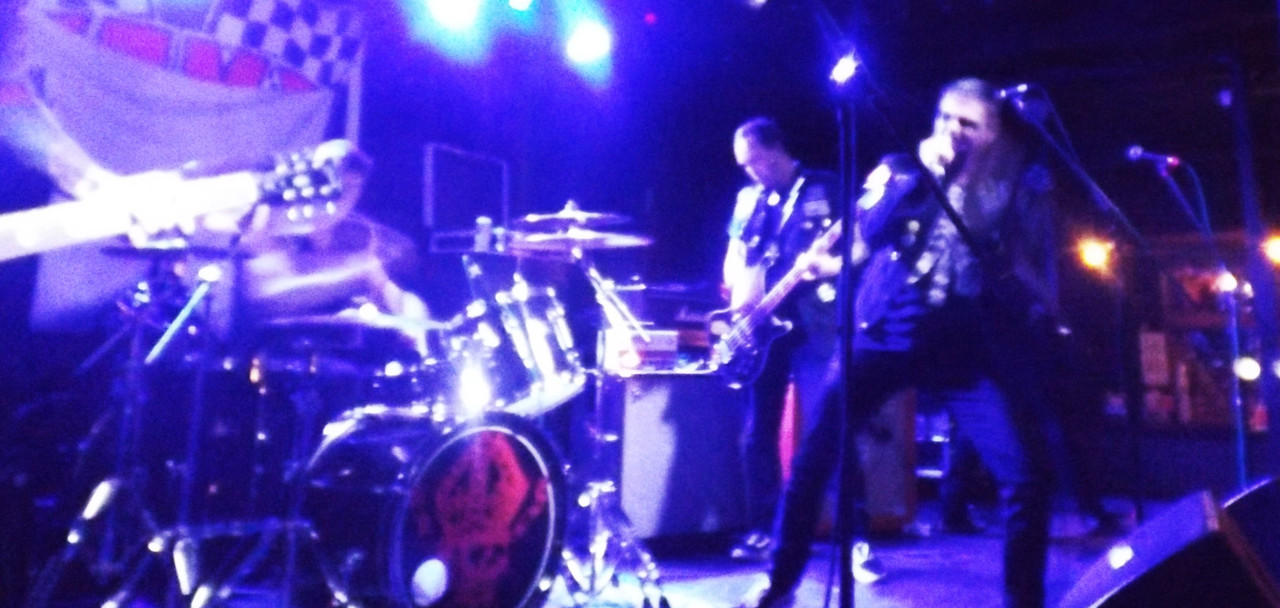 Nottingham's The Hip Priests had a real visual swagger a style with their matching battle jackets and ultimately that crossed over into some good punk rocking tunes.  More melody and groove to their sound, and obvious well-practiced musicianship, they had a bit of a retro vibe like the Misfits or The Damned, but their own moves beyond that.  Great ghoul of a vocalist gave some passion to their chorus hooks too.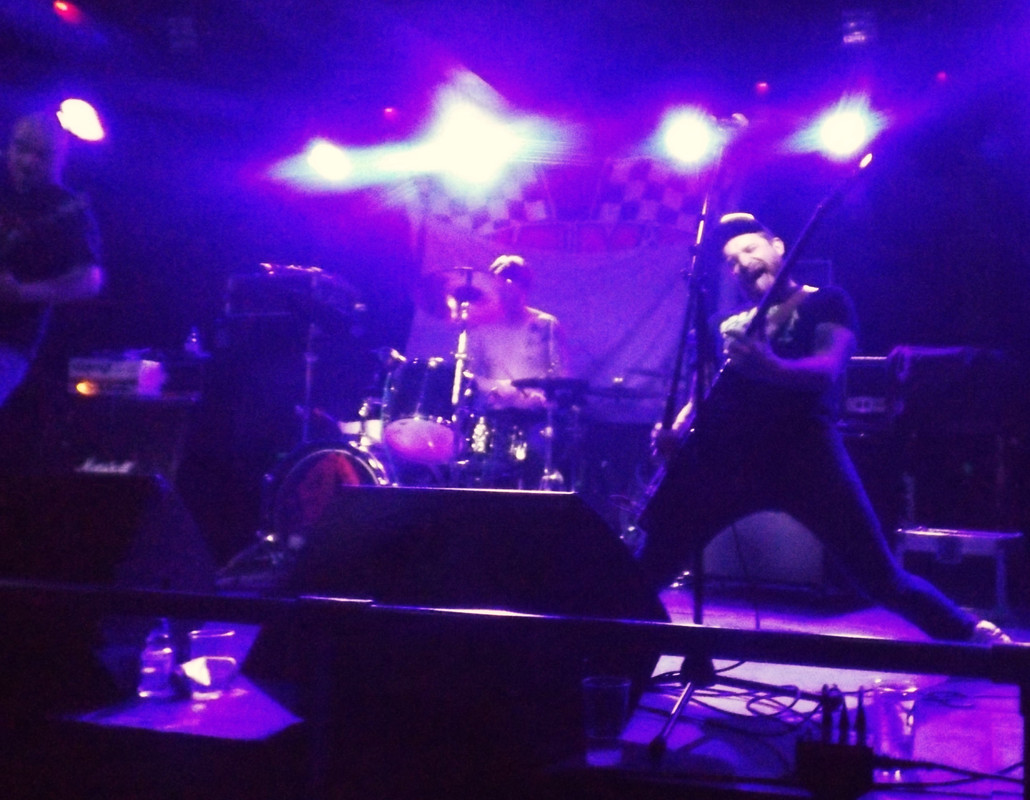 Funny to reflect that Revenge Of The Psychotronic Man have only existed in the time since Zeke's last visit, but their marvellous run is drawing to a happy, self-inflicted end now.  And obviously great for them to share the bill with one of their favourite bands, they are notably buzzing massively off that in their home town.  Had only just seen them the weekend before in Conwy but again here they are consistently good, whether hyper-fast or just straight up hardcore grooves.  Crazy tales inspiring their songs, and a great party atmosphere of celebration for these good guys, they co-incidentally leave us with a new compilation album celebrating their years which I pick up as my own souvenir.
So to the main bout… No great ceremony to the entrance of Zeke but much excitement all the same.  The core of the band is now guitar/vocal Marky, back with original bassist after about 20 years, and a couple of new quality younger dudes to boost the energy all the more.  Because once they start there really is no holding back, foot to the floor, heart racing punk whirlwind.  The speed is simply stunning, not just when their averaging 2 minute songs are strung seamlessly together in little triplets, introduced by wibbling nonsense.  The actual riffing is all hustle and haste with no remorse, they've taken the old Motorhead power riffing and laced it with all the nitro in the arm, you can't blink and miss anything because your eyelids are pinned black in the blast.
Songs fly by; they shift down a gear to a grooving heavier riff, almost a bit of Southern drawl, for brief intervals but it's always only temporary before they go supersonic again.  They actually give themselves their first break about half way through their set, to discuss whom among us had been in "County Jail" and kicking their bass player out for drugs which sounds a bit Lemmy/Hawkwind reminiscent (with their reputation) but he's back and all's fine again.  Then they swing their guitars high and launch through the second half, a great trawl through all areas of the catalogue including the most recent.  They end with guitars dumped for feedback before they get the encore battered through with no let-up either.  Bejesus, it's hard to get your head round what just went on but you've just been run over by the Zeke.  And it's just the best fun, hope it's not so long til the next one!