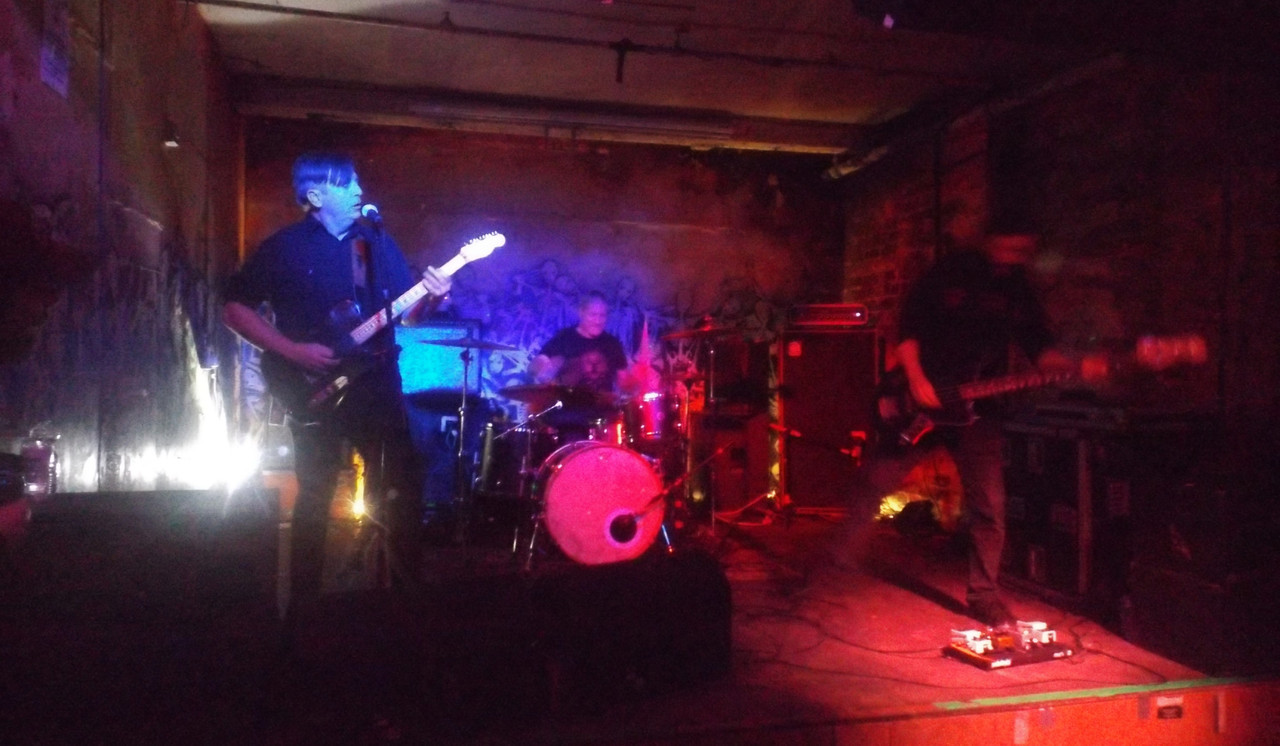 It was a couple of years back that a friend in the U.S. recommended the filth and fury of these Noise Rock-ing Whores., probably with the release of their only album so far, "Gold".  I was impressed with the levels and tones at the time but a lot (of drinking) has gone on in the meantime to the extent I couldn't remember much about them by the time this tour was announced.  Some vestige of memory must remain though as in the traditional busy autumn tours season I thought, hey, why not add another Monday night expedition!
So, off to Leeds and the marvellous TOB, which was pretty quiet upon our arrival, but still as hospitable as ever.  The floor was still sticky from the mess of UK Slam Fest over the weekend, we had a quiet drink and then the raucous commenced.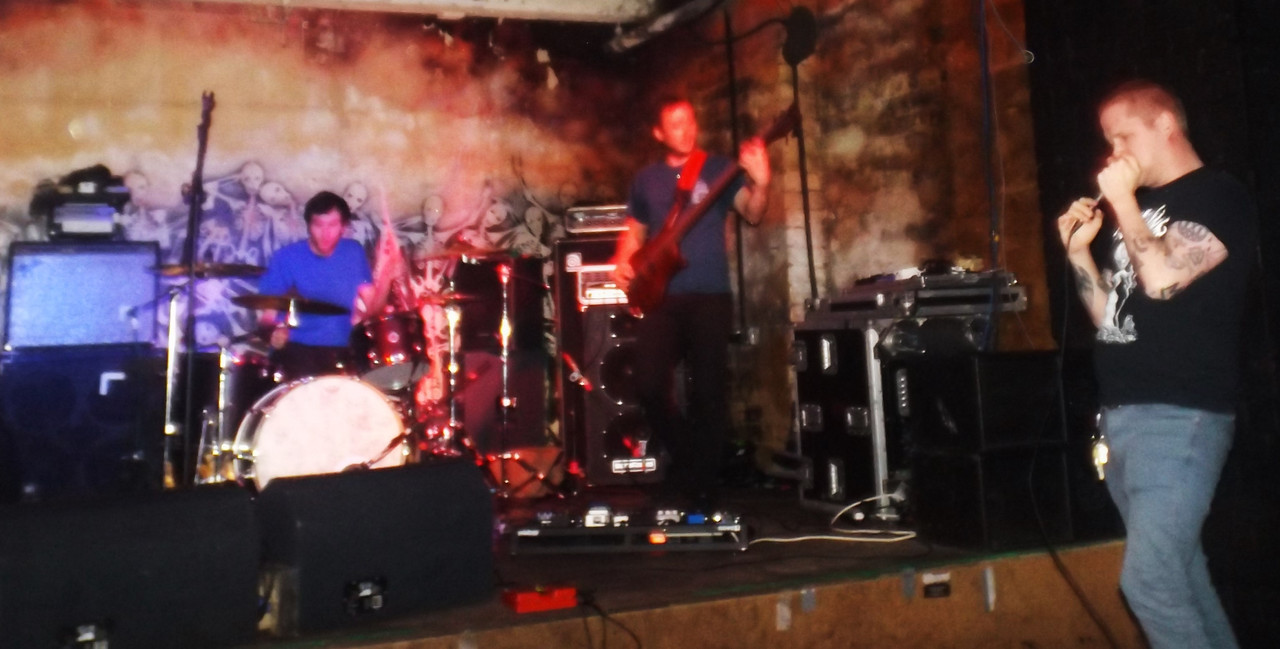 First up locals (we were given detailed location information on their members' homes) Irk.  I'd last seen them at one of the No Fun Intended all-dayers over here a few years back but having just picked up a new track from their forthcoming album this week it was a bonus to catch them in the flesh.  Their setup of bass, drums and vocals, is always going to be a winner in my book, insistent distorted rhythms not far removed from fellow noise-niks of these parts Cattle.  Vocalist Jack is a great frontman though, amusing and idiosyncratic, loopy with his loop pedal too.  Their "Recipes From The Bible" album is up for pre-order now.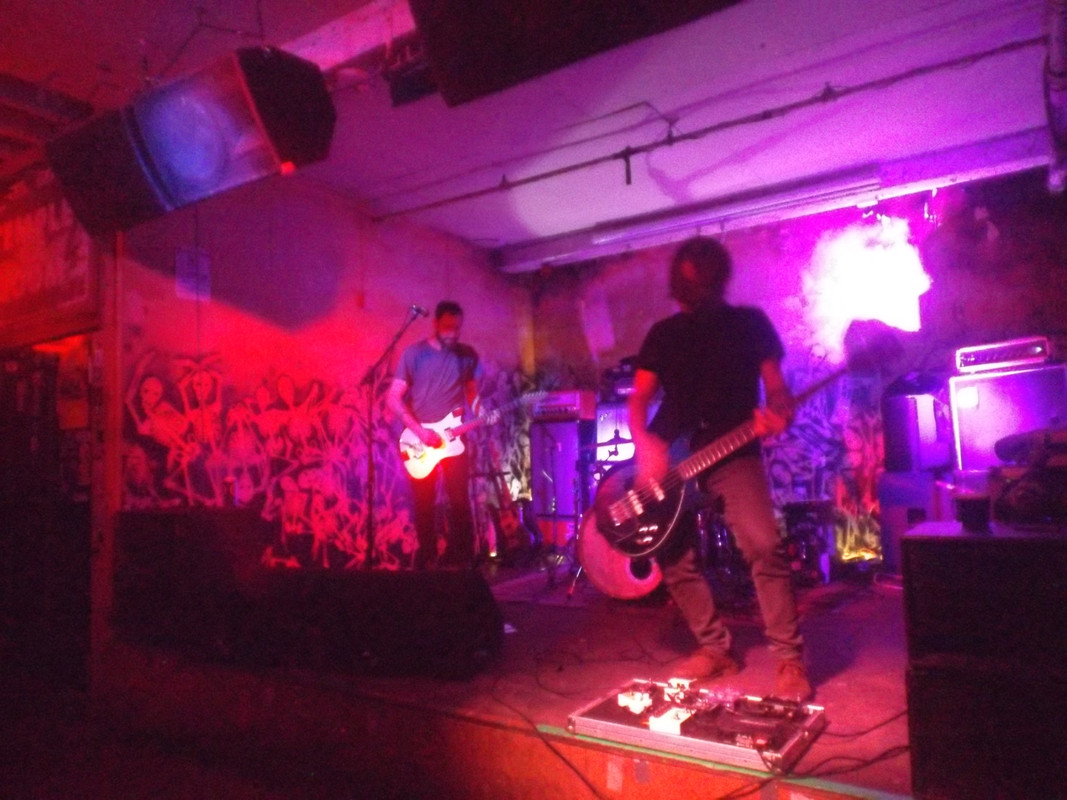 I met Heads while they were setting up as they tried to use my height to adjust the stage-lights, they seemed pleasant enough.  Over from Berlin for the tour, the rhythm section is from those parts, joined by an Aussie ex-pat is surprisingly quietly spoken for a sh*tc*nt.  Again, massive bass and beats sound but with much more light and shade, some gentler breaks and almost spoken word passages between the rolling thunder of the rest of the riffs and roaring venom of some of the vocals.  Brought to mind a bit of early 90's era Swans, a lot of good intensity and focus to the performance.  This year's album "Collider" was picked up on some tasty vinyl colour mix.
Whores. (top) had apparently had problems last time they were here, only completing 4 songs before equipment breakdowns brought it to a halt.  They were back as they felt they owed a good show and it made for a good atmosphere to the 30 or so who'd come this time.  Starting off with some huge riff freakout from the guitarist/singer, it was really creating a ground zero of brutally over-driven noise before they kicked into songs proper, and the memory of why I liked it so much tsunami-ed back.  They had a sludgey/groovy undercurrent like the likes of Red Fang or the Melvins, and some great repeated chorus hooks.  They were hit with more hiccups like a broken string and pedal issues but persevered and delivered a set that retained a great level of impact throughout.  They looked like they enjoyed themselves as much as us
A great antidote to Mondays all round