Various venues, Camden, London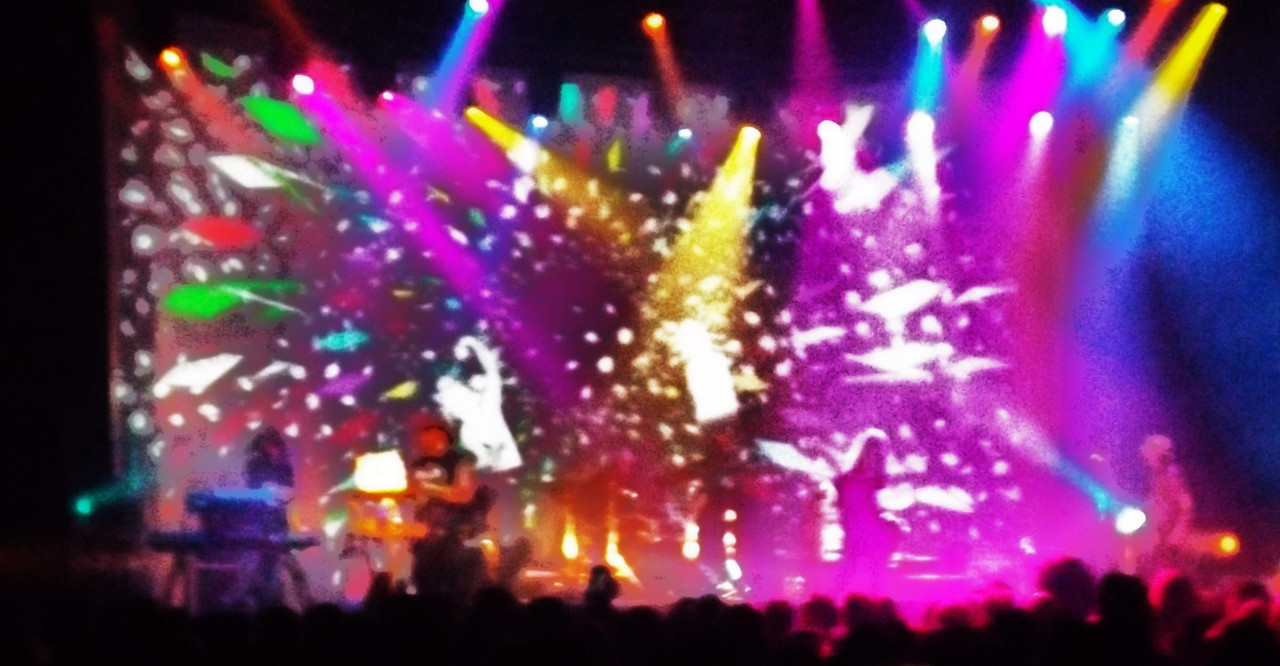 hawkwind
A passing of the baton of one month of birthday celebrations for my wonderful partner via a ticket present to this to take over my own extended party season! Work commitments meant couldn't get down for the start of this strangely sunny bank holiday weekend extravaganza of eclectic metal and rock from the doom/stoner/groovy experimental end of the sonic spectrum, but instead of a rush down in crazy traffic we got a leisurely train from Crewe enabling a rapid catch up of refreshments. 
Swiftly from Euston to Camden to find our B & B, back to one of the handful of venues concurrently hosting the event to get our wristbands, and then we dive straight into Koko to catch Zeke.  Seems like only yesterday I saw them.  Actually it was the day before.  And while the in yer face intimacy of the Manchester show may have been lessened in amazingly stylish theatre of devilish dreams here, it didn't take away from yet another stormer from the US punks.  Charging through their hyper-fast raucous rocking with willful abandon they definitely stir up a mid-afternoon reaction, and mild crowd surfer panic for the bouncers.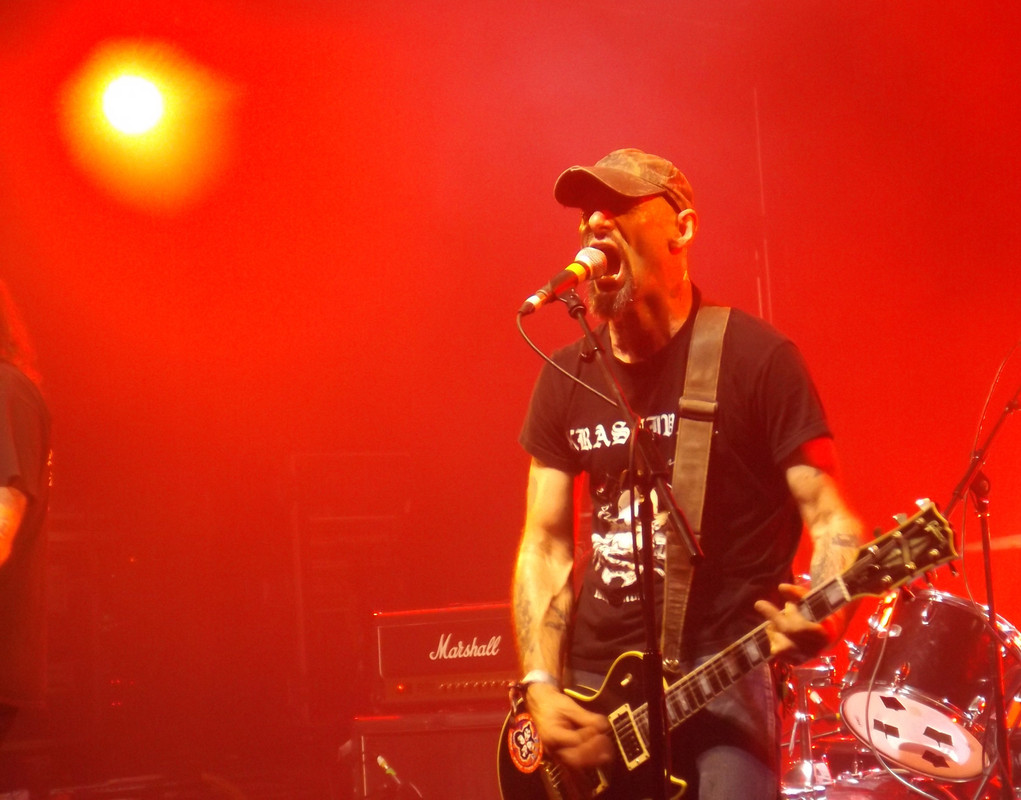 zeke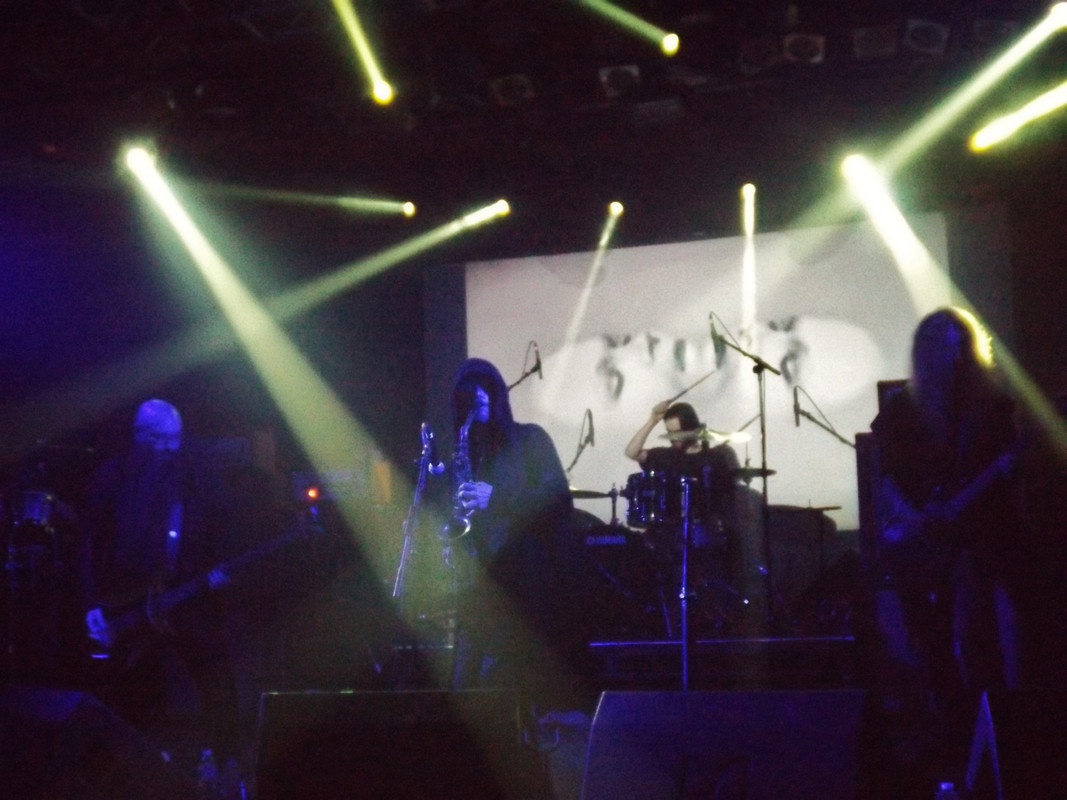 five the hierophant
the obsessed
napalm death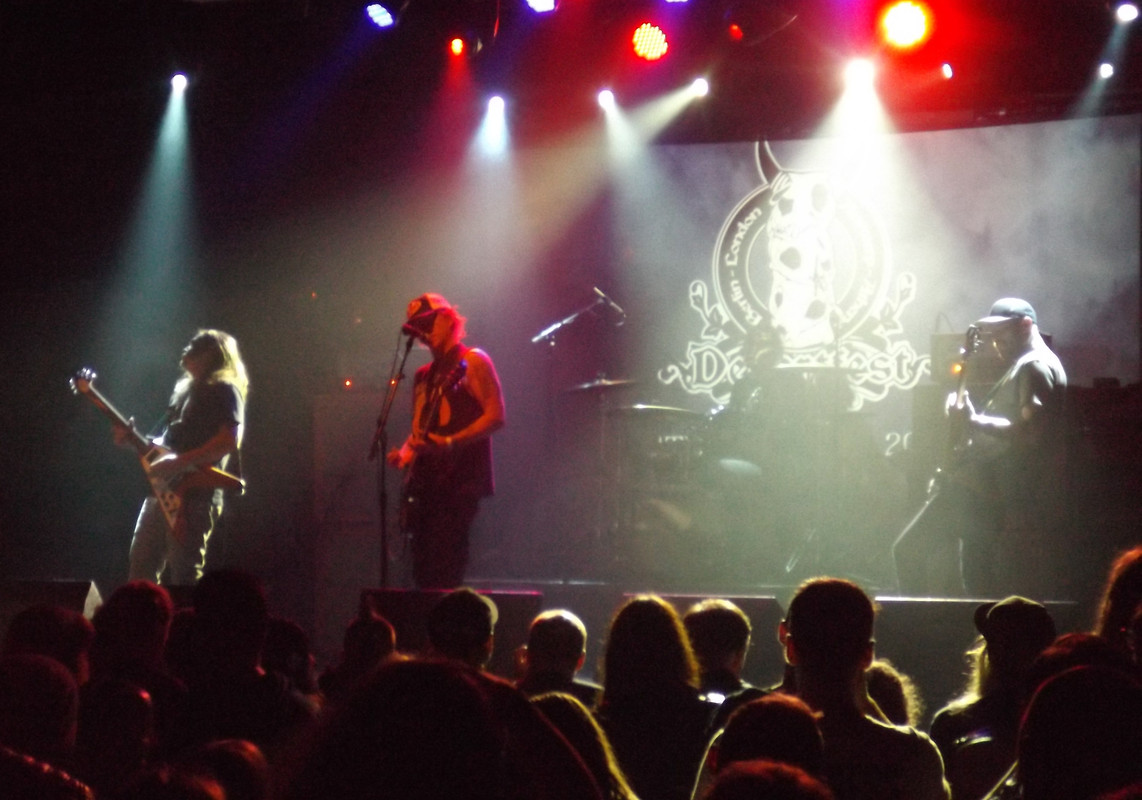 ASG
I suppose difficult to pigeonhole the festival entirely as while it might have a doomy core there it does embrace and extend in various directions, maybe not quite as far as its older brother from another mother Roadburn but still with an open (third) eye to all possibilities.  A substantial shift next as we find out way to the Electric Ballroom and its huge underground space for Five the Hierophant.  Only recently discovered at Dreadfest and eager for more of their heavy and hypnotic psych grooves, elaborated with no vocals just sax solos.  An even darker aspect today, with a bit more theatre to their performance but again great vibes.  Back to Koko for my close personal friend (think he may have been trying to buy drugs of me at Damnation) the doom scene legend Wino, with The Obsessed.  First time I have seen this seminal project of his, and it's not far removed from his other work in St Vitus, the same winning retro feeling, clear cut drawn out sombre riffing.  Timeless.  Eager to catch new stuff we squeeze down into the literally black hole (watch out for the steps) that is Underworld for Jex Thoth.  Named after the eponymous frontwoman, she does have a captivating voice, again harking back to old blues/soul and swirled along by more old-school twisted doom riffing.   We had been prompted by Bast to catch one of the last opportunities to see Warning back at Electric Ballroom, but to be fair I had seen bits of these and their descendants 40 Watt Sun at Roadburn and their gentle, down tempo moroseness is ok but doesn't hit the spot for me.  maybe I'm just too Mr Happy.  We make another effort to find our way up to one of the smallest venues, upstairs at the Black Heart for White Hills.  I had loved these American Psych rockers when I caught them in Liverpool a few years back but they've juggled their setup apparently and the previous lady bass is now on drums?  Being of the four-stringered persuasion myself this leaves me a bit wrong-footed and not really getting into the guitar led freakouts so instead It's off to the ever reliable Napalm Death at a packed out Ballroom.  As Barney acknowledges, they'll play anywhere 😉  Well, in the sense that they like to bring their impact to fresh places where they might seem an odd fit, especially when they have a social and political ethos to spread too.  They do ease the uninitiated in with the epic sludge of "Evolved as One" but then its full grindcore speed ahead, a lot of their classics (particularly nice old school combo of "Scum/Life?/Control/You suffer") but what is also a bonus is they are always throwing rarely played ones in too, keeping it fresh.  Unlike me after they've finished, having a chill out among the debris.  We hang around for an "aftershow" though, which basically consists of a gap then another band, ASG.  I didn't know these but they were quite a revelation, almost Tool-esque epic constructed riff fests, with a really strong vocal too.  Will check them some more, but enough for tonight.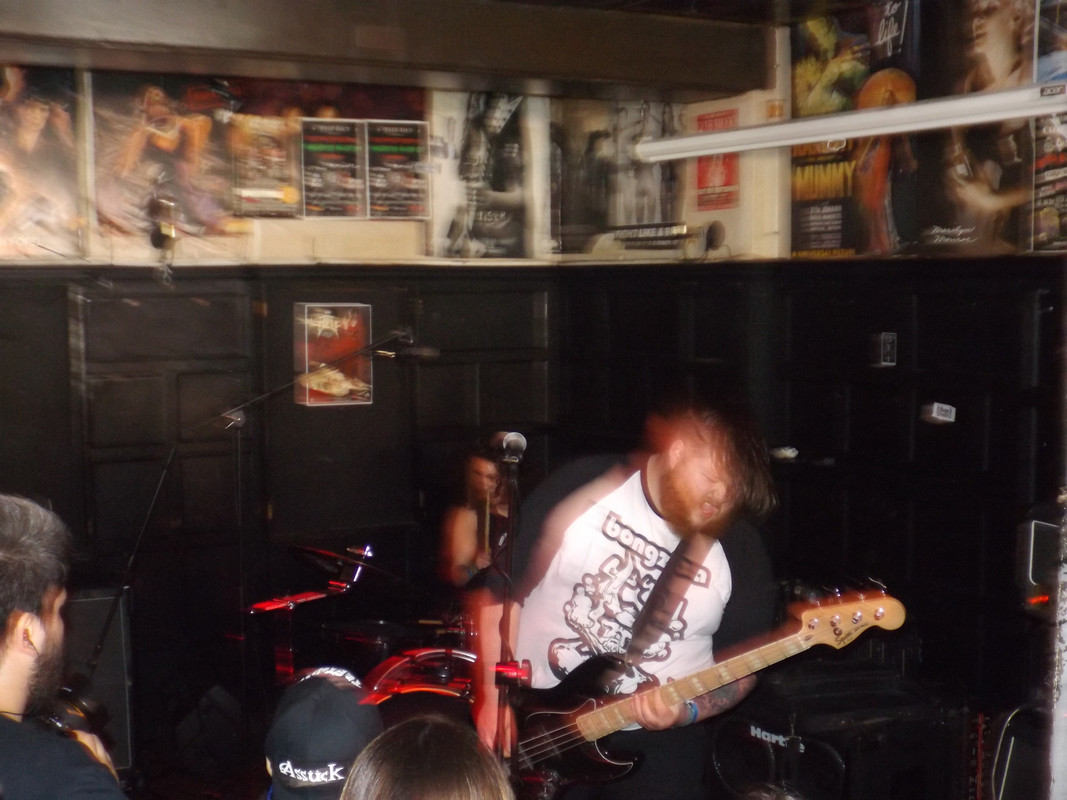 monolithian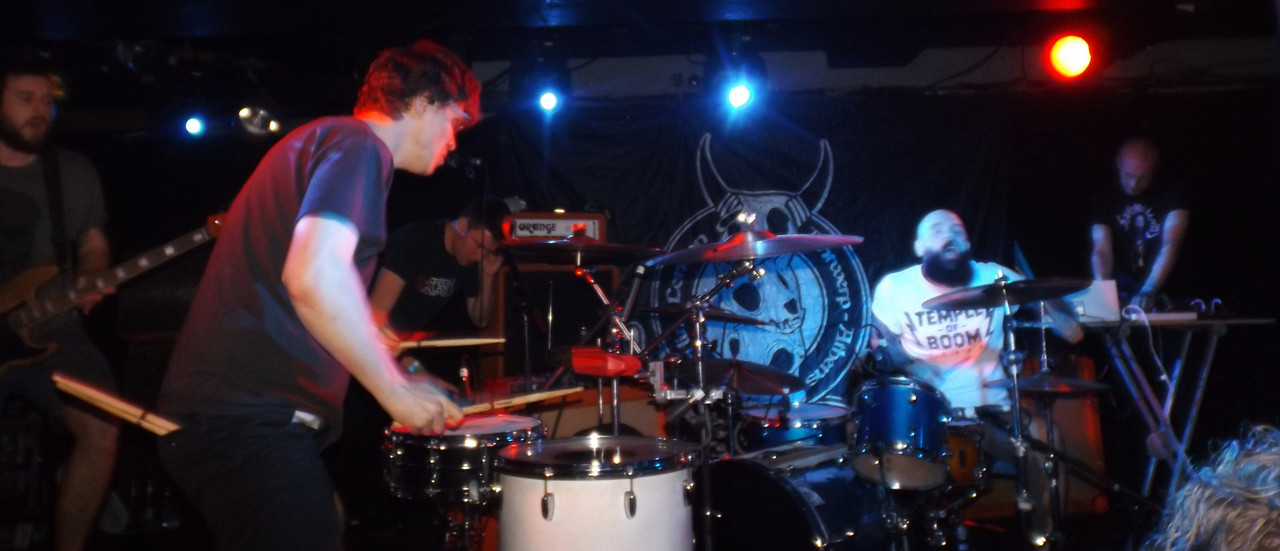 cattle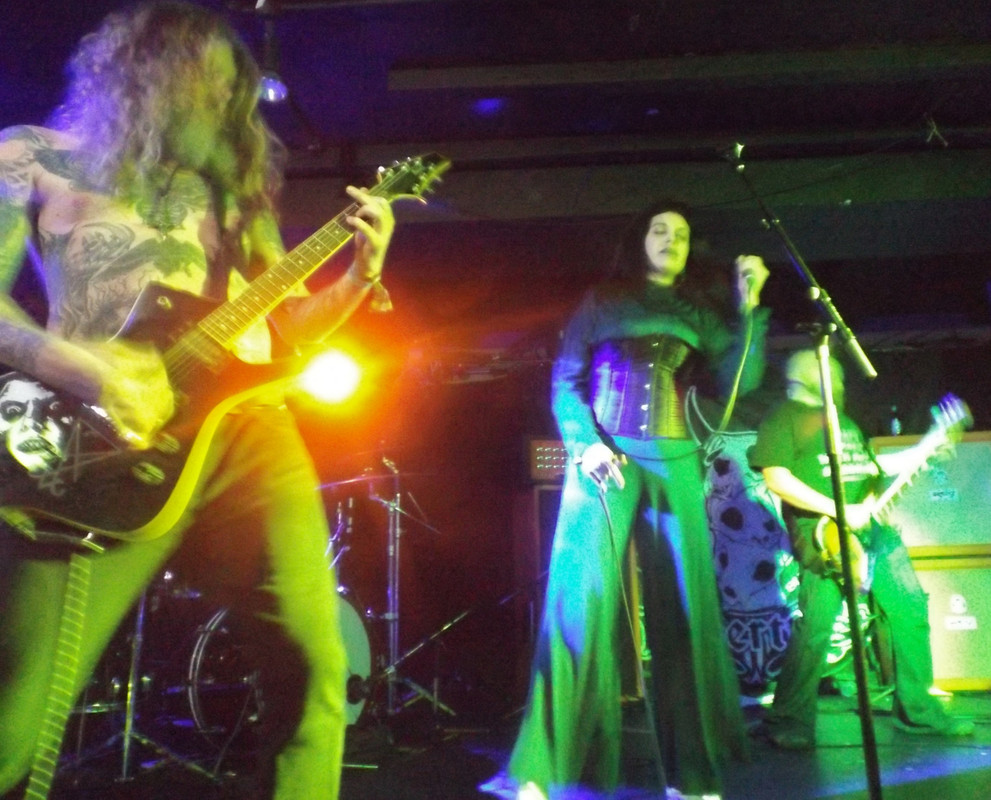 dead witches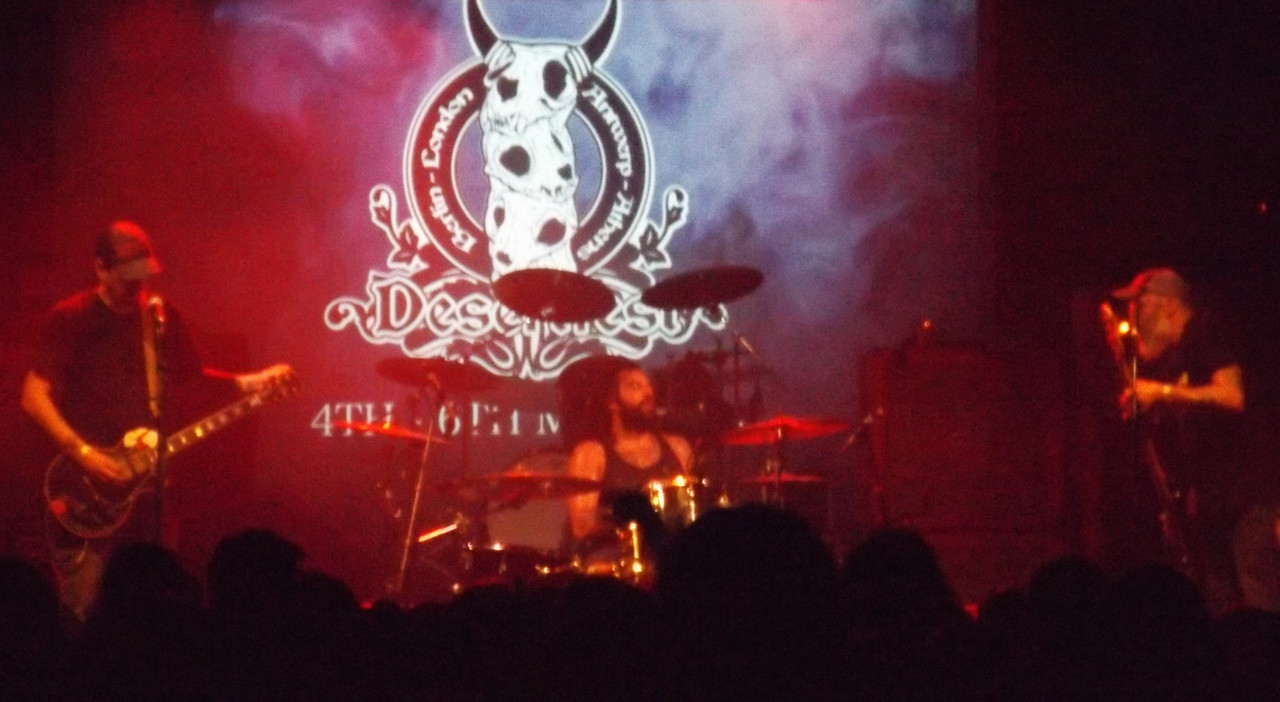 weedeater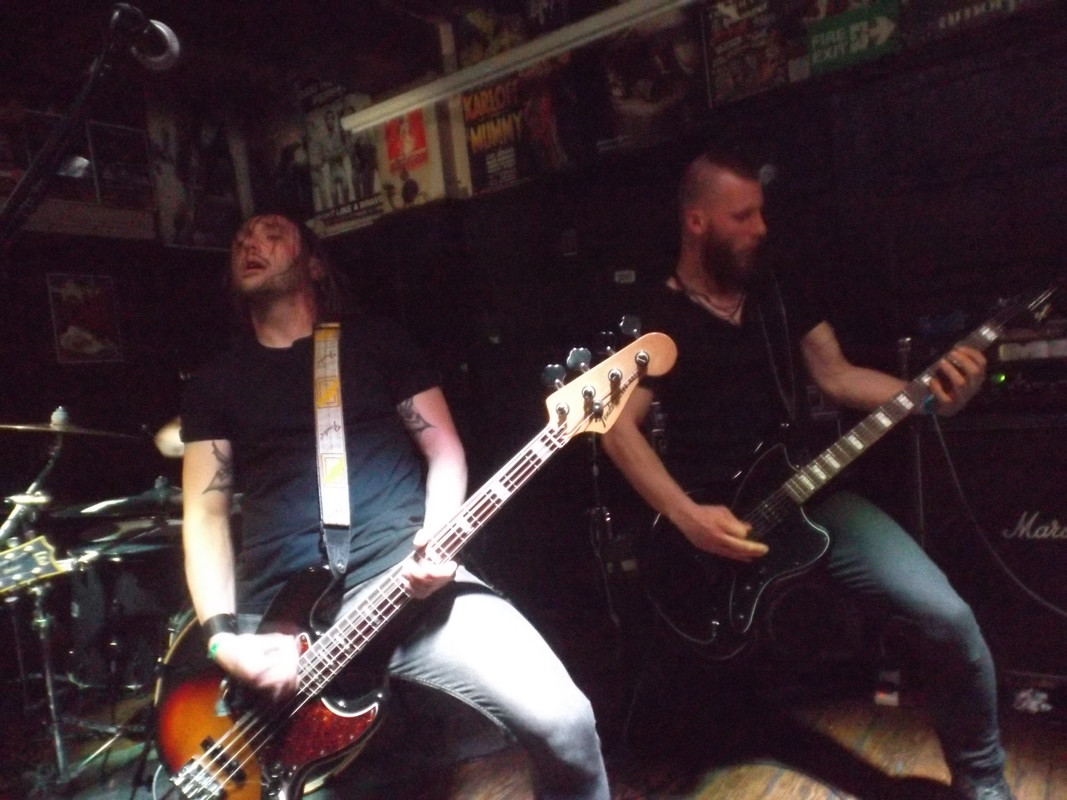 telepathy
Another gorgeous day in the sultry south so we chill like urban types before heading to the Devonshire Arms for the start of the afternoon's entertainment.  Was last in here for a Doom/Burning Flag birthday party and it's as packed now in the daytime for Monolithian.  I've seen them before, and maybe a lot here have with them playing the fest last year too, but the more the merrier.  The distorted bass and pounding drums two piece combo is superb, mixing gentle atmospherics with blasted out punk, the vocal anguish cutting through perfectly.  Start of one of "The finest day (s)…" for sure.  With time to spare we catch the opening couple of tracks of Lotus Eater, some young post hardcore guys from Europe, before feeling our way back to the front for Cattle in the Underworld.  Seem to be seeing these guys more and more now and that's all good too, the dual drumming, bass and sampler/vocals making a heady concoction that always seems varied and on the edge. They even have an extra contributor of noise for this set up and  up close you are completely wrapped up in the tangled convolutions of their experimental grooves, great stuff.  We stay here to see Dead Witches for the first time, and this is another ominous joy.   Featuring Oliver from Grave Lines/Sea Bastard he brings his same filthy guitar tone to their doomy dirges, complemented by some Geezer-esque bass and all orchestrated around the haunting female vocals.  A really transfixing ritual of a performance.  There's clashes a happening so I pop in to catch a bit of the already underway Weedeater at the busy Ballroom, but time it right as I get the gem of "Monkey Junction", see Dave spinning his bourbon bottle, see the drummer freaking out, all the classics.  A quality band.  It ain't over yet but I leave to get a spot to see Telepathy at The Dev, anticipating it being a bit crammed later.  Being up front made for another completely involving  and immersive experience as they swept through the tides and crashing waves of their multi layered post metal.  It is just so cleverly structured, constantly shifting, and hitting hard when it does.  Fantastic.  We stay for the usually haunting beauty and melancholy power of Darkher but as what was once a band is now solo it unfortunately turns into a bit of a background struggle against the effervescent pub atmosphere at the end of the night. A shame but all in all another great day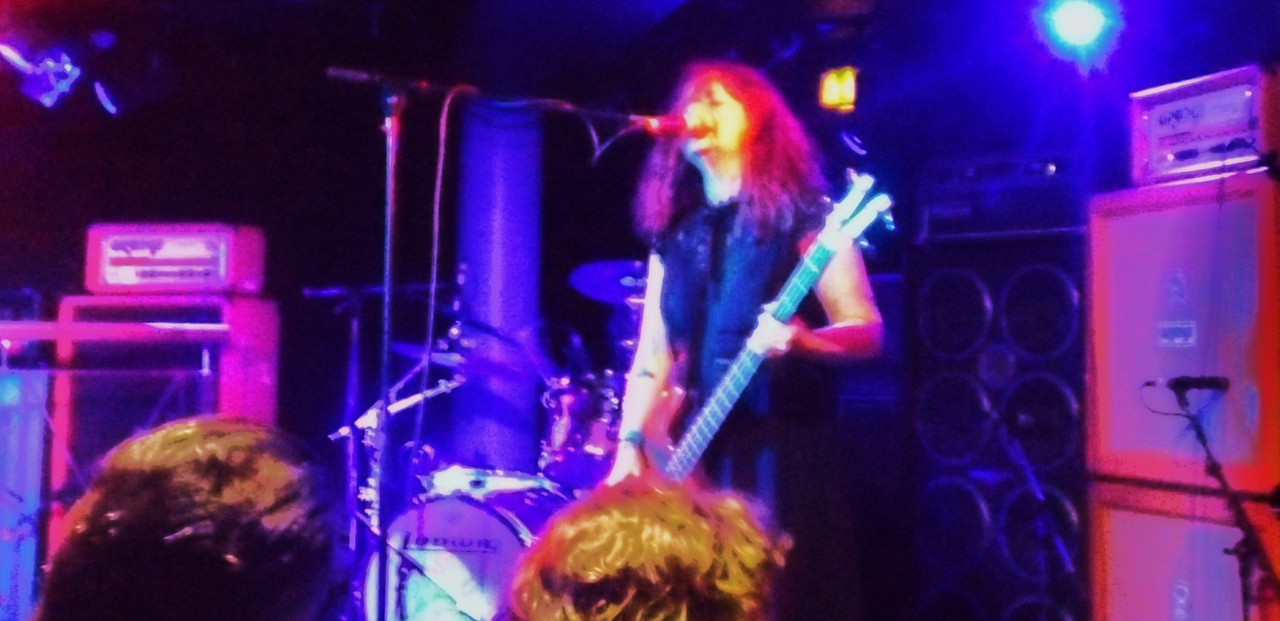 bismuth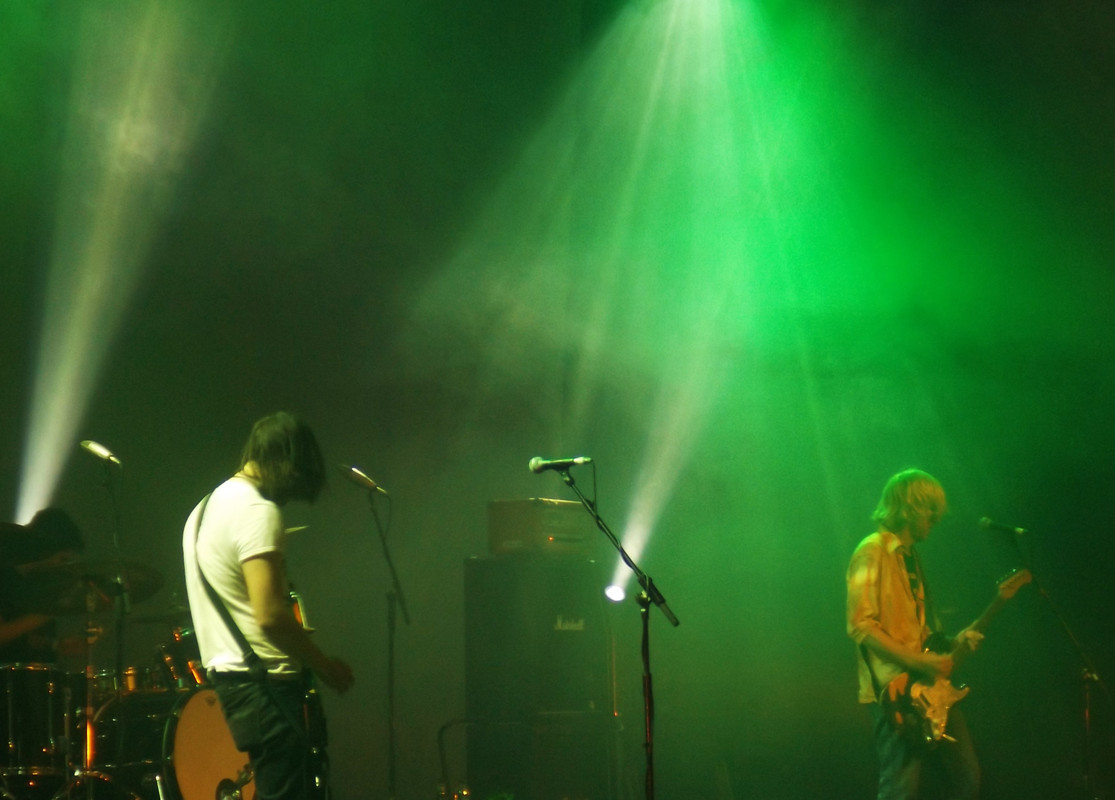 nebula
The Sunday starts in the same relaxed fashion, and we go to Underworld to get an early facemelt from the bass and drums onslaught of Bismuth.  Maybe not quite as harrowing as the Dreadfest show I saw but still a reverberating experience.  Our focus for the rest of the day though is off up the other end of Camden to The Roundhouse for the solid headlining line-up here.  My first time at the legendary venue, and I'm impressed by it's scale and (refurbished) substance.   The huge backdrop displays the car totem poles signifying Sweden's Monolord, my first time catching them since them blew my mind at Roadburn a few years back.  They maintain the same majestic doom tones, the same retro vocals, and the same up to date punchiness of clever songwriting that pummels their grooves into you.  Next is Elder over from the US, again I think for a repeat visit.  Their take on the rock is a more prog angle, with epic shifts though the songs, good musicianship, and maybe a more upbeat vibe.  In fact I'm almost feeling some Fleetwood Mac among their heavier passages.  They cover so many bases it is pretty hard to categorise, easier to just go with the flow, helped by the superbly trippy back projections.  I have a little interlude outside to acquire some more festival tickets and a bottle of voda before returning for Nebula.  Definitive stoner/slacker rock here from Eddie Glass and cohorts, it's stripped down garage band jams from the three, wastoid anthems and laid back up tempo blues.  So laid back that when he breaks a string on his battered guitar he has no replacement (string or guitar) so just carries on the end of the set regardless.  It's all fine.  A break for food and fresh air on the big patio before into the throng for Hawkwind.  Feel something special about seeing them in one of their spiritual homes, we hang back to savour the rant of the Sonic Attack before their relentless krautrock conveyor of riffs gets underway, drifting among the spacy electronic overwashes.  A special moment for me when they play The Watcher, always Lemmy's song, recorded here on the What's Words Worth? Album when Iron Fist and the Hordes from Hell were all set to call it a day 40 years ago, being so reviled.  Then history changed.  I get a massive rush and shiver, god is in the house. Their set does fly by at the speed of a silver machine but maybe that is just the mind altering effects, always hit the spot.
To finish we have another legend right in the heart of the scene, Monster Magnet.  Very much focused on their front man Dave (the Steven Tyler of Stoner?), they are quite a polished/cliched rock act but with the riffs to back it up and great singalongs.   Whether these are trundling slow licks or piledriving steamrollers they blend together into and effective whole, with new material from "Mindfucker" fitting right in.   A satisfying end, the majority of the aftershows are crazy busy as a wind down but we find another pub to chill until unceremoniously being kicked out – it is still kinda Sunday!  Really enjoyed the feel of this festival, the community and the collectiveness, the set up seemed pretty slick too.  Future attendance may depend on lineup but I recommend it to all who like their heavy.  They know the score here in the desert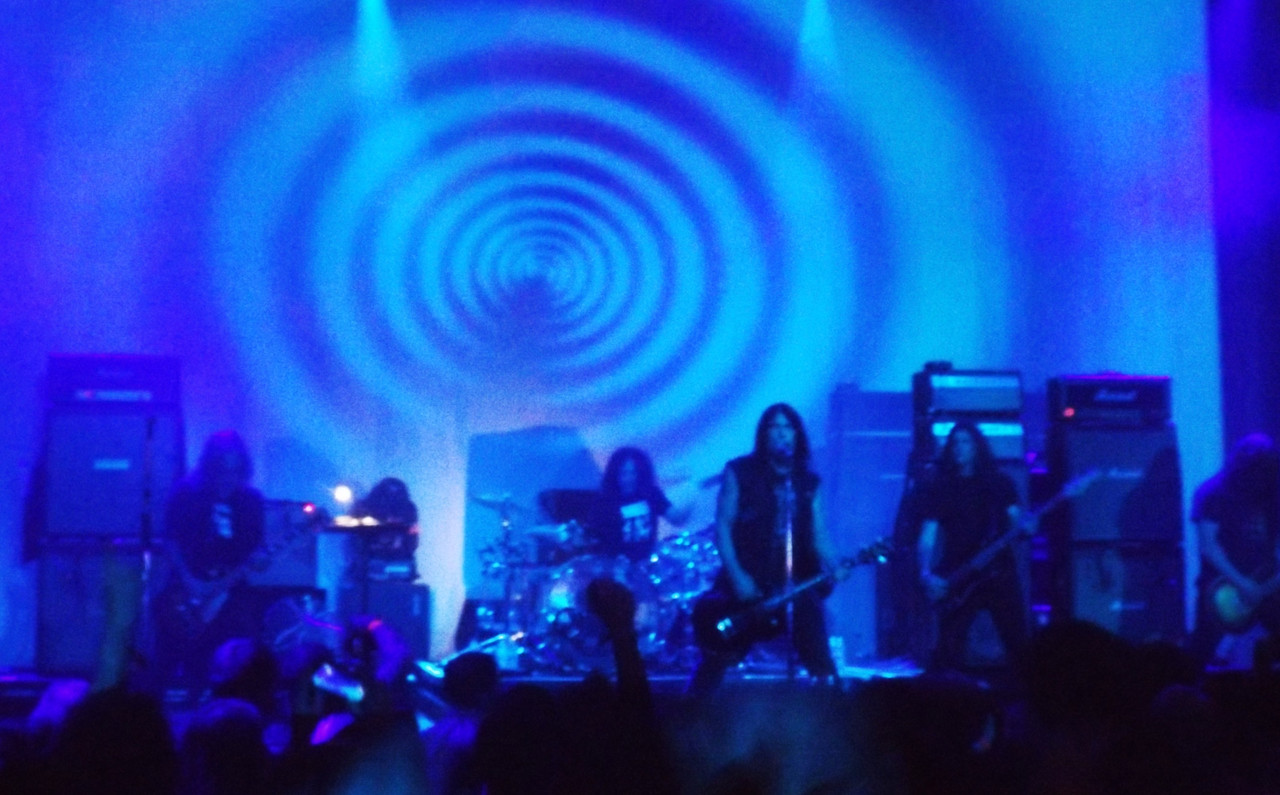 monster magnet