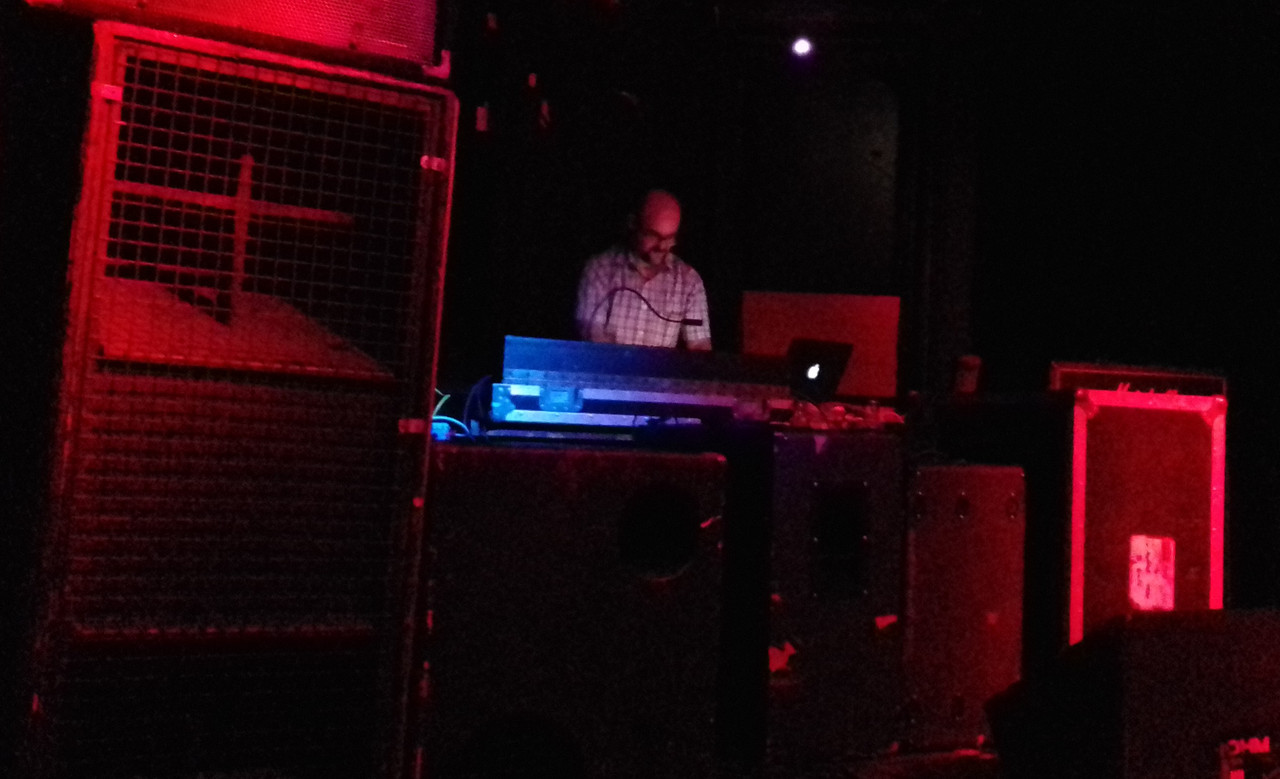 Xmas so hitch up for a slay ride around the North West for the weekend to have a final traditional dose of live music experiences.  I was thinking back that there was often something about this time that required a special mission and a diverse double header gave some frisson of anticipation to these jaded ears sinking into hibernation after another excellent years entertainment. 
First up a pretty last minute decision to nip up to Manchester to catch the ex-Napalm Death drummer Mick Harris in his new electronic guise Fret, the bass is calling me in like a tractor beam.  If it sounds like a tractor even better
The event was put on by Endtyme Records to celebrate their 5th anniversary, they also put on the Woodland Gathering Festival in Cumbria where I'd had a simply marvellous late summer sojourn by the lakes, idly rowing in the sunshine while Godflesh devastated my soul and someone made music with a pair of sewing machines.  I was prepared for and up for an evening of sonic experience at the reasonably busy Star And Garter, that had drawn in metal heads, techno crusties, hipsters, outsiders and the older and no wiser.
Opening act Soft Issues from Leeds had also been at the festival, but here the two-piece are given a new level of impact with a specially shipped in over-size PA.  Yum.  There seems a bit less chaotic noise to their set this time but it still is ablaze with the harsh brutality of vicious electronic noise and rolling beats, really vibrating your cavities.  The ranted vocals (the vocalist also vents in Cattle) do give it an essence of the rabid haranguing of Whitehouse/Consumer Electronics but this is only a good thing in my book. Powerful and abrasive.
By contrast Frog Pocket is one demure Scot with a violin, looping mellow folk-ish vibes.  This is before he knees one of the pedals on the table in front of him and a load of fast break beat drums kicks into the mix.  From then on the experimentalism goes in many directions, bringing in guitar for sections, lots more electronic manipulation, and fiddling.  At times this flows well and interestingly and you can't but admire his multifaceted musician skills but a few tech hiccups among the mass of intermixed wires and devices make for awkward break moments, leaving me unsure if the variety of tangents make a cohesive whole.
Mick (Fret) wanders into the venue, sits at one side, checks his phone, then goes up on stage business-like with no grand ceremony.  If there'd been chance I would have mentioned the last time I'd seen him was in the early hours of a Tilburg morning in 2011  ( here) as he kept our heads nodding with a set from his now-retired Scorn project, but no need to interrupt his focus now.  Instead, move up to blast radius of speaker stacks.  Running from a laptop and mixing desk, there's a rapid build-up of layers and the machine is unleashed.  Thunderous tribal-ist war beats hit like turbulence, over-topped with searing darkly grinding tones, relentless hyper hi-hats, and shifting sands of sonic swoops and swashes.  The whole thing conjures a dystopian sci-fi vision of future voyages at great speed through juddering jet streams, the tempo is well up from some of his previous dubbier works.  Mick himself puts as much frantic and gleeful energy into knob and fader twisting as he did into his drumming, although studious with it.  As he's not been without his personal down-times recently it's good to see him enjoying himself manipulating the controlled mayhem, occasionally taking a break to take a swig from his can before returning to the fray.  We get plenty of value with over an hour set, although we're not sure if there is an actual encore or just another equipment malfunction but it's quality beats as ever from the man.  No Fret in here. Could always be louder though 🙂