24-26/8/2018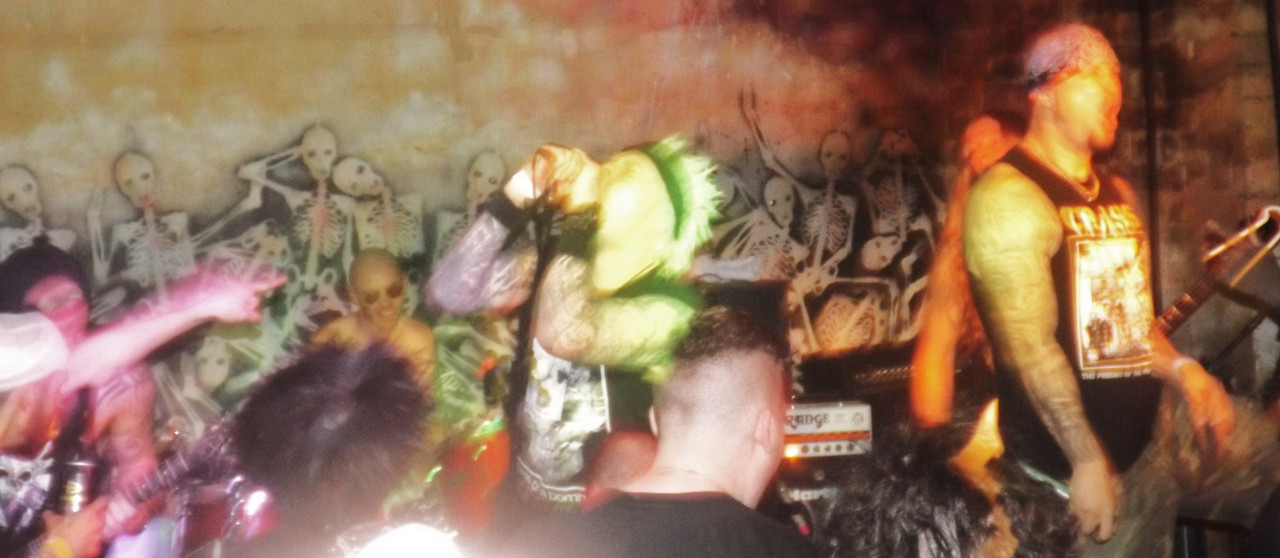 Well, why not try to squeeze another batch of bands in before the end of the summer?  This new festival had dropped like a bomb when announced earlier in the year, to the extent that I took time out of Desertfest London in May to sit on a kerb outside a pub with a pint and await the allotted ticket sale time, grabbing a couple before it sold out in minutes, then returning to the fray.  With a big smile at the prospect of a phenomenal line-up of legendary grind, hardcore, and extreme metal, the underground organisers in Leeds really have the contacts and the cahones to put together something special.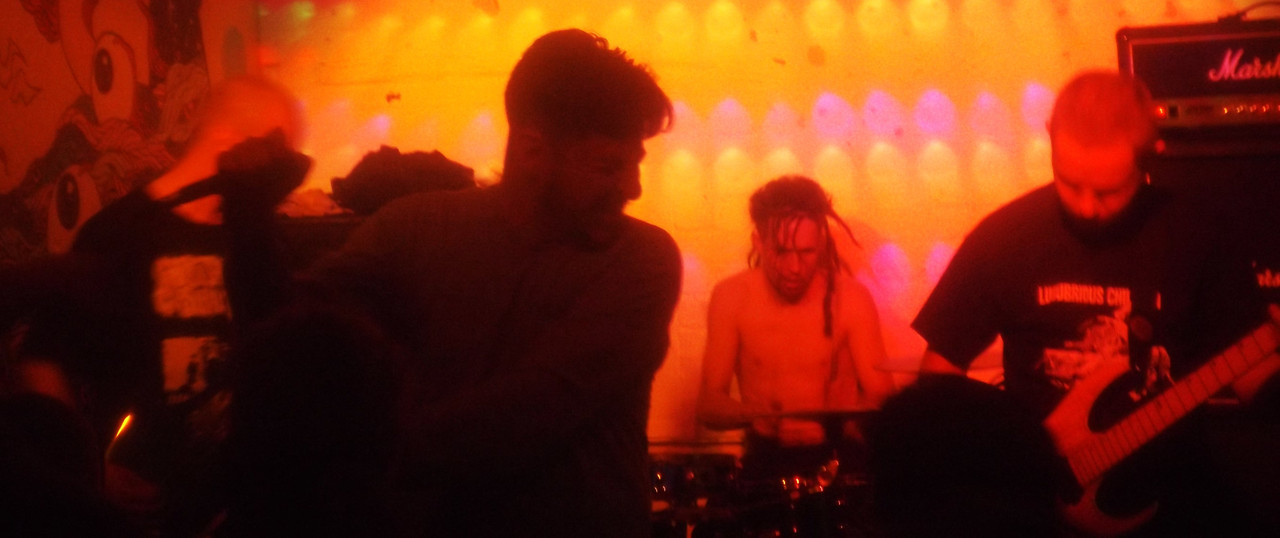 horsebastard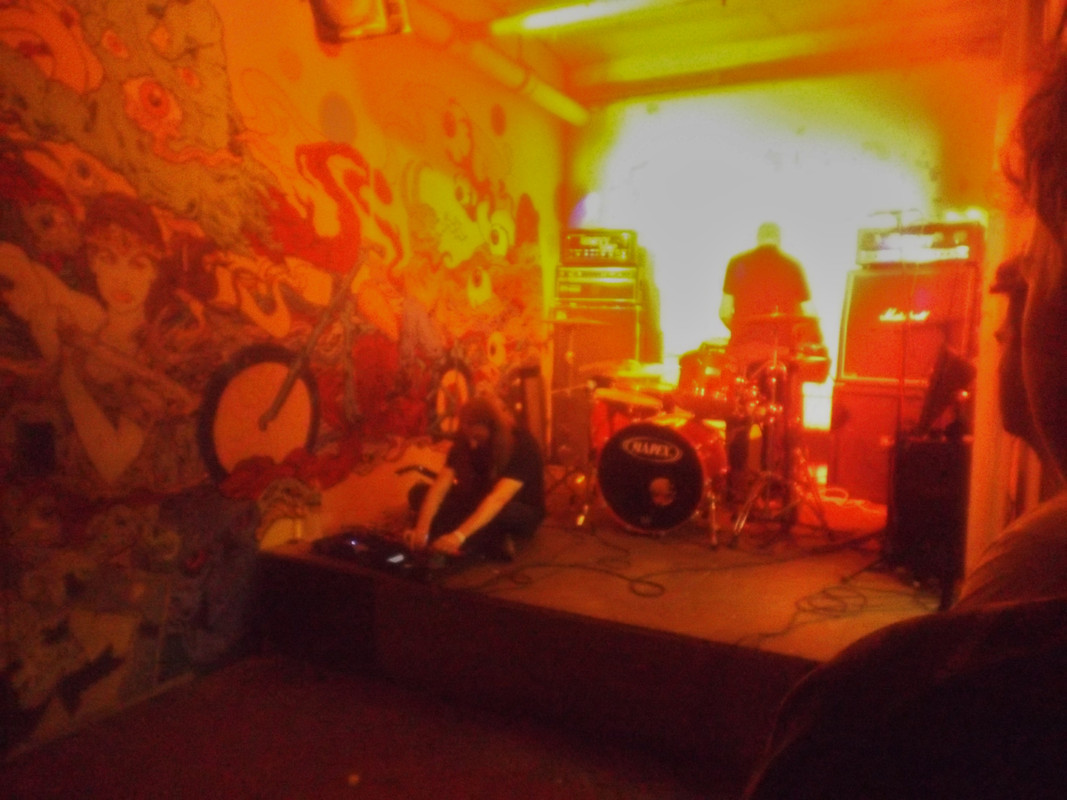 ommadon
So, when it was approaching it was with tinges of sadness that things were going a bit wrong, losing some of the prime international attractions like Infest, Drop Dead, and Leng T'che through bone breakages and the like, and some attendees apparently dropping started to wonder if the rug was being pulled from underneath it, and it might be anticlimactic.  No such worries, what an absolute treat.  Arrived in Leeds (Westside) early where we were being put up by some friends before taxiing over to the venue in plenty of time for the start.  Well, that didn't go exactly to plan as security pounced on my contraband supplies and kindly gave me the option of downing it in one, the challenge was on.  Great to meet up with so many of the regular friends here before squeezing into the smaller Meat Locker venue for Chin Sniffer to provide our opener.  The Scousers were down to a three piece but it didn't dent their inventive mix of experimental grind, overwashed with electronic waves, rolling and roiling noise.  Fast core at its finest next with locals Ona Snop, blistering speed with conventional punk at its heart, no messing.  Also the start of the ever interchangeable lineups from the locals represented here, mainly involving George!  As if it couldn't get ramped up all the more the sheer explosive random grind of Horsebastard, over from the other side on the Pennines again, faces are meant to be melted and they are on fire.  A shift down in gear, but no let up in power, as on the main stage I catch Voorhees for the first time.  Slow for me seeing as they started in about 1990 but the elder gentlemen have not lost impact, ferocious UK hardcore with a great bass groove running through it too, and you can tell it still burns in their hearts.  A special treat to make up for absences next with a local collective making up Infast, a short, sharp tribute to Infest which goes down well, if only they knew more songs!  Finally, a well worthy replacement headliner for this first day in the Californians grinders ACxDC, not that one…, Antichrist Demoncore.  Had seen these before at Obscene Extreme and was impressed again by their intensity, filthy riffing and berserk vocals, a good messy end.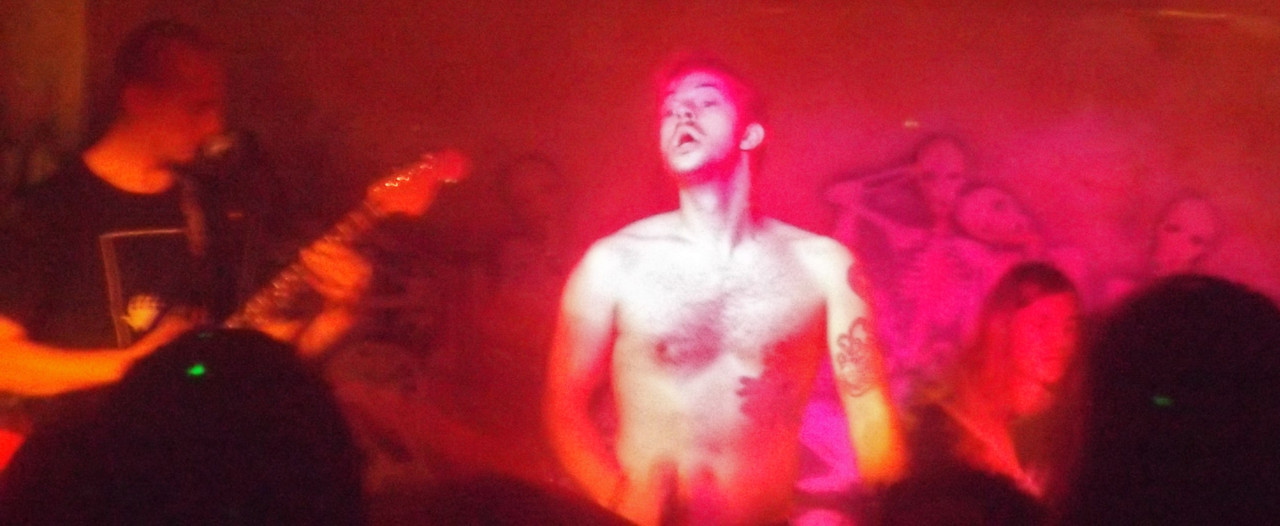 lugubrious children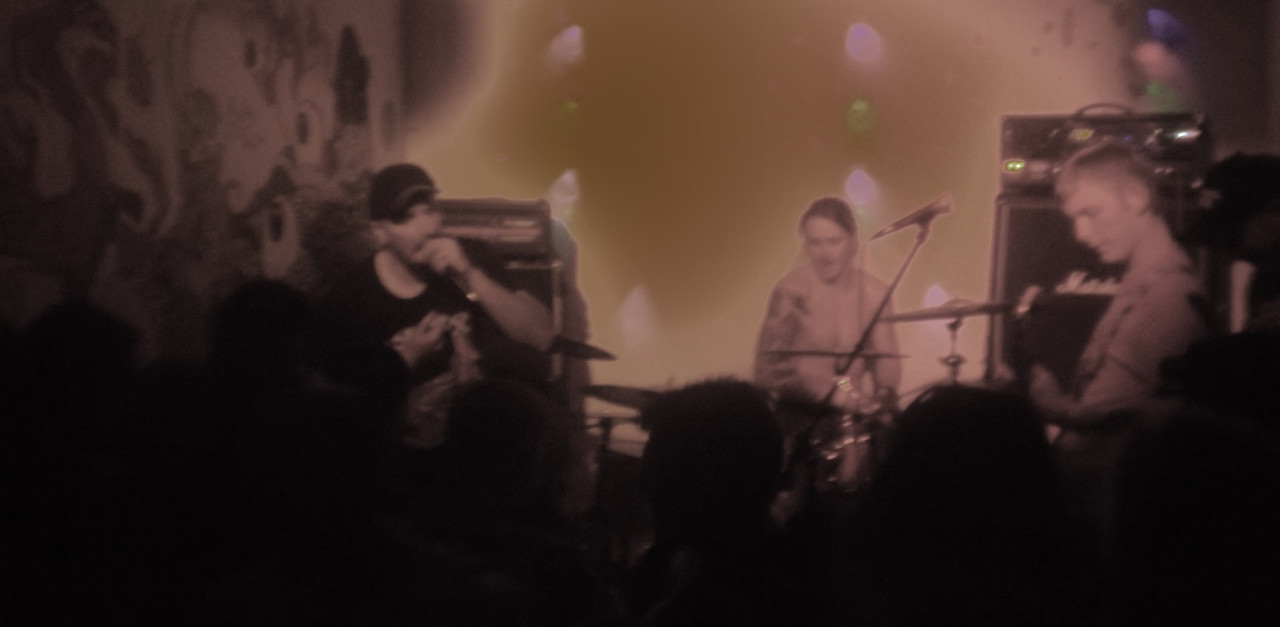 famine
What a surprise, we're in recovery mode already, but a big breakfast and more beer helps that and we have the longest day to look forward to.  Don't quite make the start so Man Hands provide the wakener in the Meat Locker, an interesting contrast in sound as it's more angular oddball punk, with a good driving bass.  Back to brutality with the Scots Gendo Ikari, whose punishing grind includes some break down sections so heavy as to be almost industrial, impressive.   Not quite preparing us enough for the devastation of Ommadon next, never has "We're doomed" been more appropriate for these Scots.  The two piece start mellow enough with keyboard and pedal effect drones but it builds to a body and brain reverberating apocalypse of crushing riffs, and occasional battered drums, stunning.  Swing through polar opposites next with more ultra fast-core/power violence from locals Lugubrious Children, hard to grasp the speed of the riffing but can't help but be drawn in to the mayhem, especially with an engaging vocalist directing the fury.  A bit rammed in Meatlocker to get to see Groak so have a breather before Leeched hit the main stage.  Had been blown away when I saw this Manchester band on home turf, and they really seem to have hit the ground running, brand new album out on a label.  Still gloriously harsh distorted HM2ish tones, but seem to have evolved more of their sludgy nature and harsh noisecore than the fast blasts of dark hardcore that is also in the mix.  I've seen most of the next bands before so elect to stretch my legs and have a birthday reunion at the Fenton for some North Wales ex-pats.  What a welcome return with Belfast's Unyielding Love on the main stage, rightly been getting some attention lately as they are a jaw dropping onslaught of chaotic grind, dual hi-lo vocals, but also with a thoughtful serious twist to their structures.  Snap up their 12" for sure.  Famine don't hold back, and don't need to, among friends/mentalists, and the Meat Locker is a sea of pandemonium as the 3 piece blast us with prime quality razor sharp grind.  Even Warren the singer takes off over the crowd for a break, its party central. Like the bad(man) pennies they are, time for more local legends even though they are spread a bit more round Europe now, The Afternoon Gentlemen remind us just how good their drunken and disorderly grind is.  Not that the music isn't spot on in delivery, just that it's a celebration of the messy fun to be celebrated and they go down a storm.  We have a special guest spot (in lieu of a dropout) that has been kept as a surprise, turns out to be ACxDC again, but with most having seen them before it allows for a less crammed view. And possibly an even better set.  To finish, also from the States, we have Full of Hell.  Saw them for the first time at OEF but in the cramped underground of the Boom there seems to be an extra intensity to the performance.  Warm feels when Dylan dedicates their set to Bob Otis from Drop Dead too.  A mindblowing performance, absolutely charged, teetering on the edge of insanity with the added electronic noise swirling in our heads, but instead riding the knife edge and providing a supremely punchy stop-start grind attack.  Phew.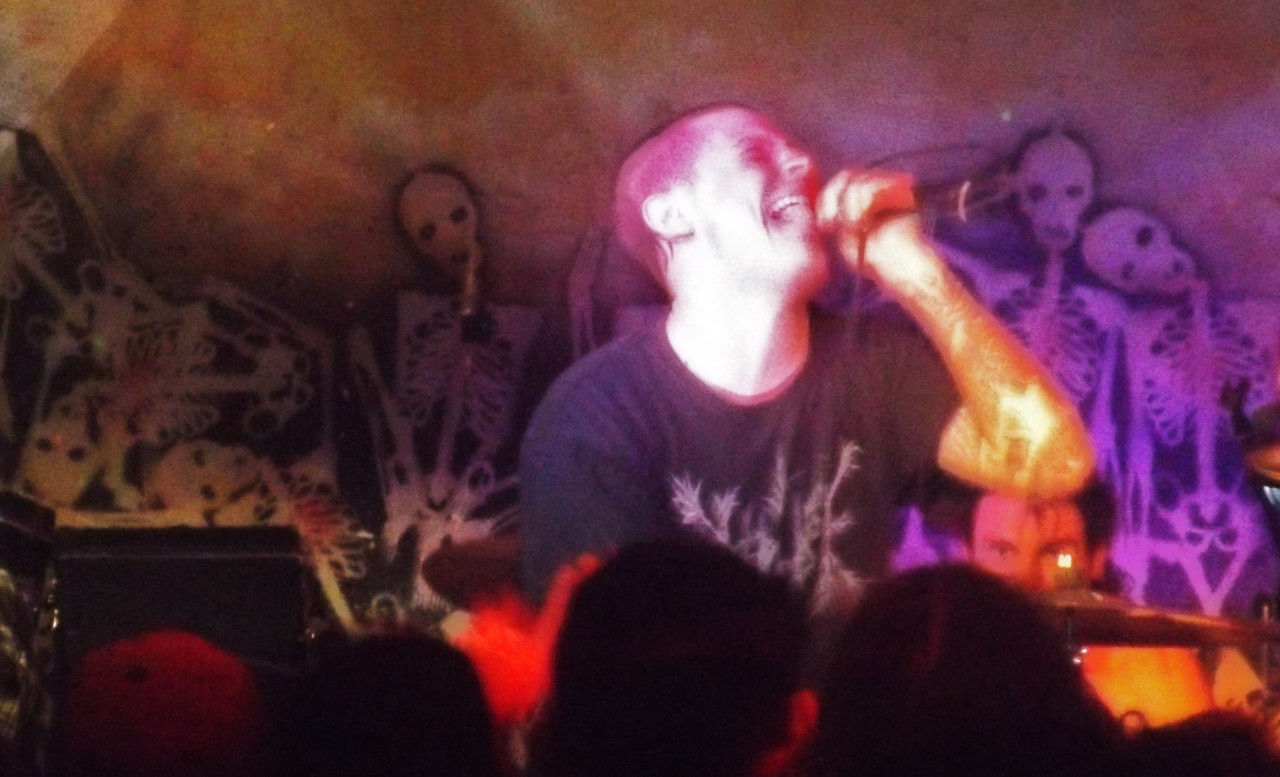 full of hell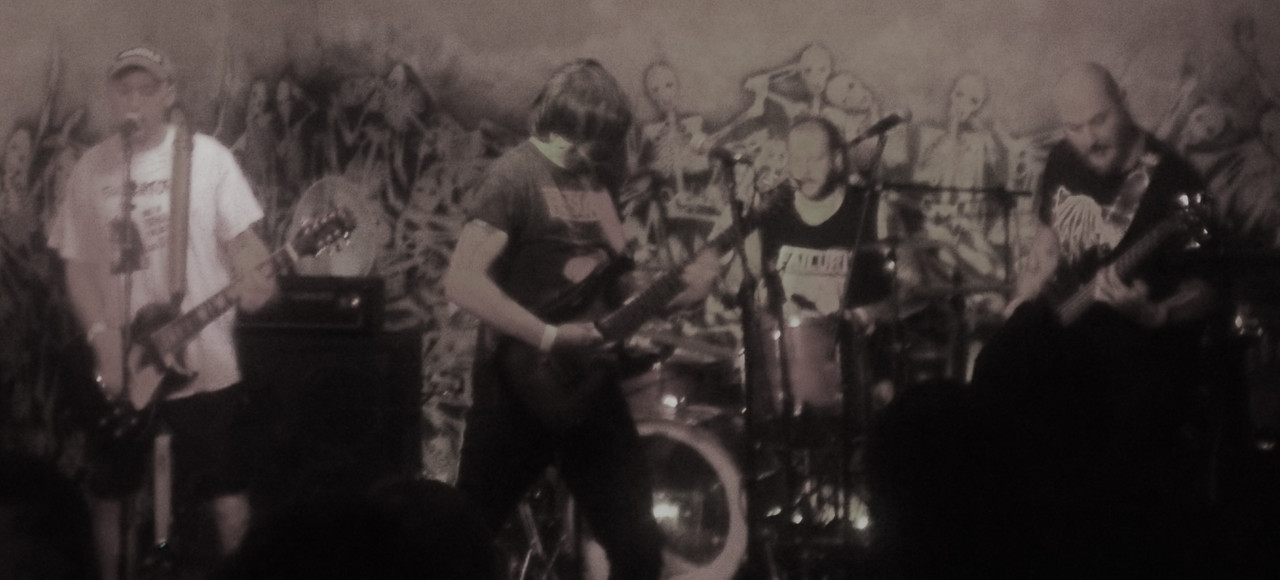 gets worse
Sunday is a bit dismal weatherwise so good job we've got more indoors to perk us up.  Very new band Implement open up the main stage, a kind of traditional hard punk but with some obvious metal riffing tendencies, I thought the great shouty vocals were giving out but it turned out to be the mike.  Upping the tempo were Bristol's No Pulse at the second stage, super fast hardcore with obvious heartfelt passion to the political substance behind their style.  Seen Leeds' Gets Worse a lot but we had virtually a whole new set as they prepare to record a new album, and it seems like it's going to be a belter. The four way interchange and balance of instruments and shared vocals is perfect, you never know what tangent the power violence will veer off in next and the sheer weight of assembled tones is mammoth.  Manchester's Wolfbastard are also in a fine vein of form, and the 3-piece pummel us with their blackened d-beat steamroller, with lots of amusement thrown in too.  Not long since I'd seen Rot in Hell at Dreadfest here but with the apparent mystery loss of a guitarist seem to have thrown them of their stride a bit, and their sludgey hardcore had lost a bit of focus in the delivery.   A stark lighting show seemed to add to the cold darkness imbued in the progressive hardcore that Geist unleashed in the Meat Locker, with some really emotive shifts in the structures of their songs.  Last blast at this stage with Nothing Clean, with about 40 songs on their latest "Cheat" album you know it's going to be relentless.  The Leicester lads are interrupted a bit by broken strings but when they are in full flow it's a torrent of abrupt power violence, top notch.   Best of British to finish, first up with crust (no) gods Doom, not so fresh up from playing Bristol in the early hours of last night.  Close to home here though and put in one of their best sets I've heard for a while, sounding full of force and righteous fury, getting a great reaction from the crowd too.  And just to top things off we have Extreme Noise Terror to finish, the seminal essence of UK crust/grind even if they are much changed in the current format.  Dean is here and on form though, ably matched by Ben on the dual vocal tirade, and it remains a pleasure to experience the "Bullsht Propaganda" and all.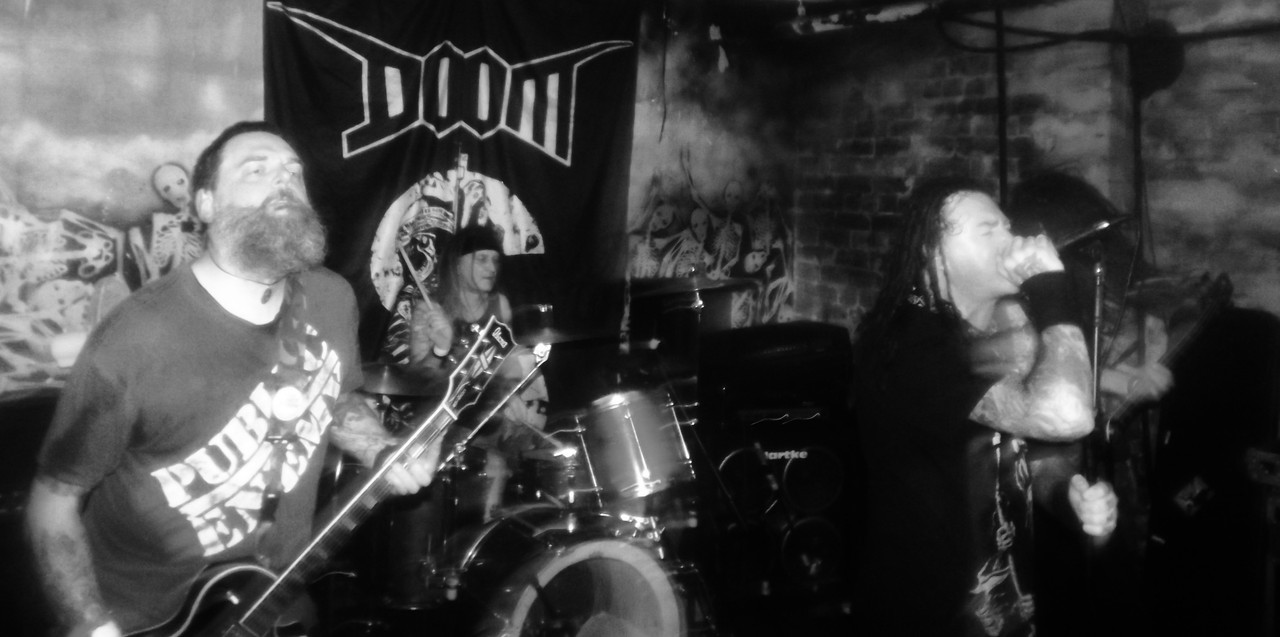 All the creeping misgivings were swept away in this massive success and testament to the strength of the underground and independent extreme scene.  The venue is going from strength to strength and seems to keep improving its set up/ scope in tune with what they know works well for the stuff they want to do here  A pleasure to experience and plans are already being made for the next one, including the bands who didn't make it this time!  I don't know where I'll be when the tickets go on line but I'll be frantically refreshing the purchase page for sure.