Good crowd, good bands, good gig, good craic, good heavens! I could leave it at that and be satisfied that those five points kind of cover all angles.
Billed as Cooper's Birthday Bash, with Cooper being that shy boy with a beard, who, once on stage, continues to be a shy boy with a beard but with an added element of someone who could easily stab you in the face.

First up are Dead.Is.Forever who seem to be very busy on the scene and have a forthcoming release, Open Your Eyes imminent. They also had a (familiar) stand in bassist, who, like the rest of the band was flawless in his delivery. I won't pretend I'm a fan of alt-metal as I'm not; it's the whining singing bits between the growled verses that kill it every time for me. But credit where it's due, Dead.Is.Forever smashed their way through a short, sharp set with some fucking neat guitar work, howitzer drumming and a vocalist not afraid to mix it with a crowd that most definitely left me in the minority.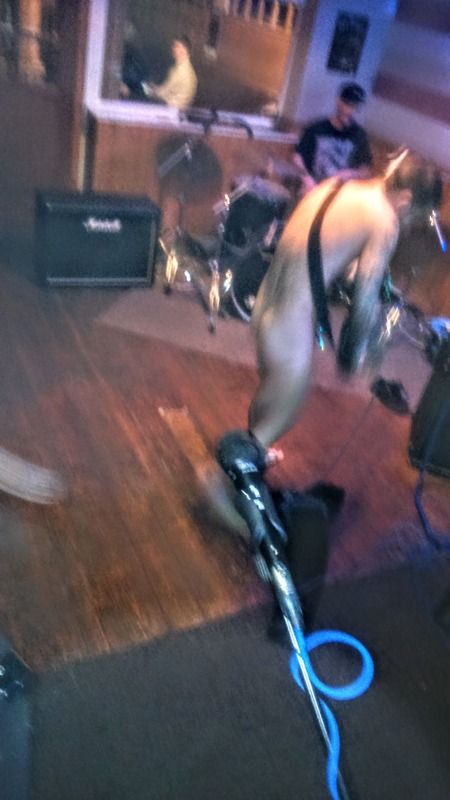 There is something I really like about Depraved State here; playing their first gig. While the talking point has been about a band member finishing their very short set naked, let's not let such small points detract from the noise they were making.
Similar to birthday boy Cooper's previous assault on music Terminal Voyeurs, there's a will to approach the song writing from an angle that doesn't exist, only with this incarnation, they do it better. It kind of reminds me of Dope Body from Baltimore but (of course) much more severe, and with much shorter songs. Post-spunk? Call it what you wish, but tonight, even though they didn't get the sound right enough for you to fully get what they're trying to pull off, Depraved State produced enough to pique your interest.
If that wasn't interesting enough, you'll be sure to find bassist, Ifan on the sex offenders register pretty soon!
Here's a band that really need to get some material recorded right now!
[This part written by Steve Rastin]
Old punks never die, they just wear earplugs when they play…….oh, and a Santa suit in January.
You're never quite sure where Spam Javelin are coming from – a jokey name and song titles like "Nazi Line Dancers Fuck Off" suggest a bunch of people who aren't taking themselves too seriously but there are also moments in their set where genuine anger boils to the surface.
This was the third time I'd seen them live and it was far and away their best set to date, despite the intervention of a drunken audience member trying to upstage them with an off-key rendition of a Beatles song.
In the end questions of how serious they are become irrelevant, they make a bloody loud racket that leaves you with a smile on your face, a spring in your step and a bulge in your trousers (OK, two out of the three!!!). The only disappointing aspect was the bass player's unwillingness to get into the spirit of the evening by removing his clothing but that's just a minor quibble (or so I'm told!!!).

[Rest of review again by Neil Crud]
I was extremely disappointed that Maines pulled out of this gig last minute, as they were one of the main reasons I agreed to play it (having played here myself only three weeks earlier). There was little surprise they did (for me anyway) as they cancel more than they play. Pity; as they're such a good band when they actually get it together.
It was, however a godsend that five bands became four as we would have been playing way beyond the witching hour otherwise and; on a school night, by 11pm the crowd starts to dwindle.
Fenton's As Empires Burn had the honour of closing procedures, and despite half the audience leaving before the final whistle, there was still a decent mix of nodding heads, circle pit entrepreneurs and beer boys 'n' girls to make their trip from the clay fields of Staffordshire worthwhile.
It was also worthwhile for ourselves as we were treated to an exciting 30 minute blast of metal. Now, having done my homework on the band (hence the school-night), and like I said earlier, the genre is not my cup of chai… I always feel there's too many bands playing the same stuff, all jockeying for column inches in Kerrang, but very few standing out from the uniformed masses. However, stick a microphone and an audience in front of vocalist Chris and watch him go.
Like a kid climbing through a soft-play area, he scaled the walls, the tables, the chairs and the crowd, in the name of entertainment.
They've been and played here before and speak (on stage) highly of Rhyl, 'Like Blackpool but not shit.' And it's good for bands to be prepared to traverse that horrible road called the A500 to get here. What they need to do now is network with our local bands and get them down to Stoke-On-Trent (I doubt Fenton even has a corner shop, let alone a venue!).
Unlike a lot of their contemporaries, As Empires Burn didn't outstay their welcome. Thirty minutes per band is the optimum length of time for these kind of gigs, it keeps you refreshed, keeps you interested, and, again… Entertained. The trick is when a band announce that this is their last song and you think, 'Wow! that went quick!' – you know you've had a good time.
Wow! That went quick!