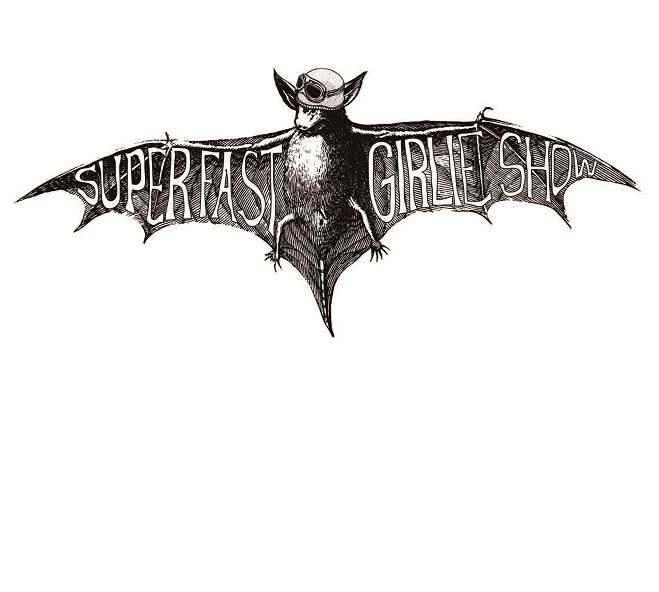 As soon as you hit Play you know Super Fast Girlie Show mean business, this ain't no fucking 1980's shit. They might look like car mechanics working out of a rusty tin shed but they don't fuck about when it comes to smashing your teeth in with big bass guitars.
One minute forty second songs, played how they should be and delivered on a platter of dirty grease. With riffs bigger than your Dad and a home made 'Mum' tattoo on their hands, you'd definitely want SFGS on your side in a pub fight.
Despite being more productionally polished than 2013's 7″ album(!) All Hooves And Cucumber, it is done for the right reason and spits chewed tobacco in your doley boy eye.
They take the term double bass to another level by having two bass guitarists and not a six string in sight – so no threat of guitar wankery, and one look at these guys would confirm that a guitarist would get a spanner in his head anyway.
The use of instruments is executed with precision, which sounds daft for a dirty punk band, but they do it so fucking well… From the whisky and wine romp'n'stomp sleaze of Stones to the slime bar blues of Mind Control to the train kept-a Roller Derby (Stole My Baby).
Twelve tracks smash and grab your faculties in no time at all… Leaving you bewildered and crying as blood oozes from your ears
If you play Don't Go Down Gentle loud enough, you'll get a fraction of what Super Fast Girlie Show are like live… Brash, abrasive, unashamed, ugly punk rock – yeah!