I brought along two virgins to be sacrificed before Brother John – their photons of pure white light will be added to the good and the bad of the universe.
'What's their music like?' They both enquired…
'Errr….' was my reply…
Tonight was the album launch for the new Membranes LP 'Dark Matter / Dark Energy' – call it a come-back album if you like, it's out now on Cherry Red Records.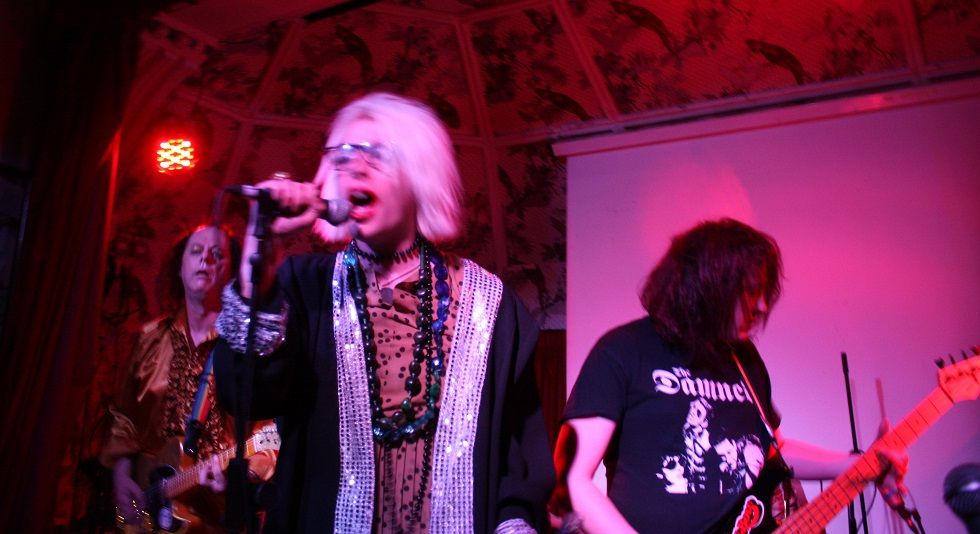 Having to dust down the Ordnance Survey Maps to negotiate our way from the Welsh Hills we unfortunately missed opening act Kill Pretty.
Sheffield's Faerground Accidents were good to go… Initial impressions are of a rag-tag ensemble who have escaped from their special care home and raided a second hand clothes shop. That impression is still the same after seeing them!
Fronted by the flamboyant Bomar Faery who was an experiment by a teenage girl scientist in her bedroom to make the perfect popstar. She took the DNA from Brett Anderson, David Bowie, Robert Smith and Rik Mayall, she dressed him in her clothes, used him and abused. Then she grew up and threw him out.
The horror film industry had changed, Muzz and Henrie were often out of work, and they took Bomar in, introducing him to their other adopted children, Frehley and Breezie; together they formed Faerground Accidents.
Spunk driven psychedelic pop in overdrive, dripping with melody, sharp lyrics and an insatiable energy. Check out their truly fantastic single Woeful Small Town.
Highly recommended.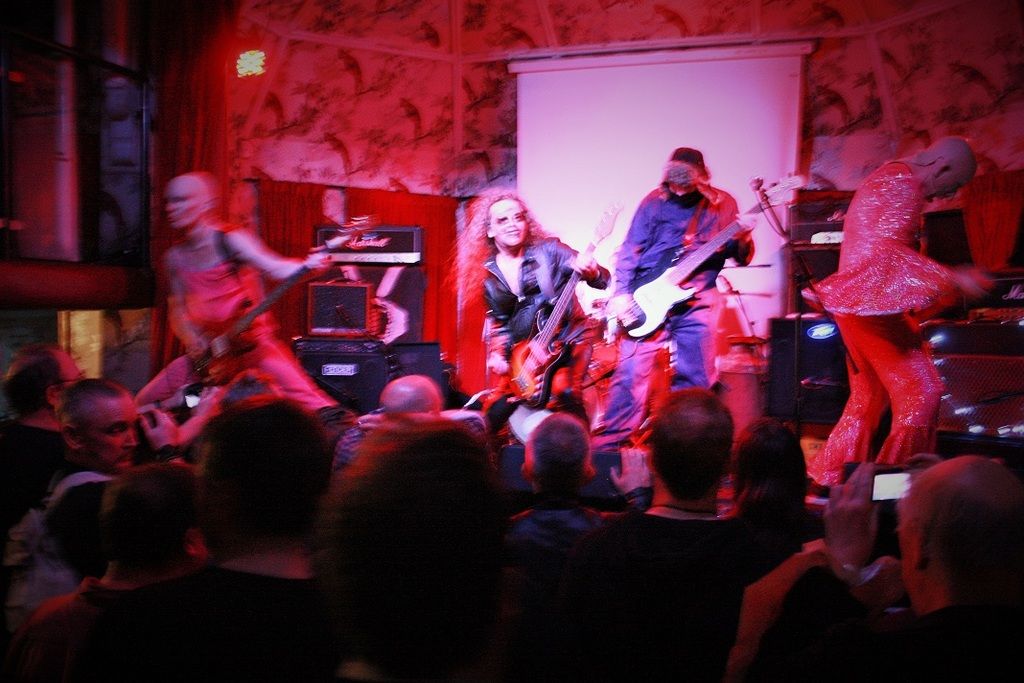 Much to my horror, I shared a stage with Evil Blizzard two years ago, and I'm still scarred to this very day. Not one to let a scab dry up and fall off, I came here tonight to add to those scars and these freaks, these misfits who are not of this world happily obliged.
Less shocking for me as I knew what to expect, but Ste Sync and Tim G in tow were awe inspired as the stage became a pantomime of chic sci-fi comedic, yet evil horror.
While we were being blessed by The Filthy Preston Mop (some very unwillingly) I took in the music rather than the panto, to see what they were actually playing.
They are actually very good… Four distorted bass guitars each with with its own complicated part and drums that are punched to give you a Hawkwind on Ketamine, Mephedrone and French Fancies.
The new stuff is better and as always, it is a sight of very sore eyes. Highly recommended.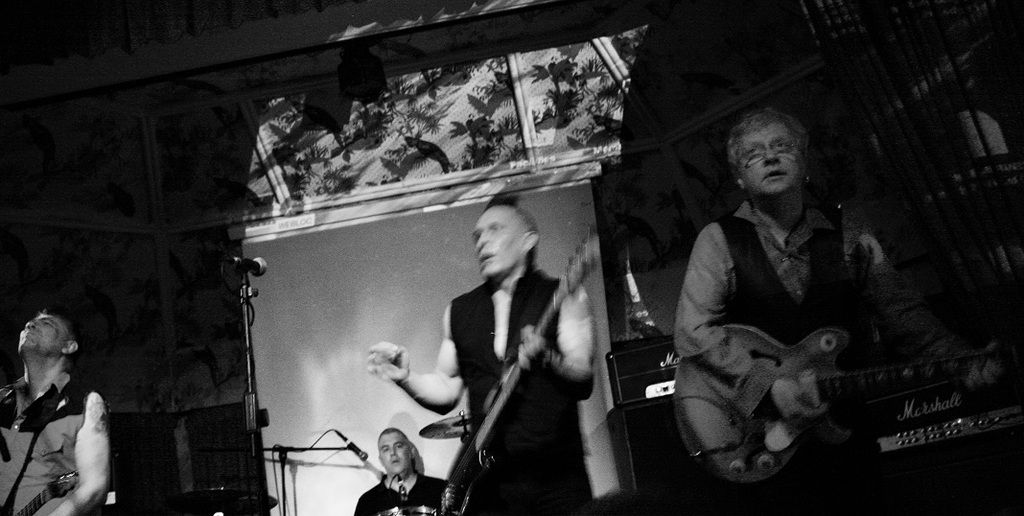 It's the Membranes' party and you can cry if you want to… Cry at your complete insignificance within this vast universe, of how you don't even register on the grand scale of things, of how the Vogons could wipe the Earth out in an instance to make way for an inter-galactic by-pass.
I often feel insignificant when looking up at the stars (and looking in the mirror) – but tonight we can throw away our woes and face up to the fact we're on this planet, let's enjoy it while we can…
'Dark Matter / Dark Energy' does throw up all kinds of 'existence' questions, and you may well ask the same question of The Membranes… Go on, try and stick them in a genre… Yes you can, but it'll be one you've made up specifically for them…
There was plenty of dark energy on stage as the band, intoxicated by eternal fire, danced to the static of the radio and we all agreed money is dust.
It was all over far too soon… How long did they play? Was it short or did we enjoy it so much that space and time collapsed on itself?
The wind will blow high and the wind will blow low, but it won't really matter when you're in the graveyard, so you may as well pull yourself away from your online ghetto and enjoy the world while you can.
Get 'Dark Matter / Dark Energy' here… Highly recommended.