(by CombiChris Markwell)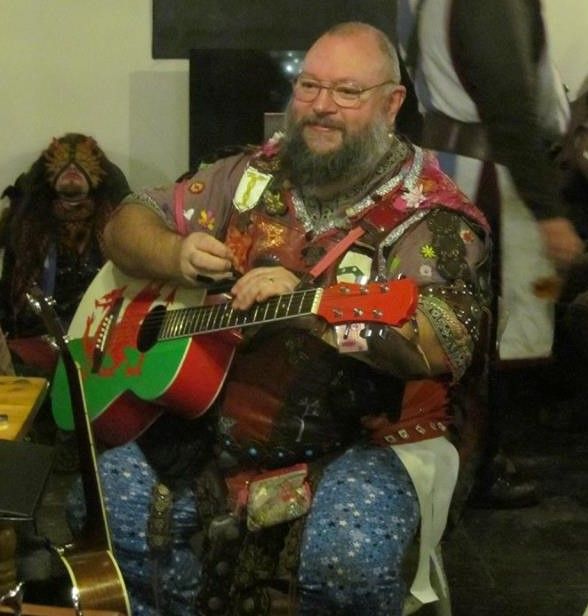 One day I decided to make a change.  I wanted to help the local scenes of North Wales. But I didn't know how.
Then it struck me.  Why not interview the bands, artists, and people who are all doing their bit to keep the scene alive?  So here it is…
One afternoon in Bangor I found myself talking with James Phillips, one of the people at the forefront of the Bangor music scene.  He will never say this himself, but he is such a major player in the North Wales scene not interviewing him would be insane.  He is a multi-instrumentalist, in a myriad different bands as well as a solo artist in his own right, and puts on numerous gigs and open mic nights in the local area.  He very graciously allowed me to visit his wonderful abode and made me a cup of tea, and chatted the hours away about anything and everything to do with music.  Here's the first part of my interview with him.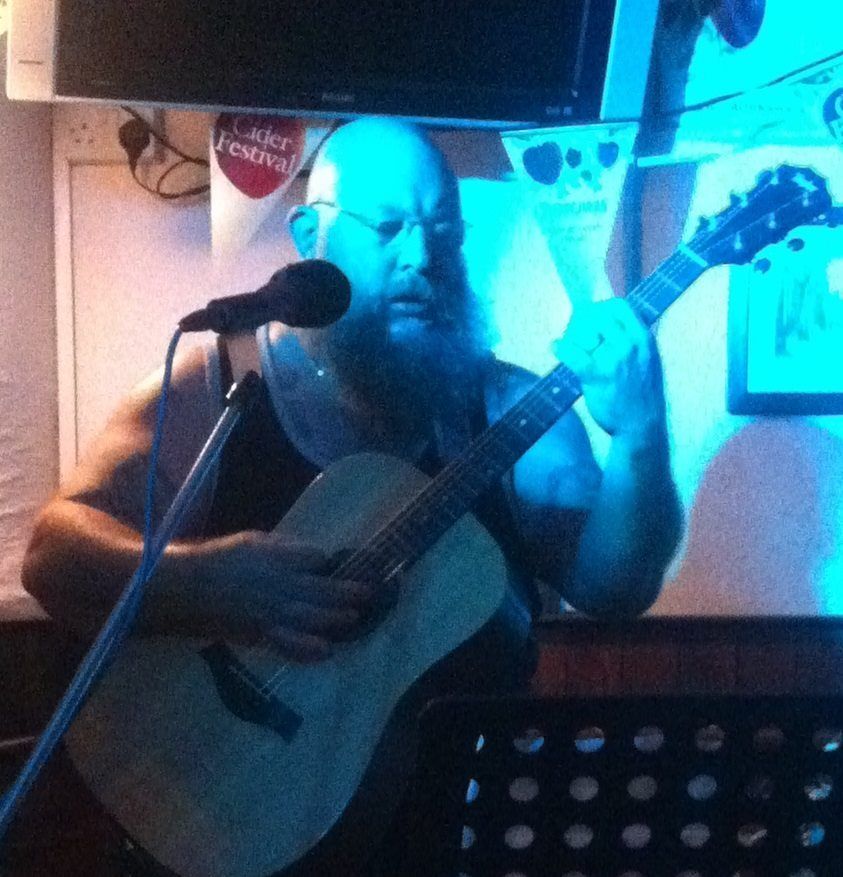 JP: Are you making a bid for journalism?  
CM:  I'm making a bid to try and make the local scene a bit better, trying to find out as much information as possible about people who are playing and living the scene.  
JP:  Because one of the things we really could do with, is someone writing reviews of gigs. Neil Crud takes reviews and sticks them up, but also submissions to local papers wouldn't go amiss.  I can't do it, not because I couldn't write them, but for the very fact that I'm running the gigs!  So if I start doing them I'll look like a twat!  And if I do them under a pseudonym, it lacks honesty then.  
CM:  Yeah, you want it to be as real as possible.  
JP:  You've got to make sure it's real; you've got to make sure that people know.  If they see a review and it's got someone's name on it, they're gonna go: 'Well, who's that?  I didn't see him on the night… hang on, he's coming to all these gigs, yet we haven't a clue who he is… what the fuck?'  So if it's someone people can see the name and go: 'Oh yeah, he was there!' That makes it a lot more legitimate.  
CM:  Yeah, I've been very occasionally doing reviews for link2wales and reviewing the gigs in Bar Uno [Bangor University student bar] and trying to get Storm FM [Uni radio station] and more students involved, and uh…
JP:  It's hard work, isn't it?  I've been talking to Storm before and they've asked me to come and perform a showcase night for them, and I've had to go: 'erm… that's when I put on a regular gig…'  'Oh!  Do you?'  'Yeah, remember how I gave you my website last time we talked about this?  Everything I do is advertised on here: there's a gig first and second Saturday of every month, an open mic every Sunday, a gig every second Thursday of the month, and others besides that too… so, why are you inviting me to play at a night you've put on when I have a gig of my own?'  Don't get me wrong, I don't mind: there's enough people in Bangor that you can put up two gigs on the same night, there's no problem with that.  
CM:  It's just logistics, isn't it?  There are times when a weird sort of discord can happen when setting up gigs.  
JP:  Well, this is the thing.  I didn't invite Ruth [Zewge] to a gig last night, because I knew she was playing with her trio [Salome] in the Belle Vue.  They're in there, we're down here, and I hope they had a great night.  We had a great night, but I'm not going to invite her to come to an event of mine when I know she's doing something else.  To be fair, though, I spend more time on Facebook trying to go through however many hundred people it is that are on the list of people I can invite, and work out who's appropriate: it's not just people in Bangor.  It's who's in Bangor, and who is likely to be available, and likes this sort of music.  I don't always get it right, because it's difficult, and Facebook makes it as difficult as possible.  
CM:  How important do you feel social media is to spreading the word of the local scene?  
JP:  It's essential inasmuch as… it's a means to an end.  The only way you get any real advertising is via word of mouth.  You've gotta get people coming to gigs, seeing what's on, and then actively looking for the other advertising.  I've talked to people and said: 'you coming to the gig on Saturday?'  And they went: 'what gig?'   'Uh… this gig.  The one on the poster you're standing next to.'  '… OH!  I'd not seen that!'  'You've been standing next to it for 10 minutes… I mean, you're interested in music, and there's posters up in the takeaway that you're in, and you're not looking at them, so you're not really that interested in them…'
I don't know whether it becomes that there are so many and it just becomes lost: there was a launderette in Bangor which had a wall full of posters, and I've put posters up there, I've put two or three of the same gig on different places on the wall, and I don't know whether it's had any effect.  It just becomes a wall of coloured paper, and I don't think anybody pays any attention.  
CM:  It's like throwing a message in a bottle into a sea of messages in bottles.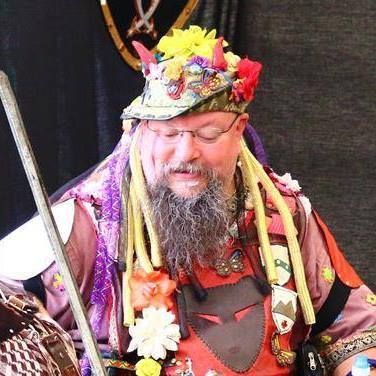 JP:  We've done local newspaper coverage: I used to religiously send in my gigs and they'd put them in the 'What's On' section; I managed to get a very nice man who worked on the buses to put them on the buses, which was fantastic.  But again, I don't know if that had any real effect, either.  The one thing Facebook does: if you've been invited to an event, it reminds you on the day that it's on, provided you're looking at Facebook.  So that's the one thing that it does that's really good.  The other thing it does is allow people to share your events.  If I put up a poster for an event page, I can invite people to share it and, if that gets shared, you've got lots more people seeing it.  I think that's the function that's most likely to have an effect, but it isn't anywhere near as efficient as you'd like it to be for the amount of time it takes.  It's like democracy: it's the worst way of running a country, apart from all the others!  
It's one of those things, you have to do it.  You look at Adam Walton doing his DJ night in Telford's in Chester: he's still ploughing through Facebook, inviting people, doing the same thing we're doing.  I think everyone does, because there's always that thing in the back of my mind: if I don't do these things, and I'm not advertising, and no-one turns up, I'll feel terrible.  If I advertise the hell outta something, and nobody turns up, that's not quite so bad because at least I've given it a go.  I do get slightly frustrated with bands who don't help out and share the event page.  I'm booking bands and I'm advertising nights, I would like the bands to help out and do the advertising as well.  I'm not saying you have to do everything – they're all free, these gigs, so it's not like you're not going to get paid unless you sell this many tickets, or any of that sort of bullshit – it's more a case that we'll all have a better night if the venue's full.  There won't be any more money or any less money either way, but we'll all have a better night if the venue's full, and if the venue's full, the landlord's happy, and we get a lot longer run.  I'm very conscious that when you're running local gigs, I'm getting the landlords to pay enough money to cover petrol for me and three acts to put on. It's not a lot of money, but it is some money.  But that's costing the venue we use, and if we get five people turning up to a gig we're not covering their costs.  We get fifty people coming to a gig, they're in hog heaven!  It's that sort of difference, and if we get a run of gigs that have five people turning up, then the landlord's going to look and say: 'is this worth my while putting on?'  Then we're in trouble, because if you start getting venues saying 'no' you have to go and work really hard to find other people to do what we want to do, which is allow us to put gigs on, allow us to do it regularly, provide a really nice room, make it easy for everyone, say 'yes' when I want to book an extra gig…
I've got a gig booked for the end of September, because there's a band touring from Canada [called Milo], and obviously they're going all over the UK, their tour manager started looking for local promoters, saying 'well, here are the gigs we've got booked, what we need to do now is fill in the gaps, because any day we've not got a gig is a dead day that costs us money.  If we can get a gig which covers our costs for the day, that's a bonus'.  So I've got a gig where I've got to pay a bit of money to have a band that are touring from Canada come and play.  I'm supplying local support bands and a drum kit, which is not a problem.  Local support bands: we have a fair few!  I'm being cheeky and putting mine on (laughs) so Hot Dawg Assassins will be playing, and Velvet if they're ready.  If not, we'll be looking for someone else.  
But that sort of thing happens.  I went to see the landlord in the Skerries: 'Can we do this date?'  He went 'yes, I don't see why not'.  Just: bang! You know?  We need to look after the venues we're using.  When we did the festival [Curiad Pulse Festival], same thing happened.  The idea of the festival came up in the networking group that took place.  I said I've always fancied running a festival in Bangor, like they do for Focus Wales in Wrexham, but obviously much smaller.  Everyone went 'oh that's a great idea!  Let's do it!'  I hadn't expected it to be agreed to that quickly!  They went 'We'll take time to prepare it, when shall we do it?'  And I went '… May?  May next year?'  'No, May this year!'  '… that gives us just under three months to prepare this…' so the next day, I went to the Skerries and said 'can we put a festival in here for two nights at the end of May?' and he went 'yeah'.  Then I went down to the Crosville and said 'I know you can't do Saturday nights, because that's the members-only night, can we have the Sunday as an all-dayer?' and they went 'yeah'.
I tell you, no word of a lie: we were in the next month, reporting back to the networking group, saying yes, we're running the festival, these two venues have agreed, and the Greenhouse has agreed to host the spoken-word and unamplified acoustic music.  Then Chris and Bethany from the Belle Vue turned up to that meeting and went 'We hear you're running a festival, we'd like to be involved'.  So here we have the Belle Vue saying they want people to come and do stuff!  Without that sort of enthusiasm we couldn't do a damn thing.  

I remember years and years of slogging around, trying to get gigs, trying to get venues. Venues going 'Oh, you can't put a band on on Saturday because they'll just take up space and stop a good night from happening.  We could fit more punters in if you weren't here'.  Now, for good or ill – mostly ill – that's changed in a lot of ways.  Pubs are under a huge amount of pressure, so anything that we can do to keep pubs open, all the better.  After all, the more pubs that close, the less venues we've got, the less community spirit, the whole damn thing degrades.  And it is all about that: it's all about mutual support.
This again takes me back to bands: I'd love to see more bands come out to other people's gigs.  If nothing else, because we're not in competition.  I know that sounds kind of weird, and that's the way some local scenes tend to run: you get bands in competition with one another.  'We're the big band!  We're putting on a gig!  You're applying to support us at one of our gigs, are you?  Well, we're not sure…' no!  Let's have everyone play!  Let's get everyone involved! It would be lovely to get more bands rubbing shoulders with other bands.  It was one of the great things about the festival: suddenly you've got bands who've been playing in the scene for the past three or four years seeing each other, having not seen each other at all.  I'm there thinking 'hang on!  How've you not seen their band?'  And the answer is because they've never come out to any of their gigs.  It's weird.  
CM:  Have you got any plans for the next festival?  
JP:  Yes.  We are looking at the way we approach it.  We're trying to be quite sensible about it: there were a couple of things that made life hard this year.  I did two days straight doing sound in the Skerries.  Two thirteen-and-a-half-hour days on the trot.  I played on the Friday night: I played a solo set, I played bass with the Hot Dawg Assassins, and I played on the Sunday afternoon in the Skerries, lead guitar with Velvet.  But the rest of my Saturday and Sunday – because obviously I couldn't do sound for my own band – of the 20 bands that required a soundman, I did 19 of those.  With this, I also missed out on seeing bands that were on in the Crosville because of my commitments in the Skerries.  It got to that stage on the Sunday night, half 12, we're finished, but I haven't taken down the sound stage yet.  I was just sitting there, thinking 'I am… dead'.  I was really tired, I was hungry, and I was grumpy as well.  I shouldn't have been grumpy.  I was relieved and grumpy, rather than elated.
We had 36 bands over 3 days, not counting the people doing the spoken word or the acoustic music, in 3 venues.  20 of these bands were in the Skerries.  And that's 20 fewer than we could have had from all the bands who volunteered to play.  We didn't ask anyone.  The moment people found out we were doing a festival, it was like 'can we play?'  So we couldn't fit everyone in!  So what we're planning for next year – because we loved the diversity, and the idea of having little gigs around the city – what we'd like to do is a bit more of that in the late afternoon, early evening, but have one headline gig for each day.  Maybe do more days, and have a different sound guy putting the PA up!  The other thing about this is it wasn't done on the cheap.  It was done on a non-existent budget!  There was no money.  I think the spoken-word guys got a grant, but on the music side of it no-one had any money, no-one got paid for it.  The Belle Vue provided their own PA, Steve at the Crosville worked his own PA, I worked the Skerries, and none of us got paid for that either.  None of the bands got paid.  Everyone did everything for free because it was the first time doing this festival.  So that is something we need to be looking at for next year: sharing the load, but also making it more community-based, involving more local people, more of the Welsh language bands, and basically make it as inclusive as possible.  The whole point is promoting that sort of community feeling, and the inclusivity of local music, basically making the whole scene better, and supporting the people who want to be involved.  So things like workshops – John from the PRS ran a workshop in the Greenhouse on the PRS, and how to approach that as a musician.  That's the sort of thing we want to keep doing.  We'd love to have one from the Musicians' Union as well, so we'll see about making that happen.  Playing workshops, performing workshops, anything we can do that pulls more people in and encourages more people to get involved in performing and playing music.  That's a big part of it, and the ugly word we have to start looking at then is grants.  We can't go on doing it for free…
CM:  Yeah, money is a necessary evil…
JP:  Well, everyone played for free at the first Glastonbury Fayre.  It's changed a bit since then!  But the guys who run Focus Wales started off with a couple of nights in Central Station in Wrexham, just as a one-off.  And over the years it moved on, and moved on… in a way that's what took me by surprise with this festival.  I was expecting to do a couple of nights, with three gigs over two nights, with about fifteen to twenty bands involved at the very most.  Then that way we can say we had a festival at least, and then we can plan for next year.  I was expecting to ask people: 'Please will you come and play 4 o'clock in the afternoon on a Saturday in the Skerries when it's still light outside?'  That didn't happen.  It was bigger than I was expecting.  In a way, it made it harder because we had so much more to try and do and organise.  Owain [Dalton] and I sat for hours, going over which band could make which day and which venue, and where could we put everyone, and at which time.  Because, of course, there are people who play with more than one band, so we had to make sure that if we had someone playing in two bands, either they were in the same venue, or they were playing on a different day, or they had enough time to move from one venue to the other, and were able to borrow equipment to use at the other place.  And all three of those scenarios did happen!  And of course you have to look at who's available each day.  We ended up with a rock night in the Skerries almost by default.  We weren't planning to do it that way; we were going to mix everyone up!  But the way it panned out, so many of the bands that we had – by the time we filtered out who could play Saturday, who could play Sunday – we had a whole swathe of rock bands who were available Sunday!  And half of them we had pegged to play the Skerries… now the question was: do we mix it up?  Do we put on Que Rico, who are Latin Grooves, and then follow them up with Mucus, an instrumental thrash metal band, and then put on Banda Bacana?  We could do it.  I would love to do it, because that's the way I like to approach gigs.  The gig with your band that we put on the other day was a prime example: Bad Excuses on as the rock band, which was fantastic and had everyone up and going, followed by John doing his acoustic music on his own, followed by Hot Dawg Assassins, a band I have no clue how to describe!  It's an eclectic mix, and that again is part of what I'm trying to do.  If you give people what they know they like, that's fine.  I'm hoping that every gig people come to, there'll be something on the bill they really like, but there'll be two things on the bill that they don't know whether they like it or not until they've heard it.  What I'm hoping is for every gig that we put on, someone there will go 'ooh!  I've never listened to this sort of thing before… but I really like that, that was cracking!' because we get far too narrow in our musical definitions.
I saw a lovely cartoon the other day: non-rock fans who think there is rock music.  And then there's rock fans next to that, with all the myriad genres of rock and metal there are!  And that's fine, but it is all music and, within that music scene, there are bands who are good, who are not good, and some songs that are good and that are not good… often from the same band!  Until you actually take music and say 'I'm judging this entirely on itself' and either this is good, or not good, you end up promoting or listening to things you don't truly like, and that's not good for you in any way, shape or form.  So you're listening to things that aren't actually very good, in amongst all the stuff that is good, but you also are denying yourself all the other things that actually you might find really, really good.  I'm not saying you've got to like every folk song ever recorded, but for a rock fan you might find that there are a couple of folk songs that you really like.  It doesn't have to be folk and rock as the examples, it could be anything you like… my feeling is: I divide music into good and bad, on an individual basis, and I will put anyone on who is producing music and is prepared to give me a forty-five minute set.  I feel that everything should be experienced.  I've had a classical pianist perform in the middle set of a gig, which was interesting!  I've had a spoken-word artist in the middle of a rock set…
CM:  I've been to an open mic in the Skerries  where a spoken-word person came on and performed.  
JP:  Yes!  I actually put Jordan [spoken-word artist] on at a gig for a forty minute set!  And it was wild, it went down really well!  This is how this sort of thing should be approached!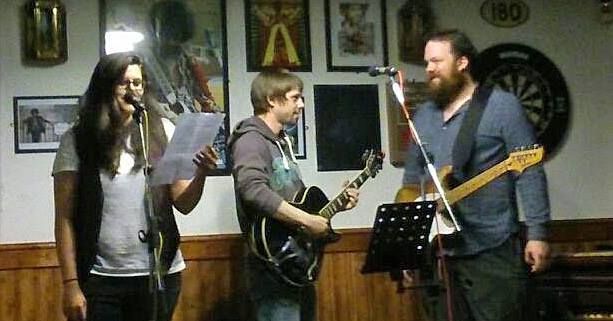 CM:  Do you feel that music should be surprising?  Is that a good way to keep music fresh?  Constantly testing yourself and challenging yourself?  
JP:  This is where I fall shy of going that far.  People talk of music as being challenging.  I don't necessarily want to be challenged when I'm listening to music.  I want to be entertained.  I want to be uplifted.  I want to have my emotions manipulated.  I want to feel that I'm listening to something that's exciting, or something that is just grabbing hold of me, if you like.  It can be as dour and morose and as sad as you like, but if it still grabs hold of me and takes me with that feeling, then great.  Challenged?  It makes me start thinking about too much modern classical music, where there are some very great composers who've done some wonderful things in that genre – even the atonal stuff – some of that is really good.  There's an awful lot of it that's bollocks.  Same as you can say with thrash metal: there was an awful lot of that that was bollocks, because every time something succeeds, and there's a new scene born, you get dozens and dozens of wannabes jumping in and trying to do the same thing, without understanding it.  They just muddy the water and produce crap.  However, some of them will surpass their forebears, or bring something new out of that shadow.  I like to think of the early eighties for that, where punk had a very brief flowering, really, but a lot of the pub rock bands who became punk – that's the other problem with punk, a lot of it was pub rock – it was pub rock people, playing with a different attitude.  What you then got was a whole slew of really clever songwriters who came out of that with the attitude.  So you had that anti-establishment, rebellious attitude, but also a real attitude of not sitting back and taking it, but going out and being in your face.  You got a whole series of songwriters who came out in the aftermath of punk, like Joe Jackson, Elvis Costello, the guys from Squeeze, a whole lot more I could name… at that time, there was an awful lot of good songwriting there that benefited from the fact that punk happened, because it made them very much more immediate in the way that they approached songwriting.  Nick Lowe changed the way he wrote, as well: he got a lot more in your face.  In a way, punk spawned some very, very sharp pop music, that didn't sound like pop music!  In the way that what I think of as pop – unless it's beautifully-written and put together – a lot of it is asinine.  And a lot of those bands that came out of that weren't asinine.  There was a lot going on; there was a lot of intelligent stuff.  There was a lot of very, very good musicianship.  You listen to the Blockheads, Ian Dury's band, you listen to what's going on in the band, and how bloody good they are, and it's stunning!  It's an interesting period, because you've got something that spawned something else, and I think every scene does that: something comes out of a scene that takes it to a different level, coupled with a whole lot of wannabes who just sludge it up.  Almost like getting muddy water in your engine, it makes the whole thing grind to a halt!  
That's part of what I love: saying 'we've got a local band scene.  We have within our local scene a lot of variety.'  We have a lot of people who listen to music, but don't listen to a lot of variety.  So if we can get people to say 'all good live music is good', then we're doing our job.  That's part of the thrust of mixing up gigs.  It's also part of doing stuff at the festival which I wouldn't have done.  I wouldn't have done a rock night, if it hadn't happened that we were almost constrained by the fact that we had three live nights, a lot of rock bands, and a lot of  'who can play which night?' that meant they all ended up on the same night.  So yeah, the plan next time is: more days for the festival, possibly even more venues.  
CM:  Would you like to get the university involved as well?  
JP:  Absolutely.  We've been talking about who we might want to approach.  The only problem we've got is that we don't want to be subsumed.  If we approach someone like Pontio, they may say they would be okay running it, but we want to run it!  We're quite happily looking at the possibility of approaching the University Music Department, to see if we could have some classical music sets, and to see if the music students would be interested in getting involved and doing this.  We want to talk to the Media Department and asking if their students would be interested in filming this event, or putting on film exhibitions or sessions in another venue, where we could have student films being shown.   That's what a festival is all about, is spreading it wide.  So we're looking at more days, with one main gig each night, but lots of little gigs and sets happening earlier in the day.  Effectively you're saying: 'here is Bangor, we've got a lot of venues.  Go to what you want to on this day, because there'll be lots of choice, and then let's come together in one venue at the end of the night for the main gig where we get into a state where we can all jump about and have fun!'  And then we'll do it all again for three or four days!  
CM:  Sounds to me like you have a very definite goal in mind.  
JP:  Well, this is what I want to do.  There is a networking group that Owain set up that meets in the Greenhouse, and it was that group that help set up and organise the festival.  So although I've got these ideas and have thrown them at the group, there'll be lots of other ideas that will come up in the meetings as well, which is great and much better for making things happen.  In terms of the scene, I'm not running a scene.  I'm hoping to be a part of a scene that's running itself.  If you take a look at Bangor's scene, there are gigs in the Greek, gigs in the Belle Vue, there have been gigs in the Menai in the past…
CM: Yeah, there were rumours they had a noise limiter in place in their venue, so that deterred bands from playing there.  
JP:  Well that doesn't help, does it?  If you start looking at that sort of thing, we've had rock bands in the back of the Skerries and Simon [Aadvark Rock Night DJ and musician] has got a decibel meter on his phone.  He stood by the band and went 'nope.  That's the same level as traffic.'  So we are going to get complaints from noise, but in fact we're no louder than a street full of traffic.  A lot of the time you get complaints when there's nothing going on!  We had that in the old Student Union, the Refectory.  We had a lot of complaints from people who lived on Penrallt and Glanrafon Hill about noise from the old Refectory, before it became Time nightclub.
One time, there was a leak in the roof when we had a night on, and unfortunately the leak meant that there was water dribbling down the wall, straight across the Three-Phase sockets!  So the sparky came in and closed the building instantly.  And absolutely right he was to do so, too.  Because it was Three-Phase, we had to get a university electrician to come in to check it and make sure everything was done legally, all the safety stuff was scrupulously done because it simply has to be.  And that night police got noise complaints about the Refectory… which was closed…
You can't make it up!  But people will, if they have an axe to grind, complain.  The other thing you have to think about it that we're doing live music in a pub.  That pub has been there a very long time.  Why would you move into a house next door to a pub if you weren't going to tolerate a certain amount of noise?  That really does wind me up, that people can be either that selfish, or that stupid.  I'm not sure which it is, but I'm pretty sure half the time it's both.  Plus, there are people out there who just like picking fights and being unpleasant.  I don't know why, but that does seem to happen.  There was a venue in Bristol, I believe, that was under threat of closure because someone had moved in next door and complained that much!  Thankfully that got quashed in the end.  There was a huge online petition – which I signed – because this was someone that moved in six months prior, and this venue has been playing live music for years.  The guy claimed that he didn't know and, if he didn't, what the hell was he doing not researching the neighbourhood before moving in?  It's almost elementary: his place was next to a pub.  What sort of pub is it?  Oh, it puts on live music.  Am I okay with that?  If the answer is no, you bloody well don't move there!  But that's the sort of thing we're facing, as well.  I'm quite careful with sound levels, for quite a few reasons.  One is: the easiest way to sound terrible is to play too loudly for the building in which you're playing.  When you get room distortion going on, the sound will be abysmal.  I'm not in the business of hurting my own ears, or anyone else's.  Loud music, if it's too loud, can cause hearing loss, particularly if it's distorted, and again I'm talking about room and building distortion rather than what guitar bands are doing with their sounds.  The other thing is: I don't want to get closed down.  I don't see any reason why we should be upsetting other people by putting on music.  That will get me into trouble with all the local pub guys.  Yes, there are times when you want to upset everyone, and I appreciate that and that's no problem, but from my point of view as a promoter – and I use a very small 'p' when I write that – I want people to be enjoying what we're doing.  I don't want people to be pissed off with it, or find that it's spoiling their quality of life.  No way.  That's my take on volume: it has to be right for the sound to be really good, and that's what I'm after: a really good sound so you can hear what's going on.  Be it a rock band, a solo guitarist, or whoever, I don't care who it is; I want them all to have as good a sound as I can get.  We do have difficulties sometimes with drummers who insist on bringing really big drumkits, with big, deep drums, and then insist on hitting them really hard in a tiny venue.  That's up to them, of course…
CM:  Subtlety is the key here, folks.  
JP:  Well, everyone has to learn how to play their instruments.  Again I'm going to get in trouble with the punk guys… well, actually I shouldn't be getting into trouble with the punk guys because if you listen to a lot of punk music, you'll hear some of the best drumming in the world.  You'll hear people who are really very professional, very technical, very skilled, because otherwise it doesn't work.  It's not always easy to play that sort of music.  You do have to know what you're doing, and there were very few people in the punk movement who couldn't play.  There were a couple of them who, quite famously, couldn't play, but they are the exception rather than the rule.  
So that's kind of what we're doing.  And open mics, as well!  This is part of it: open mics have had a bad press recently in big cities, because there are venues that have cottoned on to the idea that rather than pay three bands, you can pay an MC and get lots of people to play for nothing.  So they have been using an open mic format as a way of replacing gigs, and getting free entertainment.  This, ladies and gentlemen, is BAD.  What I'm doing is using open mics for a number of things: as a way of allowing people who usually don't play on stage to come play, for people who haven't got a band to come play and sing, for people who do have bands to come play and sing and try out new material before it goes to the band, or to showcase something that their band would not usually do.  It's also as a way for me to spot people I want to book.  So we've had loads of bookings for gigs from people who've come to open mics and played; and that's one of my major routes for finding people.  That's the way I think open mics should be used.  We had a lovely lady at an open mic who has decided that she ought to do things that she's not done before, and so she dragooned her husband – who is a very fine guitarist – into playing an accompaniment for her.  And she sang 'This Charming Man' and Peter Gabriel's 'Mercy Street'.  Both crushingly difficult to sing well, and she did those as her first open mic experience.  This is what open mics are for: to allow people to get up and play when they haven't normally got the opportunity, but also to allow everyone else to hear this sort of music.  Years ago, we had some Chinese tourists in, and they got up and sang three traditional Chinese songs.  This is what it's all about, allowing people to sing things, and to hear something like that was extraordinary, something I'd never experienced.  It was a wonderful night!  It sounds so bloody tree-huggery and cardigans and jam and Women's Institute, doesn't it?  But when it comes to the point of being inclusive and having a sense of community… I've been playing live music for over 25 years, and the vast majority of that time, it's not been easy to actually get to play.  It's always a struggle, and it always will be a struggle to have enough gigs for all the people who want to play, to actually be allowed to play in certain venues.  So when I'm talking about community spirit and inclusivity, it's more a case of: divided we fall, united we stand.  It is very important that we are united, because if we aren't, who the hell is going to support us?  It is all about the people who love music and the people who play music to be as helpful to each other as possible.  I'm not concerned that if I put someone on in a gig that they are liable to make it and become big rock stars at my expense, because I might have had a shot.  Bollocks to that!  You can't think like that!  There are far too many people out there who are far better than any of us will ever be, and they will never be heard, because they are only playing in their local scene, because they've never had that sparkling moment where someone goes 'I love this, I'm going to sign them'.  Or the accidental thing where someone picks up on what you've put on YouTube, and it goes viral.  Or you happen to be playing a gig and there's a promoter who's there visiting a friend, and he has a support band drop out of a big gig, and he goes 'that lot are good!' and you suddenly find yourselves supporting someone important.  Any of those things are million-to-one chances, so when you look at what we're doing locally, we're looking at getting as many people as possible to play here.  There are guys up in Rhyl who promote bands – Steve Rastin and Mark Chesterton – you've got James Rozzy putting on stuff in Holyhead… what you've got there is a network of local-size gigs – I know James is putting Wheatus on, which is fantastic – but that's what we've got.  We've got that level of exposure, which will move you on to the next level if you really end up standing out, because people will start talking.  This brings us back again to the best form of advertising: word of mouth.  
At the same time, we've got Adam Walton on the radio, and I believe Radio Cymru do a similar thing where if what you do makes them think they want to hear it again, chances are you'll get played on the radio.  Adam Walton's figures came out: his average listeners over the past year have been around 13,800.  Well, anytime I can say that my music has been heard by 13,000 people, I'm playing on a bloody big stage!  The most you're going to be looking at in a local gig is about 100 people.  Certainly for our venues, anyway.  So that avenue is our next step up.  With that, there are lots of promoters across Wales who are listening to that show.  I've booked people because I've heard them on that show, and that's fantastic, particularly because you get local people who you've not heard of!  Suddenly you find they're playing on this show and you're like 'well, hang on!  They're from here?!'  And Adam is very good: he puts on Twitter contact details, social media pages, Soundcloud, Bandcamp, when he plays a band.  So he makes it easy to contact them, and he's there to support music more than anything else.  Again, that's brilliant, but we have to use these things to be supportive of the scene and the bands.  There's a lad called Gareth Howitson, who's very very good, very interesting voice.  I put him on here because Mark Chesterton in Rhyl said he had a lad who was looking for gigs, and I told him he could play in Bangor.  I put him on… then I put him on again… and then a couple of months later, Adam Walton played him.  And Adam Walton himself said 'When I first heard his voice I went "EEEURGH!" but then it grew on me', and it grew on him so much that he played the same track the following week, which is something he doesn't often do.  That's always a good thing, because the more people get helped along, the better the music scene will be, and the more we all benefit.