V Festival was announced today – what a line-up! What a complete pile of shit! I've said this for a few years… Imagine forking out £200 to see probably four or five decent bands amid a turgid dirge of talent show wannabes performing their one 'hit', which'll be a cover version, and pad the rest of their karaoke set with more cover versions?
Back in it's early years you would have seen Hookworms and Virginia Wolf at V Festival in some fringe tent, warming up for Richard Hawley or Mercury Rev or some other cool band. I only write this with glee by the very fact that underground music is alive and throbbing while the 'big' festivals and 'big' bands price themselves into oblivion.
You can seek out new and affordable music, or in this case, neo-psychedelic rock, which has been attracting more and more mutant followers, fascinated by the pretty colours and wash of sound.
And while it's fashionable in cities to hang out at the bar, in the street, in the pub or just about anywhere other than near the stage while the support band is playing, tonight, near enough everyone is present…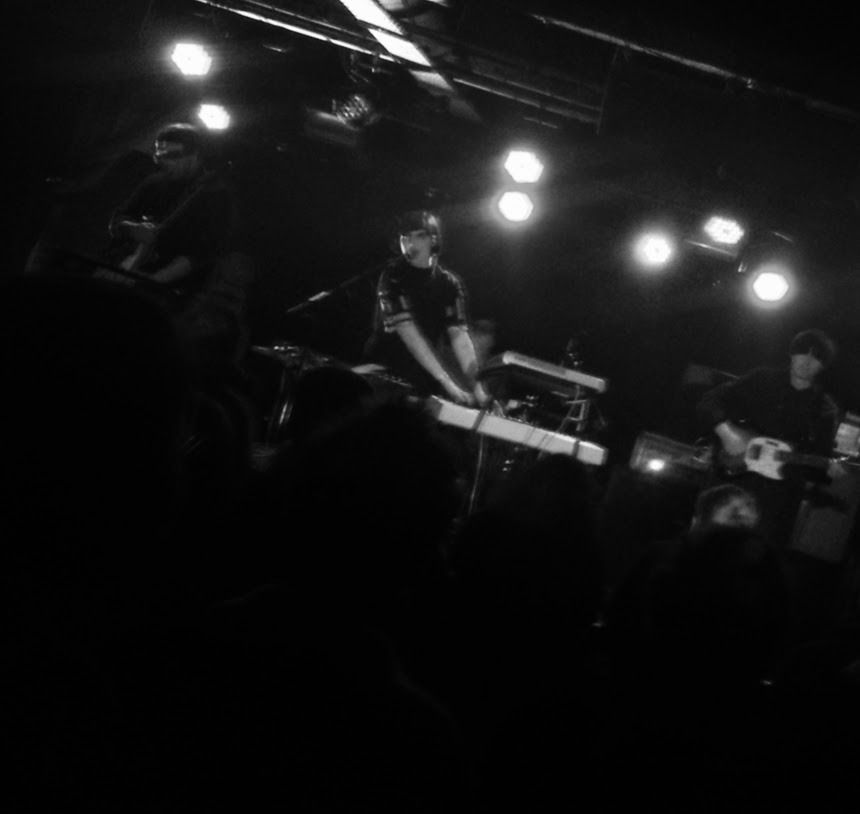 Unfortunately for Virginia Wing, although having full attention to begin with, it was the sound and not a trendy crowd that faltered for them as they stuttered through a disjointed set. The poor souls were beset with sound difficulties, either from the vocalist's array of effect pedals and/or the microphone itself. This got the band agitated and I was half expecting a guitar or keyboard to be launched at the sound-desk before a walkout.
That finale didn't take place and they kind of fizzed out to the end.
I really did feel for them, even more so when I got back and checked out last year's exquisite album 'Measures of Joy,' it's atmospheric, brooding, experimental, synth-laden, almost Bauhaus in places and well worth getting hold of.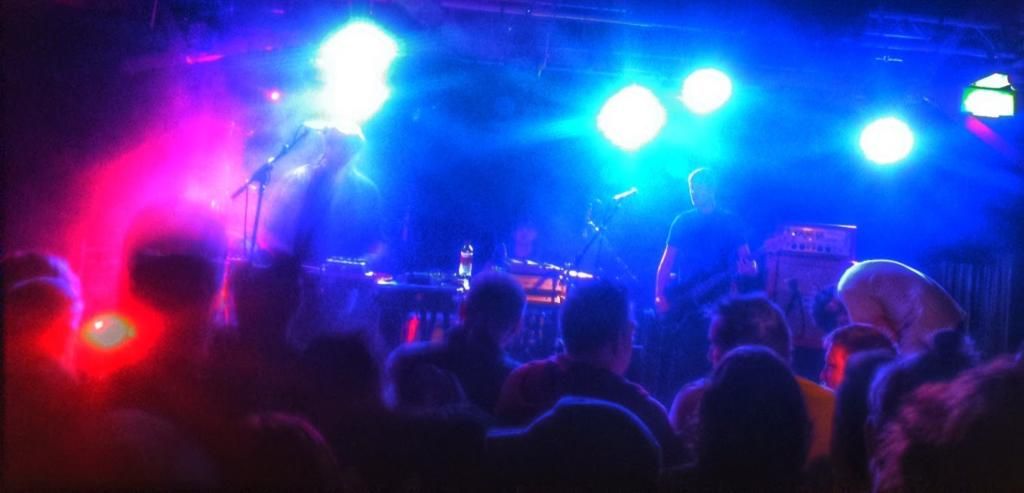 Hookworms have been stirring for a few years, combining space-rock with hypnotic bass runs, My Bloody Spacemen resonate feedback and a brainstorming bucket full of spunk. More prominence is given to the bass, drums and effects rather than the two guitars riffing out, and there are occasions you want those guitars to do exactly that!
The manic vocalist, twiddles his knobs, stabs his keys, jumps up and down, screams, cries, sweats and looks a bit like a University lab student and Tiny from Ultrasound…
That incredible voice! Again… lost! Although not to any technical issue, but to the swirls of psychodelic noise and reverb rhythms and maybe a timid soundman.
In the case of Hookworms, the voice is merely another instrument within a groove led vibe that zips down a highway in hi-octane cruise control.
Like their albums (last year's) 'The Hum' and the better 'Pearl Mystic' of 2013, there is no let up, one song segue-ways into another, joined together by trans-phasic warp-driven noise (although The Wytches do the segue thing better!).
They say that you only really realise the true damage of tinnitus if you're in a soundproof room. Apparently all you hear is a deafening high pitched squeal in your ears. To remedy this I recommend you just play Hookworms on repeat until you die.
This wasn't a live performance, it was a journey… Glad I had a ticket to ride.