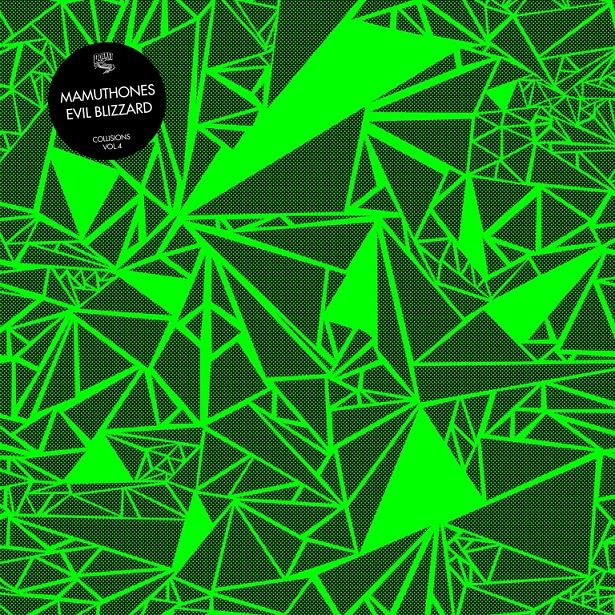 Here's the blurb…
Released via Rocket Recordings, 'Collisions Vol.4' sees Evil Blizzard and Italian psych advocates Mamuthones collaborating 39 minutes of mind expanding noise rock.
The Rocket Recordings 'Collisions' series has thus far seen luminaries like The Heads, White Hills, Oneida, Mugstar, Shit & Shine and Gnod locking horns against each other on psychic voyages to bold dimensions anew. The latest instalment again deals with a pair of hand-picked, boundary-breaking iconoclasts, pushing the Collisions series further out into the realm of the unexpected, as this Anglo-Italian pair of perversely kindred spirits combine to wreak havoc.
Here's the review…
The Mamuthone car pulls up, Marilyn Monroe is at the wheel, only she's a lookalike; the type hired as a cheap kissogram. It's an open top Buick Regal in deep purple with white PVC seats. You get in… The CD LED display reads Don't Be Choosy, she turns the volume up and you drive off.
Nice bass-line, you think, as the warm wind caresses your hair. Your complimentary spliff is burning too quickly as you drive through your movie backdrop city at night. Your eyes are barely open, you're suitably stoned and Mamuthones are only fuelling your flowering mind into a herb induced altered state of consciousness.
Your fire is on fire, a childish drum-machine eggs on playground lyrics as the sound phases in and out at a white-out rate, searing through your head, leaving you in a dazed, half-conscious, insensible condition.
You start rocking in the corner of a padded room; The Holy Ghost People get you down on the floor and make you testify as Mark E Smith in star-spangled flares fronts a funk band, offering you salvation… It doesn't come… Instead you regain consciousness and there's waitresses on roller-skates serving servitude in cognitive loops…. Basically – You're fucked…
You switch over, you can't watch that channel any more for fear of fear. There's a film about to start called Sacrifice, starring Evil Blizzard. It's got 1950's B-movie style dayglo graphics… There's an abandoned church, the door opens, the film score is unpleasant, you're not sure if you're going to enjoy this and switch over… Every channel is showing the same film. The volume is deafening, it won't switch down. Panic sets in, you turn the TV off, it won't switch off, you unplug it, it's still on… A severed pigs head appears on the screen, it's talking to you, but you don't understand, it's talking backwards, but it's not. You run out of the room only to find yourself back in the same room, the pig is laughing… You understand it now as it bellows, 'The sleep of reason produces monsters' just before you black out… Basically – You're fucked…
What a great LP…
'Collisions Vol. 4' is due for release January 19th 2015 via Rocket Recordings.