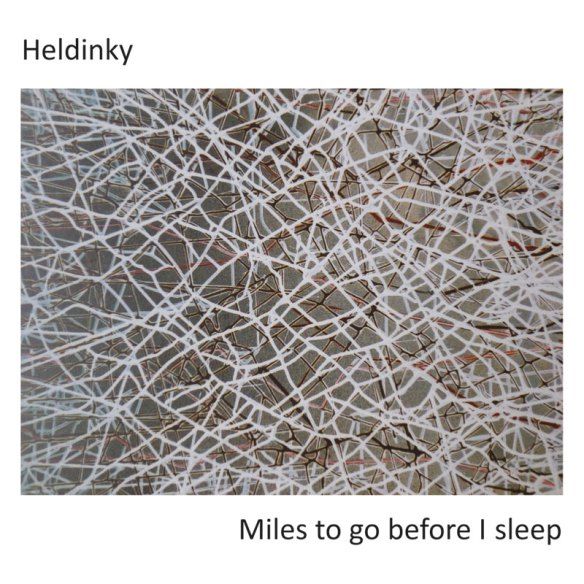 Miles To Go Before I Sleep is a very special album…
It could have been called 'Miles Before This Album Is Released' as it seems to have been threatened for a very long time, and although time keeps rolling on, it was well worth the wait.
The third release on the pure quality label Turquoise Coal, based in Bangor and run by that Ectogrammic Non-Stop Parker Alan Holmes. Also spawned in Bangor, (via South London) Heldinky give us their very first album.
Roger Waters once wisely advised us that we should all understand the spaces between friends; good friends, and Heldinky understand the spaces within songs; great songs. This album is as much about what they've left out as about what they've put in. Minimalist songs, written, recorded and produced to almost pure perfection.
While many bands will cram as much onto the recording tracks available, Helena, Dave and Mike opted for the subtle.
That beautiful voice, complimented by an ego free backing; everyone playing their part to the max, and that means not going over the top; like I said… Almost pure perfection; and I say 'almost' as at 38 minutes – vinyl LP length, it's not quite long enough!
You can easily cut the rope and let your boat drift off up the lake and lose yourself within these tracks. It's hard to pick a favourite…
Time lounges around harmoniously with The River with soft husky vocals.
The Song With No Name is a superb instrumental that builds upon itself in a 28 Days Later type of film score way.
Love the *real* drum sound on Arms (video below) and it's as prog as Heldinky will ever get.
Thought I recognised Lovers Are Mortal and realised it's a stripped down and excellent version of the Be Bop Deluxe song (lovely backing vocal).
Perhaps Your Place tips it for me, sweet lyrics, sweet tune, in good company with feet up on an outdoor table, sun low in the sky, wine level low in a bottle of red… Pure perfection.
Heldinky – Miles Before I Go To Sleep is available now on Turquoise Coal Records on vinyl, comes with a CD copy and download code and is worth it's weight in gold.