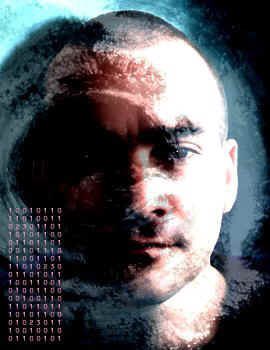 The Early Days
By the time CUT TUNES had released its first product in 1985, the talents of founder member Gary CUT had already been noticed. As a young freelance photographer during the mid-80s, his work included a series of striking and much-mimicked publicity photographs for underground Industrial legend and friend Lustmord – which earned the praises of such luminaries as Chris & Cosey.
By 1985, his photographic work had already been exhibited in Beijing, Berlin and Bangor. It was working with Lustmord that was to be the main artistic and creative catalyst in Gary's career. Gary had already been dabbling and experimenting with his own music, working with old school pal Alan Holmes (Fflaps, Ectogram) in the very first incarnation of CUT TUNES, but working with Brian and through him being introduced to the likes of Graeme Revell from SPK and Chris and Cosey was a massive turning point. It ultimately led to the unique blend of dark ethnic, voodoo and industrial rhythms with infectious jagged pop tunes that created the force behind CUT TUNES music.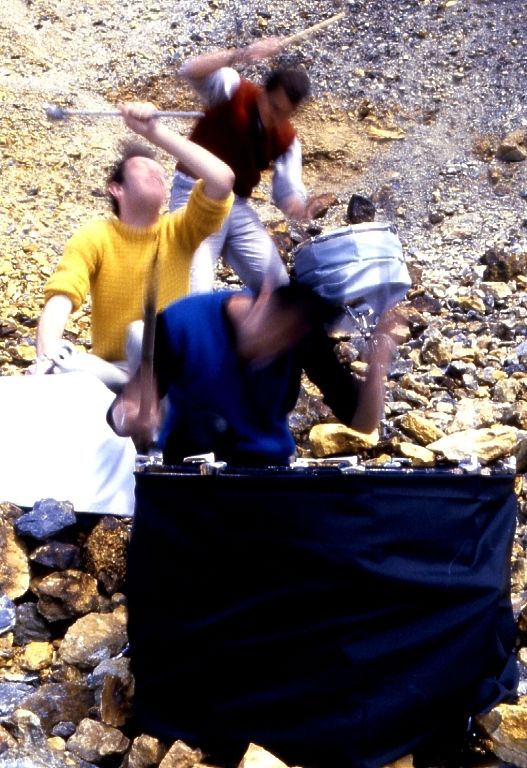 The first-ever CUT TUNES live performance took place on May 12, 1983 in the Bangor University Jazz Room – a venue which was to see many memorable performances over the next six years. Gary and Alan were supporting a quite dreadful pop band from Ynys Môn, and the wall of CUT industrial white noise produced by a combination of backing tapes and Gary and Alan's misuse of traditional musical instruments, proved too much for the sensitive tastes of the main band's entourage, who tried to pull the plug on the performance. Gary replied by placing a voodoo curse on the bass player and main protagonist, whose very expensive amplifier caught fire by the end of the evening (although this could partly have been caused by the lethal bass frequencies employed on the CUT backing tapes). Between June '83 and March '84, Gary and Alan expanded the project into a 5-piece, with Maeyc Hewitt, Ian MacMillan and saxophonist Phil Leyton joining the ranks. Numerous demo recordings were made during this time, the most memorable being the notorious 'Hell Hole Tapes', which were actually recorded in the kitchen of the band's communal house between Jan – Feb '84. In the final song, Écrasez L'Infâme, the bass frequencies were so low that at one stage in the song what sounds like a carefully planned industrial clatter is actually the washing up falling off the kitchen sink after being dislodged by the vibrations. The raw recordings on the Hell Hole Tapes arguably captured the CUT TUNES sound better than anything else that was ever recorded over the next 9 years. It remains to this day a frightening and unrelenting wall of industrial white noise and primeval rhythm which brought the band to the attention of the UK music media for the first time.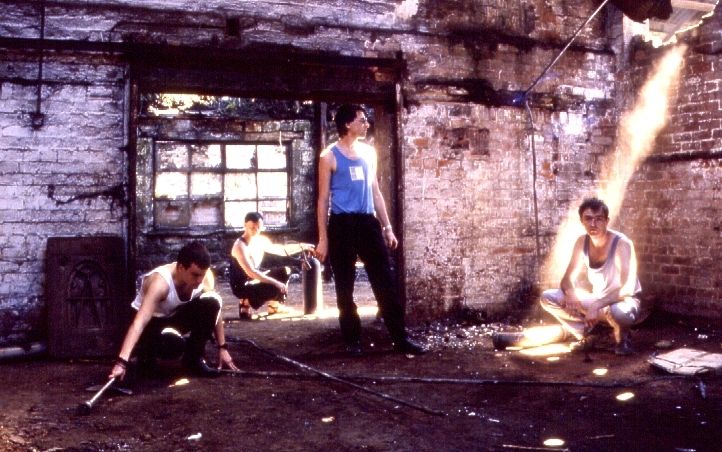 When Alan Holmes announced his intentions of setting up Central Slate Records – a new Welsh independent label, it provided an opportunity for Gary to take things one step further. Ideally, in hindsight, he should have waited before releasing the debut CUT TUNES single, as the band was still 12 months away from its definitive 4-drummer line-up. However, it was a particularly dark time in Gary's life and he decided to plough all his energies into his music in order to get back on track. Due to the constant technical problems which had arisen through using backing tapes and band members swapping instruments several times during a set, Gary had by now turned CUT into an entirely live act. Maeyc Hewitt and Ian MacMillan switched to drums and percussion and Gary switched to bass and vocals. Alan Holmes tried his luck on the trumpet and was joined by new saxophonist Jim Prosser and clarinet player Ann Matthews to form a mutant brass / woodwind section that Brian Eno would have been proud of.


The end result was the inaugural Central Slate release, Shapeshake – a 12″ single which was released in September 1985. The recording took place at RSC Studios, Bath in April '85 and was dogged with problems due to Gary's technical naivety and a recording engineer whose nearest comparison to the acidic CUT TUNES wall of sound was Santana! The single contained three tracks – the title track, and two stunningly pretentious B-sides namely "L' Immamou D'Amour" and "Panther Bosale".
The title track remains to this day a classic example of perfect three-minute one-chord angst pop, and this showed through despite the inappropriate production, and the song went on to become one of the focal points of the CUT live set for the next five years. In spite of its obvious faults, the single got some pretty good reviews on its release, mainly in Europe and the US, but it also got some pretty bad ones as well. In spite of these, John Peel liked it and played it on his Radio One show a few times, and it got quite a lot of airplay on provincial radio stations such as Liverpool's Radio City and Manchester's Radio Picadilly.
It also proved to be an unexpected hit on the American college radio circuit, but as a US distribution deal was never sorted out, its popularity was unfortunately never reflected in record sales. During the 12 months after Shapeshake's release, the band continued to play live locally, building up a repertoire of new material, as well as a solid fan base in the Bangor University Students Union, where they played a series of prestigious support slots with bands such as John Peel favourites Yeah Yeah Noh, Here And Now and, believe it or not, Mud.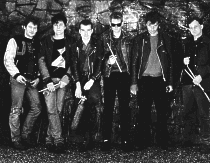 The classic CUT TUNES line-up came about somewhat by accident in the autumn of 1986. Gary CUT was faced with a huge dilemna when drummer Mark Thomas left the band less than two weeks before an important gig – the band had already gone through five personnel changes in less than 18 months. Mark was, and still is, one of the best drummers the Bangor music scene has ever produced, and he'd been brought into the band a few months earlier to add some real power to the rhythm section. Because of his technical ability, Mark was effectively playing the role of two drummers live, and at a time when the Bangor music scene was starved of quality drummers, Gary had to find two in order to replace Mark's power. However, after just 48 hours, the problem had been solved when Gary managed to find local lad Nick Hadley, and university fresher Stephen Tate, who had just arrived in Bangor from Twyford, Buckinghamshire. Eight intensive days of rehearsals began immediately, and the band was whipped into shape just in time for the gig. It turned out to be a total disaster – Nick and Steve suffered from pre-gig nerves, got blind drunk, forgot everything they'd rehearsed and after just three songs, punters began walking out. After just five songs, Gary joined them – calmly packing his bass guitar away and walking home, leaving a bemused frontman-less band on stage.

Interview – CUT 23
Gary CUT is one of Wales' most innovative and elusive musical artists, having pioneered both the Industrial Metal and Industrial Electronica scenes in his home nation in a long, and at times controversial, career. CUT 23 is his eagerly-awaited solo project and this feature has been condensed from several interviews and articles made between Dec 2002 – Nov 2003.
So, Gary – even though CUT 23 is another chapter in the long-running CUT saga, you are still something of a new commodity to a lot of people out there. Can you tell us a bit about the background to the project?
It's quite surreal being seen as a "new commodity" after all this time as CUT 23's roots go back to 1994. When my previous band CUT TUNES folded in the early 90s, I'd taken that project as far as I could go with it. I didn't want to end up a sad fart constantly trying to recapture the golden days of the 4-drummer CUT TUNES line-up, so after it all ended I took time out to decide where to take my music next. It took a couple of years for me to get over the disappointment of CUT TUNES folding – it wasn't just the financial loss, as there was also the loss of confidence and self-belief at having come so close to achieving major success only to see it all collapse around you. The downside of the TUNES was always the simple fact that running it was a logistical nightmare, what with trying to co-ordinate 4 drummers into a cohesive unit and frequently having to play on stages that were too small with PA systems that couldn't handle the massive wall of rhythm. There was also the problem of the transition between live and studio work, and I just didn't have the technical know-how at the time to reproduce that live power in the studio. If I was going to restart CUT music I was going to have to try and find a direction and a system where the studio power could match the live power – finding a halfway point.
So how did CUT 23 get off the ground?
I met my old friend Dewi Evans at a party. He'd just returned home to North Wales after experiencing similar disappointments as me with his London-based dance project Technomania. At the time I met up with him again he'd already started to achieve cult status on the Welsh language music scene as one half of the mutant cabaret act Rheinallt H. Rowlands. When we got talking about what we both wanted to achieve in music it was obvious that a collaboration was on the cards. With my background in Industrial soundscapes and massive technoprimitive rhythms, and Dewi's background in dance and orchestral arrangements we felt we had a potential monster on our hands and too good an opportunity to miss out on. Taking the music down a much more electronic route – using keyboards and backing tracks – and combining it with live drums and percussion seemed the perfect way to achieve the balance I was looking for. It also meant I could develop a system where that all-important power could be reproduced live using a relatively simple set-up as long as we had a decent PA.
When did you and Dewi actually start working together?
We began recording material in Spring '94 as CUT 2023 and the Welsh media and public picked up on it as soon as we started sending out product. We used some of the material as the basis for a session that was broadcast on BBC Radio Cymru in '95, which attracted a lot of attention in Wales.
Is it true that shortly afterwards you were approached by CCP?
Yes it is – a bit of a sore point.
Why's that?
We sent them some demos, and straight away their A+R guy in the UK got in touch – he loved the material. That was good because at the time CCP were one of Europe's leading Industrial Techno labels, and they also worked closely with the influential Belgian music magazine Side Line. We spent the next 7 months locked in the studio producing an album for them. They were expecting a lot from us on the basis of the demo material and we certainly didn't disappoint them –  on hearing the finished article their UK rep spouted on about how we'd produced some of the most exciting and revolutionary music of the last 10 years. Being the eternal cynic I thought he'd got us mixed up with another band, but no – he definitely meant us. Unfortunately, it all turned out too good to be true – we were getting ready to fly out to Germany to clinch the deal when it all fell through. CCP claimed it was because they'd suddenly heard that the members of Front 242 were embarking on solo projects and one of them had offered some material to CCP. They were then supposedly put under pressure by their distributors to sign him instead of the untried CUT23. Still not been able to figure out to this day why CCP couldn't have signed both acts – it just seemed another case of a supposedly leftfield "independent" label playing safe and going for the instant dollar hit instead of giving some exciting new talent a chance.
So what happened next?
Obviously we were very disappointed by the setback, especially taking into account the effort Dewi and I had put into producing the album, but we soon bounced back. At least we'd produced an album's worth of strong material, and our brief involvement with CCP attracted a fair bit of publicity for us on the continent. Hearing the album in context proved to be a bit of an eye opener for me. CUT music was changing and developing, and I felt that my style of vocals no longer suited the market that I was aiming for. I couldn't imagine another male singer performing my lyrics, so I decided on a completely new approach and began looking for a female singer – although Dewi remained unconvinced.
The process of finding your new singer was a classic case of synchronicity, was it not?
You could say that. I'd got to know a guy called Glyn Williams through our mutual love for Bangor City Football Club, my home team. As we met up on the terraces each week and got to know each other better, it turned out that Glyn had been a member of one of my favourite Liverpool bands – The Balcony. He was equally surprised when I told him that I was the brains behind CUT TUNES – it turned out we were his favourite Welsh band. It also turned out that his wife, Betsan, was a brilliant singer and desperate to find the right band to work with. She'd played keyboards for The Sugarcubes and seemed the perfect choice – I chose instinct and we started reworking the CCP material with her in '97. Straight away it became clear there were problems with Betsan's personal life that would affect our progress, but she was such a good singer that we stuck with it and Dewi and I tried to support her as much as we could. Things were going relatively smoothly by the end of '98 – the album was nearly finished, we'd done a few local gigs to try out the live set-up and did a video for the Channel 4 Wales music programme Garej. Betsan then fell pregnant and CUT 23's progress was held up for about 16 months. It happened at a bad time as there was also a lot of other shit going on – it really messed things up for me.
So when did CUT operations restart?
Activities were resumed in 2000 with the reworking of the CCP material and we finally finished the "début" album 'Metal Ghosts' at the start of 2001. I didn't want to waste any more time spending months trying to secure a new record deal, so I set up my own label – NAGA Records. The album was released in Wales in Autumn 2001 and released globally in Jan 2002.
Why "NAGA"?
The Naga are a race of serpent people in Hindu mythology. It may have come to the attention of a few people that I have something of a fixation with serpents.
How come?
I became engrossed in Haitian Voodoo when I was an art student. I discovered a magnificent religion which, thanks to Christianity, was much maligned and misunderstood. My favourite Voodoo god is Damballah, one of the wisest and most powerful. His vever (symbol) is a pair of almost symmetrical snakes, and that symbol ended up being incorporated into the CUT TUNES corporate logo. I just think the serpent is an incredibly powerful symbol which can conjure up so many different images – power, darkness, wisdom, benevolence, sexuality, spirituality.
So, have you actually ever practised Voodoo?
No – my interest has always been cultural and musical, although I do possess one or two powerful voodoo artefacts. I discovered the faith on my quest to find the purest dark ritual rhythms. I incorporated a lot of these rhythms into early CUT TUNES music. Haitian Voodoo is a faith that's based on Black African ancestral worship, and you must have the weight of that ancestry and the historical oppression of slavery running through your veins in order for the faith to work. That's what makes it as powerful as it is. It's just not an option for a white European whose ancestors come from Wales and Yorkshire – all I can do is to respect and admire the faith, and a hell of a lot more people should be breaking through the Christian propaganda to try and respect it as well.
You've been referred to as the Godfather of Welsh Industrial Music – any thoughts?
I always find it a bit embarrassing. It's nice that people think enough of my work to look upon my contribution to Welsh music in those terms. However, I wouldn't have gone down the Industrial route had it not been for Lustmord – he's got to take the credit of being the true Godfather of Welsh Industrial music. However, he's never seen as an exclusively Welsh artist because he only worked from Bangor for a couple of years before he moved to London and then on to America to make a major contribution to the global Industrial scene. Circumstances meant that I ended up staying in Wales and making my music from here as I have done to this day – that's why I get the dubious title. I'm perfectly happy being accredited with pioneering the Welsh Industrial Metal and Electronica scenes – that'll do for me.
Back to CUT 23 – by the time 'Metal Ghosts' was released there'd been another major upheaval?
Things came to a head with Betsan in 2001. We were getting regular airplay in Wales and did another video for Welsh TV in Nov 2000 but things were becoming very strained. It was clear that CUT 23 would not be able to progress the way things were, and as Dewi wasn't prepared to carry on with CUT 23 without Betsan I made the difficult, but right decision to go solo. I think Metal Ghosts is very much a soundtrack for the four turbulent years Dewi, Betsan and I spent working together. It's a wonderful album, but it drained me mentally and I had to move on for my sanity's sake – and in hindsight so did Dewi.
So what's happened since the split?
Now that Wales has it's own Assembly Government and is hopefully heading for full independence, it's opened up the floodgates as far as financial support from the European Union is concerned. I was fortunate enough to seek out and secure a substantial amount of Objective One funding to plough into CUT 23 in 2002. It basically funded the setting up of my own studio and multimedia facilities so that I've finally got complete control over my work for the first time since my very earliest musical dabblings. With all the gear I've got now I'm like a kiddy in a sweet shop. It's such a good feeling to be back in complete control – and it confirms for me that I made the right decision to go solo. Since the start of 2003 I've been working on the new material and trying to perfect a definitive CUT 23 sound. To try and achieve that sound it's been a case of taking one step back to take two leaps forward. I'm determined to go back to the original ideas and concepts that drove me to begin making CUT music in the first place – they've kind of got lost along the way over the years. I'm creating all the music myself now, and will continue to work with female vocalists as I think with the right girl singing it adds an understated power to the music that you don't get with a male voice. Depending on my audience's pain tolerance I may brush the dust off my own vocal chords to do some backing vocals and vox fx as well.
Let's make an inspired guess – you're a believer in the Way of 23?
Oh yes – but there's more to life than that – beer, Bangor City FC, walking in the local mountains with Loki – my faithful sheepdog, being Mr. Angry and trying in a small way to change the world. There has to be a balance in life otherwise you can end up crawling up your own backside.
Tell us about CUT 23's plans for the future.
2004's going to be a very busy and exciting year for me. The way I see it is that there are now two CUT 23s – one dark and delicious and the other even darker. I'm currently working on a new single – Skin Rising – which will provide a taster of the next album. I've secured the services of a great singer for that project – Laurie Gordon from Canadian Indie band Chiwawa. She's got a brilliant and seductive voice that's perfectly suited for the track. I've also got about 10 other songs on the go at the moment which will be appearing on the new album – all nice and dark with the trademark CUT wall of power. On top of that I've got a back catalogue of around 40 other CUT 23 songs still to work on and I keep getting fresh ideas every week for new material. I set up a management deal at the start of 2003 which is going to help promote the more 'mainstream' CUT stuff. In addition to this, I've dug my Dark Ambient hat out of cold storage and am now doing Power Electronic and Industrial Noise soundscapes – this gives me the opportunity to do more soundtrack-based work that's too subversive to appear on the vocal-based CUT 23 material. I've got one track featured on a compilation album released by L-White Records of Berlin and I'll be doing a full-length album for the label in the summer. There are also on-going discussions regarding a couple of multimedia projects I'm working on which will materialise later in 2004 so for the foreseeable future I'm going to be a busy little Industrial bunny.
Are you going to be playing live at all?
My priority at the moment is the studio. Once the single and new album are out I'll be getting a band together again to promote the material – I really miss playing live. I'll be aiming to play anywhere around the world that wants us and which is financially within reach and there's also the possibility of doing special live multimedia webcasts – bringing the audience to CUT 23. Also, there's the option of performing the experimental material live as well. So I could end up supporting myself when I go on tour.
What sort of live set-up will you be using?
Pretty much along similar lines to what I used with Dewi and Betsan. I like the idea of producing the maximum of power live with the minimum of equipment. I'll be using backing tracks containing main drums, bass sequences and FX. On top of that I'll be doubling up on live/electronic drums and percussion, and using two keyboard players. Obviously I'll be using a female singer as well, and I'm toying with the idea of bringing in a second percussionist.
Gary has endured the volume of setbacks and disappointments over the years that would have finished off lesser people long ago, but he's on a mission and has no intention of stopping. When asked how he still manages to find the enthusiasm and drive to continue creating dynamic music, Gary's reply was typically understated – "the world needs CUT music in order to make it a better place".
(2004)