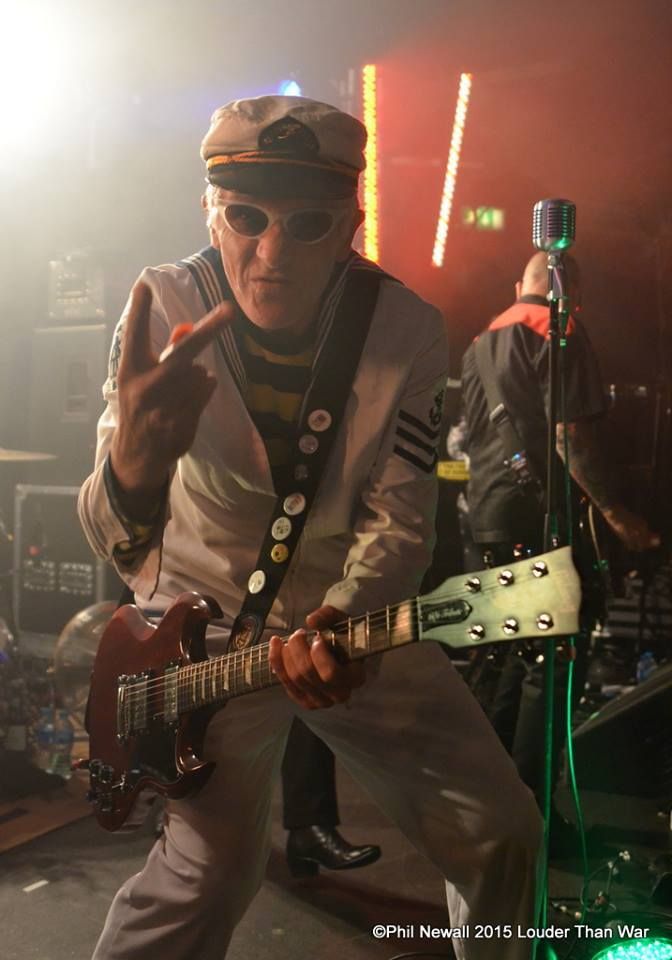 'What's all this Chester Love Trial business?' enquired Captain Sensible as he produced a billboard he's nicked from outside a newsagent. Someone in the crowd shouted out what it was and both crowd and stage fell about laughing.. (Google it…)
Who said rock 'n' roll is bad for you? Err.. I dunno, but it might be bad for your ears as I gave mine another bashing on this fine Thursday night at The Live Rooms in Chester.
Packed to the rafters with leather clad ladies and gents of a certain age, watching five gents from a certain age deliver classic punk rock.

The Damned are in town, and unless I'm very much mistaken, their previous foray into, and I quote Captain Sensible; 'One of the most beautiful cities in the country,' was 30 years ago. That was at The Northgate Arena just up the road from here (see review), and by alignment of the planets; I attended that gig with my sister Jane. This time I did so with my sister Emma.
You get a bit of a mortality check when you realise you were at that gig as a dole-scum teenager, and I guess The Damned will have a similar check too, particularly as ex-bassist Bryn Merrick was a member back then… Bryn sadly passed away last week after a long battle with throat cancer.
Nasty was dedicated to Bryn during tonight's encore and drew the longest applause.

For myself it was a first to see Alone, Again Or and 13th Floor Vendetta played live, and I'm not sure if I've seen Lively Arts before, which was also performed as they plundered their back catalogue. Actually, Alone, Again Or was about as recent as tonight's set got for whatever reason. Although I do hear rumours of a new album waiting in the wings…
Their habit of opening with the first three tracks of 'Machine Gun Etiquette' was followed by the first three from 'The Black Album' and had they played Generals it would've added the album, Strawberries to make a cool hat-trick.
There'll always be omissions with such an extensive back catalogue, so there was no Plan 9 Channel 7 or Under The Floor Again (two of my favourite songs). No Rabid (Over You), Limit Club, Melody Lee, Problem Child (I could go on and on). The albums Music For Pleasure, Phantasmagoria, Grave Disorder and So, Who's Paranoid? Were completely overlooked, but hey, I wasn't complaining too much, although 90 minutes could've easily been two hours and we'd have happily lapped it up.
With the new resurgence of media interest in The Damned with the release of the documentary 'Don't You Wish We Were Dead' and a seemingly never dying fan base, I pondered over seeing them play Chester in, let's say… 2045 – now that would be Neat Neat Neat.

(pics by Friswell Photography – main pic by Phil Newall)
(There's a much better review by Dave Jennings over at Louder Than War)