With a couple of days to go, it suddenly dawned on me that we [Spam Javelin – Ste Brute pic below] were playing a gig in Chester on the same night that our spiritual brothers, the UK Subs were also playing less than half a mile up the road…
Having, over the years shared beds, beers, pizzas, stages and drummers with the Subs we should have really been on that bill… But it turned out that we were at the better gig.
For someone who craved punk rock as a child and was starved of it by a conservative media (you weren't going to hear Crass on Radio One), and also too young to catch both the first and second waves of punk live and in the flesh, the modern age is a glut of punk rock. You are quite literally like a punk in a sweet shop…
Due to this very fact, from a personal point of view I think I've over-stuffed myself on the punk-rock cake… It makes me feel a bit sick… Bored would perhaps be the better term… Rebellion Festival and the plethora of 'old punk' gigs are (were) brilliant for someone too young to have caught it all the first time round… To see your heroes, to meet those you aped in your teenage bedroom mirror… But now I've done that (several times), it soon became apparent that the majority of these bands have nothing new to offer and they reformed, not to kick start a revolution, but to take your money (and best of luck to 'em).
There are only so many times you can ride that euphoric crest of a wave in the mosh pit while the band on stage are belting out Nobody's Heroes, Smash It Up, Orgasm Addict or Destination Venus – and I kind of got that realisation at Rebellion Festival last year and asked myself, 'How can I die when I'm already dead?'
For some (for many) there's nothing wrong with paying £20 a pop to see your childhood, teen-hood heroes every three or four months, but for me, I still hold what John Peel taught me; and that was to seek out new music… It's a pity the majority of those who will see the Subs in Chester or the Buzzcocks in Liverpool tonight wouldn't even dream of seeing a 'new' band.
So when Steak Number Eight were announced they were playing at The Compass in Chester to promote their new album 'Kosmokoma' it got me a tad excited! And when Dan Read shoved my band on the bill as well, I had a party in my pants.
Despite being on a hiding to nothing with the UK Subs playing at the same time and within spitting distance, there was still a decent enough crowd for the main act.


We did our usual 25 minutes of noise that seemed to go down OK with the few that braved us that early on, and Ten Dead Crows (pic above) played soon after us to about the same size crowd… They're alt-rock I guess; technically superb, frenetic bass playing accompanied by complimentary guitars, cool drums and good vocals… Something did niggle me; they didn't seem genuine, or maybe disheartened to play to a small crowd. My niggle seemed confirmed when they kept asking the audience if they were looking forward to seeing Steak Number Eight only to watch one song themselves before they all fucked off!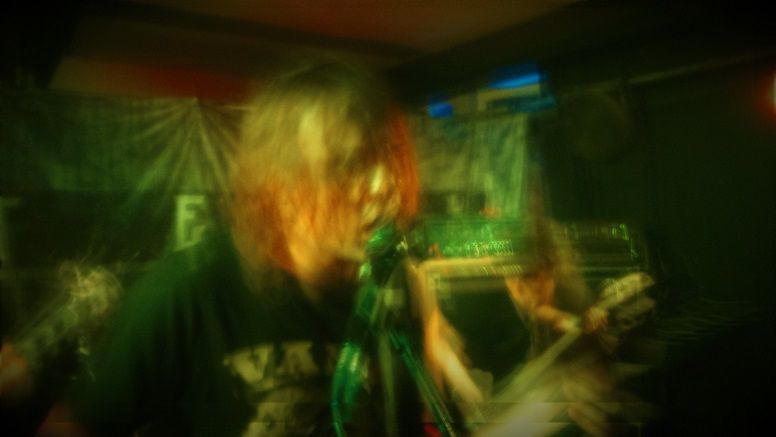 It was their absolute loss… For what Steak Number Eight gave us was mind blowing… The numbers swelled in the venue as it filled with cunts who pays the monies but only sees the main band.. Despite the scowls from myself, all had a great throbbing time as this young band from Wevelgem in Belgium not only upped the ante, they literally tore it apart. It's psychedelic punk sludge grunge fuelled by chaos from Brent Vanneste at the front while the other three keep it steady…  And while the portly punks make cash from no-chaos-at-all in venues across the world, these skinny bastards are chaos.
I'm pretty certain they keep Brent in a strait-jacket until it's time to play. There's probably scratch marks on the inside of their tour van from broken fingernails where he's trying to get out and onto the stage. And that stage is dripping with sweat, ear drums have burst, lungs have collapsed, Steak Number Eight have arrived…
Check out their symphonic, transgressive, mind-melding releases – you have been warned…