I could set the scene of Prestatyn, that dogs' toilet of a town on a blustery Monday night in January – but I'm not going to… Oh ok…
Offa's Tavern – that odorous whim down by the train tracks, where 250 happy hardcore sted heads and slags will fight and shag the weekend away, but here, on a Monday night, it may as well be on another planet – a million miles away, where angels (and pricks) fear to tread.
Those who regularly attend and those who play these gigs refuse to be societal cogs in the shit machine of life… Fuck you all, let's dance…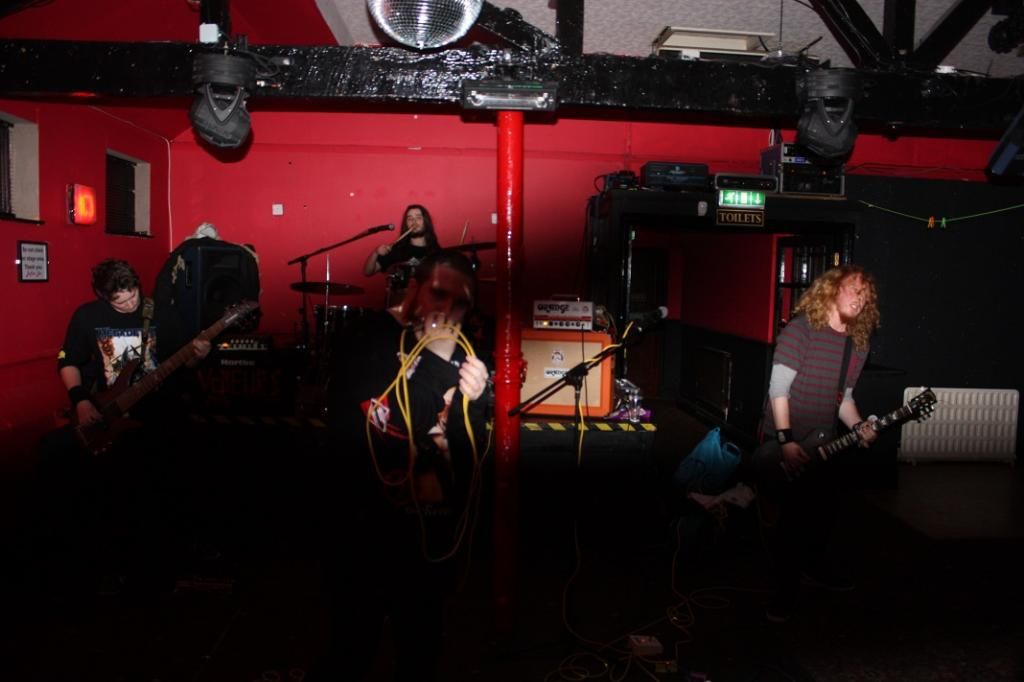 It was a drive-by gig tonight, didn't know what time I'd get there, but I handbrake turned into the Offa's carpark and chanced upon Terminal Voyeurs half way through their set, spaffing the crowd with their infected DNA.
Normally I have an unwritten rule after seeing a band play live very early in their 'career', making those first tentative steps across the boards; I don't revisit them for a good eight or nine gigs as by then they will have honed their sound and their set. With the amount of gigs Terminal Voyeurs have planned, that turnaround was gonna be PDQ!
They were into their final song, a ten minute epic – what a great noise! And a big plus since our first encounter – excellent psyched-out sounds coming from the guitar as the bass and drums stomped like a detribalized native on a Gothic funeral march as Cooper prayed to a dead God.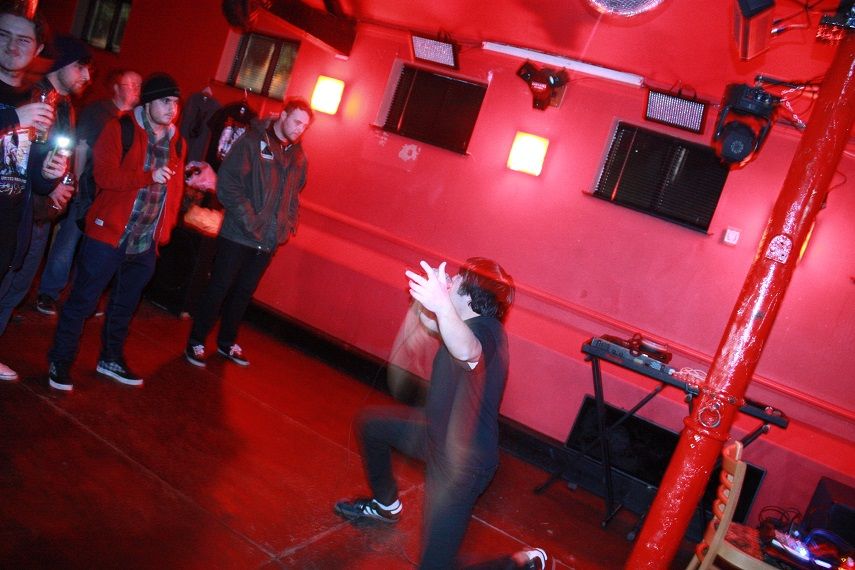 JE Double F is a one man band from New Jersey, here to accompany Sleep Beggar on this UK tour, before they swap sides and do the same Stateside. It's hip-hop anger, bottled and shipped over here to get you wired and pent up. Jeff's poisoned words slide off his sulphurous tongue, it's Fuckin-A stuff, with an Eminem voice minus the millions of dollars.
We were so impressed we bought the t-shirts! I did think if Jeff wondered what the fuck he was doing in this solemn place of wetting dreams, but he marked his territory and screamed the American scream, screaming songs for the sleep deprived. (website)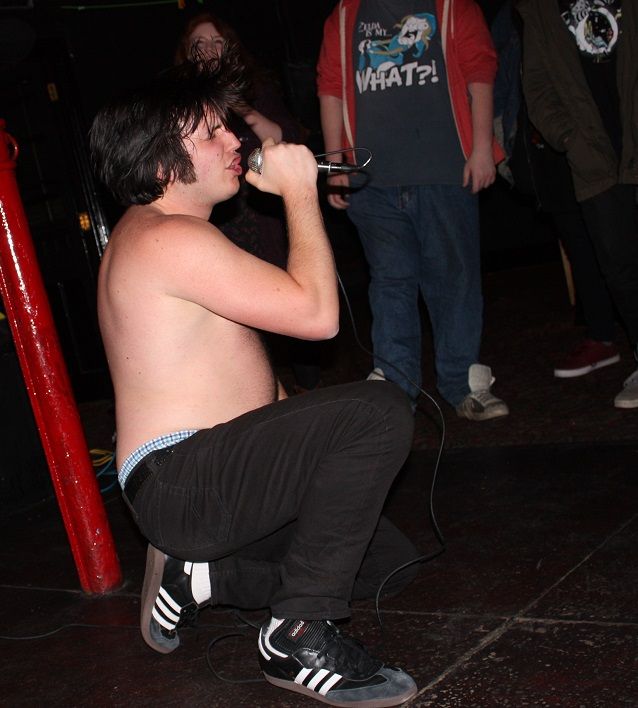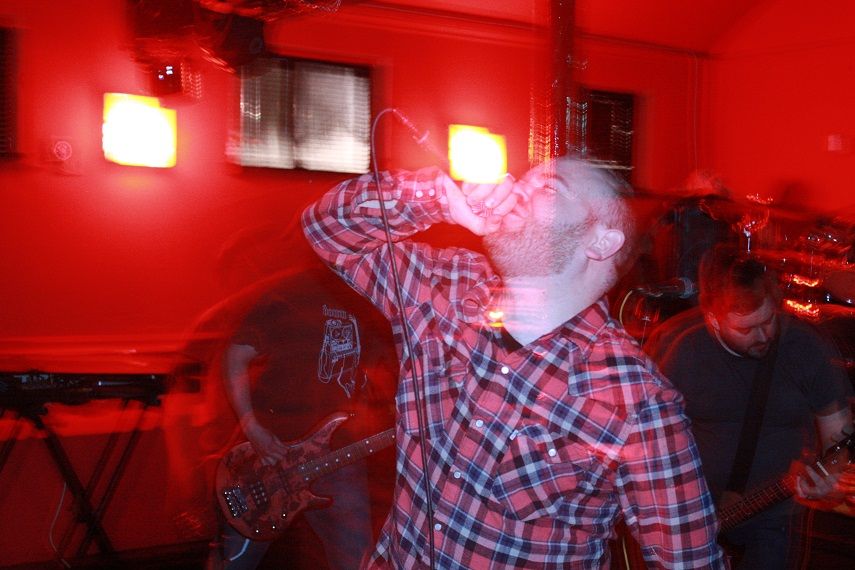 Enter Face Of Christ on the final furlong of their career, let the slaughtered take a bow – one gig left to do after this and that's it – too many life commitments. Was good to catch their severe hardcore – solid band – solid class drumming – excellent guitarists and a gobshite bulldog on vocals, wound up and angry. They're not going to tell it on the mountain, this is more Lord of the dance (on your grave) material, from a world where cockroaches live in your mattress and you crawl across your hovel of a bedsit to punch the bathroom mirror at your shit life.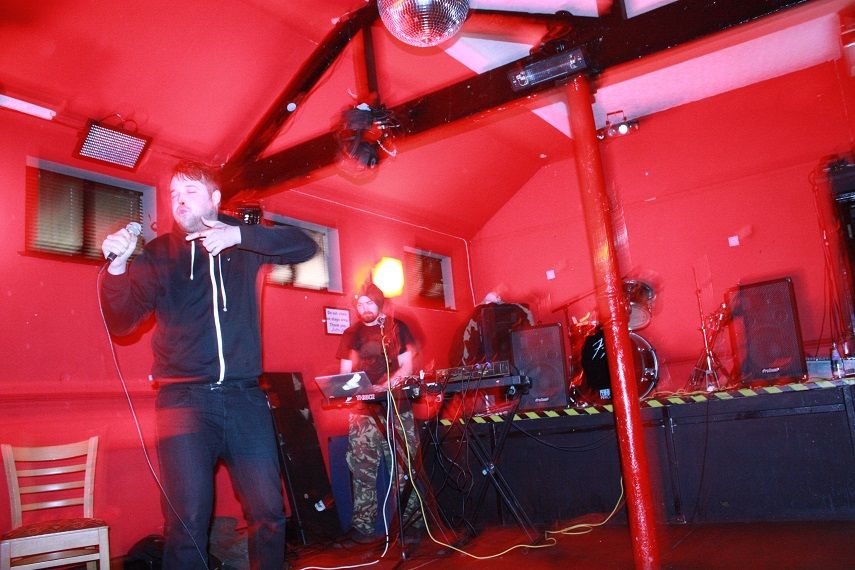 Sleep Beggar, as if Jamie Burne doesn't get enough off his chest fronting Bastions – here he is shedding sweat with this pseudo-dark-hop offshoot. This escapee of Holyhead with on-stage / off-stage schizophrenia is twitching every word, feeling every sentence, living every song, dying every gig… As always…
It is an insular existence within a scene of it's own, the disciples are true to those they follow and Sleep Beggar takes them by the wrists.
You wouldn't want to read his lyrics if you were feeling depressed, as it's up far too close and far too personal. On stage it's up close and very visual, which is just fine; no shoegazing, no posing, just a Redbull performance with excellent backing.
It's compulsively morbid viewing watching a man with eyes black with pain scratching on his asylum wall… You cannot turn away…
(website)